There's wedding planning, and then there's planning that requires you–or guests– to travel a long distance. From local travel to travel for out-of-town guests and elaborate destination weddings, you need a guide to make sure everything goes as planned. 
Someone who's all too aware of how important planning travel for a wedding is? Let me introduce you to Alison Laesser-Keck, the founder and CEO of Alison Bryan Destinations, a wedding planning company dedicated to high-end, luxury events. 
In a 2021 interview with Business Insider, Laesser-Keck shared the complex tasks behind planning destination weddings for celebrities. After spending years working in 4 and 5-star restaurants, she took a leap of faith and pursued her dream of being a wedding planner. What started as an ad on Craigslist and word-of-mouth tactics has become a high-end wedding planning service.
Now a decade in, Laesser-Keck plans destination weddings for big names in the fields of business and finance, working from 7 am to 11 pm some days. She manages everything from general planning to the critical booking for flights, creating welcome packages, and planning itineraries for everyone traveling.
Of course, most of us don't have a millionaire or billionaire's budget, but what we are content with is how to get from place A to B for a wedding. And what Keck's experience shows us is that planning pays off. So whether you're just trying to figure out local travel, accommodations for out-of-town guests, or planning a destination wedding, it's time to start planning.
In this guide, I'll cover the most basic elements of transportation and lead up to tackling the challenging travel logistics of a destination wedding.
What is a Wedding Limo?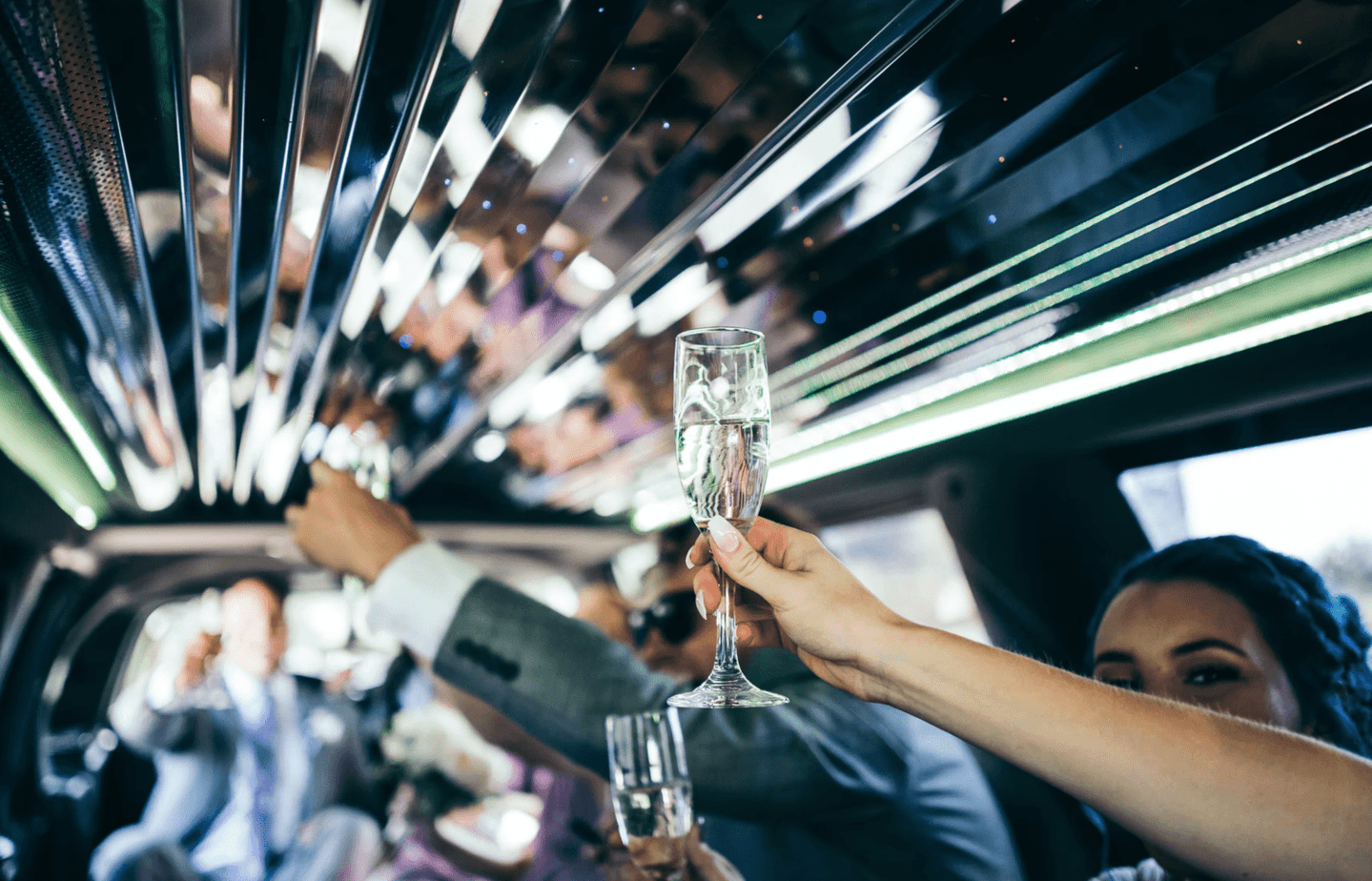 I want to start by addressing wedding day transportation, and this kind of travel should be planned for even for local weddings. A limo is one of the most popular options, at least on the surface. But while you may get the vision of one style of a limo, there are many options– and you certainly don't need a limo to get from point A to B. Here's what you need to know if you're considering one. 
Who pays for the limo at a wedding?
Typically the couple or the bride's family pays for the limo. Under no circumstances should bridal party members be responsible for any limo costs. 
Who should ride in the limo at a wedding?
Who rides in the limo is something that needs to be disclosed early on in the process. The traditional idea is that the best man drives, though a driver may be hired, and there's no need to stick to this tradition. Sometimes only the bride and groom ride in the limo. The most common is the main bridal party. Guests do not typically ride in limos. Who rides in the limo also depends on how large of a limit you rent. 
How many people fit in a limo?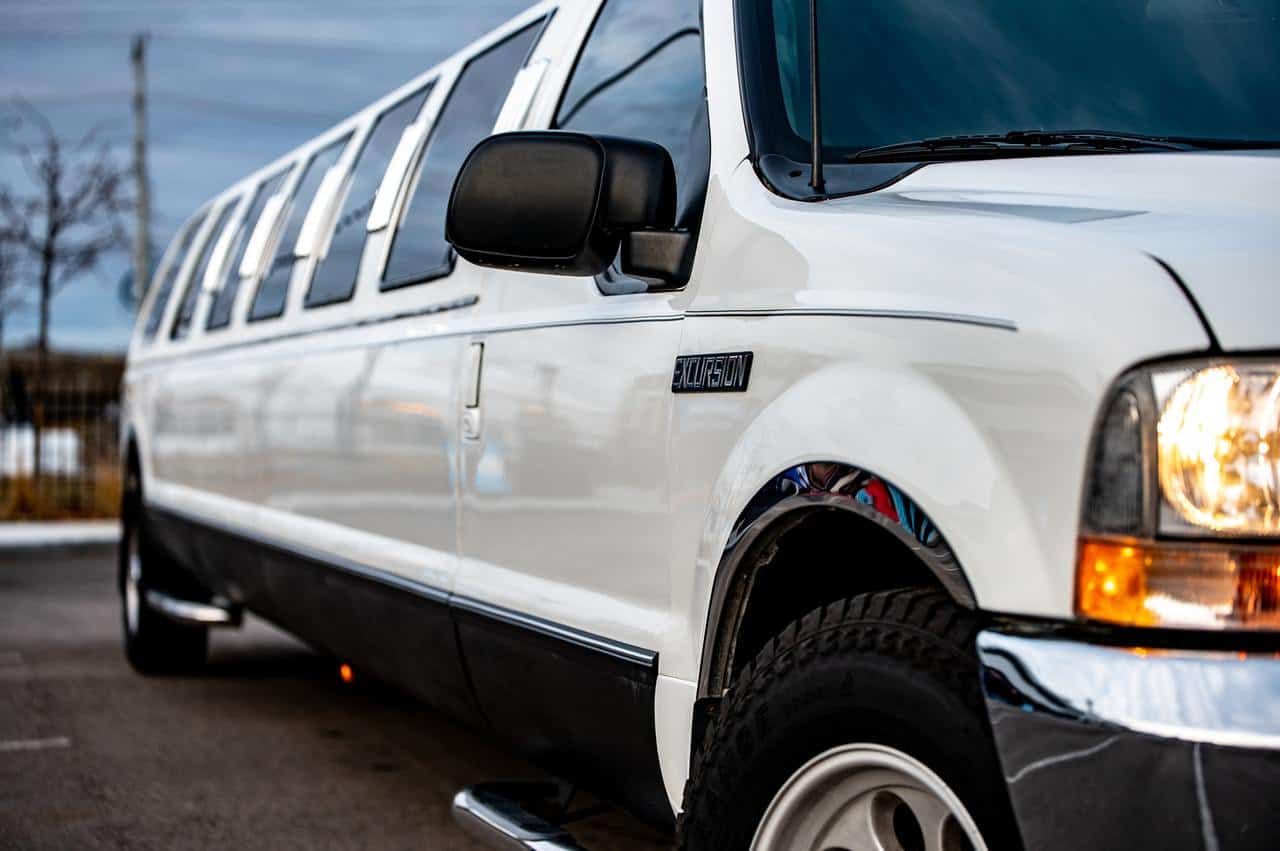 It depends on what limo you get– but the largest limos, stretch limos, can squeeze in nearly 20 people. Take a look at the chart below to determine what limo size makes sense for you, based upon how many people it can accommodate. It's always a great idea to ask about how many people can fit into the limo you plan on renting– and plan on extra space or two just in case you need it. 
| | |
| --- | --- |
| Type of Limo | Number of Passengers |
| Small/ Standard Limos | 4-8  |
| Medium Limos | 8-15  |
| Stretch Limos  | 16-20 |
How much does it cost to rent a limo for a wedding?
As you can imagine, the cost of limo rental varies depending on the type of limo you're renting. See the chart below for rough estimates of costs. This information is based upon data gathered from Fash.com and is based upon the cost per hour. Keep in mind that you should also tip the driver as well. A 20 percent tip is considered standard. 
| | |
| --- | --- |
| Type of Limo | Average Cost |
| Small/ Standard Limos  | $70 to $120 |
| Medium Limos | $90 to $150 |
| Stretch Limos  | $100 to $20 |
How long do you need a limo for a wedding?
The hours you book for a limo, of course, depend on how long your travel times are. Unfortunately, most rental companies require a minimum rental time. That window usually is a few hours and as much as a 4-hour time limit. 
How far in advance should you book a limo for a wedding?
Like with most things you plan for a wedding, you need to book ahead of time. If you're having a wedding during a popular season (really anything aside from Winter), you should plan to book five to six months ahead of time. 
What are Alternatives to a Limo for a Wedding?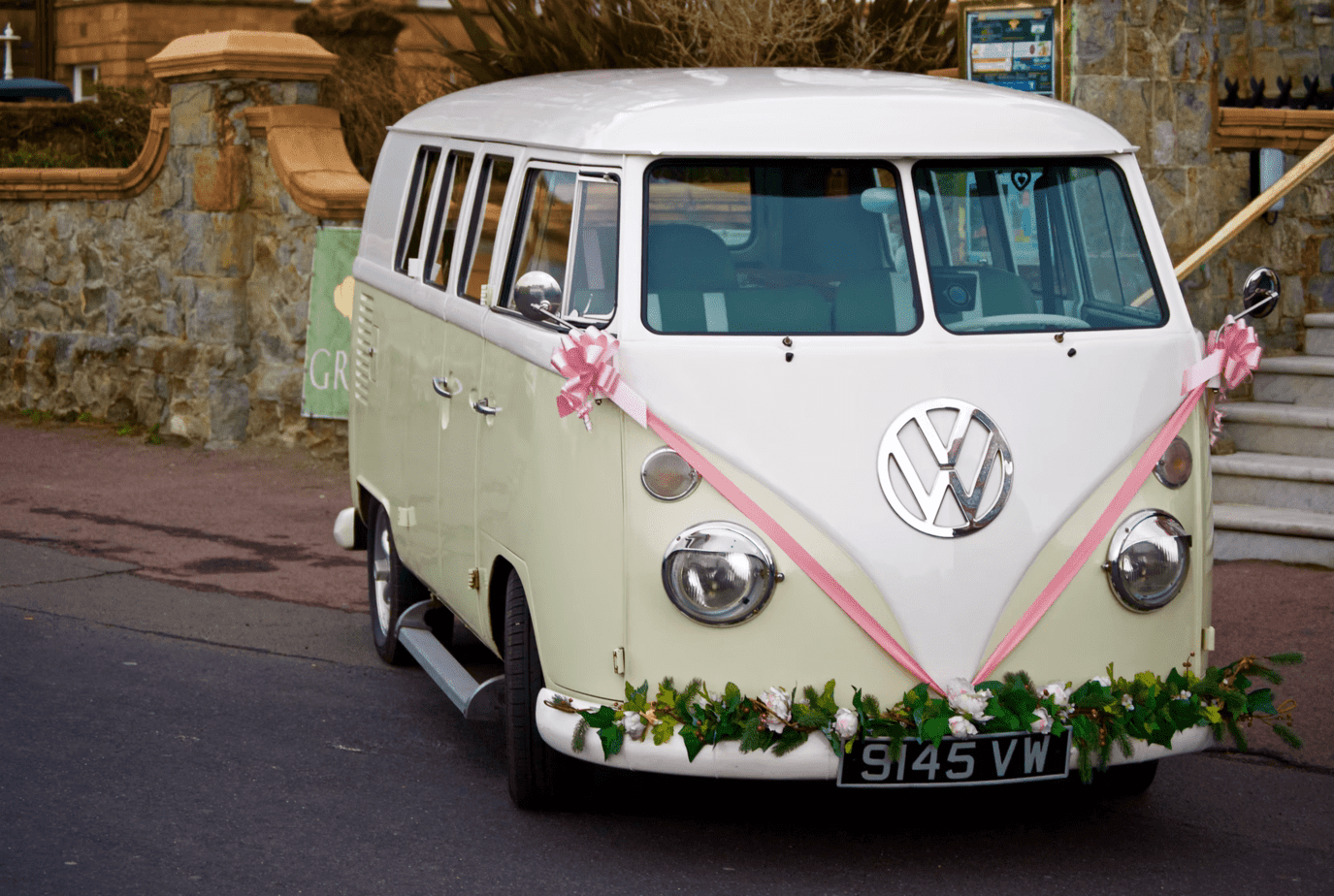 A limo is expensive, and not everyone prefers the style. You can simply arrive via your transportation– such as your cars. For whimsical and rustic weddings that are nearby, I've even seen couples use bikes or other transportation. For local weddings, you aren't required to provide transportation for your bridal party, but if you do, as a nice gesture, here's a look at booking cars—as well as the getaway car tradition. 
How many cars do you need for a wedding?
The bride and groom usually travel together from ceremony to reception, while the bridesmaids travel together and groomsmen travel together. Your bridal party size will depend on how many cars are needed. You can rent cars, but I've always been to perfectly lovely weddings where travel is just based upon personally owned vehicles. 
Which car is best for a wedding?
You can rent a variety of cars for weddings. The most common rentals are either luxury sedans or vintage cars, like a Rolls Royce. A luxury sedan costs an average of $50 to $80 per hour, while a luxury vintage car can cost anywhere from $500 to $800 or more—making it substantially more expensive than a limo. While stylish, it may not make sense for most budgets. 
In addition to a Rolls Royce, other popular luxury vehicles to rent include: luxury convertibles, Cadillacs, Ferraris, and Bentleys. But keep in mind that these are pricey, and your car can be decorated for a festive touch and save you a lot of money. 
Does the groom's car have a ribbon?
One way to decorate cars is with a ribbon. A white or ivory ribbon is most traditional. Some couples also opt for colors that match their wedding colors or general themes for a louder statement. 
Who decorates the getaway car at a wedding?
The wedding party usually decorates the getaway car with bows, ribbons, and messages. While this is not a must, it's a fun gesture. And there's nothing to say that the bride or groom can't decorate their car. 
How do you Shuttle a Wedding Guest?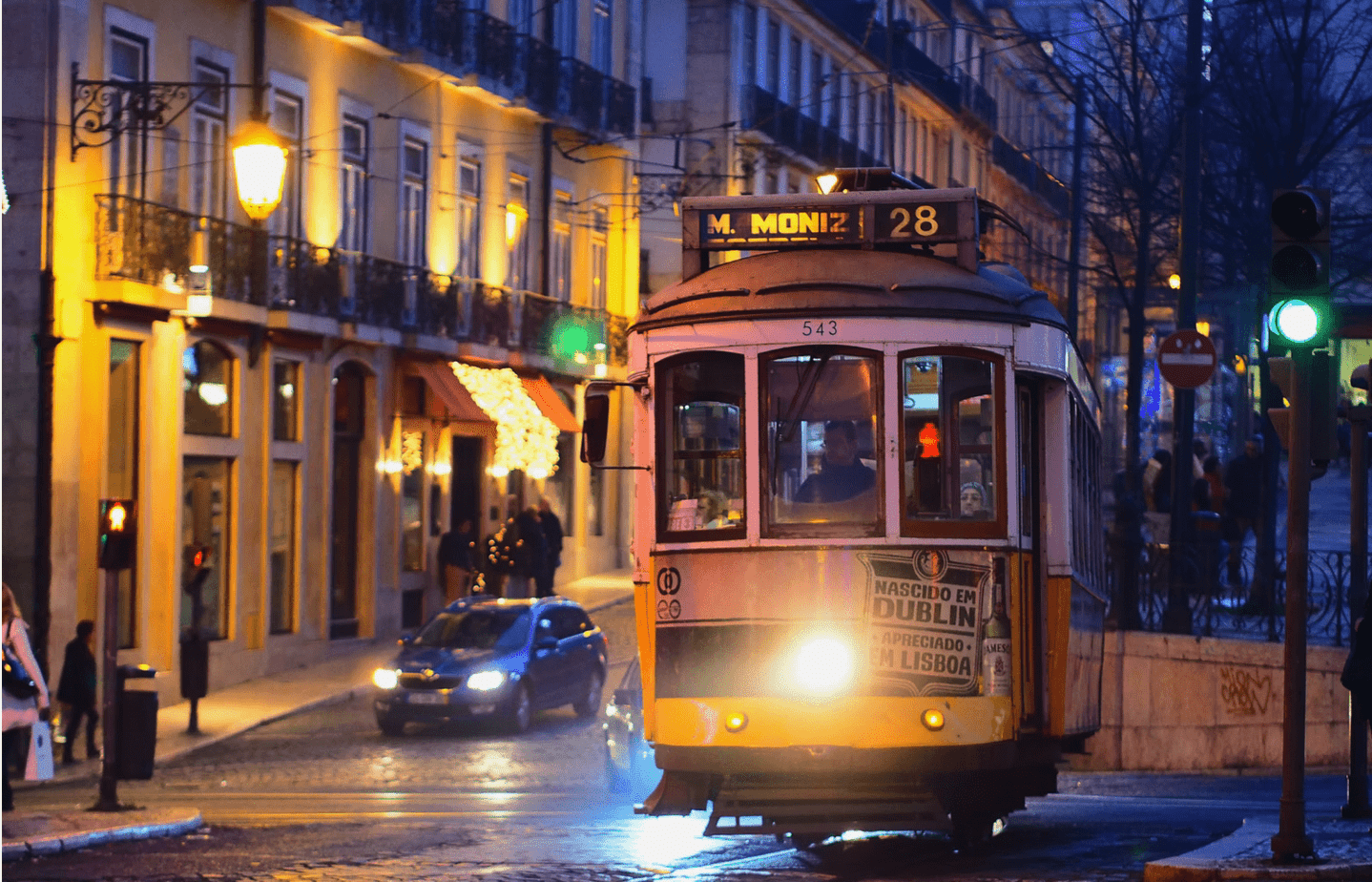 Then there's the issue of providing transportation for guests. You aren't required to provide transportation for guests, but there are several circumstances in which this would make sense. To plan for shuttling guests, you should have a firm grasp of who's attending and who will require transportation. You should have a final guest count and estimate what you'll need for how long. 
You should include travel details on your invitations, as well as accommodations. You'll need to book a minibus 6-7 months in advance and ensure that everyone is good to go a few months before. 
When should you use a wedding shuttle? 
 Here are the circumstances for which you should consider a minibus or shuttle of some sort. 
Many Out of Town Guests 
If you plan on having more than a few out-of-town guests– or the majority of guests are out of town, this may be a great reason to at least consider a shuttle service. By no means is this required, but it's a nice gesture to help guests feel more comfortable. 
Large Travel Distance Between Ceremony and Reception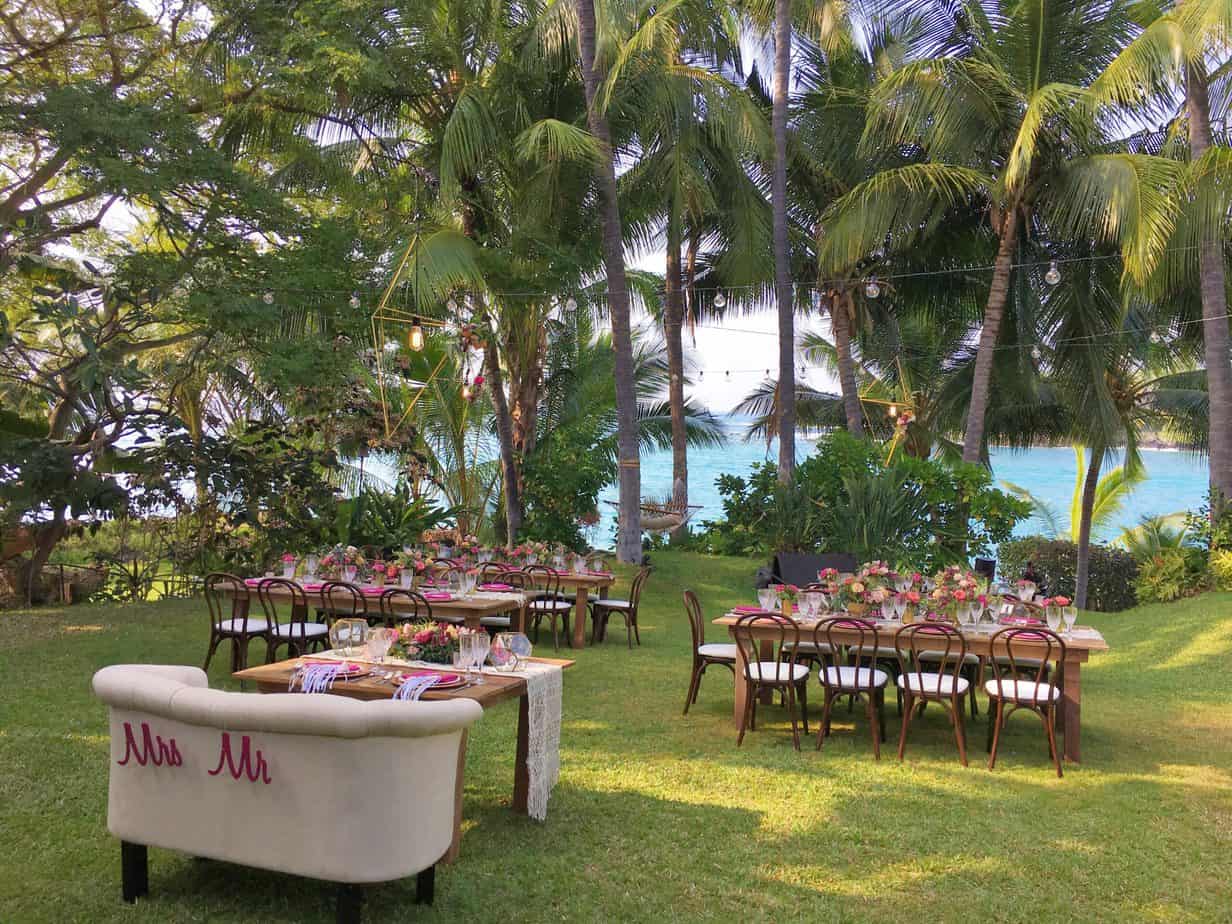 Love your venues, but they're far apart? While this will cost you more for shuttle services, complicated directions or traveling in a bustling city may be reasons to consider a shuttle service. This can ensure guests get to both places promptly without getting lost. Of course, if you decide not to provide shuttle services, make sure you're very clear about addresses and don't assume everyone– such as older guests– will use a navigation system. It's best manners to provide some form of directions.
Destination Weddings
Need I say more? While I'll cover more about the travel complications about destination weddings a little while later, shuttle services, if available, are considered in good form. They should be provided from where guests will be staying, at least to the ceremony. Of course, if you're having a destination wedding, your options for shuttle service may be different, so ask for options when booking a venue to see if the place has any recommendations. 
How Much Does a Wedding Shuttle Cost?
The cost of a minibus varies by location and season, with April, May and June thought to be the most expensive months. Normally, shuttles are reserved for a full day, or around 10 hours and are meant to transport guests to the reception and to and from hotel accommodations, when applicable. You'll also need a deposit, which normally is $70 to $250. There are several options for shuffling guests, as indicated with average cots below. 
Always ask how the transportation costs, from hourly to several trips, etc. Always get a good sense of additional fees before booking. 
Who pays for out-of-town guests at a wedding?
Out-of-town guests may need hotel accommodations and transportation, but technically it isn't up to you. Guests from out of town usually pay for themselves. Exceptions may be made for very close family members and extended a bit more to the bridal party in some destination weddings. But in most cases, you don't have to pay. Something nice to do is recommend accommodations and attractions, dining, and helpful sites for people who are out of town. Some couples with extra money to spend may opt to host a wedding weekend, with a meet and greet before the wedding and a brunch afterward. Again, all of these are optional. 
How do I Save on Wedding Transportation?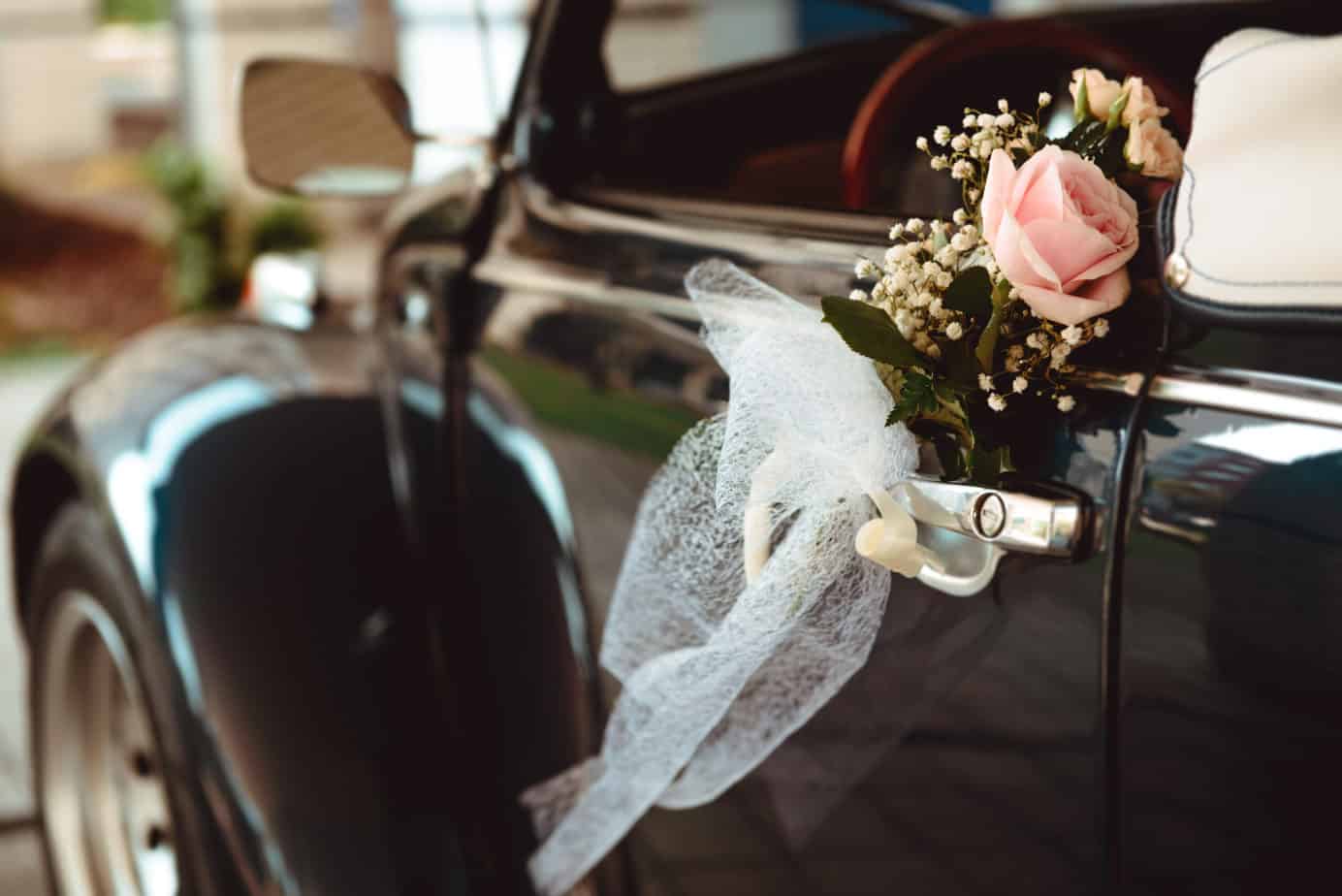 No matter what transportation you decide on for your wedding, there are several options to cut back on costs. Some are conventional tips, while others are more creative, And remember: unless you're having a destination wedding, there are no absolute must-haves for wedding travel. 
Book Off-Season
You can cut down on everything from travel costs (even for a destination wedding) to transportation and anything if you have your wedding during a less popular season. The most expensive season is late Spring through Summer, followed by Fall. Late Fall and Winter will help you score discounts on everything transportation and travel-related. 
Plan Ahead 
If you book 6 to 8 months in advance, not only will you ensure you have the transportation you need, but you will also get a better price. Book too close to your date, and you'll be facing less availability and higher fees for travel and transportation. 
Opt for Cheaper Transportation Options
Luxury vintage cars cost the most, followed by stretch limos. For guests, minibusses tend to be among the most cost-effective, but you should always compare shops. If your wedding is local, consider skipping the car rentals for tighter budgets and simply decorating your car. 
Know Your Numbers
This tip applies to many factors. Know the number of bridal party members and guests you need transportation or travel assistance. Get as close to an accurate figure as possible. Budget ahead of time for your wedding with a nuanced wedding financial planning guide, with a portion going towards any travel or transportation. Comparison shop and negotiate if at all possible. Get figures on hourly prices, but also extra fees– and don't forget to include extra costs. Those extra costs may include gas, tipping services, and additional bag check fees if you're booking a flight, as well as any airport car rentals, etc. 
What is Considered a Destination Wedding?
Of course, if I'm discussing travel and transportation for a wedding, I have to address destination weddings. While travel is a factor for most weddings, nowhere is it as pronounced as it is for a destination wedding. When I say the words,  destination wedding, you may get the image of a tropical island– and it can be that.
 But a destination wedding can technically be a wedding that's not in the same city as where the bride or groom resides. So, a couple that lives in Ohio technically is having a destination wedding if they opt for a venue in Michigan. Of course, the greatest challenges come with destination weddings that require travel by plane and extensive travel times. 
What is required for a destination wedding?
Travel for a destination wedding– especially to other countries– has always been tricky, and now, even more so. You need to start planning a year or even a year and a half, taking care of important details like securing any necessary visas, checking marriage license requirements, and, of course, deciding on when and where to hold your wedding. Some couples may consider wedding insurance or work with a travel agent. 
Other steps you need to take outside normal wedding planning include:
Booking Hotel Rooms (more below) for your bridal party

Setting an itinerary for guests before and after your wedding

Getting a final guest count as soon as possible (8 months minimum, 11 months is best)

Book Extra Transportation: flights should be booked as far in advance as possible, as should day-of/ week-of transportation in the destination of your choice

Book any extra needed accommodations for rehearsal dinner

Prepare travel bags for you and welcome bags for your bridal party– or guests 
Do Destination Wedding Venues Need Insurance?
What Most Wedding Insurance Does (and Doesn't) Cover
| | |
| --- | --- |
| Covered | Not Covered  |
| Injury to guests or party | Catering or vendor mix-ups |
| Property damage (props, venue) and lawsuits | Cancellation not based upon extenuating circumstances** specifications vary by vendor |
| Medical costs for injury |   |
| Physical property loss |   |
| Failure to leave the venue (for events beyond your control) |   |
| Canceling and Postponement Deposits and Fees*** check to details |   |
Not all couples need wedding insurance. Most wedding insurance policies cover what's called liability insurance, as is the case with EventSured. The insurance protects against any injuries or damage to the property. You might consider this for any expensive venue– but obviously, it's not seemingly needed if you're having a beachside ceremony and a reception outdoors. However, some insurance will also cover the cost of wedding postponement or cancellation, as is the case with the insurance I mentioned above. 
You'll be reimbursed for deposits in certain cases. See the table above for what insurance does and doesn't cover for your wedding. You must, of course, always check with your policy. Ultimately, it isn't the right option for everyone, but for others, it's a good idea. With cancellation policies, I'd ask about the case of flights being canceled due to public health reasons. 
What are the Rules for a Destination Wedding?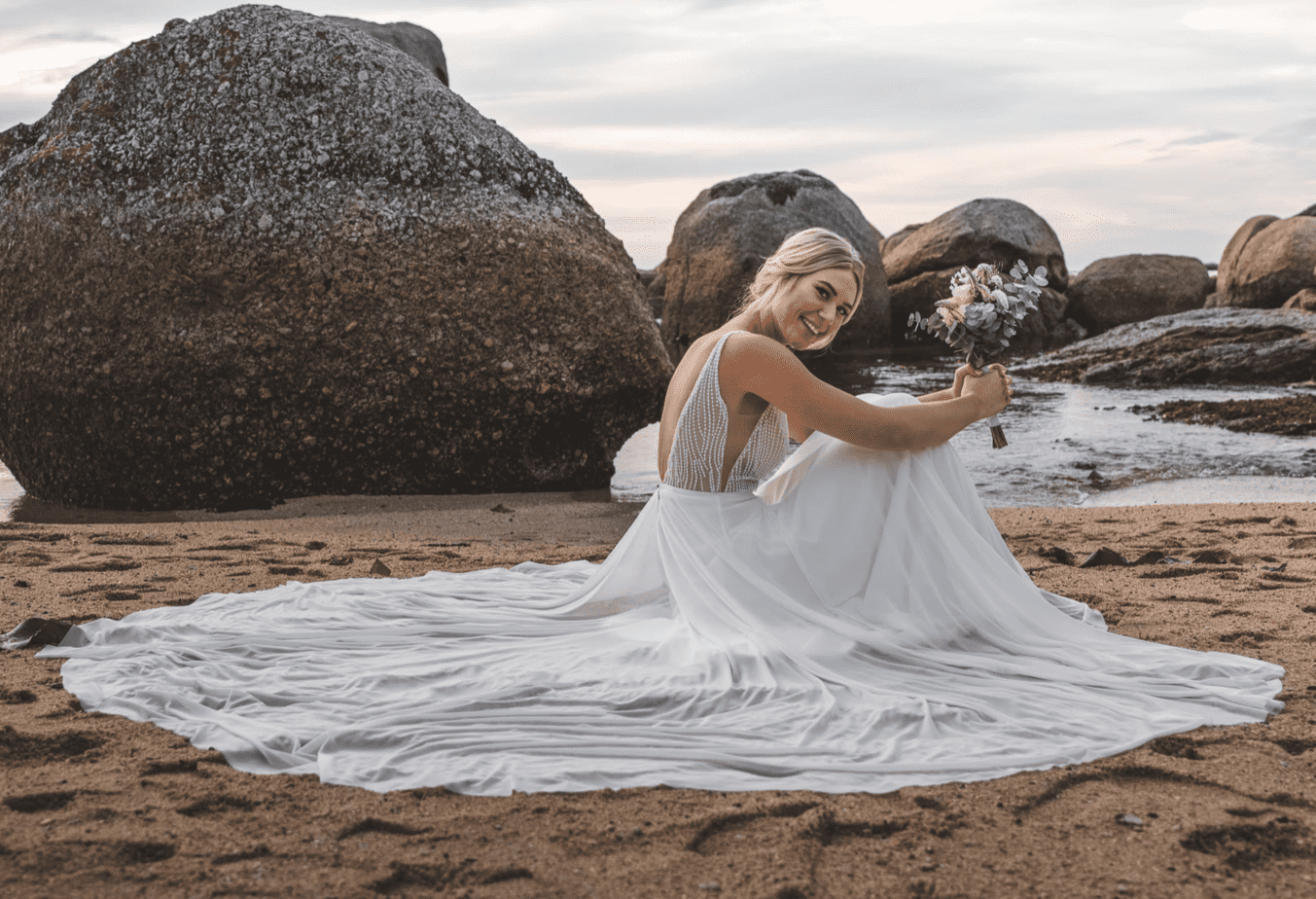 For a destination wedding, travel and accommodation planning is not only lengthy but often complex as well. You need to consider both yourselves and your guests. While there are no direct rules, there are many factors that you need to consider for the best planning possible. 
How many guests should you invite to a destination wedding?
The first of those rules? With extensive travel involved, keep the guest list reasonable. The average traditional wedding has a little over 160 guests– while the average destination wedding has just 60 guests. Now, this is tricky, as it's unclear if those averages include outliers and if they are accounted for guests to attend to guests who are originally invited. But the point is that your average guestlist for a destination wedding will be smaller. Close family and friends will be invited, but you'll likely be more selective with distant relatives or someone with who you haven't been in touch for years. Of course, the most important factor is your final guest count. 
What percentage of guests attend a destination wedding?
No matter who you invite, expect not everyone will come. Traveling to a destination is expensive and takes more time out of someone's life than a typical wedding. Health or other limitations are also more likely to keep guests from attending. If you're fortunate, you could have as many as 80 percent of guests come. But you could also expect as little as a third, depending on who you invite, when, and where. Of course, making the wedding as guest-friendly as possible increases your chances of more guests attending. 
Are Destination Weddings More Expensive?
You won't be surprised to learn that destination weddings are expensive. Travel and accommodations create extra expenses for both the bridal party and guests. And how those expenses add up is also important. Beyond the plane tickets, travel from the airport, hotels, and additional accommodations add to your final price tag. 
What is the average cost of a destination wedding?
The average total cost is purportedly 10 to 11 percent higher than a regular wedding, or around $32K vs $28K. Some believe a destination wedding is cheaper, but they're likely only considering or comparing a single cost, such as the ceremony. All-inclusive destination weddings are $20K to $40K. 
Are all-inclusive wedding packages worth it?
As you're busy planning your wedding, an all-inclusive package may catch your eye. These, of course, are not unique to destination weddings but also available for regular weddings as well. All-inclusive packages sometimes will save you money– and sometimes they will cost more. Booking something like this has the benefit of keeping things organized and cutting back on planning, but it also is less flexible and there are fewer ways to save. All all-inclusive packages are unique but they typically include:
Event coordinators 

Day-of staff

Reception and/or ceremony space

Catering with Beverages

You can usually select from a list of items. Some are plated, and some are buffet style 

You can usually accommodate special diet preferences and allergens, but always ask

Clean up and set up

Will sometimes include other vendors or offer special promotions 
Ultimately, all-inclusive can often cost more, but if you're planning a destination wedding, they can be much easier to organize, especially if you're not familiar with the region.
What do you Pay for at a Destination Wedding?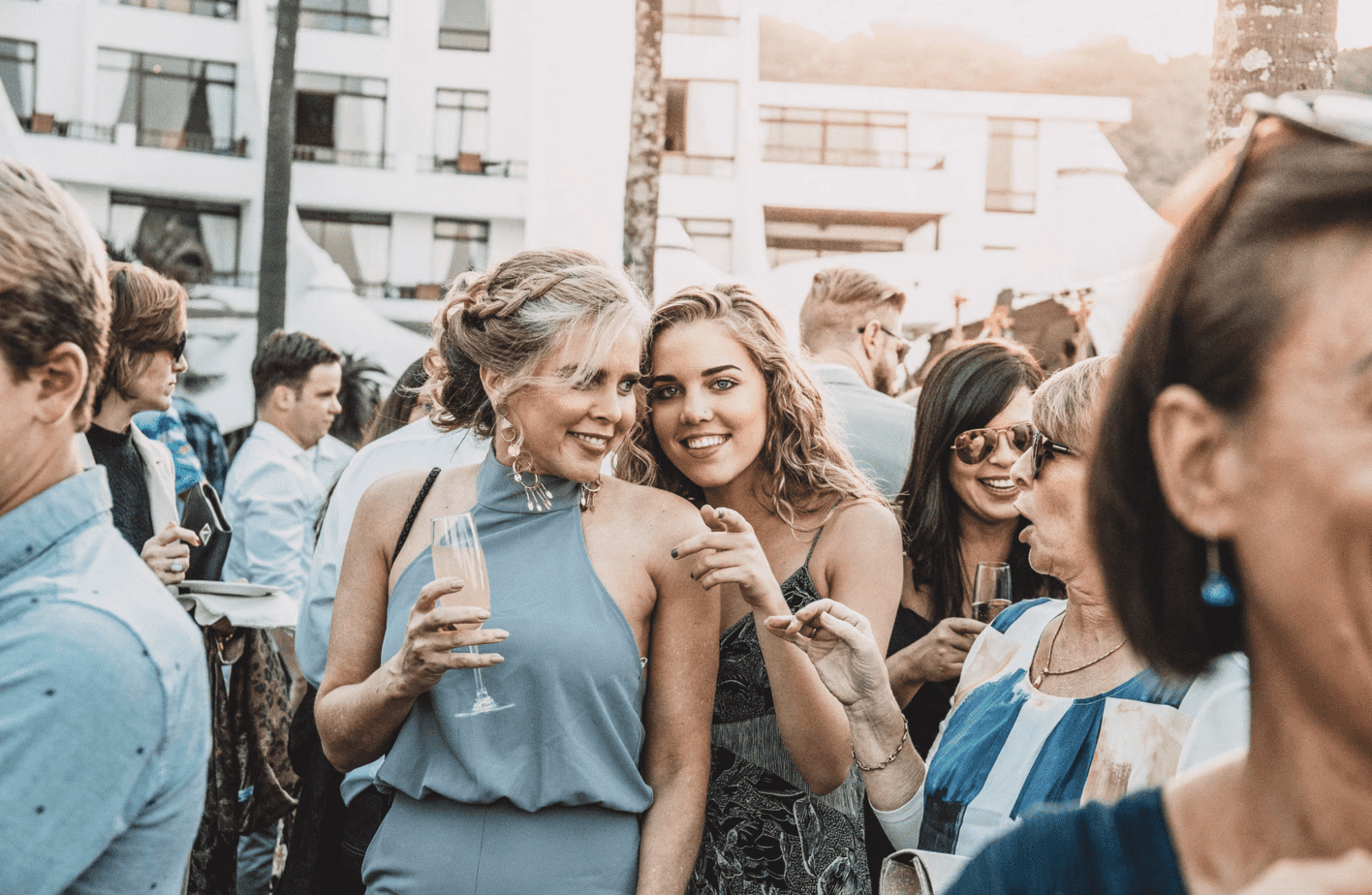 When you're planning travel and accommodations for a destination wedding, you may wonder what costs you're responsible for, and what your guests will need to pay for. You aren't expected to arrange everyone's travel plans– though you do need to offer some guidance for accommodations, directions, and everything else they need to know about traveling, arriving, and the itinerary. All of these details should be included in your invitations, along with RSVPs The more information you supply, the more guests are likely to attend. 
Who pays for travel to the destination wedding?
As I mentioned before, one of the first things you need to do is select a venue and book your flight. But that begs the question: book a flight for whom? You'll need to book a flight for yourself and your fiance. You are not expected to book a flight for guests. As you can imagine, there are exceptions– and gray areas. It's still not common to pay for the bridal party– but some well-to-do couples may pay part way. Some may pay fully or partially for travel expenses for very close families (mothers and fathers of the bride). That said, it's assumed that you only pay for yourself. 
Another exception? Hotel or minibus shuttles. If you're providing travel from hotels to the reception, you may foot the bill, just as you might for a standard wedding. This is a nice gesture and makes it far easier and more welcoming for guests. When you're booking a venue, ask if there are any such accommodations so guests can easily arrive at your ceremony. 
Who Pays for Lodging at a Destination Wedding?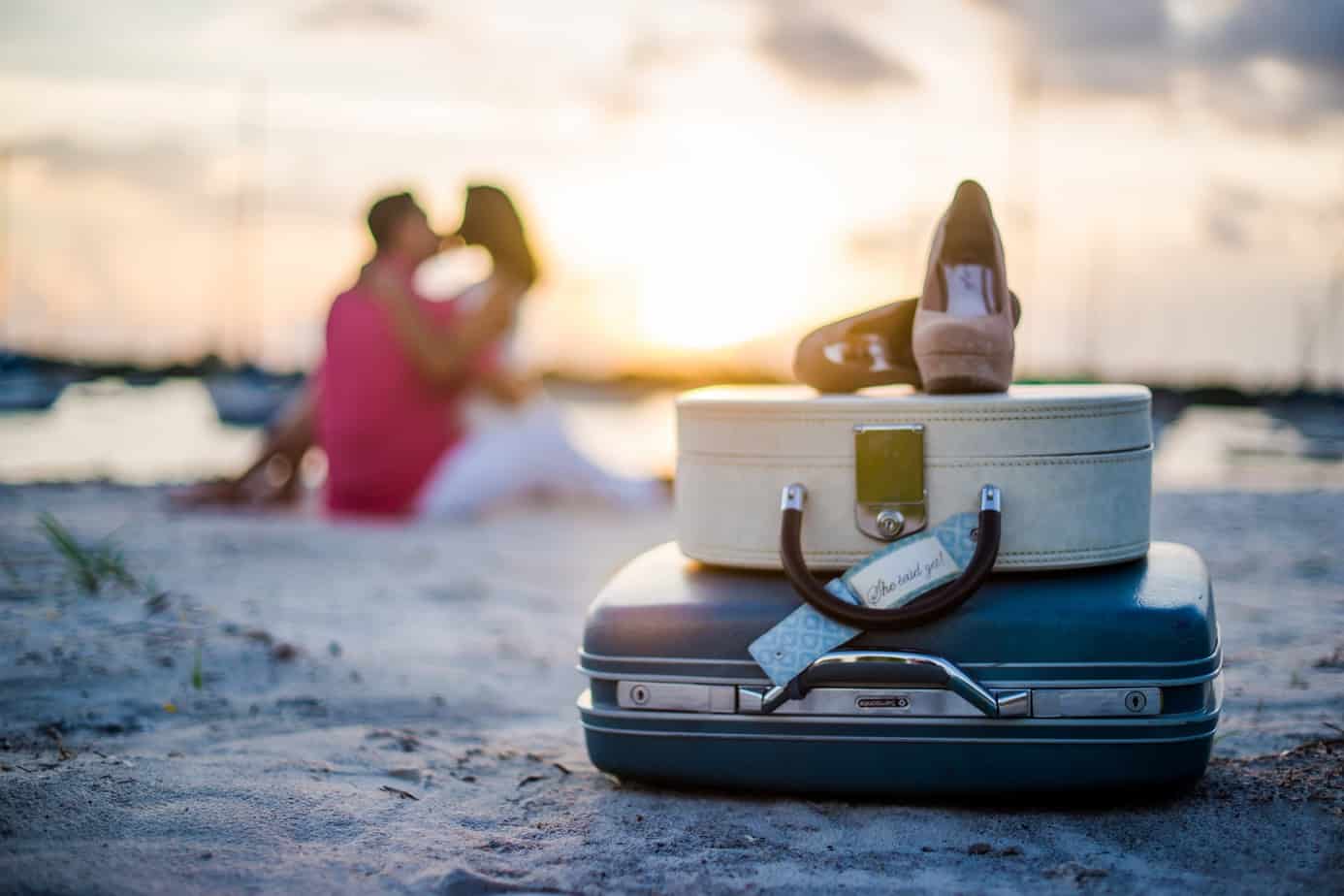 As is the case for travel costs, guests are also responsible for lodging and accommodation fees. Again, you can offer to pay, or partially pay, for a close family member, but for most, paying for guests' hotels simply isn't doable. Nor is it considered within expected etiquette to pay for lodging. However, you don't need to leave guests entirely on their own. Here are some steps you can take to make their travel and stay more comfortable.
What is a hotel room block?
One option is a hotel room block. This can also be done for traditional weddings where you expect many out-of-town guests. A hotel room block allows you to book 10 or more rooms at a time, but for a discounted rate. Hotel room blocks on average cost 10 to 35 percent less. To book a hotel room block, compare different hotel rates. Know that a single room block for larger hotels is usually 25 to 30 rooms, but this is not always the case. What you want to do is ask for a courtesy block. This type of block means you will not be held responsible for any rooms that remain vacated.
You don't need to book for everyone– keep in mind that this is a nice gesture to help your guests both find a place to stay and save some money. If you go above the courtesy block rate, you'll need to ask for an attrition rate. An attrition rate is an amount you are held financially responsible for, should guests not book the rooms. The way this works is you typically need to fill a percentage of the rooms. As such, you won't be held for every room that isn't booked, but, rather, if the number of booked rooms falls below a certain percentage. For something like this, you'd want to request a contract and read the details closely. 
What are wedding welcome bags?
Another thing to include in your guest accommodations is a welcome bag. Wedding welcome bags don't have to be extravagant if you do have them. They usually include a reusable tote with small items that are relevant to their travels and stay. You might include a local snack or two, mini sunscreen, glasses, maps, and the itinerary. Welcoming bags are not necessary if you don't have the money– just a nice touch. You'd need to coordinate with the hotel to see if welcome bags could be placed in guest rooms. Shop Etsy for Welcome Wedding Bags Here. 
What Other Events are Expected at a Destination Wedding?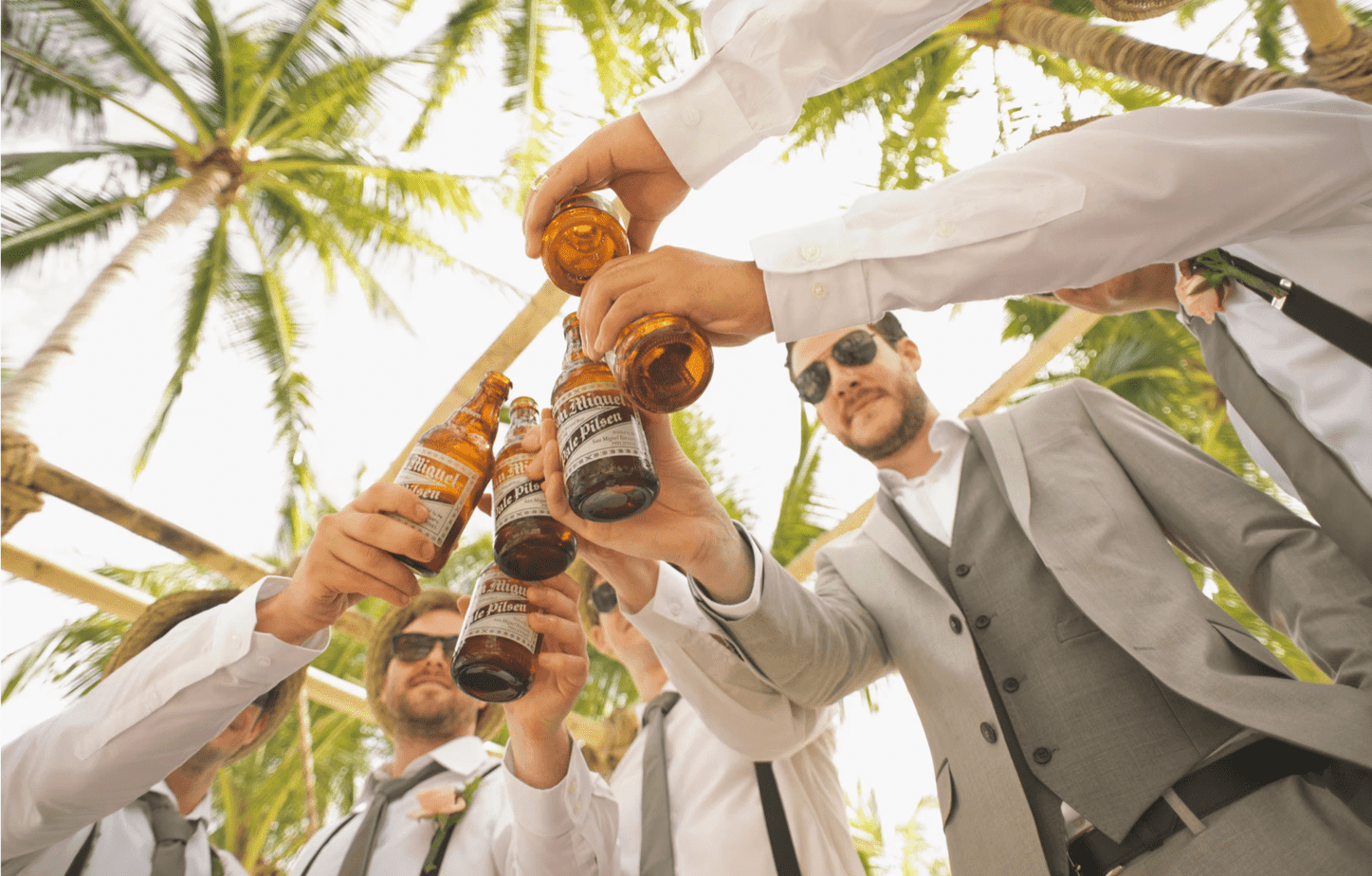 Traveling to the reception and from hotels isn't the only thing you need to think about. A meet and greet the day before is customary, as is a brunch after the wedding day. This meet-and-greet and brunch are usually paid for by the couple, though drinks for the first day are sometimes taken care of with a cash bar. Just be sure you specify anything that will or won't be paid for. While not 100 percent necessary, events the day before and the morning after help guests feel more welcome, and they may be more likely to attend if it's a weekend of events vs one day. Now keep in mind that these events need not be extravagant– and you should plan them all near the same vicinity, along with suitable transportation. 
Do you have a bridal shower with a destination wedding?
If you plan on having a bridal shower, it shouldn't be at your actual destination location. That places pressure on guests and would also not make sense in terms of planning timelines. And, due to the cost of attending a destination wedding, most simply opt not to have a bridal shower. 
What activities can you offer to keep your guests busy?
Beyond a meet-and-greet and brunch, there are other ways to keep your guests happy and busy. Include local guides and recommend places to eat, local attractions, and sites to see. All of this can make your guest feel welcome while keeping them with things to do between wedding events. By doing so, you're offering them ways to make the most of their time. Include ideas for transportation if they don't want to rent a car. 
How do you Budget for a Destination Wedding?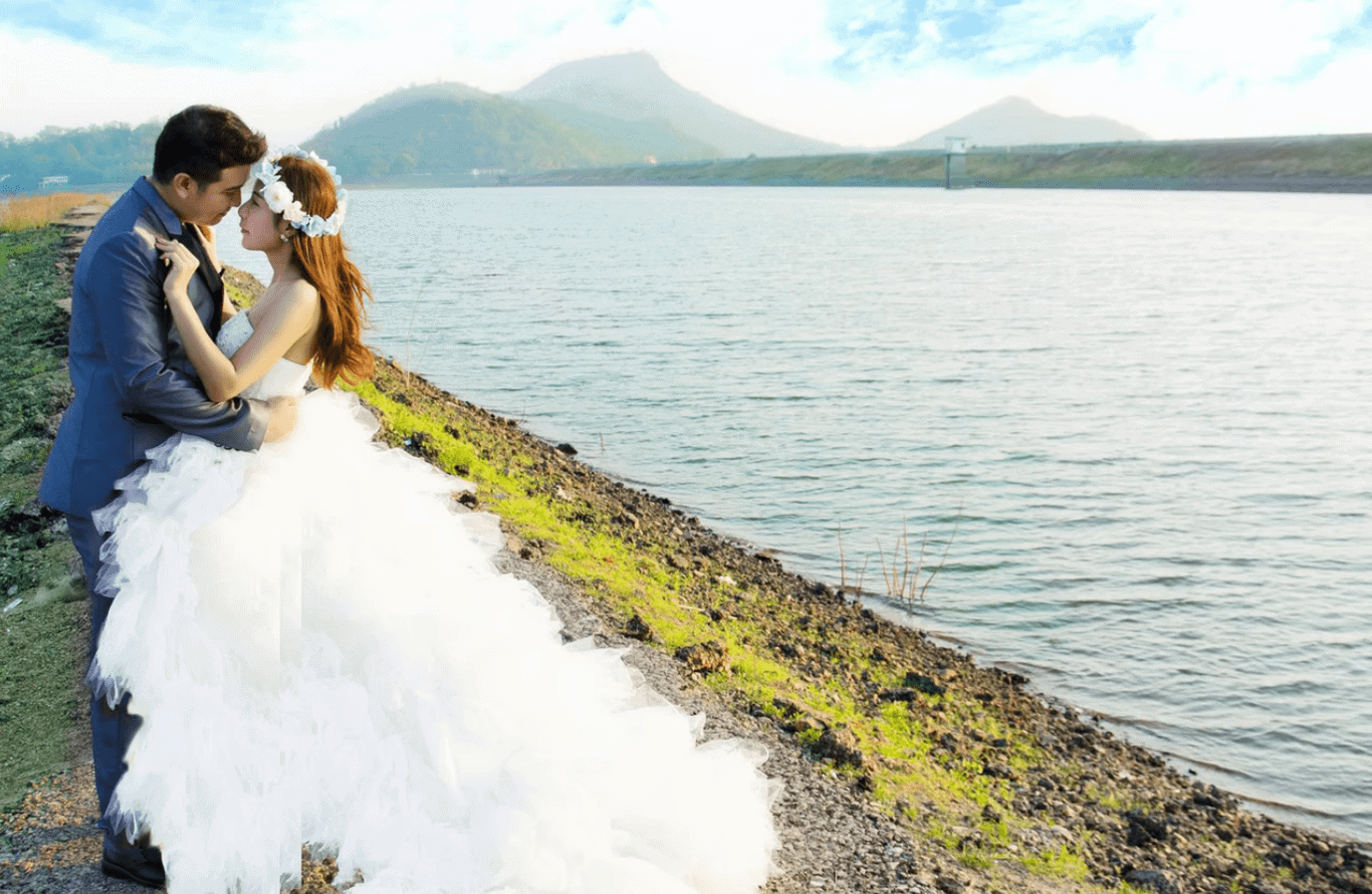 Travel and accommodation, as well as extra costs for visas, passports, and extra perks for your guests means you'll need a healthier budget for a destination wedding than a regular wedding– or you'll need to cut back on costs elsewhere. Once you have your final guest list finalized and your venue booked, you'll have a ballpark idea of how much everything will cost. But there are ways to trim costs. Hosting during a less popular time, selecting a cheaper location, and trimming down your guest list are all helpful steps. Planning and booking in advance are also incredibly helpful. 
Where is the cheapest place to have a destination wedding?
If you're looking for a cheaper place to have a wedding abroad, they are more budget-friendly. Just keep in mind that you can always end up spending more, or trimming costs, no matter where you decide to go. These are generalizations, meant as a guide and not as statements that are true in all circumstances. The budget-friendly locations are taken from the US News and Well as With Joy, and are considered reasonable places to cost a wedding. (Never book a location simply because it's cheap).
Trinidad and Tobago

Puerto Vallarta (México) 

Cozumel (Mexico)

Costa Rica

Jamaica

Martinique

Dominica 

Cambodia 

Continental U.S.
What is the Number 1 Wedding Destination in the US?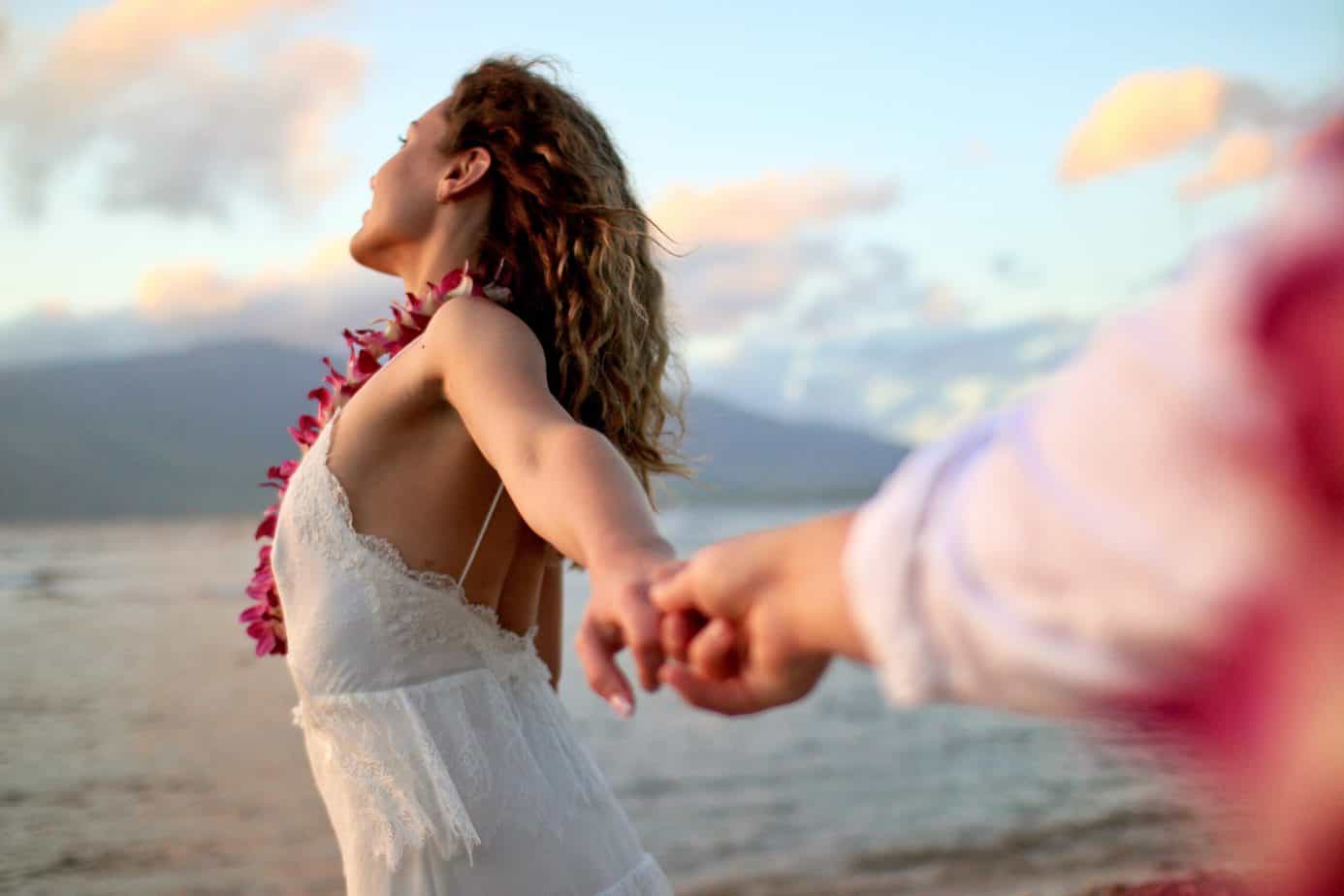 The number one location for destination weddings that's in the United States is likely Hawaii– more specifically Maui. But for this, you'll need to have the same budget– if not higher– than other destination weddings (unless you happen to already live in Hawaii). 
Otherwise, you can often get the same destination feeling without living in the states. This normally will trim costs. Though any destination wedding will be more expensive, keeping it within several states of where you are at least gives guests the option to drive, and you may have more room to negotiate costs. Other popular destinations in the United States include Portland, San Francisco (which can be pricey), Aspen, Las Vegas, New Orleans, New York City, Florida (and other states) beaches, Boston, and near lakes or bodies of water in New England, as well as Michigan. 
What is the cheapest beach to get married on?
In the United States, some beaches you may want to consider include:
Destin, FL

Pensacola, FL

Virginia Beach

Cannon Beach, OR

Myrtle Beach or Hilton Head, SC

Pismo, CA

Gulf Shore, AL

Corpus Christi, TX

Olcott, NY

Delray Beach. FL

St. Augustine, FL

Erie, PN

Clearwater Beach, FL

Beaufort, SC

South Padre Island, TX
Of course, don't assume that a place will be cheaper. Comparison shop, and also factor in additional travel costs as needed. 
What Do you Bring to a Destination Wedding?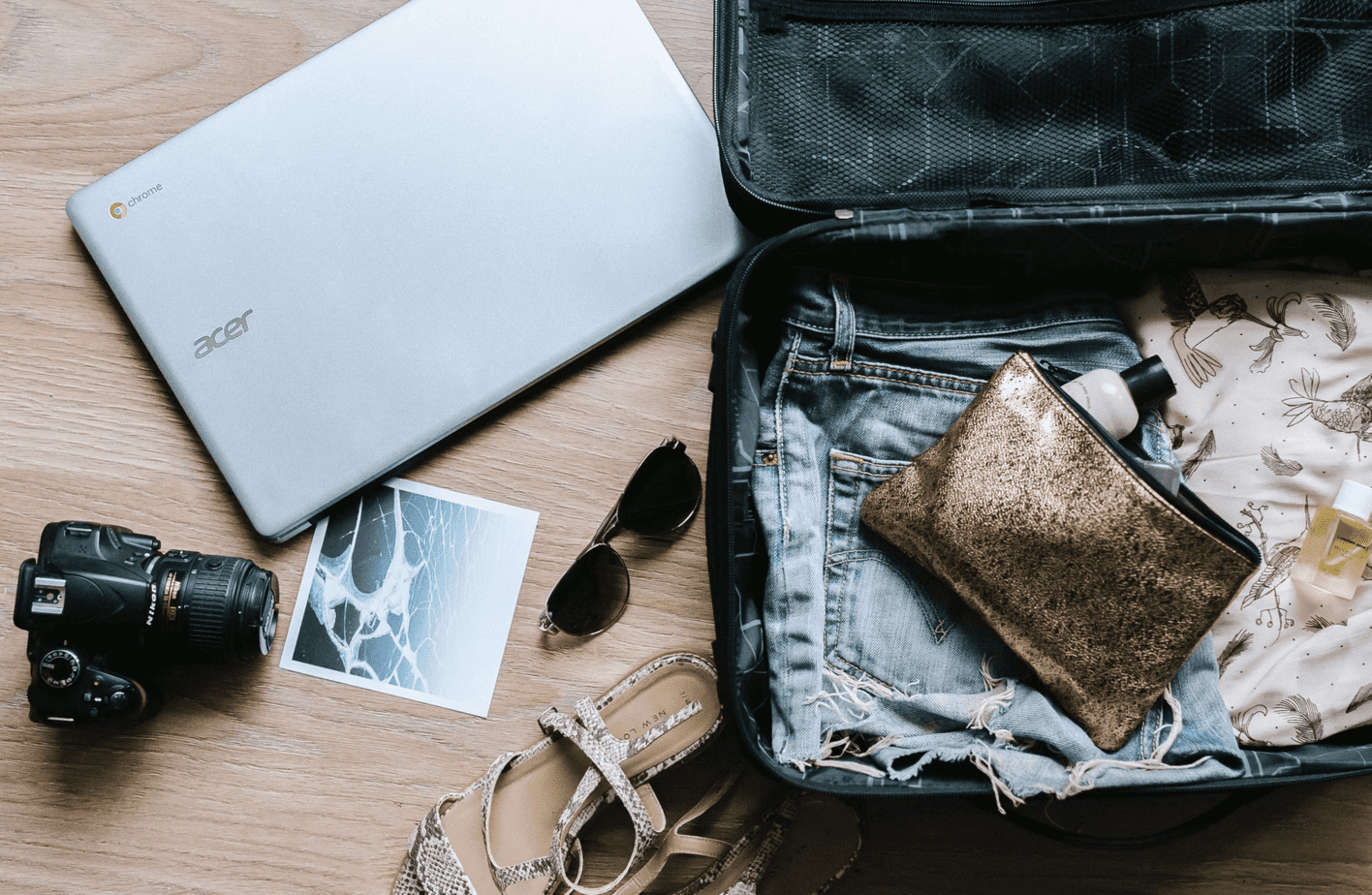 Whether it's local travel or travel to another country, you should both prepare for yourself and consider having some fun travel favors and welcome bag tie-ins. 
What Should You Not Forget for a Destination Wedding?
Basics 
Must-haves include passports and/or visas, IDs, all travel documents (such as flight vouchers, etc), sunglasses, cell phones and chargers, credit cards/ method of payment, books or magazines (passes time and eases jitters), travel pillow, towels, sun hat, sandals, extra tote, rings, and necessities. Remember any personal products. 
Of course, you'll also want to have luggage bags, both for main items and even for your cosmetics. Shop Wedding Luggage Here. 
Toiletries, Medications, and Makeup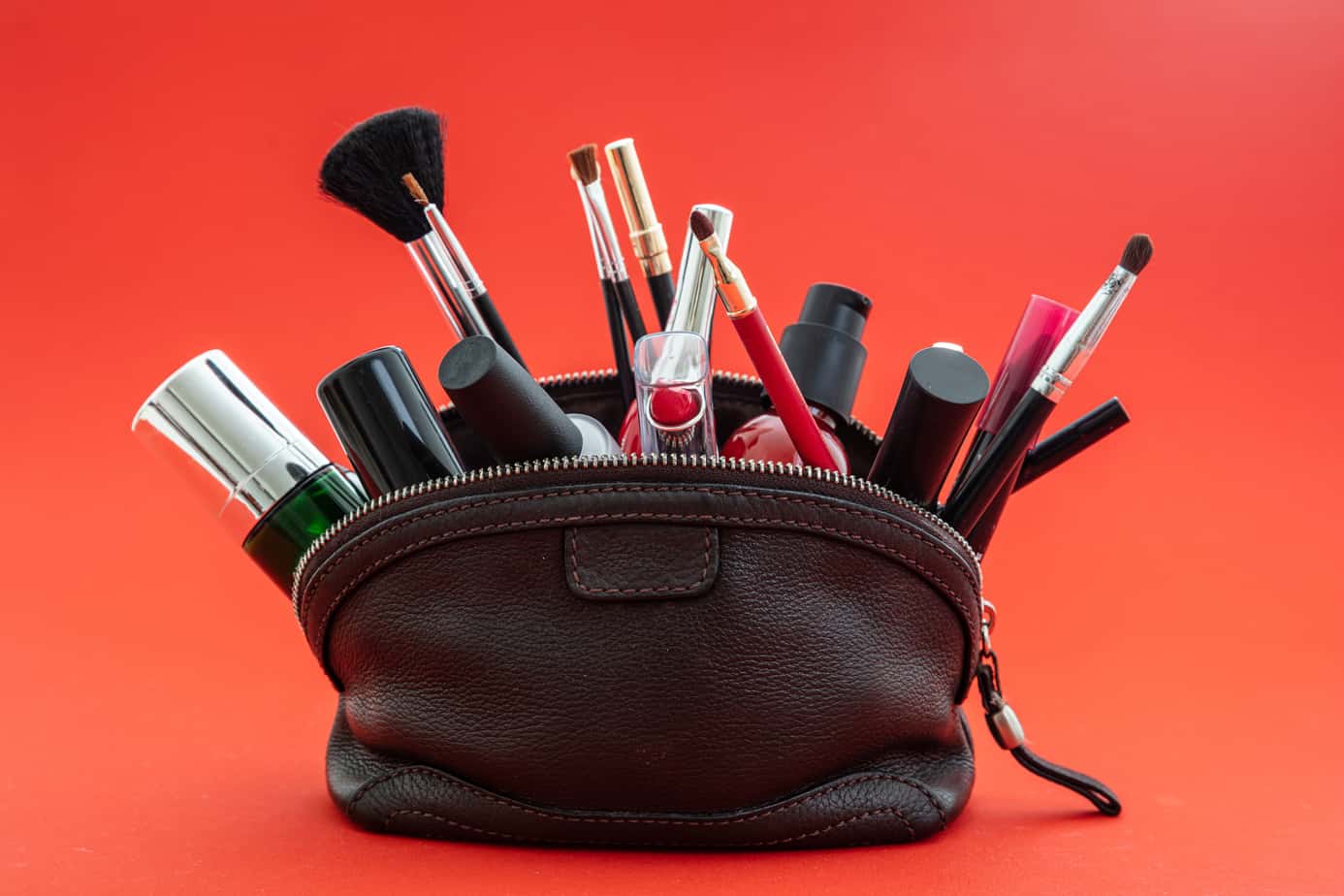 For toiletries, such as shampoo, sunscreen, deodorant, etc, remember that airlines have limits on what you can carry. Any liquids or gels must be 3.4 ounces or smaller, so think travel-size.  Most airlines also require you carry them in a plastic bag. You can buy some things at your destination, but you may have limited time, will be paying a premium, and may not be able to find your favorite products.
Read the TSA Guidelines for Flying with Medications Here. 
What Makeup is not Allowed on a Plane?
Keep in mind that you can bring solid and powder makeup, but the 3.5-ounce rule applies to other products. I recommend against eyeliner pencils, but mascara falls under the 3.5-ounce rule. 
How do you take a wedding/ bridesmaid dress or suit on a plane?
Of course, your wedding attire is a must-have as well. When you're buying a wedding dress and selecting bridesmaid dresses, you may want to opt for a fabric that doesn't easily wrinkle, such as crepe, lace, and tulle. Of course, you can also bring a compact wedding dress steamer for your bridal party. You'll want to prepare garment bags and, when possible, place your dress or suit as a carry-on in an overhead bin. You should contact the airline early to ensure it falls under carry-on standards and see if they have additional tips to ensure your attire arrives safely.  
Is baggage insurance necessary?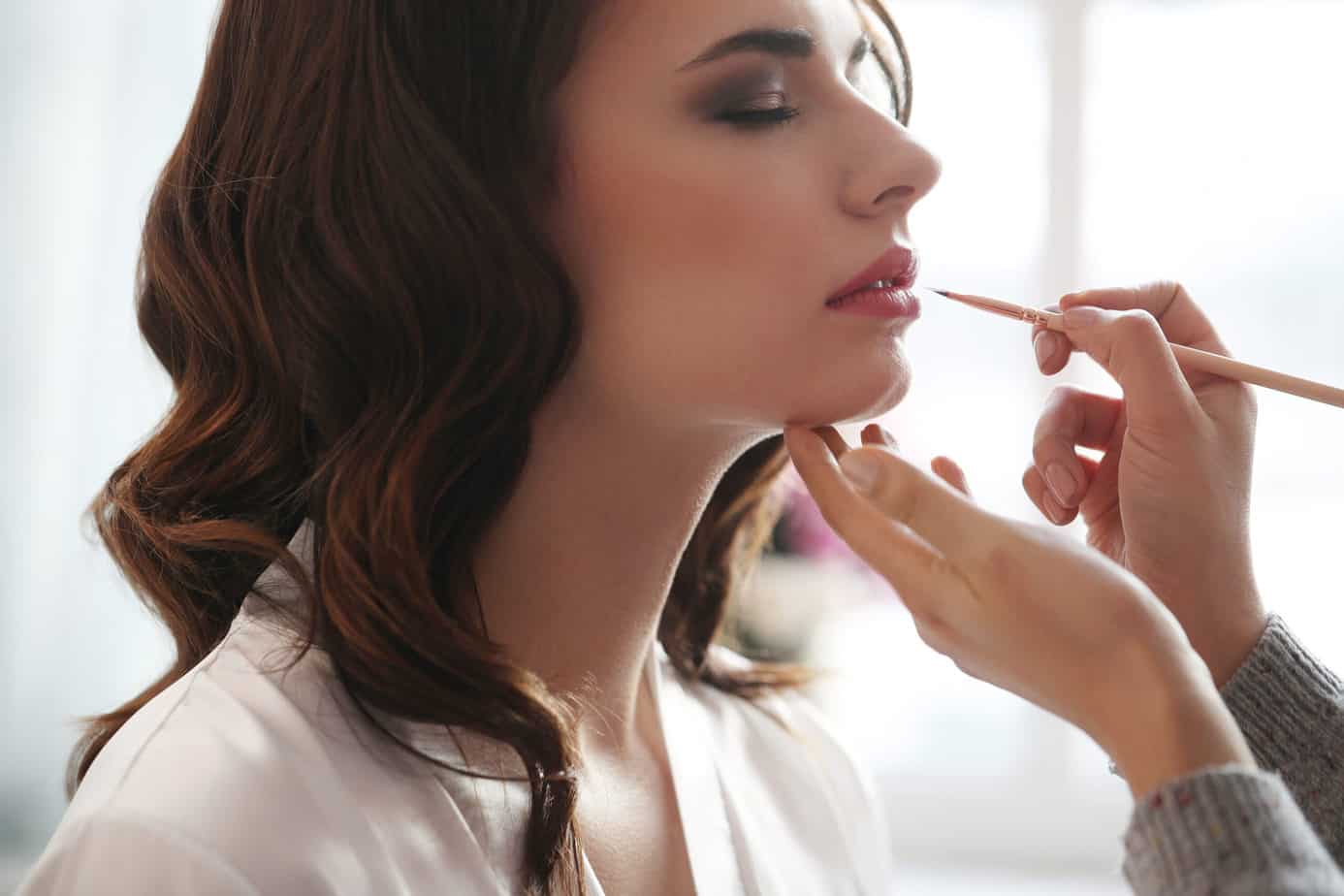 Depending on the plan, baggage insurance covers delayed, lost, and stolen baggage. Some plans, like Travel Guard, go beyond the flight and also hotel rooms and parking lots. Should your luggage be lost or damaged, airlines usually take up to several weeks to reimburse you, and they don't always. They often require proof of the value of what was lost, and even then it can take months longer. Your best bet is to bring valuables with you in one place, beside you as much as possible, and marked. Travel insurance is a must-have for everyone, but if keeping your valuables close isn't doable, you may want to consider it. 
Frequently Asked Questions
Question: How Much is a Beach Wedding in Florida?
Answer: Where you get married in Florida and what type of wedding you have varies greatly. Miami is one of the hottest places to get married, and all-inclusive resorts can cost as much as some international resorts. If you're just looking at the cost of a beachside ceremony, you're looking at an average range of $900 through $2,000. That cost includes decor, an officiant, the space, and any sound systems. 
Question: Can you get Married on the Beach for Free in California?
Answer: Some states, from Florida to California, offer opportunities for low-cost beach ceremonies. Some couples rent a condo beside a beach, and some of those condos may allow you to use that space for a ceremony. Permission, however, is required. If you're getting married on a public beach or in a public park, most of the time you'll need to obtain permits, and those are relatively inexpensive but necessary. Of course, you also need an officiant and legal paperwork to make it official. But beachside and lakeside ceremonies can be budget-friendly. 
Question: How can I Save Money on my Wedding Car? 
Answer: You can save money on your wedding transportation in countless ways. Nix the need to impress with a vintage car– even pricier than a limo– and decorate your car instead. If you do want a special entrance, plan far ahead, especially if you're getting married during a popular month. Estimate how long you'll need the car, and get quotes from multiple places, always asking about extra fees and minimum costs/ rental hours. 
Final Thoughts
Wedding travel can be stressful, but it doesn't have to be. With planning, a budget, and a guest list in hand, you can ensure your day runs as smoothly as possible. If you're in between a destination vs a traditional wedding, make a list of pros and cons. Consider a destination wedding in the United States if you're worried about overseas travel. And for destination weddings, it may be worth hiring a wedding coordinator, even with the extra cost. 
Final Buying Recommendations- Reception Decor 
Looking to make a splash at your reception– and honor the travel you and guests undertook to make it there? Consider a Global Travel Signing Poster instead of a regular guest book; custom Travel Menu Cards; and, help guests plan with a Custom Destination Wedding Itinerary.
Further readings:
Wedding Financial Planning Guide
Ultimate Honeymoon Planning Guide – Things to Keep in