I remember searching for our wedding bands as if it was yesterday. It was one of the activities I've enjoyed the most of our wedding planning process. We decided pretty quickly after going to a few different jewelry stores. Right from the start, we knew what we wanted; something simple made of white gold and a rounded shape.
But, for others, this part of the wedding planning events might not be as easy based on the pattern they wish to wear on their finger.
Or, perhaps, they don't really know what to expect or what they want yet. This is why I've decided to create this buying guide on how to find the best wedding bands that suit your budget and preferences.
How to Find the Best Wedding Bands – a Comprehensive Buying Guide
Wedding bands were used since ancient times as a symbol of love and a lifetime commitment. These rings also represent the everlasting and neverending love of the married couple, since they don't really have a start or an end. Initially, these accessories were made of iron. In the medieval period, wedding bands began to be crafted of precious metals like gold and embellished with gemstones.
Wedding Bands Metals

Nowadays, most people opt for wedding bands that are made of precious metals such as silver, gold, platinum, and palladium. In terms of colors, one can choose between yellow, rose, and white gold. Each wedding band material has its own pros and cons.
Below, you will find listed the most popular alternatives in terms of wedding band materials:
Yellow gold – this is the traditional color and metal of wedding bands. It features a pure shade that's also low-maintenance. If you have sensitive skin, then yellow gold should be your go-to choice because it's hypoallergenic. Still, you must clean and polish it on a regular basis;
Rose gold – this option is more affordable and more durable than other metals, but it isn't a hypoallergenic material;
White gold – my husband and I opted for white gold wedding bands because my engagement ring is made of the same material. Plus, white gold, in our opinion and taste, looks more subtle and delicate. White gold is resistant to scratches and costs less than platinum. However, you must have it dipped every couple of years in order to maintain its luster;
Platinum – this material is much more durable than gold and it's also hypoallergenic. Still, it's the most expensive choice. Despite its durability, it can still get scratched and its color can get duller in time. 
Wedding Bands Styles
There are many different types of styles and patterns of wedding bands for both men and women. You and your partner can opt to wear the same kind of wedding ring or, as it often occurs, the woman wants something with a dazzle like gemstones or even diamonds.
Styles of Wedding Rings for Men
The style of male wedding bands is usually simpler than the ones worn by women. Most men opt for rings made of white or gold rose, titanium, or tungsten. Some men prefer a simple plain style, whereas others choose a more intricate pattern. Many men prefer a wider wedding band, although some would rather choose a thinner ring.
Width
For instance, my wedding ring has a width of 3mm, while my husband's ring measures 4mm in width. These widths are on the thinner spectrum when it comes to wedding bands. But, if you want something minimalistic, you could even choose a smaller width that ranges between 1.5 and 3mm.
Other people might prefer something thicker because thickness makes the ring more noticeable.
Fit
The wedding band should fit your finger properly. That means the ring should slide smoothly over your knuckle, but you should feel it snugly wrapped around your finger. The metal has something to do with how the wedding band feels on your finger. For example, more durable and thicker materials, such as platinum, are heavier than others.
Finish
There are five available alternatives when it comes to the ring's finish:
High polish – the most popular wedding band finish is the high polish one which features a shiny surface. This is the one we chose for our wedding bands. Their surface is reflective, which creates an appealing look. Still, polished white gold, for instance, is very prone to scratches;
Satin – this resembles the high-polished look due to the shiny appearance of the band's surface, but, unlike high polish rings, satin wedding bands don't reflect light. Simply put, this style is less flashy;
Matte – this wedding band style is flat, non-reflective, and it doesn't shine at all;
Sandblasting – this style is the perfect choice for you if you want something with a tad of grit to it. Through the sandblasting technique, an abrasive tool is used to achieve a rougher finish;
Brush or cross satin – the brushed satin finish isn't shiny and it features a textured surface. This style is quite original and unique.
My husband and I have recently celebrated two years of marriage and we both wear round-shaped white gold wedding bands that are high-polished. So, this makes me think that we should pay a visit to our jeweler to repolish the surface of our wedding rings.
Structure
As a future groom, you have three options when it comes to wedding band structures:
Dome – the dome structure features a rounded shape that shows on the band's edges and surface. This is the style of my wedding band. Also, my husband opted for the same D-shape style. We believe this to be an evergreen option. Moreover, the shape feels comfortable on your finger;
Concave – this style is the opposite of the dome alternative. The curved shape of the ring is placed inward. For some people, this is a truly striking shape;
Flat – wedding bands that have no curves are what experts call flat structures. The edges are straight.
Styles of Wedding Rings for Women
The ideal wedding band for a bride should resemble her engagement ring and complement it. Many jewelry providers even sell both items as a wedding set. A bride can choose a simple and timeless wedding band or a very intricate one that's full of diamonds, just like an eternity ring.
Width
There's no such thing as a correct or incorrect width when it comes to women's wedding bands. It's a matter of personal taste. I wanted a thinner wedding band that measures 3mm. Some of you might want it even thinner than that, while others might prefer thicker bands. As long as you feel comfortable with it, you're good to go.
Also, make sure it goes well with your engagement ring, especially if you plan to wear both accessories on the same finger. Some days, I wear them together, next to each other; other times, I'd rather wear them separately: my wedding band on my left hand and my engagement ring on my right hand.
Fit & Comfort
To make sure your wedding band will fit properly and will feel comfortable, you should try several models, sizes, and widths, by going to a brick-and-mortar jewelry store.
Based on their size and structure, wedding bands will feel and sit differently on your finger. The band's width or pattern shouldn't cause any discomfort and should sit well when placed next to your engagement ring.
Structure
Ladies, we are so fortunate to have a wide selection to pick from when it comes to various styles of wedding bands. Narrowing down this choice shouldn't be stressful but exciting. Here are the most popular wedding band styles for women.
Classic Metal Wedding Band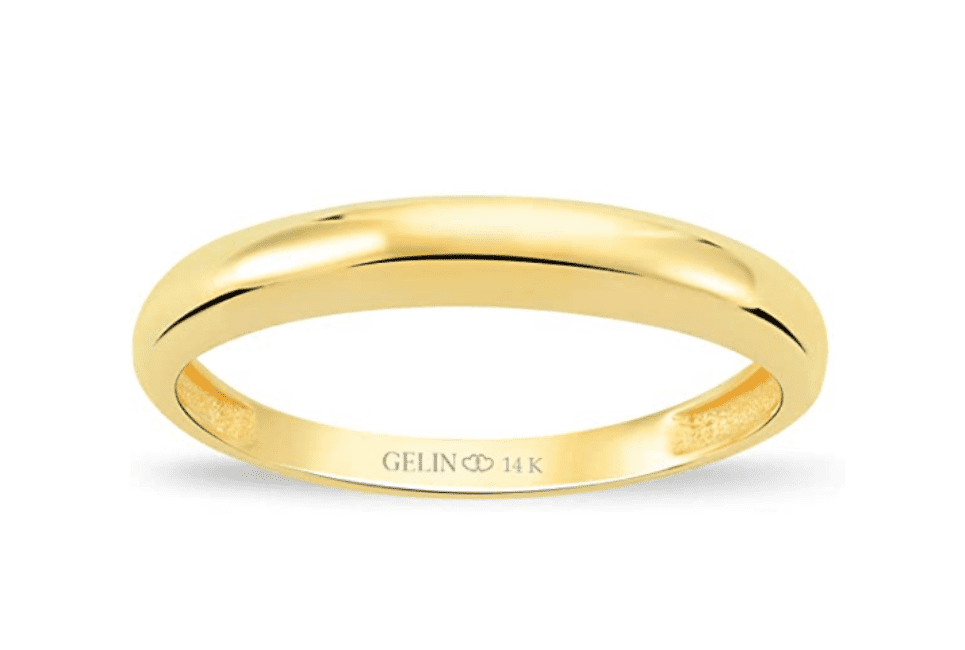 This is the timeless and traditional version of the wedding band and it's been popular since forever. It's the symbol of devotion and eternity. Mine is simple without any embellishments, but you could also opt for a metal band that features one single transparent diamond or gemstone.
Pave Band

The pave model features a row of gemstones placed on the band. Women who prefer diamond pave wedding bands usually want to enhance the beauty and sparkle of their engagement rings. There are different kinds of pave band models, from the French alternative with a v-cut metal setting to scallop-cut settings.
The pave wedding band matches a solitaire or a cushion-cut engagement ring.
Infinity Wedding Band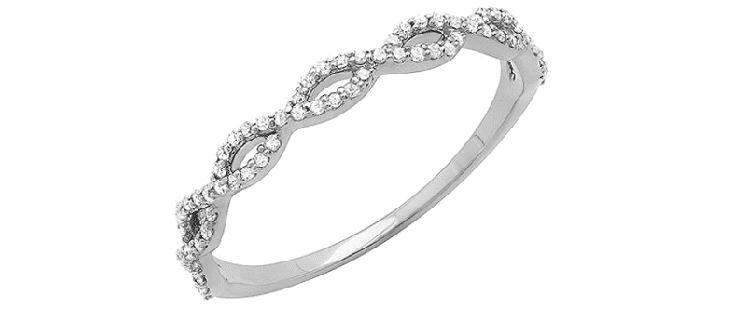 Infinity bands have a remarkable design since they are paved with diamonds or gemstones all-around their structure. They are a true symbol of eternal love and commitment. There's a tradition within noble families that the wife must receive an infinity ring after she gives birth to the couple's first child.
So, after welcoming their first child, she will wear three rings: the engagement ring, the wedding band, and the infinity ring, all on the same finger.
If this is your case and you want to follow this tradition, I recommend you to choose thinner bands so that the final look doesn't seem too crowded.
Eternity Band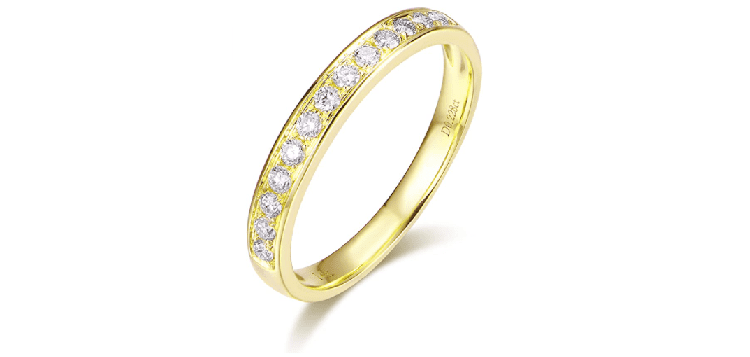 The eternity band is very similar to the infinity ring, but, in this case, the gemstones or diamonds can surround the entire band or just half of it. Eternity bands also come in various settings such as pave, channel, and prong. If your engagement ring is a simple one-stone model, then this wedding band could work.
Channel Wedding Band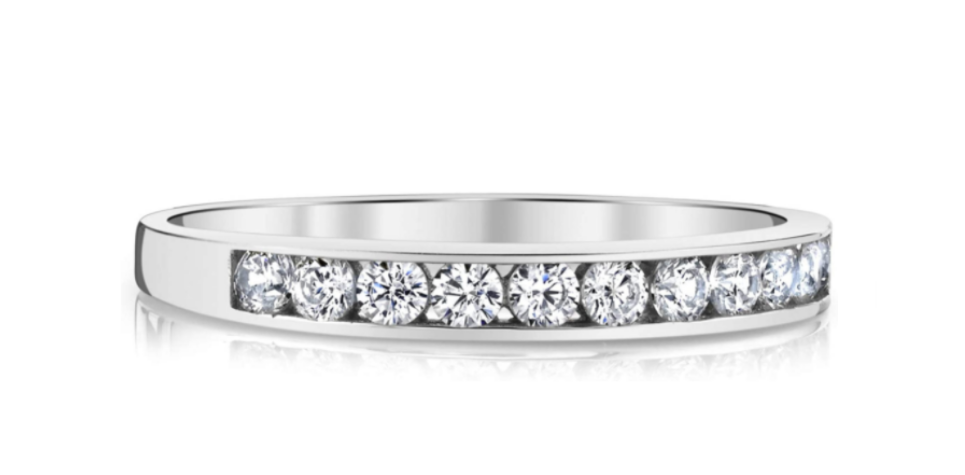 The most popular models of channel wedding bands are those that feature princess-cut diamonds that are included in a half or full eternity band. It's both stunning and very durable. But it only works with simpler engagement rings.
Curved Band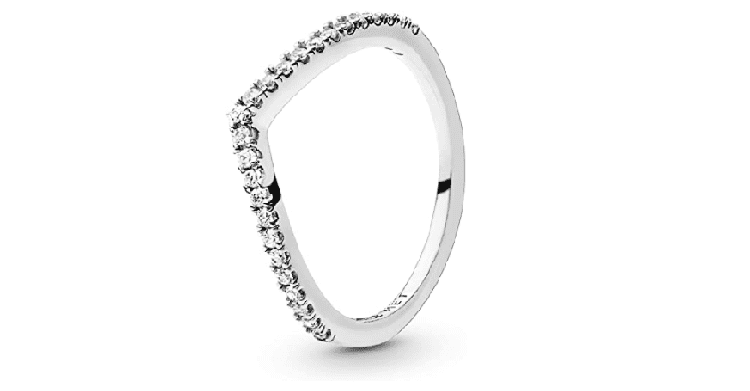 The V-shaped wedding band is very appealing and is needed for specific models of engagement rings, such as pear-shaped or oval diamonds. Curved bands also symbolize integrity and good fortune. I find this ring style to be sexy and attractive because it elongates the finger.
Jacket Band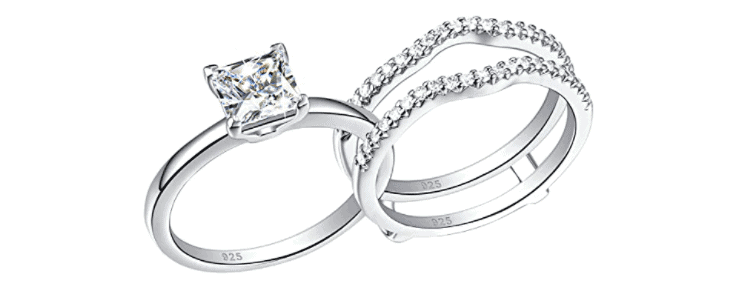 If you want to boost the beauty of your engagement ring, you should definitely choose a jacket wedding band. These rings are stunning and brilliant due to their row of gemstones or diamonds.
You could opt for a pair of two of these jacket bands to place underneath and above your engagement ring. To do that and achieve an elegant outcome, choose thinner bands.
Vintage Wedding Bands

If you want a vintage wedding band, you'll be glad to know there are many available options on the market, both authentic and replicas. Here are the main types of vintage wedding bands:
Victorian ring – these wedding rings consist of vivid styles, bright colors, and bold statement designs. Gemstones are usually inserted in the band's structure. By the end of the Victorian period, diamonds, as well as platinum and silver, became a lot more popular;
Georgian ring – the design of these rings is inspired by the Greek culture and they feature several motifs such as flowers, leaves, wheat stalks, and birds;
Edwardian wedding band – if you want a more delicate and feminine wedding ring, then the Edwardian style will certainly be to your liking. These bands are beautiful and sophisticated without being overwhelming. Gold was a popular metal choice during that time;
Art nouveau band – these wedding bands feature elegant and symmetrical lines and they are embellished with natural motifs. They have intricate metalwork;
Art deco ring – geometric shapes, linear designs, and neutral colors are the things that could describe an art deco wedding ring.
Effective Tips on Finding the Best Wedding Bands
Here are the most effective tips from the experts on how to find the best wedding rings:
Start Your Search Early
Most couples, including my partner and I, wait till the very last moment to start shopping for wedding rings. If you don't know your favorite style yet, you should start looking for the perfect wedding band early, around 3 or 4 months before the wedding day;
Always Wear Your Engagement Ring
When you're going to jewelry stores – when shopping for wedding bands, you should have your engagement ring on your finger. This way, you'll know what style of band matches the ring. The band doesn't necessarily have to match the engagement ring, but they should look balanced and nice when paired together;
Consider Your Lifestyle
Wedding bands are normally worn on a daily basis. Therefore, it's essential to consider your everyday lifestyle when choosing the right wedding band model. If you have a very active way of life, you should opt for a very durable material or choose to wear a second band made of silicone or wood. The more intricate the model is, the higher the cost of maintenance will be;
Make Sure You Get the Right Size
Regarding wedding bands, one of the most important aspects is finding and ordering the right size. Your fingers will contract during colder months and swell during summer. Therefore, the fit should feel comfortable and remain snugly all year round. Avoid trying on wedding bands early in the morning or immediately after a workout session;
Worry Less About Matching Wedding Bands
Some spouses want matching wedding bands, but that's not really a necessity. Traditionally, both partners wear the same wedding band style, but you shouldn't feel pressured into doing the same, especially if you and your husband have different tastes.
Alternatives to Traditional Wedding Bands
If you want something more modern or innovative and unique, you should opt for a wedding band made of wood, silicone, or other original materials.
Many people choose to purchase a second pair of wedding bands made of a more affordable and more durable material like silicone and they wear that pair when they travel or engage in physical activities.
It's a great way to protect your original wedding rings made of precious metals. Other great choices are bands made from ceramic.
A more durable alternative is the tungsten carbide wedding band. Here are my top 3 picks of untraditional wedding bands. I've chosen them based on the way they look and durability, but I haven't listed them in a specific order.
Silicone Wedding Bands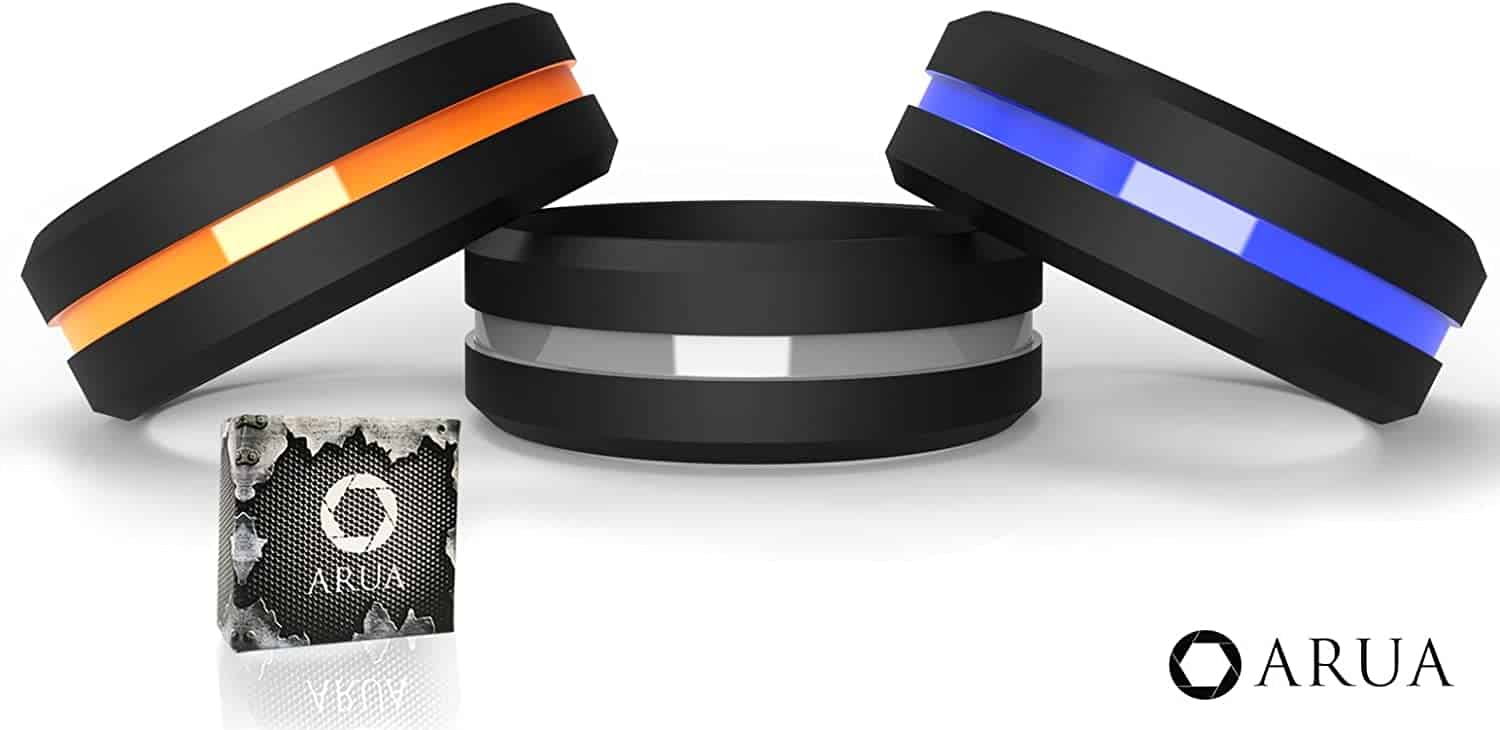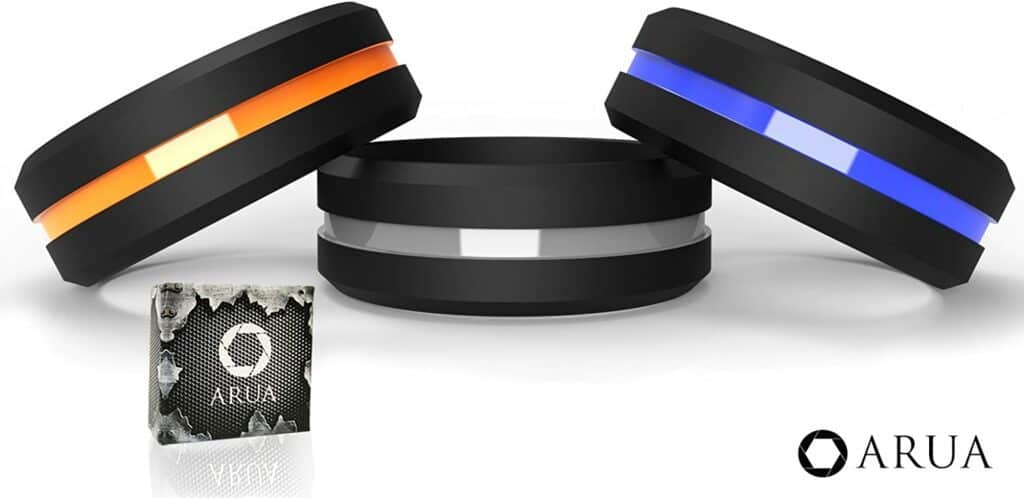 Silicone wedding bands are the perfect choice for those of you who're into sports on a daily or regular basis. They also work great for workers and artists, who tend to use their hands a lot and don't want to damage a wedding band made from precious metal. Choose a silicone band that's made from medical-grade materials.
Pros
You can choose from numerous available models and colors;
It's a lot more affordable than a gold band;
Silicone is a hypoallergenic material;
It's versatile, comfortable, flexible, durable, and non-conductive;
This type of wedding band will prevent ring avulsion.
Cons
It's a non-traditional alternative that won't look as luxurious as a gold band;
It may last less than wedding bands made of certain more durable metals.
Tungsten Wedding Bands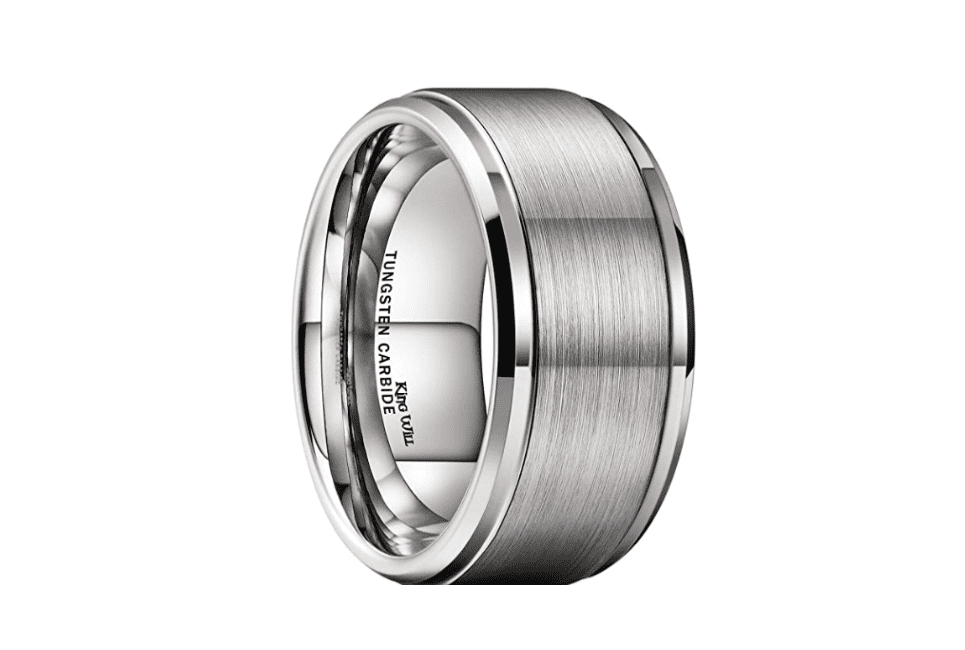 Tungsten wedding bands are durable and they don't scratch. In fact, tungsten wedding rings have become more and more popular these days because they seem to be much safer compared to other metals.
Many people used to believe that a ring made from this material would be difficult to remove in case of a health emergency, but that's not true.
Pros
Rings made of tungsten will never break or bend;
They are resistant to scratch;
It has a higher density compared to many other metals;
The shine and polish of this metal are exquisite;
This is a hypoallergenic material that is suitable for people who have sensitive skin.
Cons
You won't be able to resize a wedding ring made of tungsten;
Make sure you purchase your tungsten wedding bands from a reputable and certified jeweler because there are many cheap alternatives out there. In those unfortunate cases, tungsten is usually mixed with lower-quality metals such as cobalt. Instead, you should search for an option that contains nickel alloy, although it is a bit more expensive.
Wooden Wedding Bands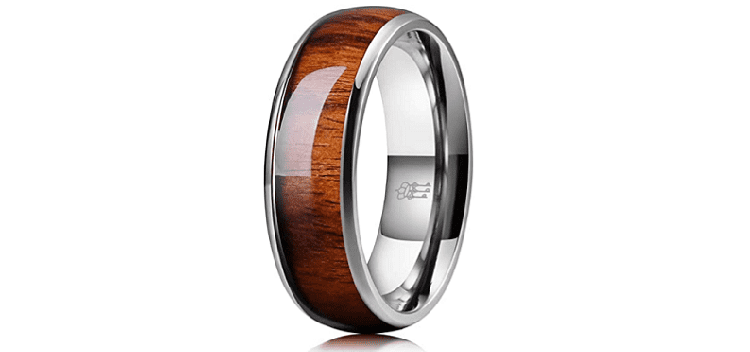 Wooden wedding rings are something else. Depending on their style and the way they're crafted, wooden bands can look elegant and classy.
This is a special option, especially for grooms since it probably is the very first ring they'll wear, and, also, most likely, it will be the last. If you also want a classic wedding band with a twist, you should choose a wooden one with earthy tones.
Pros
Every piece of wood tells a different story; they represent the pure connection of men with nature;
Wedding rings made of wood are a great eco-friendly option;
It's a hypoallergenic material;
There are endless varieties to choose from when it comes to wooden bands.
Cons
Although wooden rings are more durable than many people think, these might become damaged if they're not handled with care;
It's very hard to resize a wooden ring;
Chemicals like hand sanitizers could destroy the ring's wooden finish.
Finding the Best Wedding Bands – Top 6 Choices
Let's find out some of the best choices available on the market in terms of wedding bands. The following products were presented in no particular order. I've picked them based on their popularity, style, and durability.
The Best Wedding Bands for Him
Here are some of the best and most popular wedding bands for men.
Blue Nile Tungsten Band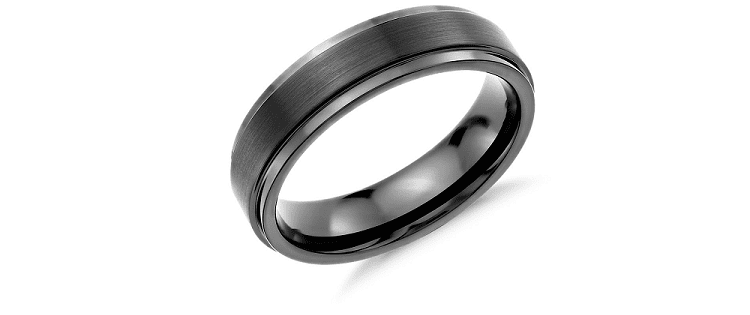 This Blue Nile wedding band looks amazing with its brushed finished and high-polished surface. It's made of tungsten, so it's very durable. With this wedding ring, you can rest assured that your love symbol will last intact for many years to come. This material is similar to titanium in terms of durability.
Pros
You can choose from 3 available color options: white, black, or gray;
It's the most durable metal of all;
The style looks lovely, being a classic and timeless one;
It's highly resistant to scratches.
Cons
For some of you, this band might feel too heavy on your finger;
Some men might consider this wedding band too wide – it measures 6mm;
It can shatter if you don't handle it with care.
James Allen Titanium Band
This James Allen wedding band is great due to the fact that's made from titanium, which is a lightweight, yet very durable material. Moreover, James Allen is a reputable and popular jewelry brand with a large client database.
So, if you don't really want a gold wedding band but wish to stick to something classy, this titanium ring is one of the best choices.
Pros
The reputation of the retailer is a very important aspect, and James Allen is a trusted brand;
This is a high-quality wedding band that comes at a pretty affordable price;
The company has a size exchange policy available for 30 days since the first purchase.
Cons
This wedding band isn't sizable;
It may scratch easily.
Ritani Cobalt Wedding Band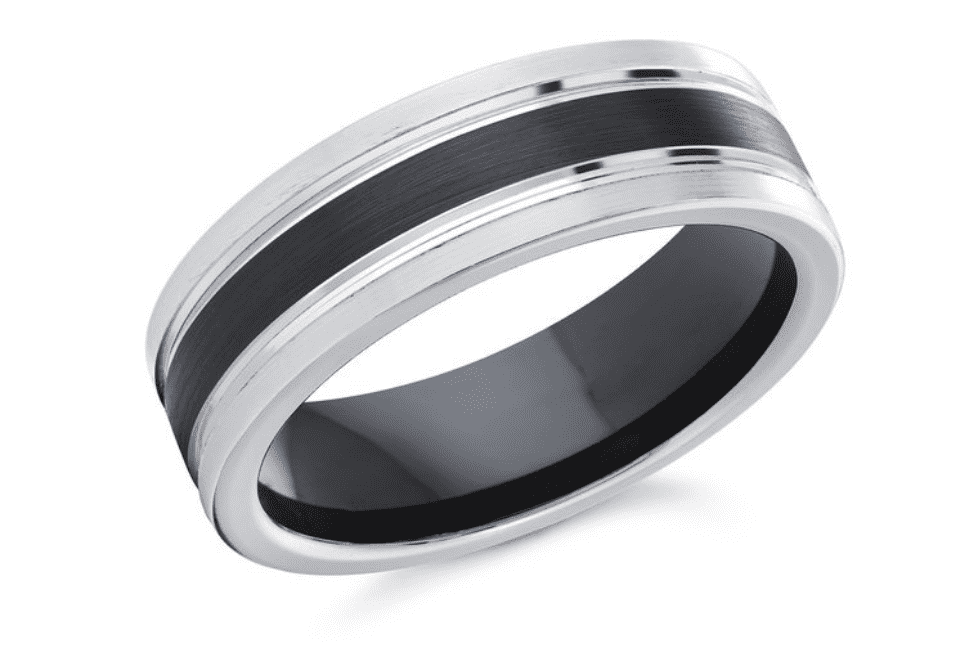 This wedding band made by Ritani features a striped pattern and a mix of black and white colors. It looks modern and it's a great option for those who have sensitive skin since this is a hypoallergenic material.
It's a mid-range priced wedding ring that has a black stripe in the middle of the band. So, if you think this suits your tastes and style, you should check it out.
Pros
The company offers more than 600 wedding band models to choose from;
This is a modern-looking wedding band that's both hypoallergenic and durable;
Ritani offers free engraving for their wedding bands;
Cobalt is a material that looks similar to platinum or white gold.
Cons
You won't be able to resize it;
This model might be too plain for some of you.
The Best Wedding Bands for Her
Let's see some of the best wedding bands for women.
Diamond Bamboo Ring by Stone & Strand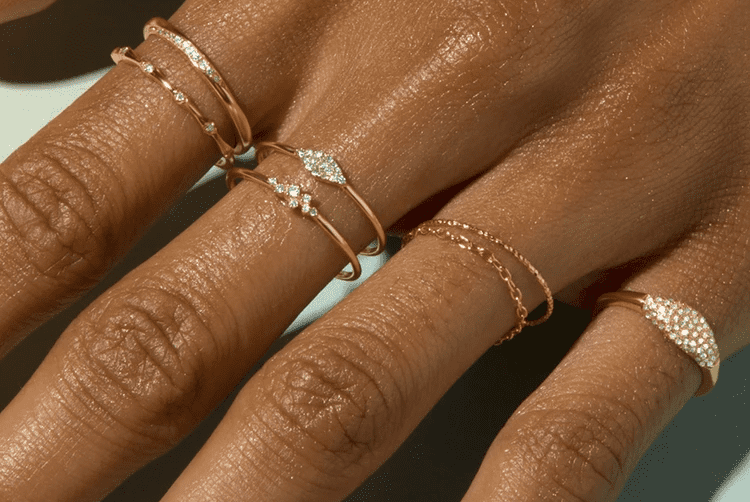 This diamond bamboo wedding ring looks amazing and it's so delicate and feminine. It's made of solid yellow gold of 14 K and it features small white diamonds that are conflict-free. All the materials used to craft this wedding ring are ethically-sourced. This wedding band for women looks so cute and it's also affordable.
Pros
It's a delicate piece of jewelry that doesn't cost too much;
It features a stunning design that includes tiny diamonds;
This wedding ring is made of 14K gold which means it is more durable than 18K, or 24K gold.
Cons
It might be too subtle for some of you;
This type of wedding band style doesn't match any engagement ring design.
Automatic Gold Curvy Wedding Band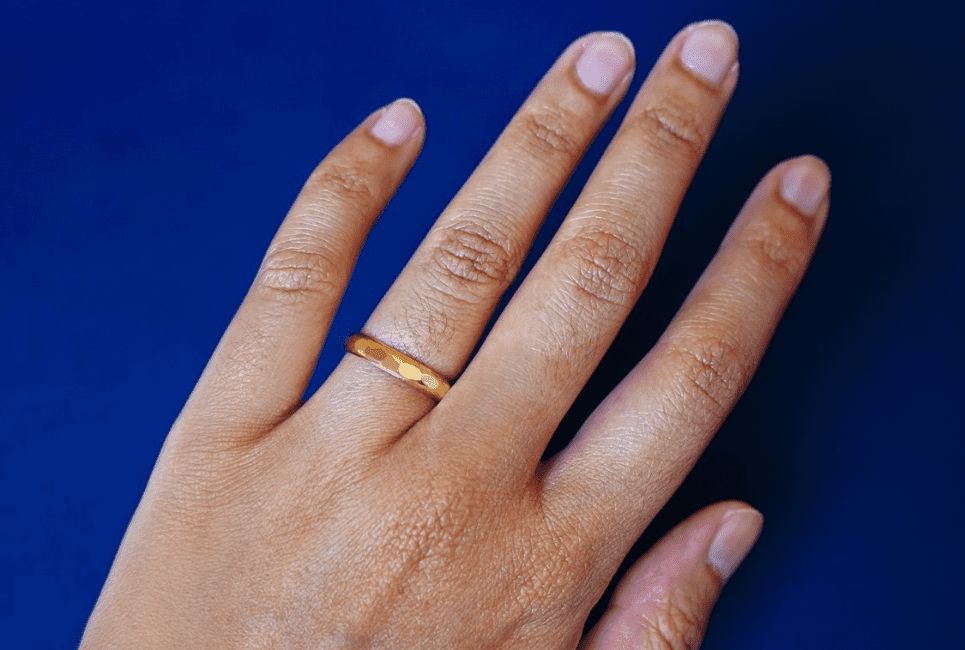 This matte gold wedding band sold by Automatic Gold is simply divine. It has a textured surface created not by the material itself but by the shapes and design.
You can choose from four available gold shades: white, gold, champagne, and rose. This hammered band is a handmade creation. Besides engraving, you can also add one or three central diamonds.
Pros
It's a beautifully-crafted wedding band;
It has an almost unique pattern;
The company offers customization such as engraving;
It's a versatile and unisex wedding ring.
Cons
It's made of 14K solid gold, which is great but not as durable as other metals;
You might prefer a simpler model without all the different angles and shapes.
Noemie Vintage Wedding Band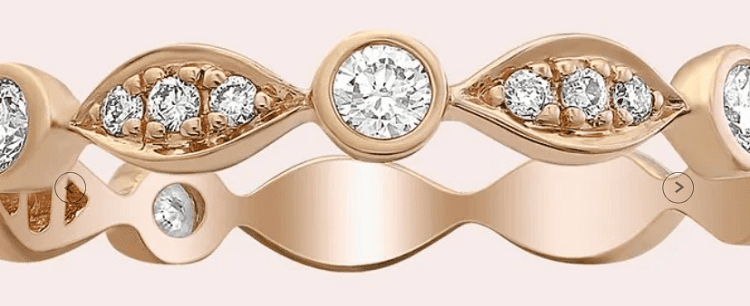 This Noemie vintage wedding ring is fabulous and will surely make others notice it. You will definitely receive a lot of attention and comments about it. This rose gold milgrain ring features art deco elements. There are white diamonds included in gold bezel settings. You can also opt for yellow or white gold instead of rose.
Pros
It's truly unique in terms of design and shape;
It's a great match for those who love all things vintage;
You can engrave it for free;
The shipping is free and you can return it if it's not to your liking.
Cons
It's an expensive wedding band.
Finding the Best Wedding Bands – Frequently Asked Questions
Question: Who Should Cover the Cost of Wedding Bands?
Answer: The tradition and wedding etiquette says that the groom should purchase both wedding rings. In many other countries, the groom buys the ring for the bride, and vice-versa.
This exchange could be perceived as a romantic gesture. But, in the end, it's up to you and you can decide, together with your partner, who will have to pay for the wedding bands.
Question: How Much Should Good-Quality Wedding Bands Cost?
Answer: How much you're willing to spend on your wedding band is all a matter of budget, taste, preferences, and lifestyle.
Some people don't want to spend a lot, while others are ready to pay thousands of dollars on their wedding rings. My husband and I chose a simpler yet elegant model that wasn't very expensive but not cheap either. Our wedding rings cost around $350 (both of them).
Obviously, if you want gemstones or diamonds on yours, or a fancier material such as platinum, the cost will significantly increase.
Question: Are There Any Eco-Friendly Wedding Band Alternatives?
Answer: Yes, there are. Here are some eco-friendly materials for wedding bands:
Recycled metals and vintage bands;
A tattoo instead of an actual ring;
Ordering a local wedding band, within the US;
Upcycling some of your current old jewelry and transforming it into the wedding band of your dreams;
Wedding bands with lab-grown diamonds;
Rings made of ethically-sourced metals.
How to Find the Best Wedding Bands – Bottom Line
As you can see, there are so many different types of models, patterns, materials, and styles when it comes to wedding bands. So, at first, choosing one might feel a bit overwhelming. But, you should listen to what your intuition says and follow your gut while also keeping in mind your personal taste and lifestyle.
If I were you, I would definitely opt for something that's very durable and resistant to damage and scratches without compromising on style and design.
Something that looks timeless and classy would be my go-to option. Obviously, if my budget was unlimited, I would gladly purchase 3-4 different engagement rings and 3-4 wedding bands, each matching each engagement ring.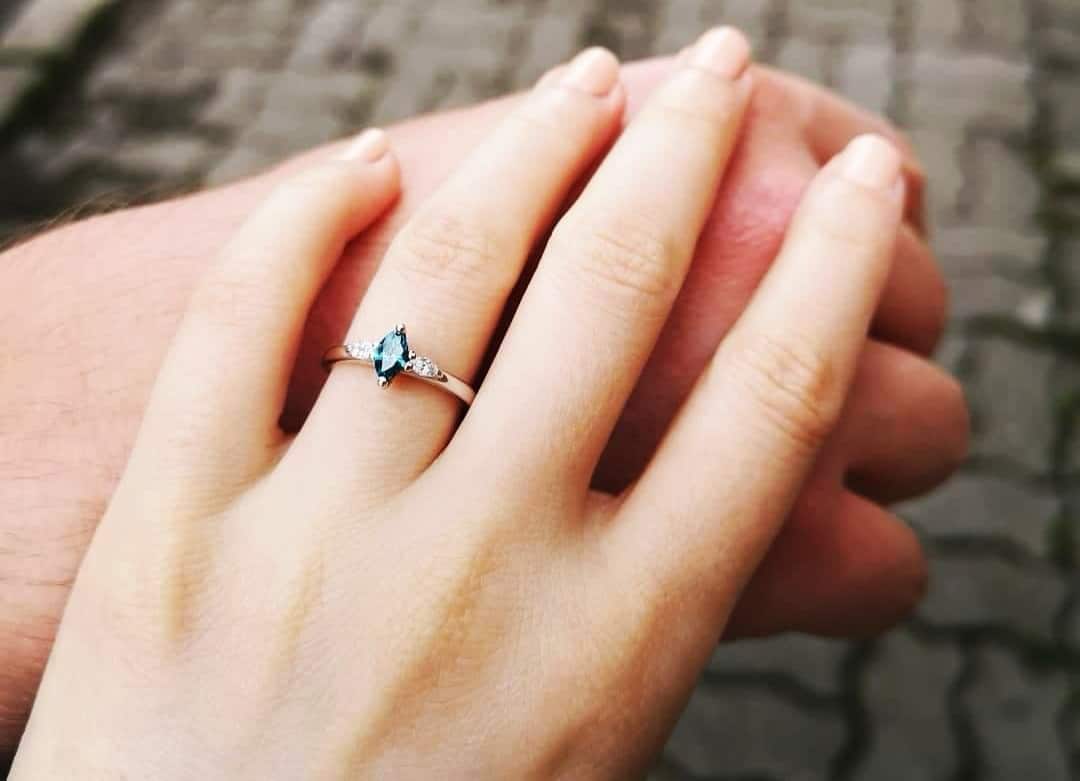 This is a photo of my actual engagement ring. Not to brag, but, isn't it pretty? 🙂
I've thought this through, believe me: I already have my engagement ring that has a marquise diamond cut with one tile blue central diamond and two smaller white diamonds on each side of the center stone. Don't get me wrong! I love my engagement ring but, as of lately, I discovered I also love sapphires, rubies, and, most of all, emeralds.
I was lucky enough to convince my mother to chip in and order a pear-shaped emerald ring which I am still waiting for from the provider. So, all that's missing are the other two rings, one with a ruby and the second one with a blue sapphire. I will happily receive any donations to the following address… no, no! I am just joking 🙂
Further reading:
How to Find the Best Engagement Ring
How to Find the Perfect Wedding Dress