Food and drink planning for a wedding can feel overwhelming. But instead of getting caught up in all, you need to do– or going in without a plan at all. It's time to get inspired by new ideas and make a plan that makes sense for your style and budget. 
In 2021 and 2022, one of the trends that are popping up takes place after the dinner and cake cutting– and even sometimes as a small stand-alone reception. Yet this trend is not so much a trend as one rooted in Italian culture. 
Viennese Hour is a beauty spin on a dessert reception– or just an added surprise after the cake cutting. A table of often color-coordinated desserts includes everything from cookies to chocolate truffles, candied nuts, pastries, and coffee. The focus is on gourmet, individual desserts that are both delicious and aesthetically pleasing. 
Many couples host Viennese hours and don't even realize it. See it as an extension of the classic wedding cake, but also feel free to make it your own. According to the owners of Valley & Company Events, such a feature can cost an average of $10 to $50 per guest, according to the owners of Valley & Company Events. The suggestions, originally made in Brides, involve including bite-sized treats with labels and toothpicks for a self-serve setup.
But in 2021 and 2022, you're also free to make your food and drink planning your own. Planning is up to you, from a dessert reception to a light and airy brunch to a full three-course meal, but you will need a guide.
Consider this your basic guide to the basics, from types of food and drink receptions to budgeting. I'll divide the guide into two sections: one for food planning and one for drink planning.
How Do you Plan Drinks for a Wedding?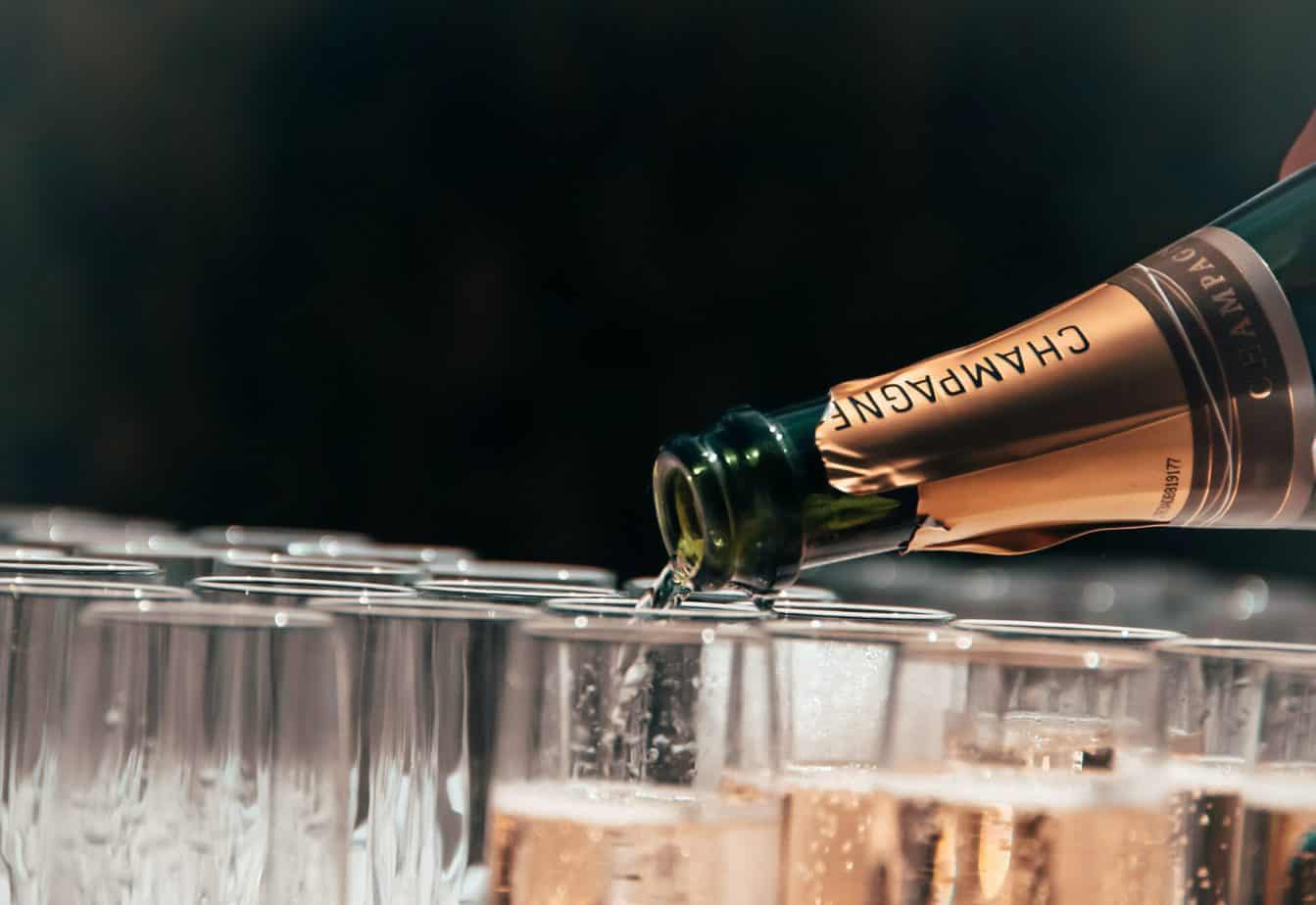 I've been to weddings with an open bar, plus signature cocktails. I've also been to a dry wedding where we toasted with sparkling apple cider. The point is, there's a range of how much alcohol is served and what type. The key is to be consistent and true to your vision rather than caught up in trends. Think about what fits your guests, but also your wedding theme and budget. 
What is the Average Cost Per Person for Alcohol at a Wedding?
As you can imagine, how much you pay for alcohol at a wedding varies greatly depending on your choices. See the chart below for rough estimates gathered from The Knot, Progressive Pours, VA Bride Magazine 
| | |
| --- | --- |
| Alcohol Type | Average Cost Per Hour/ Person |
| Average Overall  | $15 to $90, with an extra $3 to $4 for specialty drinks |
| Full Bar (Premium) vs. Limited  | $20 to $30 or $15 to $20 + hourly rate for bartender. The Knot (2020) reports an average total cost of $4,174 for a premium or $2,550 based upon an "average-sized" wedding  |
| Signature Cocktails  | $11 to $13 |
| Cash Bar  | Usually, an hourly fee for bartending; guests pay for their drinks  |
What are the Most Popular Drinks at a Wedding?
Wine, beer, vodka, and bourbon top the list of most popular wedding drinks. Guests also tend to love signature cocktails like Old Fashioneds. Champagne is simply sparkling wine if a popular choice for toasting the newly-married couple. Of course, what's popular will vary based upon your guests and your wedding theme. A rustic outdoor wedding could even play with drinks like spiked lemonade and spiked cider. 
Is it Cheaper to Buy Your Alcohol for a Wedding?
It'll generally be cheaper to buy your alcohol, but this isn't always true. If you're buying expensive wine, it is possible to exceed expenses vs. a venue's supply– they may also get a special price on purchasing in bulk. Check with your venue and catering costs. Some venues are all-inclusive, which means your venue comes with full catering. Not all venues will allow you to bring your own. Check with this before booking, as those costs can add up. You can save money by bringing your drinks– and opting for a different food choice, especially if it means trimming down on starving staff. 
What is a Good Signature Drink?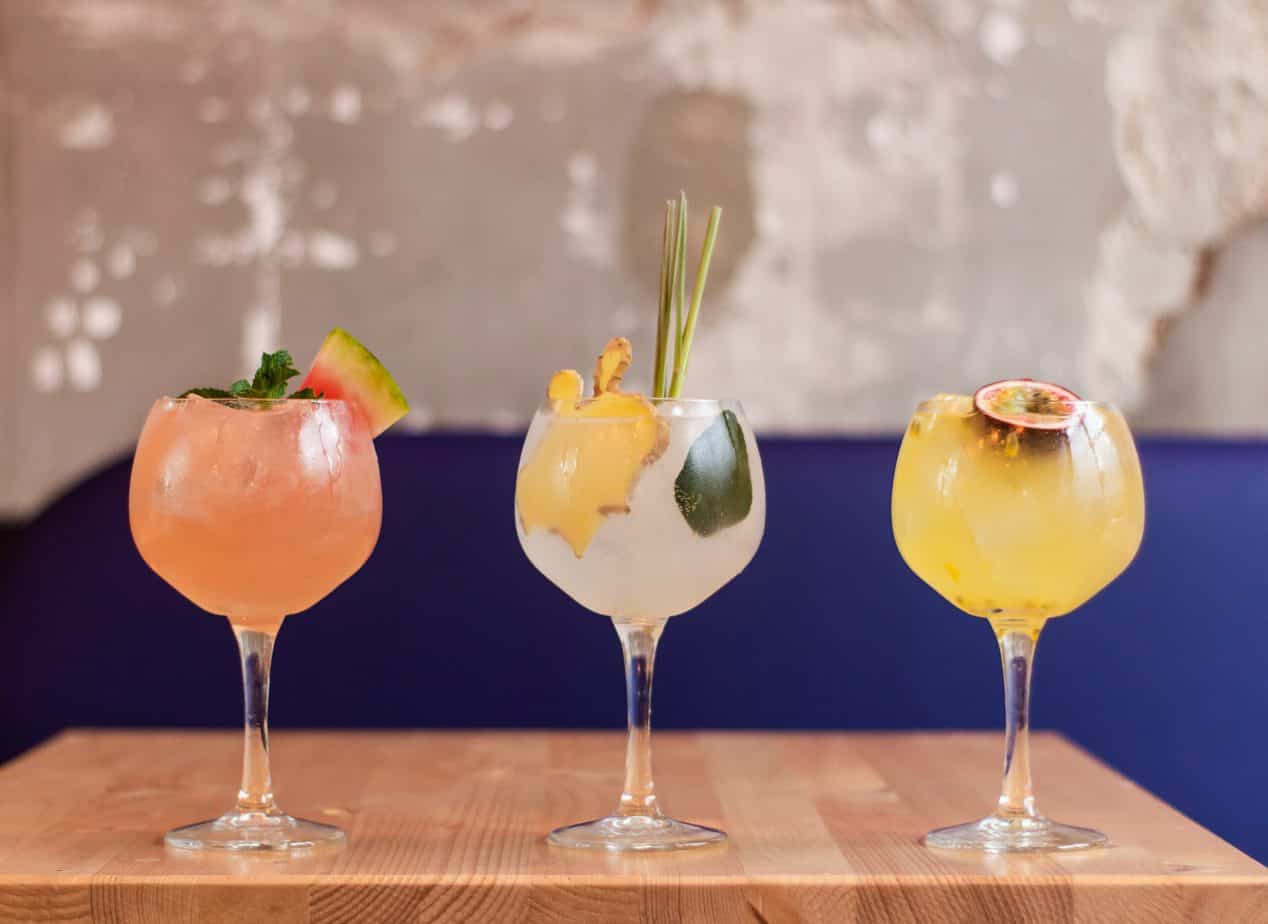 A signature drink is meant to reflect the couple's personality (and sometimes, cultural backgrounds) and the theme of a wedding. A brunch reception may call for a Bloody Mary of a citrus-infused cocktail.  An evening reception may call for a robust, darker signature drink, such as a New York Sour. Need more ideas? Check Out Martha Stewart's Top 40+ Wedding Signature Drinks. 
Is it OK to Just Serve Beer and Wine at a Wedding?
Simply serving beer and wine is suited for smaller weddings and semi-formal weddings as well. Some add a signature drink or two for toasting or during cocktail hour. You shouldn't feel pressured to serve multiple drinks, so long as there's variety. And remember to include non-alcoholic beverages as well!
How Many Kegs do I Need for a 150 Person Wedding?
Exactly how much you need of each drink type is tricky– and depends on guests' drinking habits, which is why something like a full bar or cash bar is tempting. A good rule of thumb is one drink per person for each hour. Thus, if you have 150 people, you'll need 600 drinks for a four-hour reception. For beer only, this would translate to around four to five kegs. 
How Many Types of Beer and Wine Should I Have at my Wedding?
There is no rule as to how many types of beer and wine you need, but I'd recommend at least two of each. You can play with it safely with a common red wine and common white wine, as well as an ale and a lager. For an elegant, traditional wedding, aim for ⅓ beer. ⅓ wine, and ⅓ champagne. However, you can substitute champagne with sparkling wine. Champagne is a type of sparkling wine but only comes from the Champagne region and France and is quite pricey. Here's How to Find the Best Sparkling Wine. 
How Do Open Bars Work at Weddings?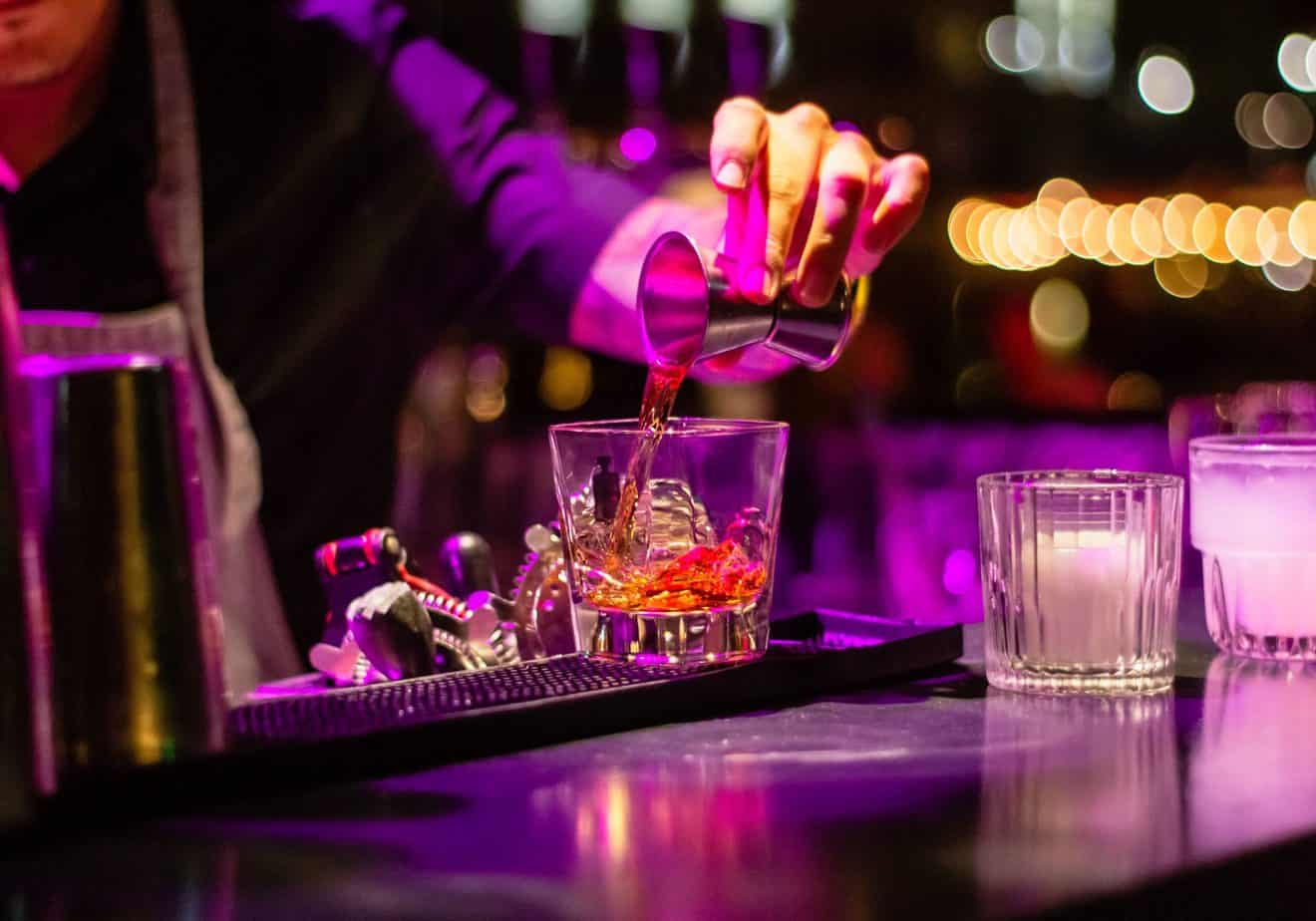 Suppose the idea of providing your drinks is stressful. In that case, you have a few options: serve at dinner, with a few extra drinks (alcoholic or not alcoholic) for the rest of the evening; a cash bar, or an open bar. An open bar allows guests to go up to a bar all evening and order a drink whenever they like, without limit. When booking an opening bar, you should know you're agreeing to pay for all drinks that guests order. An open bar is often featured at formal weddings and is popular amongst guests. When booking an open bar you should always ask what type of drinks will be served, if there's any way to customize what's served (almost always there is), and all fees involved. You could also ask if you can opt for an open bar for just parts or the reception vs the full reception time. 
This is the most hands-off option, the most accommodating– and also by far the most expensive. It's also difficult to predict exactly how much an open bar will cost. 
Is a Cash Bar at a Wedding Tacky?
There are debates about cash bars. Once considered tacky universally, some are pushing back, arguing it's a great way to control costs and save money. My personal opinion is that guests shouldn't have to pay for attending your wedding– except for travel or accommodation costs. I would advise either opting for a dry wedding, serving drinks at dinner, or a full bar. If you do have a cash bar, you absolutely should mention this in your invitation. You don't want to surprise guests on your wedding day. You're still likely to pay for someone tending the bar (hourly rate)– you just are making guests pay for their drinks. 
Is it Rude to Have a Dry Wedding? 
There's a myth that it's rude to have a dry wedding. The only way it's considered rude is if you don't let your guests know. A dry wedding may suit the couple's lifestyle, religious beliefs or simply be an affordable way to host a wedding. Some venues don't allow alcohol, which is also a factor for dry weddings. 
How Do you Plan Food for a Wedding?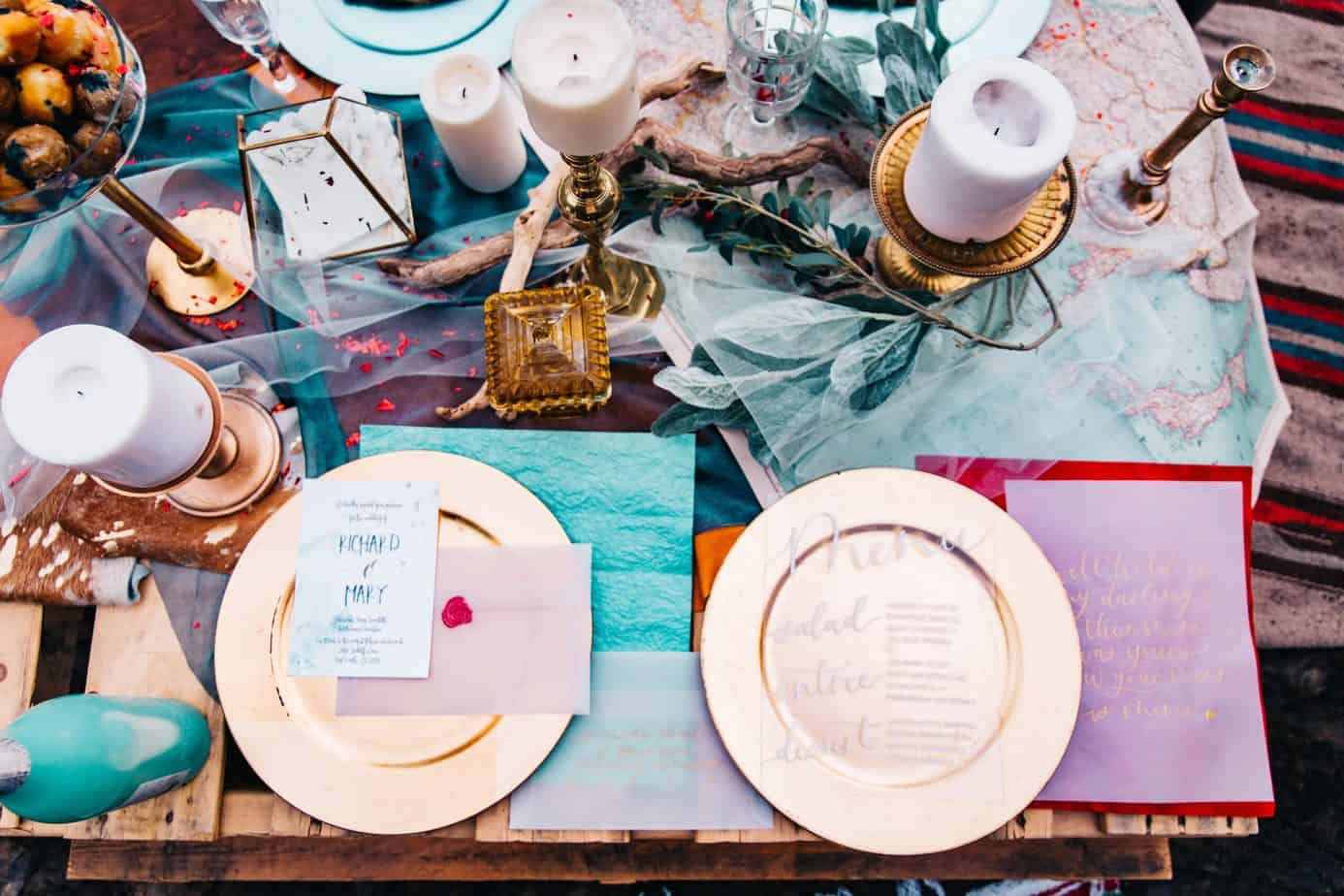 Planning food for a wedding is also challenging. When you're planning food, you don't want to get too overwhelmed, but you also want to be open to possibilities. I've been to weddings with buffets, weddings with formal sit-down dinners, and an afternoon wedding with picnic food. My aunt's was an elegant evening reception, where she served drinks and desserts only. Food is expensive, but it's also a reflection of your personality, values, culture, and your theme. Don't feel limited to a formal sit-down dinner if it doesn't suit you. Each reception type comes with its pros and cons.
I'll address costs, reception types, and "safe" food to serve– but keep in mind this isn't covering beautiful weddings that are rooted in culture and tradition. One of my favorite ideas is to serve fairly plain food alongside signature dishes that are meaningful to you.  See the chart below to see rough average costs. These are rough averages alone and change by year, location, choices, and wedding size. The average wedding size is around 150 guests. Also, keep in mind costs do not always include extras, such as linens. Sit down dinner costs do factor in service costs. 
| | |
| --- | --- |
| Wedding Food or Service | Rough Average Cost (100-150 Guests total or per guest) |
| Wedding Cake  | $350; $125- $1,000 range (The Knot) |
| Wedding Buffet | $15- $22 per person (Thumbtack) |
| Wedding Sit Down Dinner | $70 per person (The Knot) |
| Wedding Dessert Reception | $4 to $15 per person (The Knot; Other's experiences) |
| Wedding Brunch Reception | $20 per person (The Knot)– though this average seems a little high, Highly dependent on how specialized your choices are  |
| Wedding Food Truck | $70 per guest with staffing & other fees(The Knot) |
What Food Should I Serve at My Wedding?
When planning food for a wedding, a good rule of thumb is a balance between what you want and what you feel your guests will enjoy. Serve food you love– and is meaningful to you– but also provide a few options, if possible, to accommodate different preferences and lifestyles. If you're serving dinner, lunch, or brunch, it's wise to include meat and at least one or two vegetarian options. If you know you have a vegan guest, consider that as well (you could simply opt for a vegetarian dish that is also vegan). 
What is the Best Meat to Serve at a Wedding?
Chicken is often a safe bet, especially if you stick with a simply seasoned chicken. Other popular meats to serve to include turkey and popular cuts of steak. Filet mignon, beef tenderloin, and New York Strip steak are great options. These are fairly tender cuts, but not as pricey as something as Wagyu or Ribeye (which not everyone necessarily will like). Some pay a bit more to add lamb or duck, which are certainly elegant meats to serve at a wedding. 
What is the Best Fish to Serve at a Wedding?
Serving a fish alternative is an excellent idea if you have room in your budget. It's a commission for plated meals to include meat, fish, and a vegetarian option. For fish, white fish is a safe bet, which tends to take on the flavors it's seasoned and/ or being served with. Mahi Mahi, tilapia, flounder, halibut, grouper, and cod are excellent choices. Salmon is a fairly safe bet if you want some color on the plate. Snapper and even ahi tuna are elegant options, though these are pricey, and some may be wary about ahi tuna (and you need to make sure it's being prepared professionally). 
Other seafood to consider includes lobster, scallops, and shrimp. You might even consider a seafood gumbo or shrimp cocktail for your appetizers. 
What Vegetarian Dishes can I Serve at a Wedding?
It's good form to include a vegetarian option– if not a few. This is not only for vegetarians but also covers if you're serving main meat or fish that people don't like. It's also a wise choice to include a variety of options due to allergies and just make your wedding more interesting. Risotto, pasta, tofu, vegetarian/ vegan burgers, and seitan are a few ideas. If you are serving a main vegetarian dish, try to serve something that has some form of protein. Penne with tomato sauce won't cut it. Work with your caterer or wedding coordinator if you have either. If you don't, or even if you just need inspiration, check out these 117 Vegetarian Dinner Recipes, which also cover vegan choices. 
What is Served During Cocktail Hour?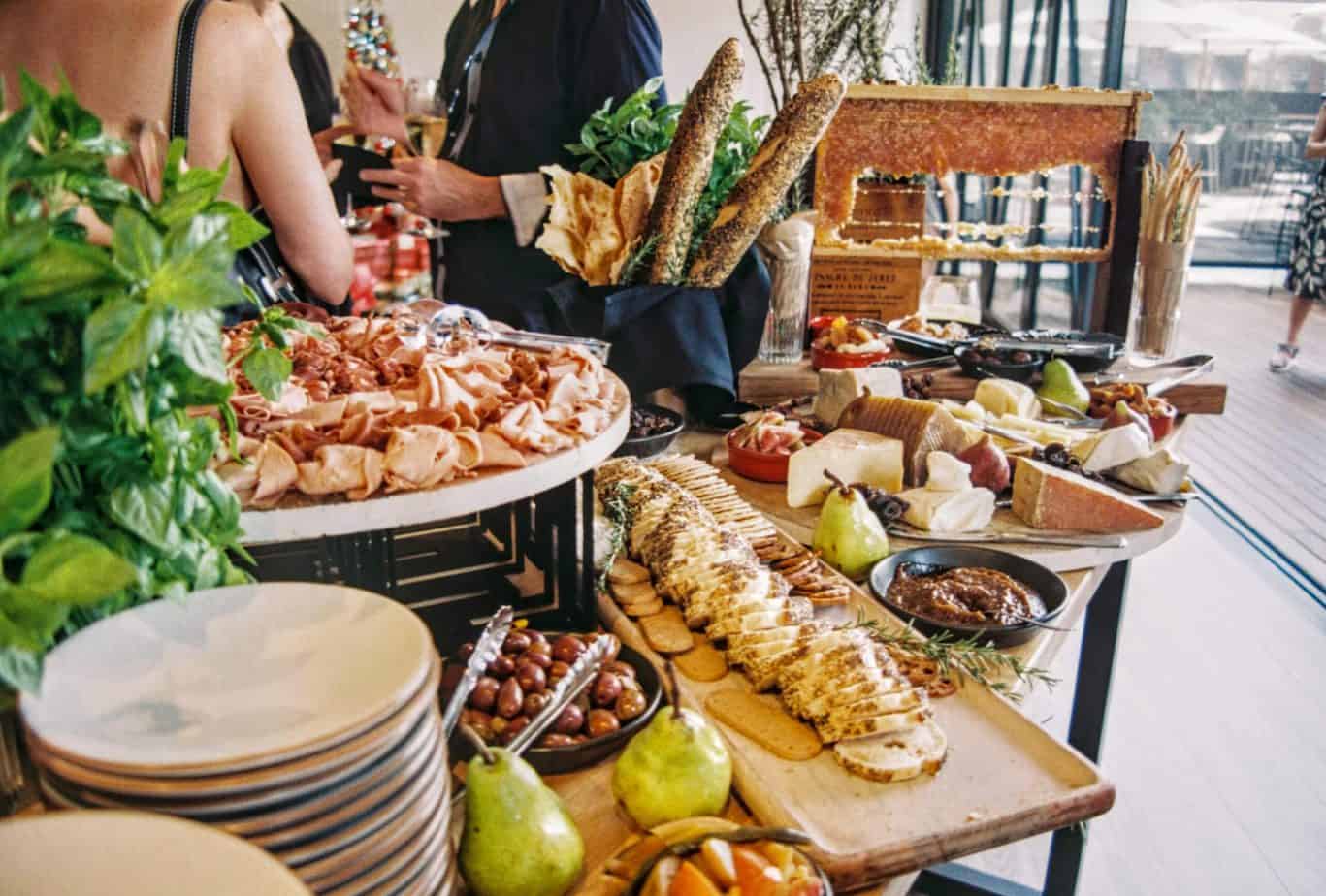 While not all weddings have a cocktail hour, it's very common. Cocktail hours give guests a chance to mingle between the ceremony and reception, often allowing time for photos and/or transportation for the bridal party. Think appetizers for cocktail hour. This may include fruit and cheese trays and finger foods. It can also include single-serve options, like bruschetta, shrimp cocktail, and even mini bite-sized meatballs or sandwiches. I've seen soup and salad being served at cocktail hour, but I recommend sticking with savory appetizers that guests can easily carry around. Some serve signature drinks (hence the name), open up their open bar, and others simply supply water and fountain drinks. 
Which Cake Is Best for a Wedding?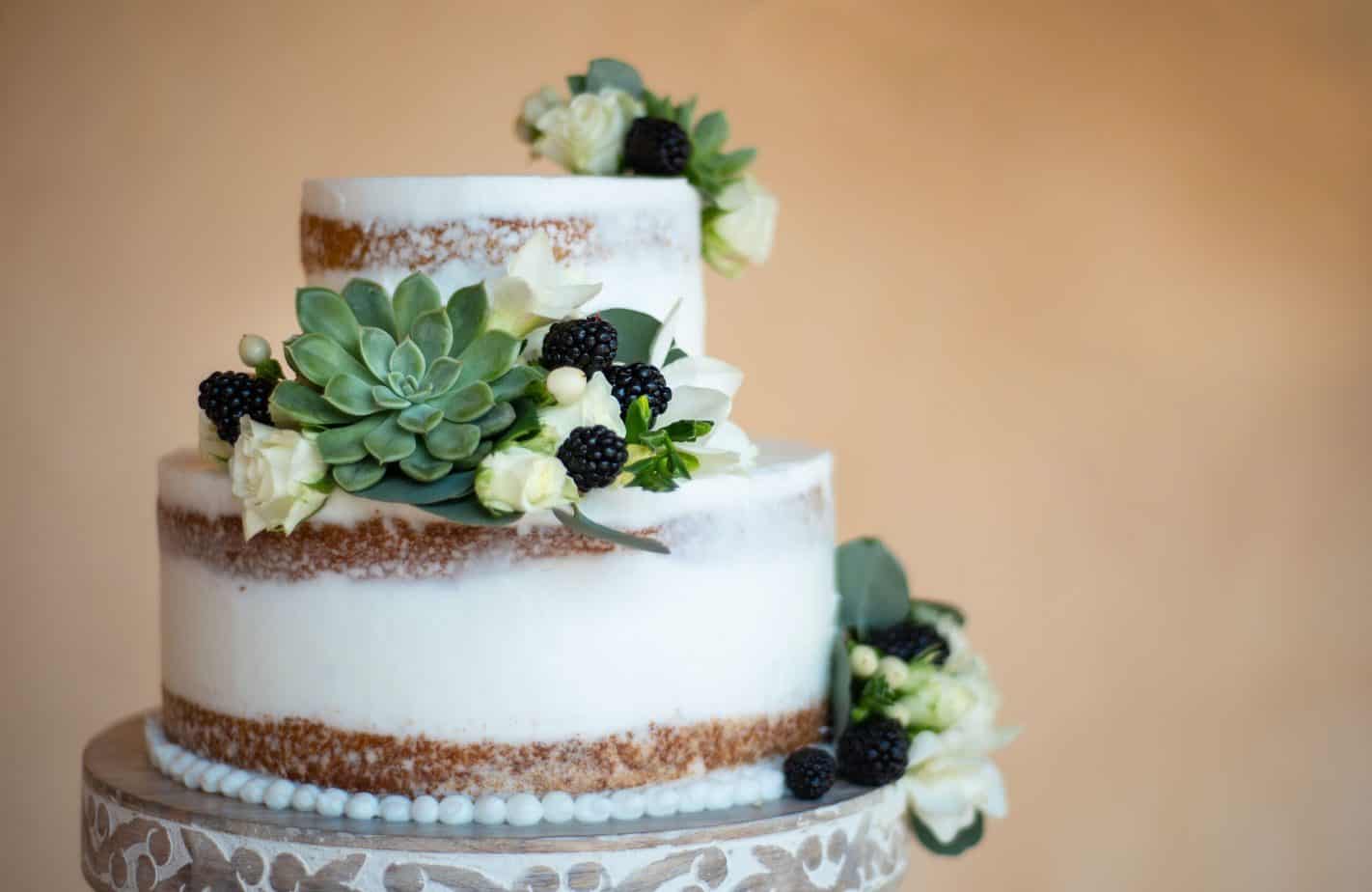 I'm adding a separate section for wedding cake– because it's one of the most important parts of food planning for many couples. From cutting the cake to the display and flavor, there are countless decisions to make. 
What's the Best Wedding Cake Flavor?
While this guide is only meant to get you started brainstorming, the truth is wedding cake flavor is complex. Consider the dominant flavor of the cake and the flavor of the icing. The more you play, the further you get into complex territory. Many wedding cakes have multiple layers with different flavors. If you're paying for an ornate cake, cake testing may be a wise choice. Don't just select flavors based on what you love, but also make sure you're selecting complementary flavors.
Popular, more standard flavors include vanilla and chocolate or tuxedo cake. Citrus flavors, like lemon poppyseed, are perfect for a brunch reception or a Spring or Summer theme. Spice cakes and red velvet are elegant options for Winter and Fall weddings. Gourmet cakes can include unusual flavors– just make sure you include another dessert option if you opt for unconventional flavors. 
Do Wedding Cakes Have a Filling?
Most wedding cakes will have a filling unless you're buying a single-tier cake for a small or micro wedding. If you have unique cake flavors, I recommend classic fillings like vanilla, chocolate, lemon, cream cheese, or fruit. 
Do Wedding Cakes Have to Have Fondant?
Wedding cakes have fondant, buttercream, or a mix of both. Fondant is stiffer and can accomplish more if you want an artistic or highly stylized cake. It's also heavier and not as flavorful as buttercream. Fondant has a more formal feel and runs more expensive than buttercream. Some opt for a fondant exterior and buttercream filling.
Your other choices are naked and stripped weddings. These styles have soared in popularity, especially for boho, rustic, vintage, and outdoor receptions. There is less frosting on the sides, allowing you to see cake layers. These have a natural and rustic feel to them and are often decorated with flowers, greenery, and/or fruit. 
Our Wedding Cake Toppers Still a Thing?
Wedding cake toppers used to be highly popular, but in recent years those have been replaced with other decorative touches, including both fondant flowers and other designs and real flowers and fruit. Still, wedding cake toppers are used for both modern and traditional weddings, and even to show off a couple's personality. Shop Personalized Wedding Cake Toppers from The Knot, or unique Wedding Cake Toppers from Etsy. 
What is the Standard Size of a Wedding Cake?
Standard Round Wedding Cake Sizes 
| | |
| --- | --- |
| # of Servings | Size (inches) |
| 35 | 10 by 7  |
| 70 | 12 by 8 |
| 85 | 12 by 9 by 6 |
| 90 | 14 by 8 |
| 105 | 14 by 10 by 6 |
| 140 | 16 by 11 by 7 |
| 170 | 16 by 12 by 9 by 6 |
| 185 | 16 by 13 by 10 by 7 |
| 190 | 18 by 12 by 6 |
| 230 | 18 by 14 by 10 by 6 |
| 290 | 18 by 15 by 12 by 9 by 6  |
| 325 | 20 by 16 by 9 by 6 |
| 425 | 20 by 17 by 14 by 12 by 9 by 6  |
Some couples opt for a smaller wedding cake and serve complimentary desserts. Others feel that it's polite to ensure everyone can have one slice. When choosing a wedding cake size, work with who you're ordering from to understand what makes sense for you. The chart, supplied by Jarosch Bakery, gives you an idea of standard round wedding cake sizes. 
What Can I Have Instead of a Wedding Cake?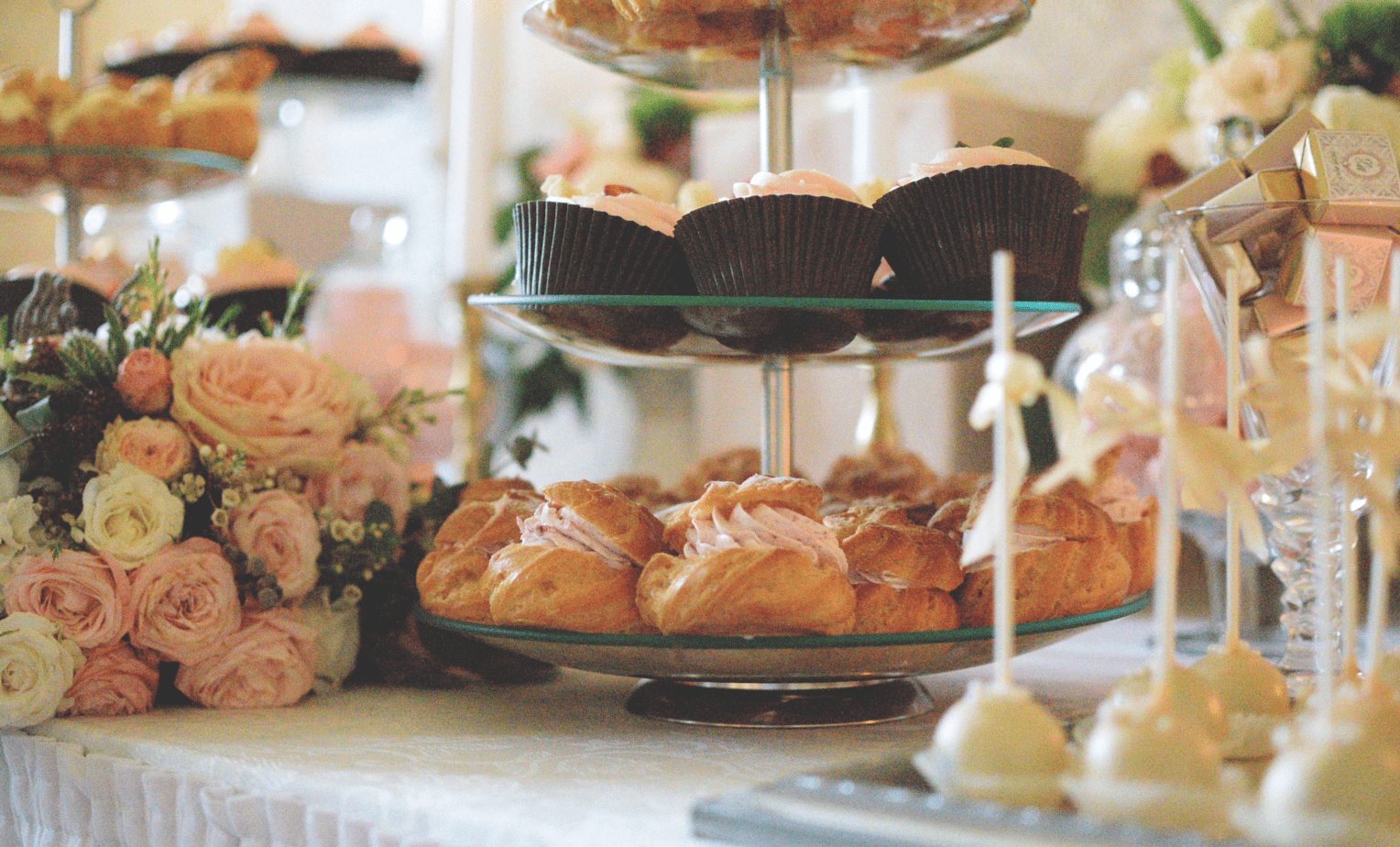 You don't have to have a wedding cake– and even if you do have a wedding cake, it's common to have other desserts. 
Cultural Alternatives 
Different places around the world have different traditional wedding desserts–for instance, in France and Italy, it's a croquembouche. A croquembouche is a towering cone of puff and cream pastries, usually accented with caramel threads. Click Here For Wedding Cakes Around the World. 
Other Desserts
Macaroons, cookies, pastries, pie, different types of cake (cheesecake, carrot cake), a candy bar, ice cream, doughnuts, tarts, cake pops, cupcakes, mousse/ custard/ pudding, brownies, and even treats like dessert bars, and rice Krispy treats are all served at weddings. Keep in mind any additional setup and costs needed for refrigerated desserts. You can also get playful with drinks– a quirky Winter wedding, for instance, may serve hot chocolate. If you have kids at your wedding, something like a candy bar or cake pops or cookies may be a good idea. You can opt for fancy versions or even buy in bulk for smaller desserts. Generally, individual desserts will be more expensive. 
What Kind of Reception Should I Have?
The purpose of this question is in terms of the types of food you'll serve. While a sit-down dinner is traditional and elegant, it doesn't fit everyone's budget– or even personal preferences. Here are a few things to consider for sit-downs, buffets, and some creative options you may have not considered. 
Buffet Style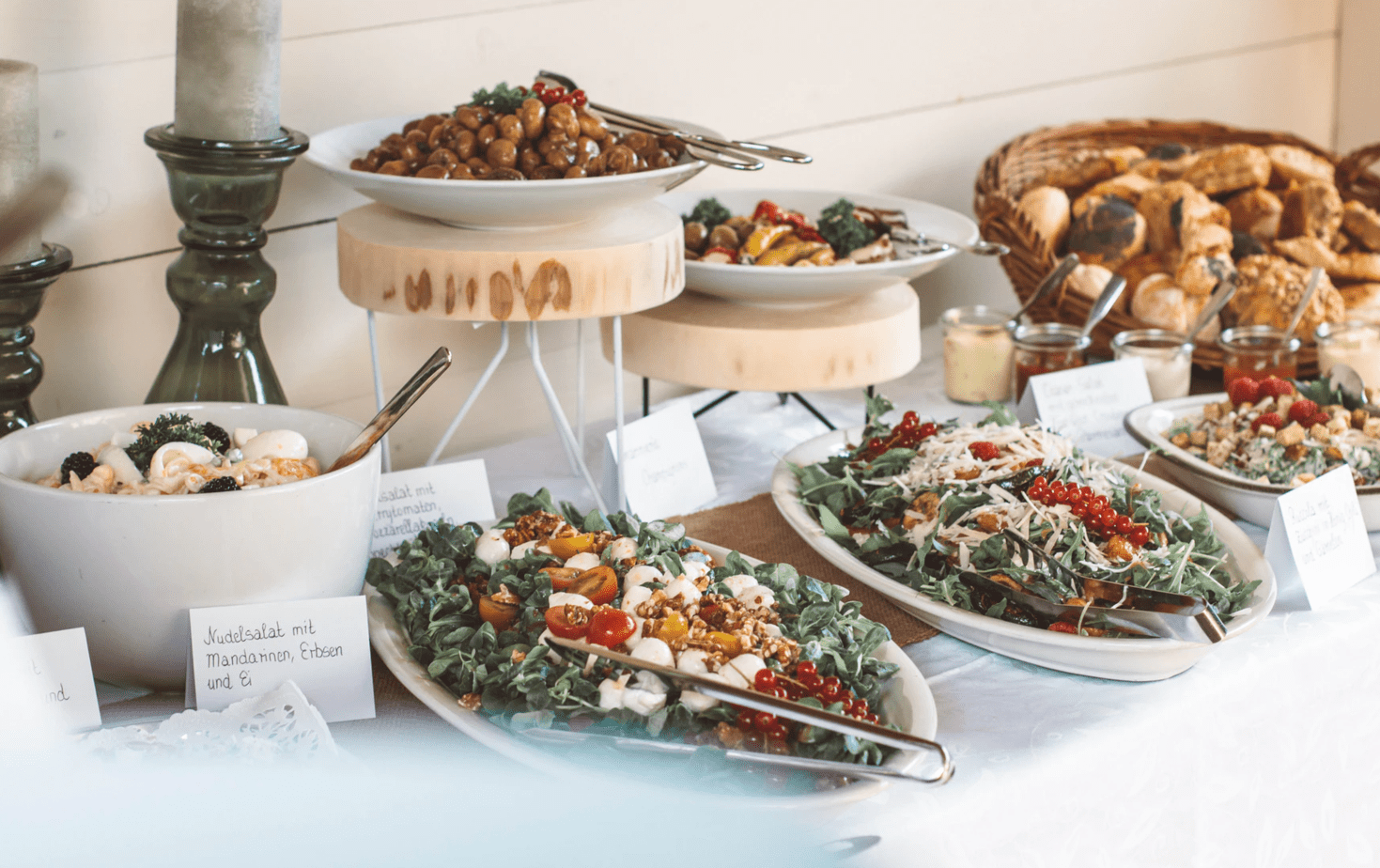 Is a Buffet Wedding Tacky?
Buffet weddings are by no means tacky. They're highly popular and suited for everything from casual to formal weddings. You can opt for a traditional caterer or even a favorite restaurant. I've even seen couples who are close with their family and host a potluck dinner– but this likely would be suited for very small weddings, and the optics are tricky. Buffet dinners are a bit cheaper (though it can be tricky to calculate how much food you need) and allow guests to mingle more for a lively feel. It also offers more flexibility, and usually, more variety. Rather than being limited to a few dinners, you can serve main dishes and sides and allow guests to choose more options and their portion sizes. 
What are the Disadvantages of Buffet Service?
Buffet weddings can lead to food waste. Food is often overestimated- for fear of running out. If not kept properly, food can become cold or stale. Some would argue buffet weddings are not as elegant as a sit-down dinner. 
What are the 3 Types of Buffet Service?
Not all buffets are the same. A sit-down buffet service is the most typical and involves serving large portions of main dishes. Guests fill their plates but still have formal seating. Usually, it's self-serve, but you can also opt to hire servers. A finger buffet is quite similar, but guests typically serve themselves in rotation based upon course. 
There may be a buffet for a salad course, main meal, and so on. Food may be brought out to the buffet stations as the course changes. The final type of buffet service is a 'fork' buffet, which is more casual and consists of finger foods. This is suited for backyard weddings. 
How Much Food Should I Order for a Wedding Buffet?
Working with a caterer helps figure out how much food to order. Some experts estimate an average of 1 pound of food for each adult and ½ pound for kids. Many options will be labeled based on serving sizes. It's nearly impossible to know precisely how much you need but aim for enough main course servings to cover everyone. Popular items, like chicken, you may want to have extra servings of. Unique items may need less. 
Sit Down Meal Style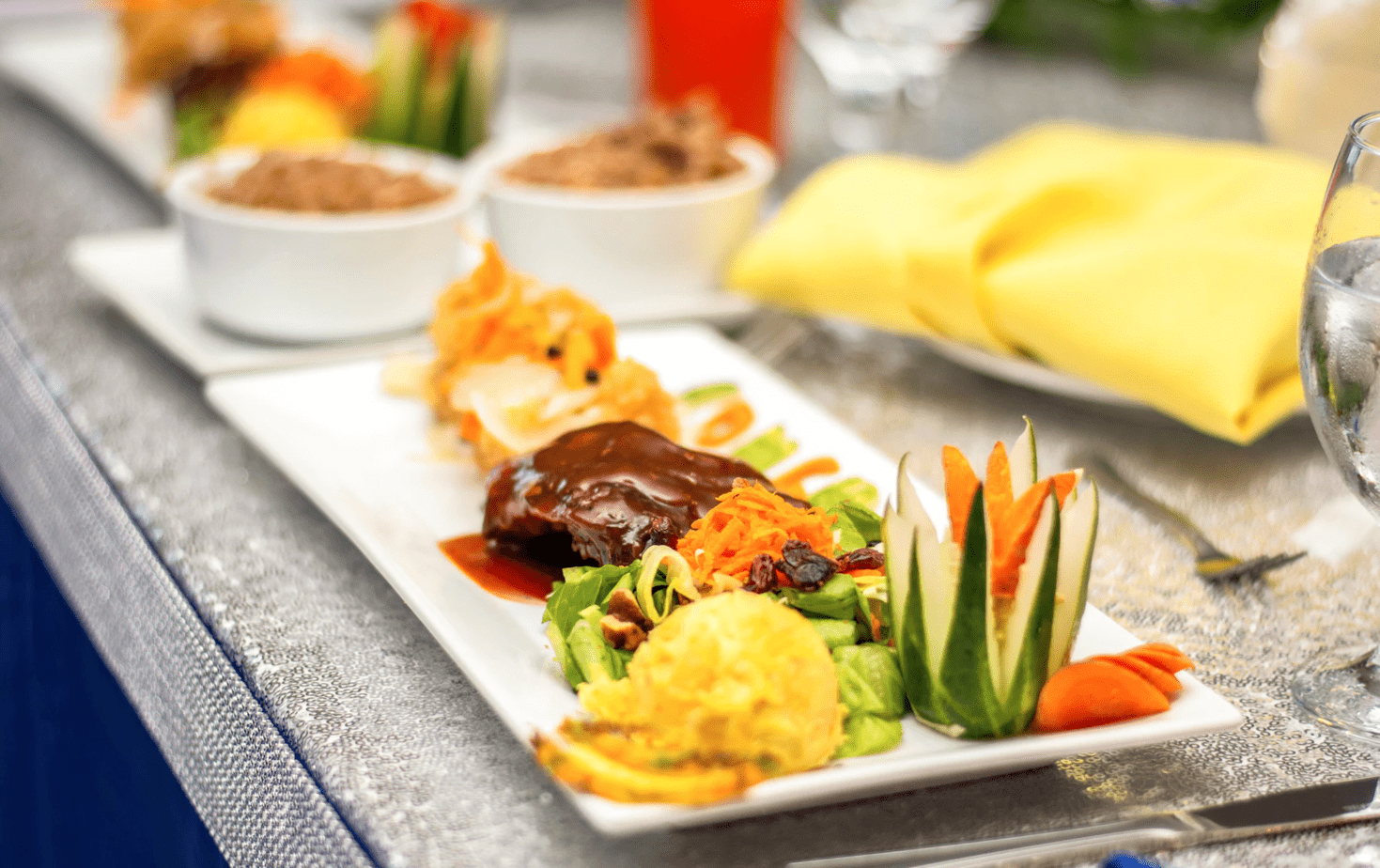 What is a Sit-down Dinner Reception?
At a sit-down meal, guests remain seated as they are served dinner. This is elegant, expensive, and also a bit easier to plan. You'll work with a caterer– or select from your venue options–to make your main course selections. The best part of this is you can plan for a certain number of plates you'll need, and guests won't expect as much variety. That said, this is typically the most expensive way to serve food. You have to pay not only for plated dishes but also servers during the reception.
How Many Courses are Served at a Wedding?
How many courses can vary? You can have everything from a single course– the main meal– to a five-course meal. As you can imagine, the more courses, the more expensive it is. If you aren't opting for just a one-course meal, then two courses or three courses are the next most common. Some may serve a soup or salad and appetizer course, followed by the main meal. While you can serve dessert this way as is well, dessert is often left out as a separate service. 
How Long Does it Take to Serve a 4-course Meal?
Aside from the cost, you'll also want to consider timing. The more courses, the more time the meal will take up for your reception. A 4-course meal may take as long as 2 hours to complete, while a single course meal could take 30 minutes to an hour, depending on the number of guests, servers, and the speed of the service. 
Alternative Food Reception Ideas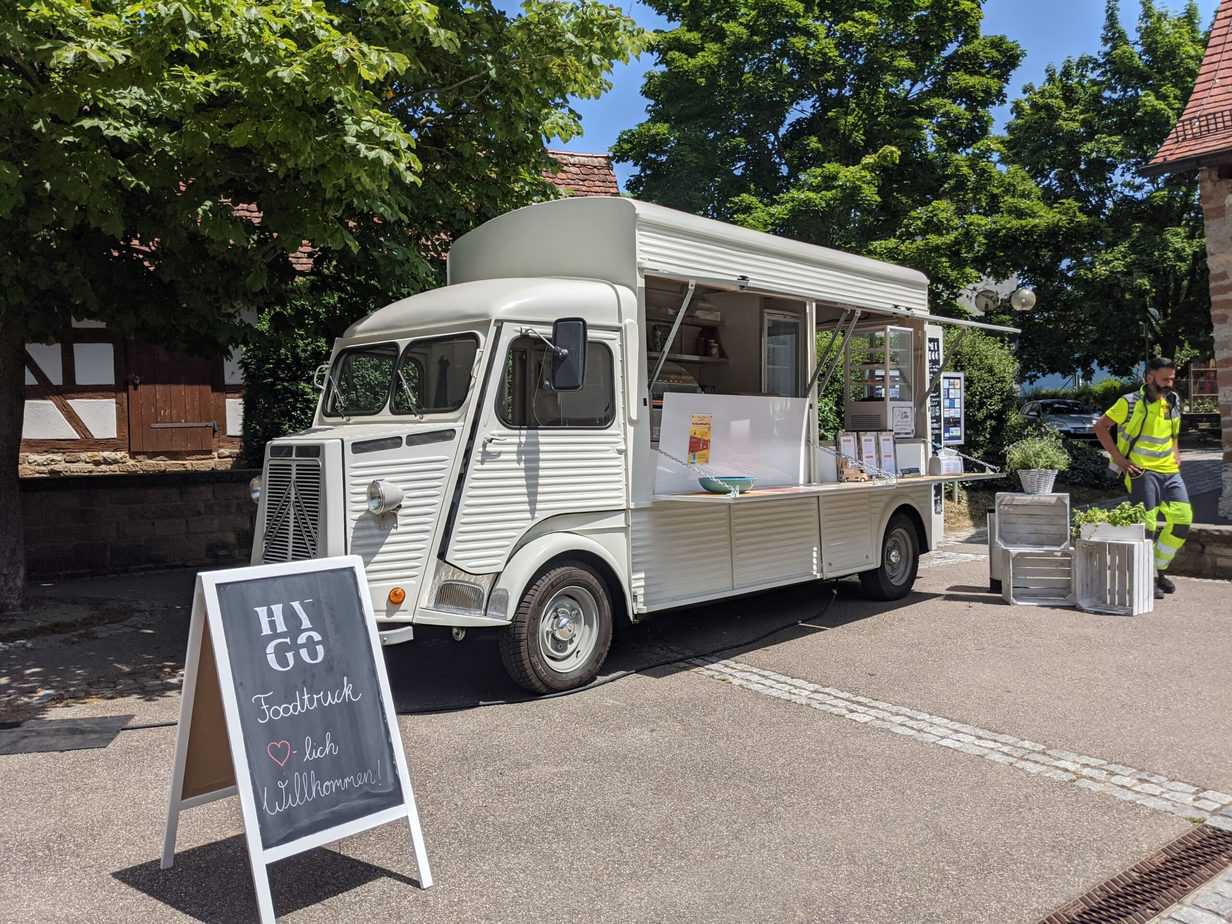 If you don't want a dinner reception, you don't have to have one. Brunch and dessert receptions save you money and make your wedding memorable– just make sure it's clear on your invitation what type of reception you're opting for. 
Is it Cheaper to Have a Food Truck vs. Regular Catering?
It's become a fun, rustic, or vintage and casual trend to have a food truck at weddings, especially outdoor weddings. Food trucks lean more towards casual fare, such as sandwiches and finger food- though they can bring other cuisines to your wedding. While the initial cost is low as $10 or $15 per guest, or even less, that doesn't usually include staffing and extra fees, such as a generator/ electricity. According to The Knot, a rough average is more, around $70 per guest. Food trucks are fun additions, but they also may be rather limiting. Most couples add a food truck as supplement to other foods, as opposed to a direct replacement to full catering. You can use a food truck for appetizers or fun treats and even just rent it out for cocktail hour.
What is a Traditional Wedding Breakfast Reception?
A brunch reception may be held if you plan on a morning wedding. You save both on the ceremony and reception, as morning hours are less popular– and guests will expect less alcohol, and may even be happy with none. Serve egg-based dishes (quiches, omelets, to order), pastries, muffins, light salads, fresh fruit, sophisticated parfaits, crepes, waffles, pancakes, bagels, scones, rolls, and even food stations. Have a nice mix of savory and sweet. For meat, consider smoked salmon, bacon, and kabobs. 
What is a Dessert Wedding Reception?
A dessert reception is exactly what it sounds like: a reception with only desserts and drinks. In addition to a wedding cake, go all out on individual desserts and larger desserts. Pastries, tarts, and custards are excellent options, but services like a candy or ice cream bar or even a s'mores bar for a rustic outdoor wedding are all great. A dessert reception allows you to be creative, but I do recommend more subtle options– never underestimate fresh fruit. Biscotti and truffles are fun ideas. Let your personality and culture shine– you could even have a close family member bring a meaningful dessert instead of a wedding gift. 
How can I Reduce my Wedding Costs for Food and Drink?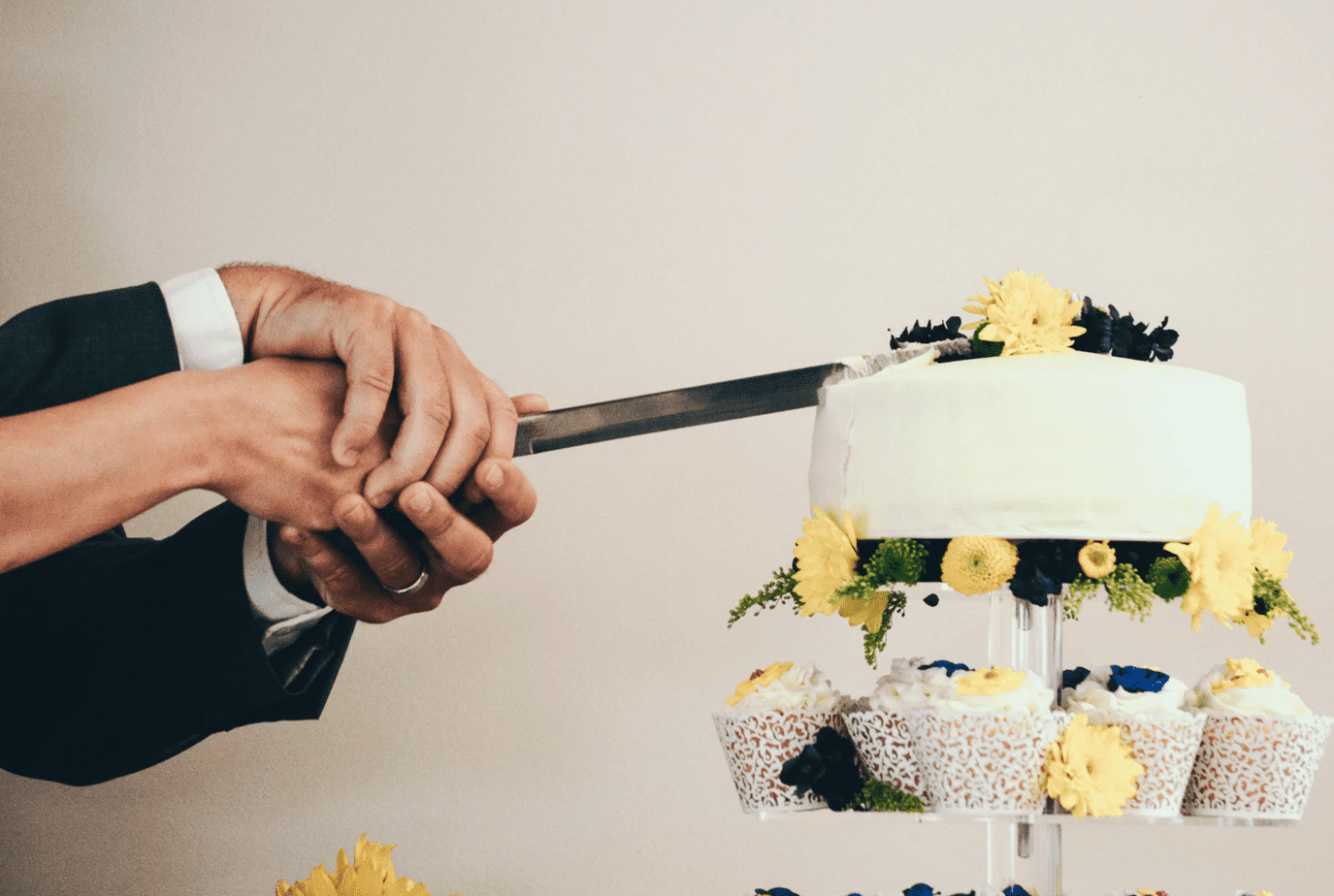 The final tips I want to share with you are ways to reduce your costs for wedding food and drinks. Food and drinks compromise a large part of your budget, and trimming down and being strategic about how and what you serve can save you money. Not all of these tips will be suited for everyone, and you don't need to follow any of them. Ultimately, it's up to you. These are helpful tips if you have a vision but just can't quite finance it. 
Skip the Open Bar
Open bars run an average of $250 for the bartender alone, according to Thumbtack. Add paying for every drink your guests order, and a premium bar could exceed an average of $4,000, according to The Knot. Serve drinks with dinner so you can limit and control what you're paying for, or bring your alcohol if the venue permits. 
Skip the Frills
You don't have to go bare-bones for everything– little trims here won't be that noticeable and can save you hundreds or even thousands of dollars. For the main course, opt for more affordable meats– such as chicken and white fish– vs pricey meats– like a rack of lamb. You could also opt for lower-cost sides, such as mashed potatoes, rolls, steamed vegetables, and corn. 
For the wedding cake, buttercream is typically cheaper than fondant. The more decor you add, the more expensive it is. You can opt for a more plain cake and buy your wedding cake decorations. Simple classic flavors, like vanilla and chocolate, will save you quite a bit per slice vs gourmet flavors. The more fillings, the more expensive. Some couples opt for a small wedding cake for decor and serve an economical cake (sheet cake) to guests. Some find this tacky, and many guests simply don't care or even notice. 
For drinks, opt for more affordable options. For instance, sparkling wine is cheaper than Champagne. 
Brunch, Tapas or Dessert Instead of a Full-Service Dinner
The quickest way to slash costs? Opt-out of the full-service dinner. Even opting for a buffet dinner will save you money vs a plated dinner. A brunch wedding means people will expect less food and less alcohol– and the items themselves may be cheaper– just be careful when it comes to individual items. That's also true for tapas or dessert receptions: while generally cheaper, you could easily run up costs, so be mindful about what you select. If you do opt for one of these reception alternatives, just make it clear on your invitations. 
Comparison Shop
This goes with everything you plan for a wedding. Don't settle on the first price. All-inclusive venue? It may seem like a great deal, but these can be the most expensive and far more than were you to have a venue without catering. Consider lesser-known shops or places that don't directly cater just to weddings. Anything labeled as for weddings tends to have an extra charge. 
Get a Reliable Guest Count- And Keep it Simple
It's impossible to know exactly how many people are coming, but saving the dates– and RSVPs– is very important to cut down on food waste. Follow up on no-replies before you order your food and drinks. Keep your choices simple: you don't need more than 2-3 entrees and a few side dishes. If you aren't having a dessert reception, it's great to offer an alternative to cake, but you don't need many alternatives. And if you're concerned about food waste, as long as it's properly stored, you can freeze food, offer to take out boxes to guests, and feed any servers or entertainers. 
Get Married in January, February, or March
My final tip will slash wedding costs across the board. By getting married in one of the three least popular months, you'll not only have lower prices up front, but you may also have more room to negotiate food prices, drink, venue, and more.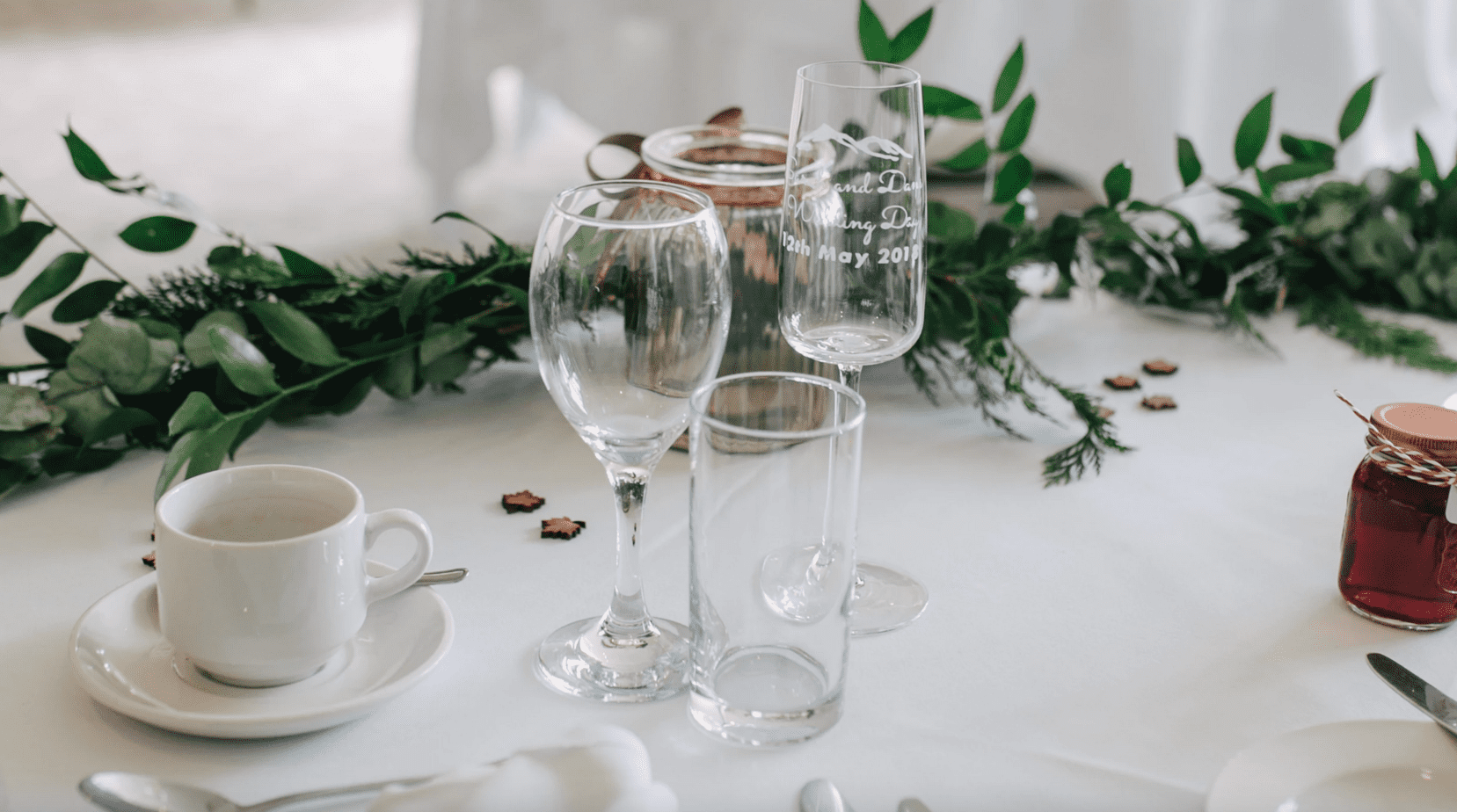 Frequently Asked Questions
Question: What Should You Not Serve at a Wedding?
Answer: There are no specific rules as to what you can or can't serve at a wedding, but some food is less advisable. Serving a meat-only selection of entrees is both expensive and leaves no option for vegetarians. If you're going to serve unique or exotic foods, make sure you have some rather "plain" options– the same goes for seasonings, like spicy food. It might be wise to shy away from peanuts, as they are a serious allergen. Except for casual outdoor weddings, usually, people stay away from wings, ribs, and pizza as well can be messy. 
Question: What is the Cheapest Food to Cater?
Answer: Rice and pasta-based dishes tend to be the cheapest to cater to. Affordable side dishes include standard steamed vegetables, rolls or biscuits, potatoes, and corn. Indian, Mexican, and Chinese catering tend to be economical. Opting for catering from a local restaurant can save you money as well. 
Question: Is it OK to Not Serve Food at a Wedding?
Answer: All weddings should have food of some kind. It's highly unusual– unheard of– to not serve food at a wedding. That doesn't mean you have to spend a fortune or a 4-course meal, however. Cut down your guest list, hold a brunch or dessert or even appetizer reception, and don't overspend on individual portions. 
Final Thoughts
Planning for food and drinks for a wedding can be challenging. Before you start booking anything, get as accurate of a headcount as possible. Make sure you have a clear budget– including a maximum you aren't willing to go over. There are countless ways to host a wedding, and no one needs to fit into what you may think is "expected or normal" just to go into debt. Splurge on what matters most to you, and, above all, enjoy the planning process. Little details years down the road won't matter quite as much as they seem to do now.
Find more planning-related guides below for a perfect and stressfree wedding: