Whether you have a wedding planner or are trying to do it all yourself, you know that weddings can be overwhelming– and expensive. That's why having a wedding budget checklist and guide is what you need.
Even before the pandemic, couples were looking for ways to downsize their wedding, both in guest count and cost. The so-called micro weddings cost an average of just $1,500 to $10,000 and have 50 or fewer guests. Compare that to the average American wedding of $28,000 and 125 guests (The Knot) and that's quite a different event. 
But even for those panning extravagant weddings, the idea still might be impactful. No matter if you're spending $1,500 and getting married with just your close family present, or throwing a $50,000 glamorous reception, the budget still matters. 
This wedding planning guide will help you break down your budget to make wise financial decisions. I'll start by giving you an overview of total wedding costs, then breaking it down by category. The goal? Set a budget for each category that doesn't exceed your total budget. 
How do People Afford Weddings?
The truth is many people overspend on their wedding. And overspending is not a certain amount– you can spend well above the average and if you can afford it, that's perfectly fine. What you don't want to do is go deep into debt for a wedding. Of course, it's daunting when you look at an average price of $28,000. I'd like you to keep a few things in mind, however, if that price looks undo-able.
For one, you don't need to spend that much to have a great wedding. There are ways to trim down your budget in nearly every sector. Reducing guest count is the number way to do so. I'll share budget tips in each category– and I recommend you consider what's most important and what's least important to you. You also need to consider that averages are deceptive: without more information, averages can include outliers (such as people hosting million-dollar weddings). So, average doesn't mean "most people spend this much." 
What is a Realistic Budget for a Wedding?
Many will claim that you can have a wedding for "as little" as $15,000. Truthfully, depending on your venue selection and location you can have a wedding for far less than that. My older brother married a few years ago and rented out a beautiful venue– which included a reception and ceremony space– for just over $1,000.
Of course, there were other expenses, but the point is, your realistic budget has nothing to do with national averages. It has everything to do with what you expect and how much you can afford. 
If you're not eloping, a 'typical' ceremony and reception may cost $5,000 to $10,000 by trimming back on different categories. But there are many ways you can pull off your big day for even less.
What is the Most Expensive Part of a Wedding?
The most expensive part of the wedding is the venue, though that usually means also including food and drinks. An open bar, if you have one, is also one of the most expensive parts. Thus, if you pick a budget venue and nix the open bar, you're already slashing costs. 
How do You Pay for a Wedding With no Money?
There are many options for people who can't pay for a wedding. Many take out expenses with personal loans and credit cards– but unless this is your only option, I'd try to find other ways.
While you should never expect family to pay for everything, discussing your struggles with a supportive family may open them to chipping in some. Some crowdsource weddings– and of course, others feel that's tacky or uncomfortable doing so.
Waiting and saving up money is a good option. So is parking down your budget? Some couples will feel they cannot afford a wedding when they need to select a less expensive venue, food, or even cut down on decorations. 
One recommendation? Take a look at your annual salary. Multiply your annual salary after taxes by 40%. That number assumes a top budget you should spend– though that's based upon 2 years of engagement savings at around 20 percent per month. 
Wedding Planning: Your Guide to Budgeting
I'll share some realistic advice, as well as budgeting tips for each category. Note that this wedding checklist doesn't include rings (wedding rings and engagement rings) or a honeymoon, nor does the average cost of a wedding usually include those elements. 
Attire (Wedding Dress, Tuxedo or Suit, Bridal Party, Accessories)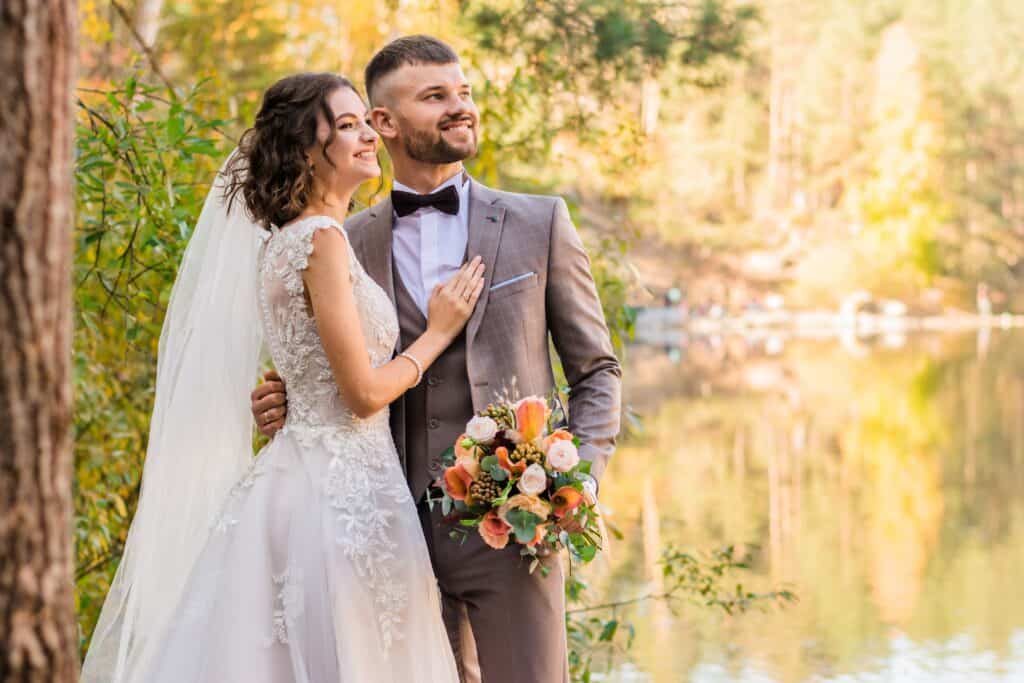 Attire isn't just about a wedding dress– and often, brides overspend because they are just thinking about the dress, but not shoes, accessories, and alterations. Under this category, you need to budget for everything the groom and bride (or two grooms and two brides) will be wearing. 
Paying for the bridal party is not a must– just a nice gesture if you can afford it. Just make your expectations clear about what costs the bridal party will be responsible for. Out of courtesy, try to never select attire out of their price range. If you do, you should at least help pay for it.  
What is a Good Budget for a Wedding Dress?
If you've watched shows like TLC's Say Yes to the Dress, you may get the impression that Americans are all spending lavishly on wedding dresses– and that a budget below $5,000 is skimpy. But Kleinfeld's Bridal is easily one of the most expensive stores in the United States. The other mistake is that the wedding dress price should include not only the tag price but also any taxes and alterations. 
What is the Average Price for a Wedding Dress?
According to Brides.com, the average price of a wedding dress, with alterations, is about $1,600 for 2021. Unlike many averages, including the alterations is far more helpful. The average range is $500 to $4,000. Chain stores– notably David's Bridal— as others have closed– have wedding dresses from as little as $99 up to around $2,500 (without alterations). 
Bridal boutiques tend to be more pricey. Some specialize in designers and many have dresses starting at $2,000 and up. This is not always the case; some smaller boutiques offer great deals online and in person. Diamond Bridal Gallery, located in Sacramento, has gorgeous wedding dresses with an average price below $1,000 (and the ability to also purchase online). 
How Much do Wedding Dress Alterations Cost? 
Every place will have a different pricing scale for alterations, and you should always request a quote. The more advanced the alterations, the more they'll cost. Some charge a flat fee of $200 to $900 to cover a seamless fit. Others charged based upon alteration, with an average of $100 to $200 to shorten a gown. Budget anywhere from $100 to $1,000 for less dramatic alterations.
How Much Is Too Much for a Wedding Dress?
Think, always, in terms of proportions and your budget, rather than absolute prices. No one price's universally too much to pay. However, I recommend your dress– with alterations– taking up no more than 4 to 5 percent of your wedding budget. That's not very much: for most, that means spending well under $5,000. If you feel this doesn't fit your vision, simply cut back in another category. 
How Much Does the Groom's Tux Cost?
Suits and tuxedos tend to be cheaper– most rent, rather than buy them. Tuxedos cost an average of $1,000 to buy, but most rent a tuxedo, for an average of $200. Again, there's a range in expenses, though not as great typically as bridal gowns.  Men's Wearhouse is one of the most popular rental companies for both tuxedos and suits. 
Is it Cheaper to Buy or Rent a Suit?
Like you'd expect, it's cheaper to rent a suit. Expect to pay $150 to $200 for a rental– buying a suit can cost $500 and up (though it is of course possible to find cheap suits).
However, if this is a versatile suit, some may opt to buy it so they can wear it for other occasions– getting more money out of it over time. Make sure to also budget in dress shoes ($75 to $300) if you don't have any. How much should I budget for bridal accessories?
Bridal accessories should factor into your attire budget too. Some use jewelry they already own– or even get their something borrowed for this part. Even some brides will buy a veil, hair accessories, shoes, or all the above. 
Should You Splurge on Wedding Shoes?
This is an area of contention. I'd spend on shoes that are high quality and supportive– or trade out ceremony shoes– so you can enjoy dancing without pain. But that doesn't mean spending a fortune.
If you have a tea-length dress, you will notice shoes– but if your dress is floor-length, they may only peak out. So I'd value comfort and stability, and pick something that looks nice with your attire– but it doesn't need to be extravagant. I recommend a budget of $50 to $200.
Click Here For Comfortable, Stylish, and Affordable Wedding Shoes
How Much do Wedding Veils Usually Cost?
Wedding veils range from $50 to $400. Birdcage veils run the cheapest, and cathedral veils are the most expensive. Some brides are also replacing veils with hair accessories, such as tiaras, headbands, and floral crowns. Shop David's Bridal Wedding Veils Here.
Also remember to budget for any jewelry, such as necklaces, earrings, and bracelets.  
Super Budget Tips
Go near the end of a season and look out for announcements for bridal sales. If you're lucky to find something in your size, buying a dress right off the rack also slashes costs. If your heart is set on a designer, you can try preowned wedding sites like Once Wed or Still White, though that does come with risks. Use accessories you already have, and opt for shoes you'll wear again. 
Entertainment (DJ, Live Music, Performers, Extras)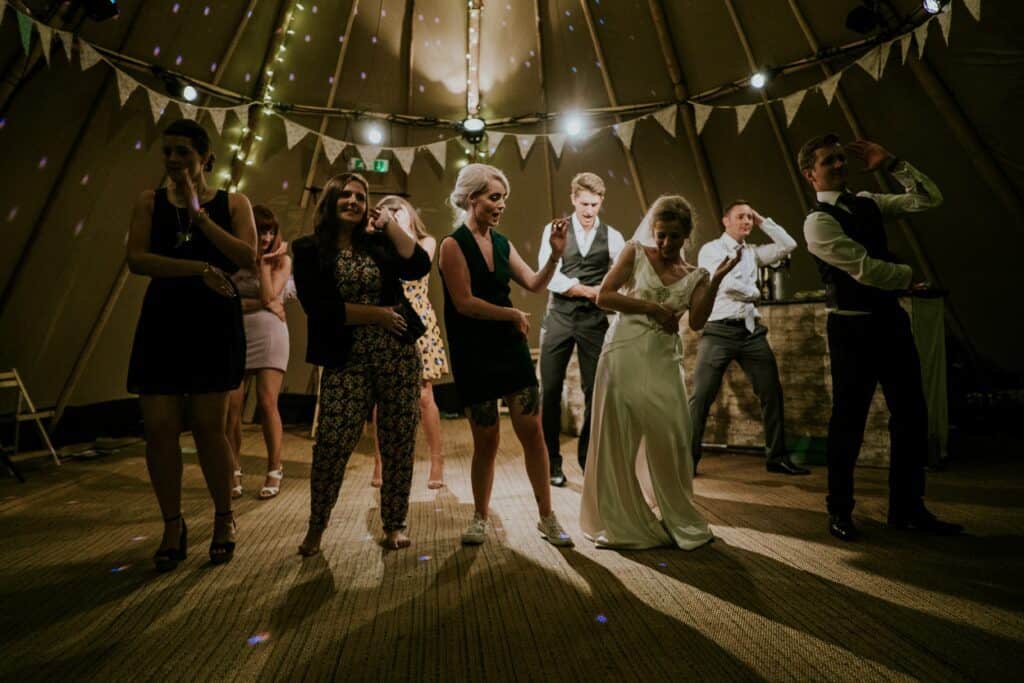 You don't have to go all out for entertainment, though some form of music is pretty much expected. How you provide that music– and other forms of entertainment– can either be a splurge or a way to save. 
How Much Should a DJ Charge for 4 Hours?
The average reception lasts about 4 hours, and most want a DJ for the majority–if not all– of the reception. Expect to spend about $600 to $1,200– or an average of $200 per hour for DJ services. Of course, the more well-known the DJ, the more expensive it is. You'll also want to tip around 10 to 15 percent for their services. 
Is a Wedding Band more Expensive than a DJ?
Having a live band is appealing– but also more expensive than a DJ.  Not only are you tipping each band member ($25 to $50 each, on average) but you're looking at a higher average cost of $2,000 to $4,000. 
How Much is a Photo Booth for a Wedding?
I've been to two weddings with photo booths, and they are fun– but also a bit pricey. The average photo booth costs $550 for three hours. 
How Much Does a Karaoke Machine Cost?
Karaoke is a fun way to add entertainment– and not too much cost on your budget. Karaoke machines cost $50 to $300– with the bonus of being able to use them again for future parties. You can find cheap machines on Amazon. Click Here For The Top 10 Karaoke Machines For 2021.
How Much Does it Cost to Hire a Caricature Artist for a Wedding?
A unique way to entertain guests and give them a wedding favor is by hiring a caricature artist. A caricature artist costs $125 to $150 per hour. 
Super Budget Tips
Some couples are skipping the DJ altogether and bringing their playlist, either via iTunes or Spotify. You'll need at least someone to stop or pause music as needed, and you'll need some sort of stereo system– but it does trim costs. If you're throwing a rustic theme, having corn haul or other lawn games is a low-cost form of entertainment. 
Food and Drink (Alcohol, Main Meals, Desserts, Appetizers)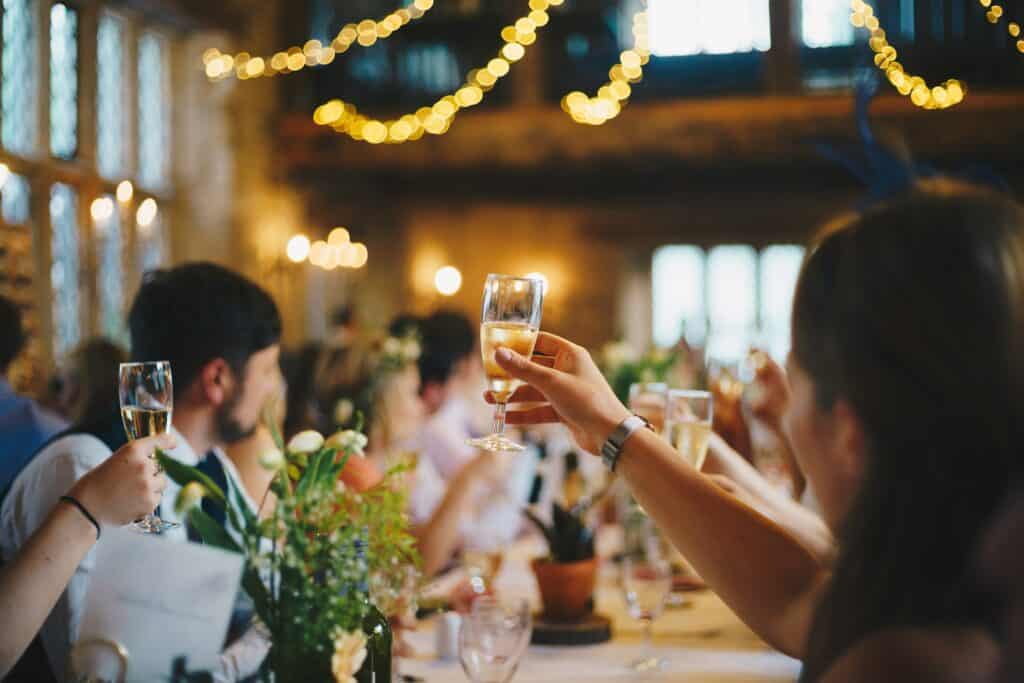 While the venue is expensive, many times that's because it's an all-inclusive venue, which includes catering. No matter how you do it, drinks, food, and dessert may take up a substantial part of your budget. Budget based upon your number of guests. If you're doing a plated dinner, the cost will be per plate. Buffets are usually by serving size. While there are many other details to consider, here are some basics of budgeting. 
How Much Does an Open Bar Cost for a Wedding?
The reason why an open bar is so expensive has several factors. You're paying for a bartender at an hourly rate (average $250 for a 4-hour reception) as well as unlimited drinks. The average drink runs $5 each. Multiply that by your guests, then assume many guests will have a few to several drinks.  
Is it Cheaper to Buy Your Alcohol for a Wedding?
A way to save money is serving a limited amount of alcohol, often with dinner and dessert. You will generally save money buying your own– but make sure the venue permits it. It also allows you to control your budget more. 
Is it Rude to Not Serve Alcohol at a Wedding?
If you plan not to serve alcohol, there are a few things you can do. Early breakfast or afternoon weddings may make guests more receptive to not having alcohol. Having your reception in a church– like a good friend of mine did–can also work. Having a replacement like sparkling cider, for toasting, also works. Just make sure you offer enough for your guests to quench their thirst. 
How Much Does the Average Cocktail Hour Cost? 
Cocktail hour is used as a transition between a ceremony and reception. If you have no photos in between, you may be able to get by without one, but they're quite common. Most cocktail hours include light appetizers and drinks. Expect to pay an average of $35 per guest. 
Is a Buffet Cheaper for a Wedding?
The two main options for serving a meal are buffets vs plated dinners– you can also get direct catering from a local restaurant. Buffets, if done correctly, usually cost less than plated dinners. You're buying food in bulk and you're not paying for much in the way of servers. Buffets are usually priced per serving. It is easier to over-order for buffets, and now some may be more hesitant to have a buffet after public health concerns. Expect to spend a rough average of $25 per person. 
How Much Does a Plated Dinner Cost at a Wedding?
The plated dinner costs an average of $40 per guest per plate– but, with servers and other factors, the real average is around $80 to $200 per person. The menu you select makes a difference. Always compare shops and ask for quotes. Do note that some venues lock you into a specific caterer– another thing you need to consider before booking a venue. 
How Much Does a Typical Wedding Cake Cost?
The average wedding cake costs $350 to $500 in the United States, but that's not that helpful of a number. Instead, looking at the size of the wedding cake is helpful. Per slice, expect to pay $1.50 to $15.00– quite a range. 
How Much Does Dessert Cost at a Wedding?
Most weddings also serve up other desserts as well– or even in place of a large cake. Cupcakes, cookies, pastries, and other sweets are common. Expect to pay an average of $5 per guest. Individual desserts, especially specialty tarts, will be more expensive than bulk desserts. 
Super Budget Tips
Buy a small cake for display, and serve guests delicious but lower-cost slices. Consider an alternative to the full dinner by hosting either a wedding brunch or even a late evening dessert reception– just make sure it's clear on your invitations. Getting catering sometimes is cheaper from a local restaurant, though not always.
Of course, skipping the open bar is a great way to cut and control costs. Cutting back on the cocktail hour and opting for more casual fare (chicken vs filet mignon) can also reduce the cost of your food and drink. 
Hair & Makeup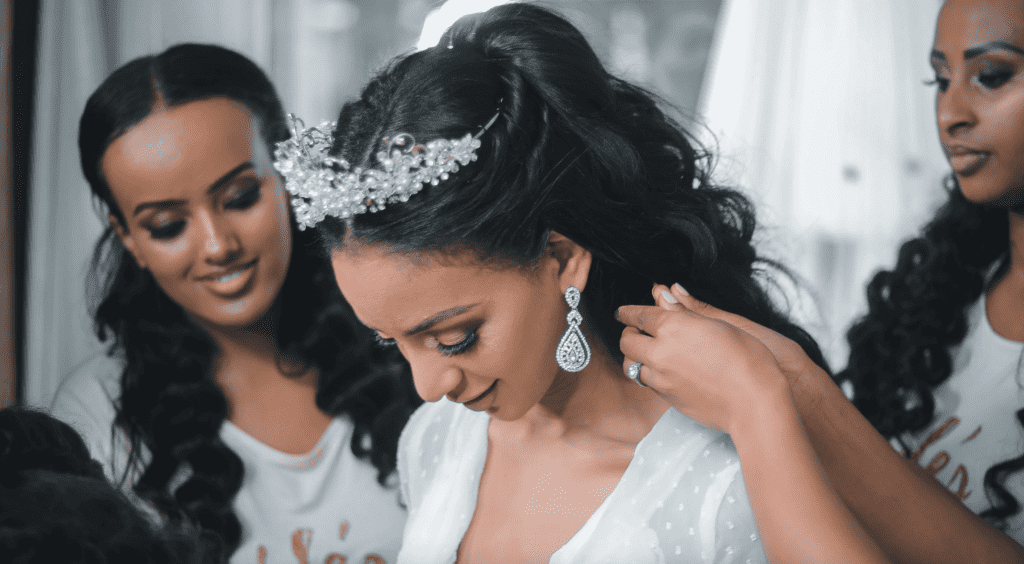 I've separated hair and makeup from attire for a reason. Too often, the cost of hair and makeup simply isn't factored in. And some fashion savvy brides can do it all themselves– but many do not.
How Much Should Wedding Hair Cost?
A rough estimate for professional wedding hair is $100 to $350. You'll need to factor in other costs, just as if you plan on a fair trial, a haircut, or coloring, or special treatments. As you can imagine, this cost ranges depending on style and where you're getting it done. Elaborate up-dos are generally more expensive, and generally, you'll pay more for long vs short hair. Don't forget to tip. 
How Much Does Wedding Makeup Cost?
Some brides do makeup themselves or have a family member help. Many opt for professional makeup services, which can cost around $80 to $125 per hour. If you're prepping with your bridesmaids, expect to cause to go up. Even if you're doing all your makeup, budget for any new makeup and skincare products you need. 
Super Budget Tips
If you're gifted in styling hair or makeup, you can save up to a few hundred dollars by doing it all yourself– or enlisting (willing) help from a friend or family member. I'd recommend a test run if you plan on doing this. If you want extensions, clip-ins are much cheaper. If you're buying hair accessories, you can save money by buying a unique Etsy Wedding Hair Accessory. 
Photography and Videography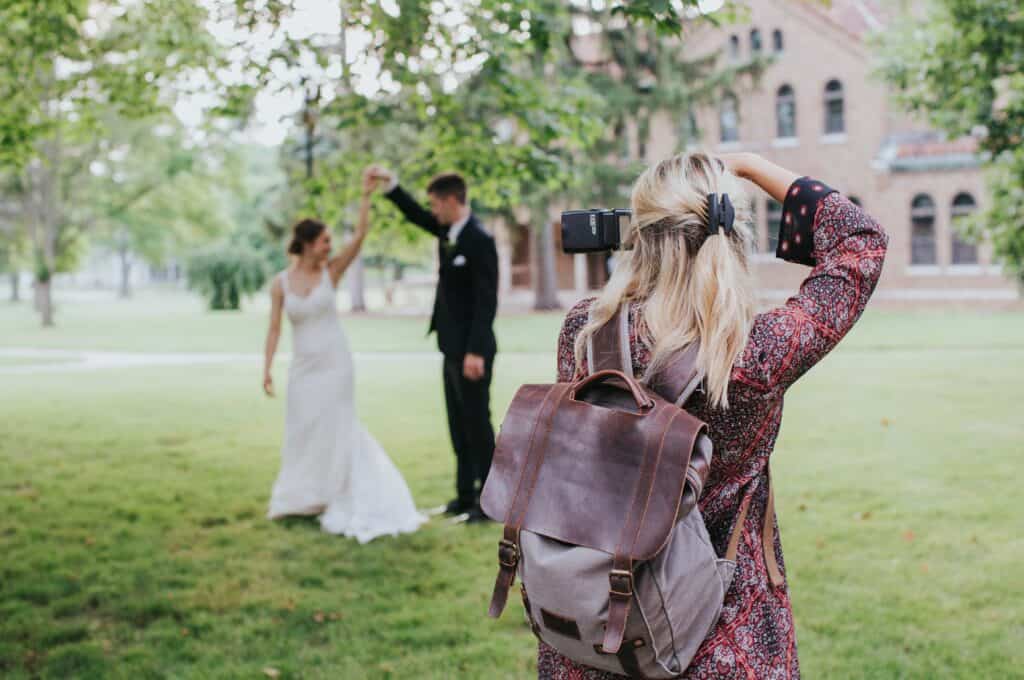 This is a category that's easy to spend a lot on. After all, photos and videos are easy to keep memories alive from one of the most important days of your life. But that doesn't mean you have to pay top dollar. 
How Much Should You Spend on a Wedding Photographer?
A seasoned, professional photographer costs an average of $1,000 to $3,000 for covering a wedding. They're usually paid by the hour. The distance they have to travel, the presence of assistants, extra shoots, and the prints themselves all factor into your total cost.
It's also considered polite to tip– $50 to $200. Ask your photographer what style of photos they do, for a quote, and if there are ways to trim costs. Knowing what they typically cover may allow you wiggle room. 
How Much Should I Pay for a Wedding Videographer?
Many weddings don't have videographers. But if you'd like one, know that the average cost is $1,500 to $2,500. The same factors apply to additional costs and cost factors as with wedding photography.
Super Budget Tips
You can save plenty of money on both wedding photography and videography. Hiring a novice will greatly reduce costs. Asking to only cover parts of the ceremony or reception is also helpful. Skip prints and shots you aren't interested in. For negotiating power, compare shops– and don't assume bundles are always cheaper. 
Venue (Ceremony & Reception) & Decor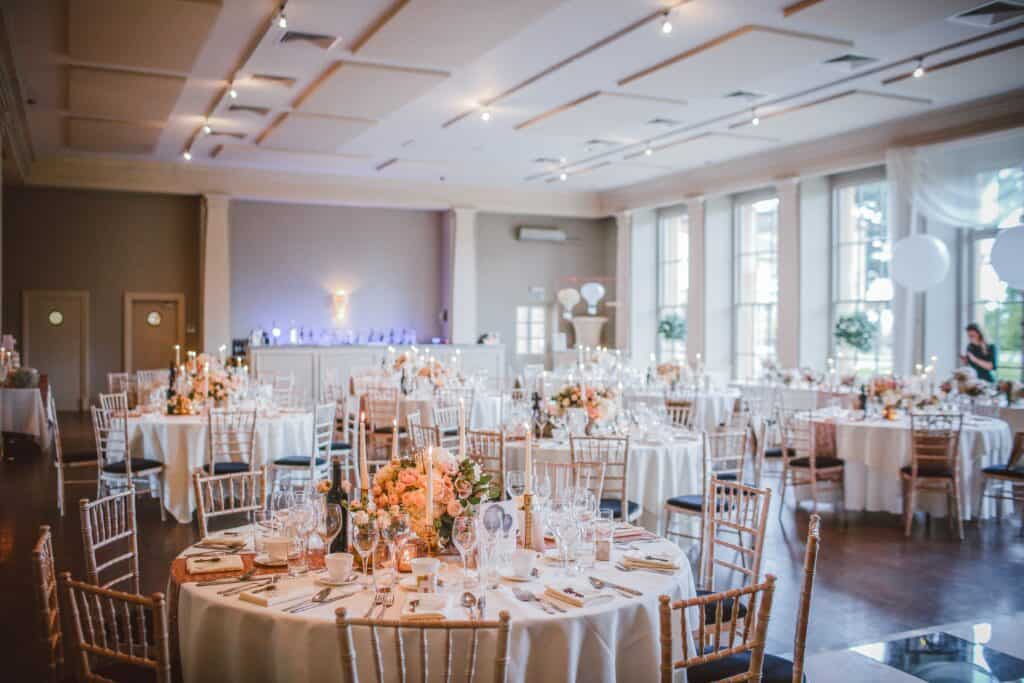 The venue is a large chunk of your budget– but it can be tricky to know how much to spend. The reason? All venues offer different things with the price. Some include catering– and there's nothing you can do about it. Others offer a base price just for renting out the space. You need to ask many questions, most importantly what's included in the price. 
How Much Should a Wedding Venue Cost?
The average price of a venue is $3,000 to $11,000 and, based upon the factors I mentioned, that isn't an entirely helpful number. Some venues also include decor and linens. You can snag a venue for under $1,000– but it likely will only include the space to rent. Banquet halls, ballrooms, and hotels tend to be pricey. You'll also pay a premium if you stay beyond the hours you've agreed to. 
Can You Negotiate Wedding Venue Prices?
What venue you select impacts your negotiating power. In-demand venues likely won't allow you to negotiate– and you'll also have to have to pay a security deposit. However unconventional venues you may be able to negotiate. 
Is it Cheaper to Have an Outdoor Wedding?
Generally, it's cheaper to have an outdoor wedding but it depends, and there are still costs involved. You have to pay for ceremony chairs and tables, as well as a tent. Depending on the time of day, you'll need lighting, and possibly heating. You can throw an outdoor wedding for as little as $2,000 and us much as over $10,000.
 The average rent costs $.65 to $1.40 per square foot of a tent. You'd need a 40 by 8- square foot tent for 250 to 300 people, with an average price hovering around $1,000. Lighting averages $1 to $2 per foot, and heaters cost around $150 to $250 each. 
Other costs are associated with outdoor weddings as well. These include generator costs ($150 to $250 for a small tent); flooring costs ($1 to $3 per square foot); and any decor and tables and chairs you need. Many even opt for a dance floor which can be purchased through wedding event decor websites, as well as Etsy. 
How Much Should You Pay a Pastor to Officiate Your Wedding?
Whether you have a pastor or secular officiant, you'll need someone for your ceremony. Those closely connected with a church may get a discount (or if you have to have an ordained family friend). In general, an officiant may cost anywhere from $300 to $800 on average. 
How Much Should Wedding Decorations Cost?
Some wedding decorations– such as basic chairs and linens– will be included in your venue, just don't count on it. The main costs with decor are florals, followed by any wall decor, lights, or table decorations. Factoring in both ceremony and reception decor, the average cost starts at $2,000– but there are easy ways to trim down on this. 
What is a Good Budget for Wedding Flowers?
You'll be astonished to learn that many budgets 8 to 10 percent of their entire wedding budget for flowers. Floral arrangements average $1,000 to $1,500 for small or medium weddings, and $5,000 or more for large weddings. Centerpieces average $80 to $200 each. 
Super Budget Tips
Save money on flowers by shopping both seasonally and locally. Plump up bouquets with inexpensive flowers, such as baby's breath. Some supplement real flowers also with greenery and even silk flowers.
Opting for unique centerpieces can cut back on how many flowers you use. If you're not working with an in-demand venue, negotiate. Marrying on a weekday, morning, or at a less popular time of year (Winter) can slash costs. If you're crafty, you can even DIY some of your decors. Affordable wedding supply go-tos include Amazon Wedding Decor and Cheap Etsy Wedding Decor.  
Miscellaneous (Transportation, Invitations, License, Favors, Rehearsal Dinner, Wedding Planners)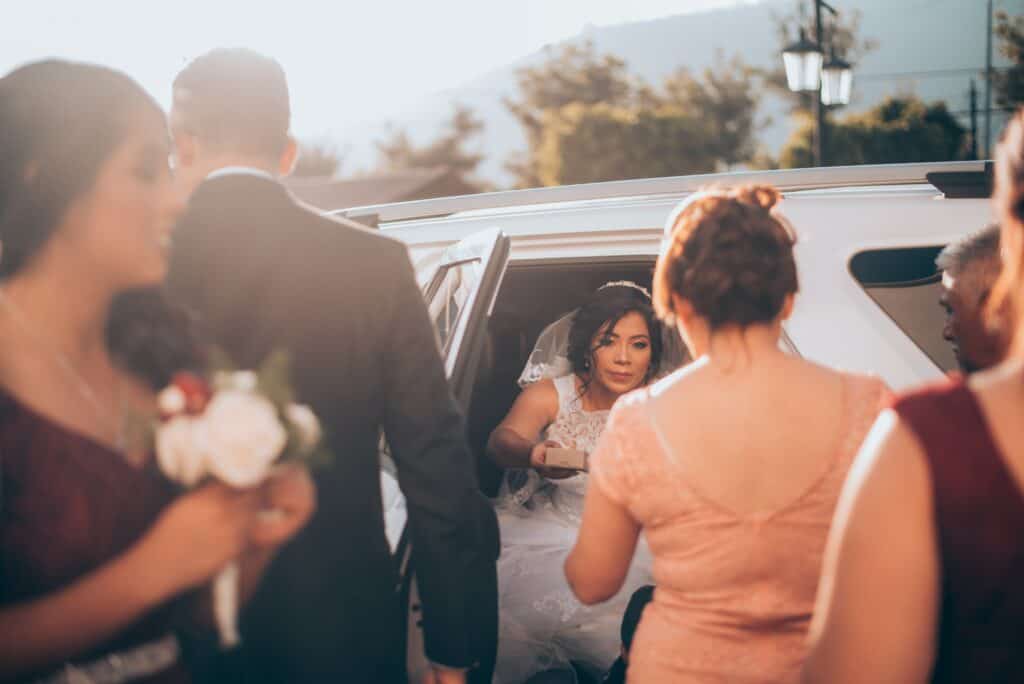 Outside the big-budget items, miscellaneous costs can add up. Aside from wedding rings and engagement rings, you'll need to contend with transportation, marriage license fees, invitations and save the dates, and wedding favors. Many of these are optional– or can vary in cost depending on what you value most. 
How Much Does it Cost to Hire a Bus for a Wedding?
While not necessary for all weddings, some couples opt to hire wedding shuttles for their guests. You're never required to offer transportation, but it may be nice if you have the money and it's a difficult area to navigate, such as a densely populated city. Charter buses range from $110 to $180 per hour, a minibus $95 to $160, and an entertainment bus costs &1,900 to $2,500 for a day. 
How Much Does it Cost to Rent a Limo? 
To make an entrance for the bridal party, couples sometimes rent a limo or luxury sedan. See the chart below for average costs, as calculated by Groupon.
| | | |
| --- | --- | --- |
| Type of Vehicle  | Passenger Capacity  | Cost ($/ Hour) |
| Luxury Sedan  | 3 to 4  | $40 to $70 plus tip |
| Small Limo | 6 to 8 | $60 to $80 plus tip |
| Large Limo  | 9 to 12  | $75 to $130 plus tip |
| Stretch Limo | as many as 20 | $100 to $250 tip  |
How Much Does a Marriage License Cost? 
A marriage license ranges from $30 to $100 depending on your state and your county, with the average hovering around $50 to $60. Click Here For Average License Costs in Your State. 
How Much do Wedding Invitations Cost?
Wedding invitations average a few hundred dollars–or a few dollars per invitation. Professional invitations that are custom made with photos can cost more.
Buying them off a shelf at a store costs considerably less. Some surveys indicate an average range of $400 to $1,000. Craft stores, including Hobby Lobby and Joann's average wedding, invite for around $1 to $3 each. You can also order wedding invitations from Shutterfly for a much more affordable price. 
Is it OK to Not Send Save the Dates?
I recommend including saving the dates– and an RSVP card of some kind in your invitation. If you're buying for a meal– whether it's a buffet or a plated meal–you need to have a general idea of how many people are attending. 
How Much Should You Spend Per Wedding Favor?
Many experts advise $2 to $3 per person for a wedding favor. Wedding favors are typically nominal items, including candy, plant seeds, or even something like succulents. 
How Much Should a Rehearsal Dinner Cost Per Person?
Rehearsal dinners usually include the immediate family, bridal party, flower girl, ring bearer, ceremony readers, and officiant– though it's up to the couple. Sometimes guests who have traveled far are also invited.
Traditionally, the groom's parents would pay but now it may be either side of the family, and even the couple themselves. While a rough average cost per person is $30 to $70, obviously this varies widely depending on where you eat. 
How Much Does a Wedding Planner Cost? 
A wedding planner is not needed in all cases. The purpose of a wedding planner is to reduce your workload and stress. This is also helpful if you're having a luxury wedding and have multiple things to manage. The cost of a wedding planner ranges, as you can imagine, depending on their level of expertise and how involved they are.
You can expect an average of $1,800 for typical wedding packages, and up to over $4,000 for experts. To find a wedding planner that meets your needs and your budget, you can search for Wedding Planners on The Knot. The level of expertise and hours spent also influence the price point. 
Super Budget Tips
It's perfectly fine to skip wedding favors, and many couples are doing so. Often guests end up throwing away wedding favors or leaving them behind. You're under no obligation to provide transportation for guests, and there's nothing wrong with using your car for transportation.
For invitations, buying in bulk and simply buying it yourself rather than having them professionally custom-made will save plenty of money. Simple wedding invitations, instead of including photos, can also slash costs. 
Save money by opting out of a rehearsal dinner, having it at home, or eating at an affordable place. There's no requirement to have an expensive meal for your rehearsal dinner. You also don't have to hire a wedding planner. Even if you do, working with a wedding planner for only certain things can also reduce costs. 
Frequently Asked Questions
Question: How Much Does a 100 Person Wedding Cost?
Answer: It's hard to pinpoint the entire cost of a 100 person wedding. For the venue and reception alone, the average cost is around $7,000. Keep in mind this does not include other costs, such as attire, entertainment, and alcohol.
A 100 person wedding is fairly common and not considered small or large. The rough average cost of a wedding in the United States is around $28,000– but averages don't tell you about outlier spending, nor do they dictate how much you should spend on your wedding. 
Question: Is $15,000 a good budget for a wedding?
Answer: You can easily have a nice wedding for $15,000 in most places, and well under. I recommend keeping your guest list under 150. The more guests you have, the more you'll need to trim back on different things. But a good budget is in proportion to your combined income.
A good budget isn't all about what you include in your wedding– but spending a comfortable amount that won't put you into substantial debt. If you're on a tighter budget, check out my money-saving tips. Get friends and family involved with creative ideas, and do things yourself to trim back on costs. Work out a budget ahead of time so you aren't tempted to spend more than you can afford. 
Question: Who Pays for a Wedding in 2021?
Answer: It's an excellent question– and one with no single answer. The answer varies by culture and family. A 2020 WeddingWire Newlywed Report found that parents are still chipping in.
On average, parents pay for 52% of wedding expenses, and the couple takes care of the remaining 47 percent. However, it's becoming increasingly common for couples to pay for it themselves. The key is to have clear communication, without any expectations or demands. Know before you start planning your budget who's paying for what. 
Question: Are Destination Weddings More Expensive?
One thing I didn't touch upon is destination weddings– they are complicated in terms of both planning and logistics. You can certainly expect to spend more on a destination wedding.
The average destination wedding costs around $32,000 as compared to $28,000. It's also more expensive for guests– with an average cost of $1,500 for travel and accommodations. You should also plan for around half of your guests to decline. Never pressure anyone into attending a destination wedding.
Final Thoughts
As you can see, there's a lot that goes into planning a wedding. The biggest reason why couples spend too much on their wedding is that they don't properly plan and budget.
For an event as important as a wedding, it's tempting to treat yourself to the finest things. I recommend filling out a budgeting checklist (and make sure you stick to it!). Click Here For a Printable Wedding Budgeting Worksheet