Truth be told, planning an amazing honeymoon that you will always remember can be a tedious process if you don't organize every aspect thoroughly. Some might say they went on an improvised honeymoon, and I know a few people like that, including one acquaintance of mine who said they jumped in their car and drove from one place to the other without planning anything in advance.
That might work for some individuals, but, if you're like me and need to have a plan in order to feel more relaxed and enjoy the trip, you should continue reading the following article in which I detail everything you must consider to plan the perfect honeymoon for you and your partner.
The Ultimate Honeymoon Planning Guide – Things to Keep in Mind
This isn't just another trip that you will enjoy together. It's the unique romantic getaway in which you can start your married life in a relaxing or adventurous way, but surely in a romantic manner. This is a once-in-a-lifetime vacation that must be perfect so that you can always remember it with a big smile on your face.
Below, you will find numerous useful tips and guidelines regarding your honeymoon's budget, possible dream destination options, the best times to schedule your honeymoon, and more.
Pre-Honeymoon Planning Steps
Here's what you must plan ahead for your dream honeymoon to be filled with laughter and joyful moments.
Domestic vs. International Honeymoons
First things first! Do you want to go abroad for your honeymoon, or would you prefer to explore never-seen places in the country? Most people would rather go to places outside the country that are seen as highly romantic such as France or Italy. I personally love to immerse myself in foreign cultures. Such as experience is so enriching and exciting.
Others might want a more comfortable and familiar setting, and places like these are easier to find in your home country. Both alternatives come with their own benefits and downsides. You must take a number of things into consideration if you want to travel abroad. For instance, have you two traveled outside the country before? Do you have valid passports?
Once you establish which way you want to go, start thinking about your budget.
Set the Budget
I won't lie to you! This part of the honeymoon planning isn't fun at all. I personally cannot stand budgeting tasks, but it's a necessary step. Before dreaming about exotic beaches or high-end ski resorts, you should establish your honeymoon budget. How much money do you have? How much are you willing to spend on your honeymoon?
Putting aside finances will help you choose the perfect honeymoon destination that you can afford. Other factors like the chosen period and the length of the vacation will also depend on your budget. One solution that might help newlyweds who're struggling with tight budgets could be to register for this planned trip on a dedicated platform.
Plan the Honeymoon Together with Your Spouse & Look for Potential Destinations Early On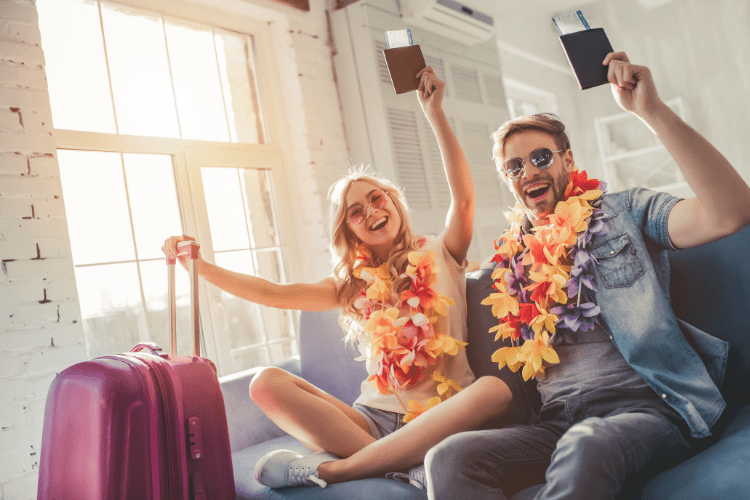 Believe me, when it comes to travel plans, the tasks aren't always split equally between the two partners. For instance, in my marriage, I am used to doing most of the research and finding potential destinations, while my husband helps me decide when I am asking for help once I select my top 3 favorite options.
When it comes to transportation means and using maps to go from one attraction to the next, my husband does most of the job because he has better space orientation skills.
Regarding the sightseeing plans, we communicate and do it together. It's always best to talk to each other and gather both insights before deciding on a certain destination. Also, start planning your honeymoon early on. Some might even want to plan it before the actual wedding. We did that one month after the wedding. It's a great way to find better deals.
Set the Honeymoon's Itinerary
Some people love to explore new cities and get lost in the picturesque stress of European cities. Others might want to have a themed honeymoon during which they sample the cuisine of a certain region. Those who want to relax and unwind usually prefer to opt for a resort honeymoon. My husband and I are the adventurous types so, we chose to plan a European tour and drive from one place to the next.
When he proposed, we were in Salzburg, Austria, a delightful town. We were hiking on a little hill with a monastery on top and, I remember how hot it was outside. So, I wanted to rest a bit before we reached the top. It was a wooden bench near us located right on the edge of the hill, overlooking the beautiful medieval fortress of Hohensalzburg. And, while I was mesmerized by the view, my then-fiancee pulled out the ring box, opened it, and said something, like a short speech.
I started to laugh and cry at the same time. I will always remember that moment, and I will cherish it dearly. For our honeymoon, the plan was to see Budapest in Hungary, Prague in the Chez Republic, Munich in Germany, Graz in Austria, and then return home. Unfortunately, the pandemic situation occurred, and our plans were canceled. So, we had to reschedule and think of a destination that was closer to home; we ended up visiting Sofia and Plovdiv in Bulgaria.
So, I talk from experience when I say that you should mix both walking, touring, and sightseeing with days of pure relaxation.
Check the Seasonal Weather
There are so many things to keep in mind when it comes to weather. For instance, if you just got married in the US or any other country in the northern hemisphere during summer, but you want to go to the southern hemisphere for your honeymoon, say, in Australia, you should pack for winter weather.
Many other locations have two main annual periods: dry and rainy seasons. So, make sure to find out the type of weather you're going to have before planning and booking transportation and accommodation. If you're on a tight budget, you should opt for places that have mild weather, even during shoulder season.
Besides lower prices, another major perk of the shoulder season is the fact that there will be fewer crowds. So, book, plan, and pack accordingly.
Buy Trip Insurance
Simply put, you should always expect the unexpected because prevention is key! Nobody is saying to be negative and expect the worse to happen during your honeymoon, but it's always smart to be prepared. Travel insurance will definitely alleviate your stress and worry if, God forbid, something occurs or comes up. It's for your own peace of mind!
Guidelines to Follow During the Honeymoon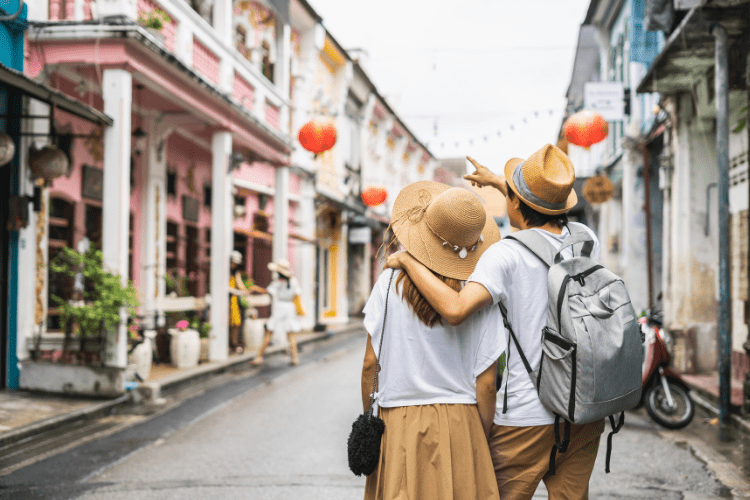 To enjoy your honeymoon to the fullest, you should follow these tips that I've listed below.
Pay Attention to Hidden Costs
Let's say you are about to book a honeymoon package and offer you received or asked for from a resort. Make sure to read everything that's written there, including the fine print regarding what these services include. This is helpful, and it will enable you to discover what the offer doesn't include.
Services such as beach access (if you're on a beach honeymoon), hotel transfers, on-site restaurants, cocktails, and more might require extra charges. You must know these things before you go there to make sure that the overall cost of the trip won't skyrocket.
Stick to the Plan but Also Be Flexible
Before traveling to your honeymoon destination, do your research and come up with a plan. You can get inspired by others' honeymoon trips and itineraries, but you mustn't follow a specific plan to the letter. Remain flexible and keep your options open in case something changes.
Read what others have to say about a certain location, but only choose those adventures and attractions that resonate with you and your partner. For example, you might have planned to go see a specific landmark, but you wake up and see that the weather is perfect for a day at the beach. Go do that instead!
Take a Lot of Photos but Also Put Your Phone Away
It's important to take photos so that you can always remember you're lovely honeymoon but, what's more, important is to create memories, and you can do that if you put your phone or camera away and just emerge in every experience during the honeymoon. Avoid checking your social media accounts and email. You'll have plenty of time to post your photos when you get back.
Stay offline most of the time so that you can focus on yourself and your loved one.
Tell Your Accommodation's Host That You're on Honeymoon
Most hotels offer little perks to newlyweds who're on their honeymoon, so make sure your accommodation representatives know that. You can remind them of this upon arrival. You can even be courageous and assertive and ask for a room with an ocean view if that's the case.
In some cases, honeymooners might even receive a room upgrade without any extra costs. I remember when my husband and I received this type of upgrade when we arrived in Lausanne, Switzerland. We booked a regular twin room, but the receptionist gave us a suite. It was an amazing experience, and to this day, it remains one of the best accommodations we have ever received.
Other potential perks could be a romantic dinner, champagne and flowers or chocolates in the room, or even a significant discount on the hotel's Spa services. Sounds delightful, right?!
Plan a Honeymoon Photo Session (Optional)
Having a photo session during your honeymoon is a wonderful idea if you want to enjoy your lovely memories by looking at great photos taken by an experienced professional. You will already have a lot of wedding photos, but this time you can enjoy a romantic photo session in which only the two of you will appear.
To make sure you capture the location's vibe the best, you should hire a local photographer. He or she will know exactly where to go and will pick places less known and frequented by tourists.
Additional Tips for a Perfect Honeymoon
Use a travel agent

 – hiring a travel agency to take care of all the main planning steps doesn't cost a lot, and experts will take care of all the arrangements so that you can worry less and relax more. Moreover, if something doesn't go according to the plan, you will be able to call the agent and sort things out;

Make sure your documents are updated

 – besides insurance and other documents you might need, you must verify if your passport is updated. You'll also have to get a visa if you travel to certain countries that require one. Other destinations might need you to come with a vaccination certificate. If you haven't changed your name yet, you should make the reservation under your maiden name. I made sure to change my name before booking and departing for our honeymoon;

Protect your privacy

 – if you want a romantic, private, and relaxing honeymoon, you should avoid hotels and resorts that host a lot of families with kids. My husband and I always try to avoid those places that are filled with noisy people or that are too crowded;

Become aware of your spouse's desires and needs

 – be considerate and ask your spouse what he or she wants, prefers, and needs. Then, plan according to the desires of both of you;

Take more money than the sum you've initially thought you'll need

 – even if you pay for most of the services upfront, it's always best to have some cash for unexpected expenses, waiter tips, local dining places, watersports, museums, etc.
The Ultimate Honeymoon Planning Guide – Top 4 Best Honeymoon Ideas
Let's talk about some of the best honeymoon destinations or themes you can choose from. You should think about these before you book the accommodation. Do you want to sit and relax at the beach, hike on snowy mountains, or explore cozy villages in foreign countries?
The Beach Honeymoon
This is the most popular type of honeymoon there is since most newlyweds choose a beachy destination. The experience is all about sunbathing, swimming in the ocean, surfing, and more. You'll be able to relax and tan at your chosen tropical location. I would personally opt for the Italian or Spanish coastline, but a Jamaican resort also sounds great.
The possibilities are endless, especially if your budget isn't too tight. You could opt for luxurious and exotic places such as Bora Bora, Cancun, or Hawaii.
The Intimate Honeymoon
This type of honeymoon requires a more secluded location, one that's not full of tourists, where you can relax, unwind, and take it easy while also feeling romantic and playful together with your spouse.
Trust me; you will need these relaxation moments after the wedding. We were both drained out and stressed from all the preparations. Our wedding day was exquisite but because we followed a thorough wedding planning, the next day, we felt like we could breathe again and stop worrying.
For this honeymoon type, you should choose an intimate location, something that's similar to a retreat. You should then indulge in delicious meals and tasty cocktails, but you could also throw in a little sightseeing. Places like Sonoma, Fiji, or California are worth considering.
The Adventure Honeymoon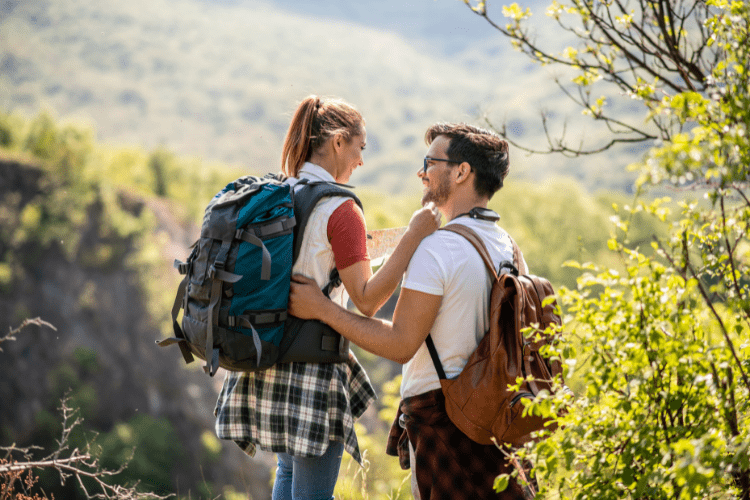 If you're like us, more adventurous, you should opt for a more thrilling and exciting type of honeymoon. I am a fan of trips that are rich in experiences of all sorts that I know I will remember as long as I live. If that's your case, too, you should book excursions that will raise your adrenaline level.
You could have amazing adventures in locations like the Rocky Mountains, Costa Rica's rainforest, or Queensland, New Zealand. Numerous spots in Australia also have a lot to offer in terms of adventures and amazing things to do.
The World Travellers Honeymoon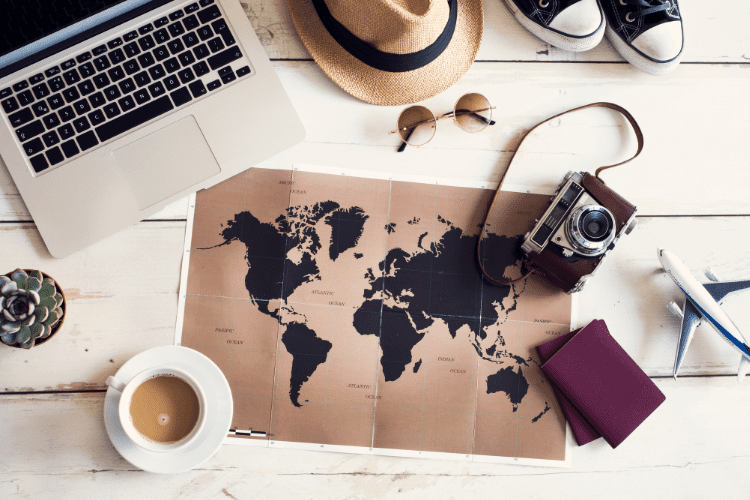 This is also something that my husband and I always love to do and plan. For instance, we are huge fans of longer European tours. I consider myself as a person who has a well-known travel bug, and we both love to explore new cities that we've never visited before. You could even pack your backpacks and travel around the globe.
A cross-country road trip could be an excellent idea, and there are so many wonderful routes that you can follow.
The Ultimate Honeymoon Planning Guide – Packing Tips
Here are the things you could and should pack before going on your honeymoon. Double-check the following list to make sure you don't forget to include an item that could be essential for you.
Basic Essentials
Underwear;
A couple of tank tops or/and camisoles;
Bras – sexy lace bras, casual and comfy sports bras, etc.;
Between 3 and 5 bathing suits – mix and match the tops with the bikinis as per your liking, or you could even include one or two one-piece bathing suit options. At least 1-2 bathing suits should be included in your luggage, even if your honeymoon destination is a mountain resort because you will probably have a pool or at least a hot tub at the hotel;
Based on your destination, you should take one thicker or more lightweight jacket;
If you plan to enjoy a romantic diner at a fine-dining restaurant, you should both pack something more elegant such as an evening gown or a simpler yet feminine dress and, for men, a smart-casual outfit featuring a Polo Tee or a shirt. 
Clothing Items and Attire
Take several formal evening dresses, some short, others longer, but this depends a lot on your honeymoon type and location. If you plan to go hiking in the French Alps, you won't need a gown or a suit;
Summer dresses and shorts if the destination is a hot beachy one;
Jeans, T-shirts, and hoodies for a low-key honeymoon;
A lightweight cardigan for evening walks;
Sleeveless tops and a swimsuit cover-up. 
Shoes
One pair of elegant yet comfy and versatile heels;
One pair of trendy and chic sandals;
Flip-flops;
Sports or running shoes – you'll need these for your long walks and sightseeing;
One pair of ankle-length or knee-length boots if your honeymoon destination is a colder one. 
Other Items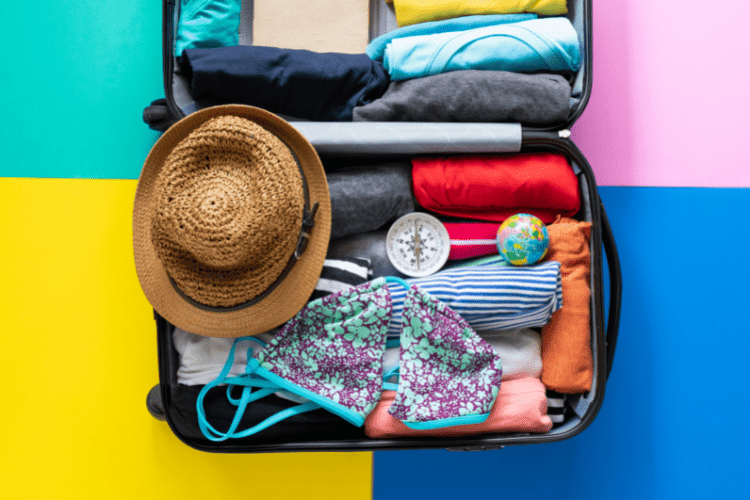 Massage oil (optional);
Bubble bath bombs;
Perfume;
All the necessary documents like your visa, passports, booking files, tickets, and more;
Cell phone chargers;
Credit cards and cash in the local currency;
Camera;
Sunglasses;
Travel umbrellas;
Sealable plastic bags;
Backpacks or crossbody bags. 
Frequently Asked Questions About Honeymoon Planning
Question: What Toiletry Items Should You Pack for Your Honeymoon?
Answer: There are so many things you should consider packing like shampoo, and hair conditioner, hair ties, mouthwash, toothbrush, toothpaste, floss, shaving cream, razor, a tiny aid kit, sunscreen, body lotion, condoms, or birth control pills (these are optional because they won't be necessary if you want to try conceiving a baby), lip balm, moisturizing cream, facial cleanser, and makeup removers, tampons, and more.
Question: When Must Newlyweds Start Planning Their Honeymoon?
Answer: The perfect time to start preparing for your honeymoon is 6 and 8 months before your chosen travel dates. The early your start, the better you will be in terms of finding great accommodations at less high prices.
Question: What Are Couples Usually Doing During Their Honeymoon?
Answer: It depends on your needs and preferences, as well as on the destination you choose to go to. From hiking in the Rocky Mountains to swimming in the ocean in Hawaii, there are numerous possibilities. All you have to do is to pick a destination that suits both your preferences and falls within your budget range. No matter what you do, make sure you spend some romantic moments with your spouse.
The Ultimate Honeymoon Planning Guide – Final Thoughts
Planning your unforgettable honeymoon will be a mix of joy, fun, excitement but also stress, worry, and overthinking. At least, that was the case for my husband and me. But, once you arrive at your destination, you will be able to relax, unwind, and enjoy the views, weather, and each other's company.
As long as you follow the steps I've detailed above on how to plan the perfect honeymoon, you'll be fine! I trust you, and, believe me, you can do this as long as you have your spouse by your side.
Find more planning-related guides below for a perfect and stressfree wedding:
Wedding Food and Drink Planning: To Delight your Guests