A wedding ring is the most important piece of jewelry you'll buy. That's why knowing how to find the best wedding rings is critical for your shopping experience. 
Perhaps no one knows the value of wedding rings as much as brides like Emery Bundy.
Everything was ready for Emery's wedding. She and her now-husband Sam were out shopping for last-minute touches for their wedding. The couple was on the hunt for a basket to hold blankets. Since Sam and Emery decided on an outdoor wedding, they wanted to make sure their guests stayed warm and comfortable. 
But while they were busy browsing, another shopper snatched Emery's purse. This alone would be a terrible situation. But along with her ID, phone, and cash, there was something else missing. Sam's wedding ring and Emery's wedding ring had been stolen. 
This story has a happy ending. A police officer reviewed the video footage and tracked down the thief's vehicle using enhanced surveillance technology. Sam and Emery were both surprised and ecstatic to see their wedding rings returned. 
Luckily, keeping your rings in a secure place keeps them safe until your wedding. But buying a ring can be stressful in of itself. In this guide, I'll tell you how to buy the best ring and take care of it. You'll learn how to avoid wasting your money and find a ring that will endure as long as your love. 
What Does a Wedding Ring Symbolize?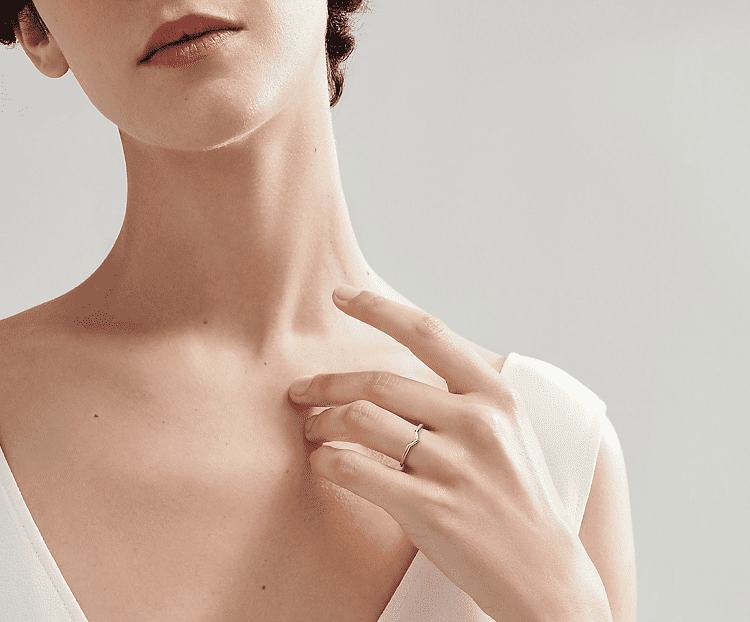 I want to start by explaining just why wedding rings are seen as so important. Most of us shop for engagement rings and wedding rings without thinking about their symbolic meaning. Wedding rings were used as far back as the Ancient Egyptians and Greeks. At that time, rings were more common amongst the very powerful.
Wedding rings became more popular for Christian ceremonies around 900 AD. The rings of that time were heavily adorned and engraved. Medieval Europe was a great era for design innovations. 
A wedding ring to this day symbolizes a couple's tight bond. A ring showcases an unbreakable commitment and lasting love. Different styles of wedding rings provide special meanings. For instance, a Celtic knot represents eternity. 
Are Wedding Rings a Religious Symbol?
Wedding bands themselves are not tied to one religion. Since they have been used since the days of ancient civilizations, rings have taken on different meanings. Many religious and spiritual people see rings as a symbol of committing the marriage to God or a higher being. However, religious and nonreligious couples alike find that wedding rings are a meaningful sign of commitment. 
What Does it Mean to Wear a Wedding Ring on Your Right Hand?
Typically, a wedding ring is worn on the left hand on your ring finger. Some couples change up this tradition. Wearing a wedding ring on your right hand has a beautiful meaning. It's said that it's near the vena amoris, which is called the vein of love.
This old symbol showcases that the couple is deeply connected. For those who are right-handed, however, it may be far less practical than those that are left-handed. 
Is it OK Not to Wear a Wedding Ring?
While it's the norm to wear a wedding ring, it isn't an absolute must. A wedding ring has nothing to do with the legality of your marriage.
At the same time, I highly recommend having a candid conversation with your spouse or spouse to be. Both partners should be on the same page about wearing or not wearing wedding rings. There are some instances where it also makes sense not to wear a wedding ring.
How do You Preserve a Wedding Ring?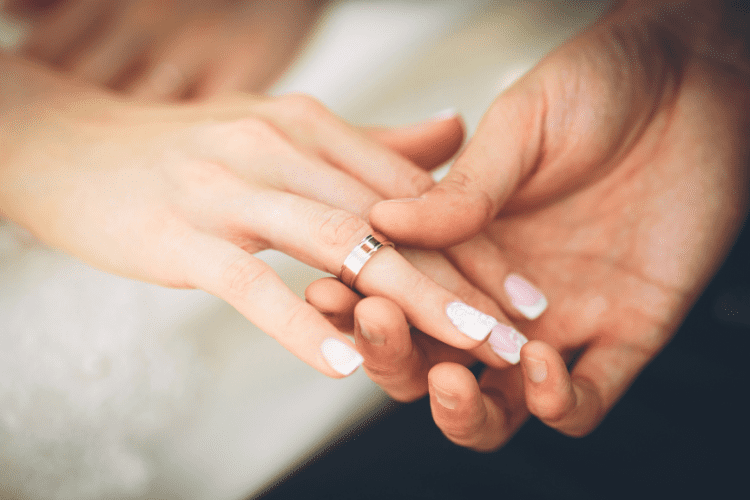 This leads me to my next topic: caring for your wedding rings. I want to cover this, as it so often gets overlooked when buying wedding rings. Be honest with yourself about how carefully you'll take care of your rings. Certain materials- which I will cover soon– are more prone to wear and tear. But careful care can go a long way. 
Should You Take Your Wedding Ring Off?
If you or your spouse works in a high-risk environment near chemicals, heavy equipment, or other environmental hazards, you may want an alternative, like a silicone ring (see my Final Buying Recommendations for suggestions). If you do take your wedding ring off, it should be carefully stored in a cloth bag by itself. 
Can you Shower With the Wedding Band?
Most wedding rings won't be damaged by water. The bigger issue is build-up from shampoo or soapy residue. If you shower with your wedding ring, make sure not to get shampoo and shampoo directly on it. However, there are a few metal types, including silver, copper, and brass that will tarnish with exposure to moisture.
How Often Should You Clean Your Wedding Ring?
Cleaning your wedding ring once a week can prevent wear and everyday build-up. For a deeper clean, consider a professional service every six months. You can use gentle soap (just a drop or two) and warm water to clean your band. Don't apply soap to precious gemstones. Make sure to draw your ring completely. You can buy a wedding ring cleaning liquid to be safe.  
How do I Pick the Right Ring?
Now that you know how to properly care for your wedding ring, it's time to select one. Selecting a wedding ring isn't merely a matter of choosing a style you like. Start by setting a budget, then research what materials and designs make the most sense for your lifestyle. By taking these steps, you'll find the best wedding rings for you and avoid an impulse buy. 
Who Buys the Wedding Ring?
Traditionally, partners buy each other's wedding rings. Now, couples often shop for their wedding rings together. Wedding rings don't need to match, but they should complement each other. In some families, family members might chip in, but it's not customary. 
How Much Should You Spend on a Wedding Ring?
It's hard to shop for an engagement ring without coming across advice about how much you should spend. The problem is that advice is often outdated and pushed by jewelers.
But it's even harder to determine how much to spend on wedding rings because there's far less advice. To set a budget, I recommend making a spreadsheet of all your wedding expenses. Click Here For My Wedding Finacial Planning Guide. Once you establish must-haves, it'll be easier to see how much room you have to spend on a wedding ring. 
How Much do the Average Wedding Rings Cost?
Of course, I know not everyone has their wedding planned out. It may be helpful to know that the average wedding ring costs about $500 for men's rings and $1,000 for women's rings.
However, averages can be deceiving and include outliers. All told, a few hundred dollars can buy you a nice ring if you like a plain style. If you plan on adding precious gemstones, then $500 to $1,000 as a starting point is more realistic. 
Do Wedding Rings Have to be Diamond?
Wedding rings often include diamonds, but many do not. Some of my favorite wedding rings are simple, solid bands. If you find a solid band too boring but don't have the desire or budget for diamonds, you can buy another gemstone. A great diamond alternative is a moissanite. You can also opt for a twisted band or a Celtic knot. 
How Many Carats Should a Wedding Ring Be?
If you do decide to buy diamonds, you need to make sure they're authentic (lab-grown or natural) and of high quality. You should always prioritize quality oversize. Carat weight for wedding rings tends to be modest. 
What is a Good Color for a Diamond? 
Color is the number one thing you should consider when buying any diamond ring. Opt for colorless or nearly colorless. On the GIA grading scale, that translates to a D, E, F (colorless) or G, H, I, J (nearly colorless). Anything of lesser quality will have a faint to deep yellow tint.
What is the Best Diamond Cut?
Since diamonds don't tend to be the focal point of wedding rings, I would worry about cutting less than I would for an engagement ring. Round brilliant optimizes sparkle. Oval, princess, and cushions cuts are excellent options as well. Avoid deep cuts for a wedding ring. 
What Does Clarity Mean in Diamonds?
Clarity refers to the inclusions or imperfections for that diamond. This affects the diamond's appearance and brilliance. If possible, buy a ring with diamonds that are very slightly included (Vs1 or Vs2) or better. Slightly included diamonds will have noticeable defects. 
Should I buy a ring with lab-grown or natural diamonds?
Natural diamonds are more valuable, but lab-grown is better for your wallet. They share the same physical properties. If you do buy a ring with natural diamonds, look for information about how the diamonds are sourced. At a minimum, they should be certified conflict-free and come with an official GIA (Gemological Institute of America) or AGS (American Gem Society) report. 
How do You Measure the Ring Wedding Ring Size?
Buying the proper ring size is important too– but if you don't get it perfectly right, it's also somewhat fixable. So even if you are shopping for wedding rings for each separately, there are still some options. 
How Should a Wedding Ring Fit? 
A wedding ring fit is rather particular. The fit should be snug enough that it doesn't slide up or down on its own. You should feel the tension as you remove the ring, but it shouldn't hurt to remove. 
Can Wedding Rings be Resized?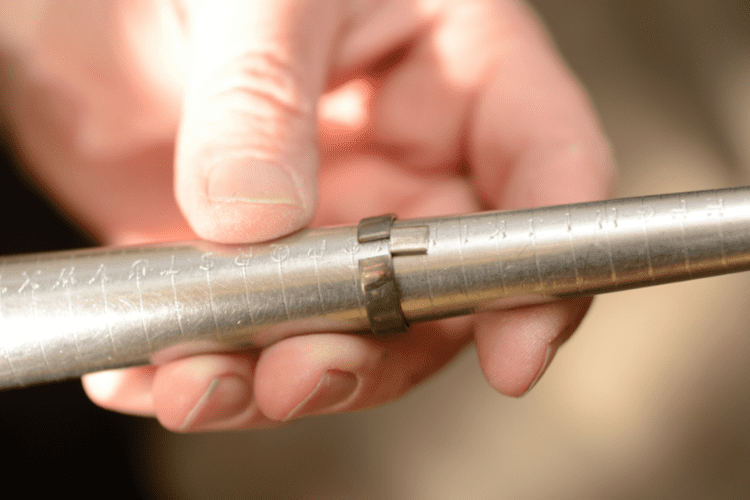 Platinum, gold, and silver wedding rings can be sized down, Sjzing down costs anywhere from $20 to $100 on average and takes a matter of hours. If the ring has a complicated design, it may be more expensive and take longer. 
Can Wedding Rings be Enlarged/Sized Up?
Luckily, rings have been sized up as well. Rings are resized for two sizes one way or another. Further resizing isn't possible. When a ring is resized too much, it may be ruined and broken. 
Is There a Difference Between Men's and Women's Wedding Bands?
The most notable difference between men's and women's wedding bands is sizing. Men's bands are typically wider, with an average of 6mm vs 4mm. However, both men's and women's rings have a range of widths. Another difference besides fit is style and designs.
Alternative metals and black rings, including titanium, tungsten, and zirconium, are typically classified as men's. That said, I find the distinctions arbitrary. 
What Metal Are Wedding Rings Made Of?
Ring metal is the most important decision you have to make. The metal of your ring greatly impacts the durability, shine, and care considerations. I'll answer some frequently asked questions. I also created a chart for a quick method of comparison. As you can see, there is no such thing as a perfect ring metal. I'll go into more detail about the different types of each metal category. 
General Metal Type 
Pros
Cons

Silver 

Affordable

Classically Beautiful 

Lightweight and Easy to Resize 

Prone to Tarnish

Pure Silver is Very Soft

Easily Damaged

Gold 

Beautiful Luster (14K and up)

Widely Available

Usually Less Expensive than Platinum 

Purer Gold Rings are Expensive

The higher the karat, the softer 

Requires Care and Occasional Plating 

Platinum 

Beautiful Luster

Very Durable

When Scratched, Adopts a Natural Finish (Patina)

Heavier than Gold

Very Expensive

Steel

Surgical Steel is Hypoallergenic

Economical

Very Strong 

Easier to Dent

Hard to Resize

Lower Luster

Titanium 

Lightweight

Very Strong

Resistant to Discoloration 

Low Luster 

Hard to Resize 

Tungsten 

Most Scratch-Resistant Option

Hypoallergenic

Doesn't Bend or Dent 

Cannot be Resized

Can Break on Impact 

Low Resale Value 

Zirconium 

Unique Black Hue

Affordable 

Shatterproof and Won't Corrode

Hard to Resize

Little Resale Value 

First Layer May Wear Down 
Can Wedding Rings be Silver? 
Most silver rings are 925 sterling silver. 925 silver is your best choice, as it's far more durable than pure silver (a very soft metal). While you can buy sterling silver wedding rings, they come with a notable downside.
Sterling silver will tarnish and discolor with time. Silver will tarnish more quickly if exposed to moisture. It is prone to scratches as well. While not the worst metal choice, I would recommend another metal above sterling silver for your wedding ring. 
Do Wedding Rings Have to be Gold?
Of course, that does not mean your wedding rings have to be gold. White, rose and yellow gold is classic options and beautiful. Not all gold is created equal. Avoid gold plating– a cheaper metal that involves a thin sheet of gold over a base metal. Gold plating peels tarnish and wear within a few years.
10K gold is the hardest to scratch, but it isn't very valuable and comes with a dull appearance. 14K to 18K gold is the sweet spot for most. You'll have an elegant luster but the rings won't easily become scratch. The higher the gold purity, the more valuable, the higher the luster and the softer the metal is. 
Are Our Platinum Rings Worth It?
If you love the look of white gold, platinum is another metal to consider. This metal has a brilliant shine and is very durable. One thing that's unique about platinum wedding rings is how the finish changes. Platinum does eventually scratch, but those scratches form a new finish. Thus finish looks like a naturally antique finish and is beautiful in its own right.
However, some may be disappointed that the ring looks different than when you first bought it. Though an excellent choice in many ways, the cost may also be prohibitive for some couples. 
Can Rings be Made of Stainless Steel?
Stainless steel may not be the first material you think of when you're buying a wedding ring, but it's an option. This is one of several metals that are mostly only carried for masculine rings unless you look on Etsy.
Stainless steel rings are lightweight, generally allergen-friendly, and durable. They aren't prone to rust or corrosion. They're also affordable. A downside is that they can be dented. They're also quite hard to resize and dull. 
Will the Titanium Ring Last Long?
Titanium will certainly last, and it doesn't require much upkeep. Resistant to corrosion, strong and lightweight, it's a dark horse so to speak. Once again, titanium is made for men's rings primarily, and you'll have to shop from a specialty jeweler.
While it's possible to scratch, it's harder to scratch than common options like gold and platinum. They're very difficult to size, however, and don't have much luster. 
Is Tungsten Good for a Ring?
Tungsten is another metal that's become more widely used for men's wedding rings. Tungsten is the most scratch-resistant metal you can buy for a ring. They won't bend or break. One concern is that tungsten requires special intervention to remove in case of an emergency. Something like vice grips will need to be used. Tungsten likewise cannot be resized and its resale value is low. 
Do Zirconium Rings Scratch Easily?
Zirconium rings are an excellent option if your biggest concern is scratching– at least initially. The problem is that the top layer of zirconium rings is not the same as the inner layer. Zirconium rings usually wear out, revealing a softer inner layer. For this reason, zirconium rings may need repair after a few years. 
What Ring Metal Lasts the Longest?
If I had to choose just one of these metals, it would be platinum. Platinum rings are widely available, beautiful, and hard to damage. They don't require the level of upkeep other rings do. If you don't mind a duller appearance and get the sizing right, stainless steel is an affordable alternative. 14K and 18K gold rings are reasonable options as well.
Of the less conventional choices, I prefer titanium over tungsten and zirconium. No matter what metal you choose for your wedding rings, make sure you buy from a reputable supplier and ask about the quality of the metal. Gold plated wedding rings are quite different from 18K gold wedding rings. 
What are the Different Styles of Wedding Rings?
Now it's time to discuss ring settings. Ring settings are the style of the band. The chart below discusses the different types of the most popular ring settings. Unlike selecting the metal type and diamonds for your wedding ring, this is mostly a matter of aesthetic preferences. 
Ring Setting or Style 
Description
 
 

This is pretty much as it sounds. A classic ring is a simple band. It may vary in width and style, but it's fairly plain. However, it may include diamond settings. 

 

Comfort Band 

A comfort band is usually a plain, classic style. It's made with grooves to conform to the natural contours of a finger. This is a good option for sensitive skin or someone with a condition like arthritis

 

Halo

(Common For Engagement Rings )

Halo settings are more common for engagement rings than wedding bands. They usually feature a center stone with a brilliant setting. Halo rings pair accent rings with a center stone. 

 

Solitaire

(Common For Engagement Rings)

A solitaire ring setting is most common for engagement rings are well. This too features a center stone but is more subtle than a halo style. 

 

Vintage 

Vintage is a general term you'll see and there's no strict definition. Art Deco and Victorian are among the most popular influences. It can involve any setting. 

 
What are the Different Types of Shank?
Aside from general settings and styles, there's also the shank style. For shank styles, look at the contours or tilt of the band. You have a straight shank band, which is evenly rounded. A tapered shank slowly becomes slimmer. A split shank is almost always seen for engagement rings with a center stone. A knife-edge adds texture to your wedding band. There are also interlocking shanks, like a Celtic Knot style. 
How Can I Find Unique Wedding Rings?
There are several things you can do to find a unique wedding ring. Shopping with a local jeweler is one option. You can design your wedding ring with some larger companies. 
What Should I Get Engraved on My Wedding Ring?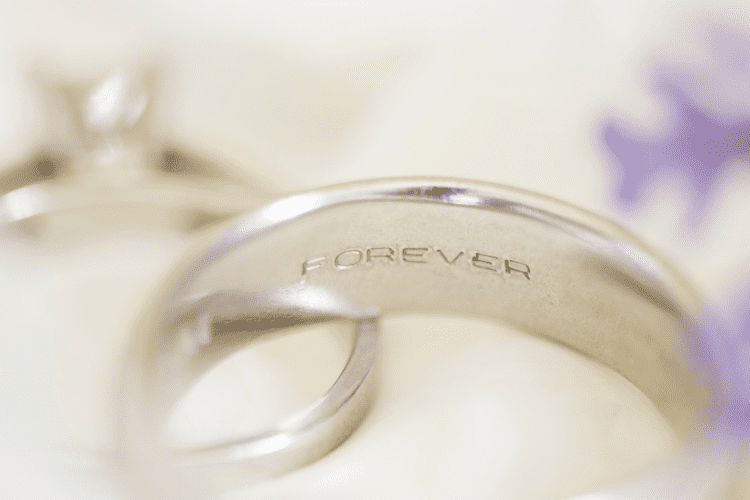 Another way to make your wedding ring unique is through custom engravings. It's up to you what you engrave your wedding ring with. However, popular wedding ring engraving ideas include:
Initials 

Meaningful Quote

Wedding Date

Place You Met
What Does it Mean by Bridal Set Rings?
Another consideration is bridal sets. Bridal sets come with an engagement ring and a wedding ring. The idea is that both match and you won't have to look for a wedding ring later. However, you only propose with the engagement ring, not the whole set. The other partner will also need to shop for a wedding ring. 
Why are There 3 Rings in a Bridal Set?
Some bridal sets come with 2 rings. Other bridal sets come with 3 rings. The third ring is an anniversary ring. Anniversary rings may be worn for any milestone. Some celebrate after a single year, while others mark later milestones. 10, 20, and 50 years are celebrated milestones, but there's no true rule about anniversary rings. 
How Many Rings Can You Stack?
You can stack up to three or four rings on a finger. That said, there are traditions as to wear wedding rings and anniversary rings are worn. Anniversary rings are most commonly worn on the right hand on your ring finger. 
What Happens to the Engagement Ring After Marriage?
Likewise, the wedding band is usually placed the left hand during a ceremony. After the ceremony, the engagement ring is set on the left hand over the wedding ring. This is not a must, just a common tradition. 
Where Should I Buy my Wedding Rings?
After you've established a budget, it's time to shop. When you're buying something as important as a wedding ring, you need to be careful. Never buy a wedding ring from an unknown supplier. Check out the ratings of larger companies from both customer review sites (such as Trust Pilot) and the Better Business Bureau. 
After looking into a designer or company's reputation and history, I also look into their selection and compare prices with other suppliers. Cheaper isn't always better, and the comparison must be as even as possible. For example, you can't compare a platinum wedding ring with diamond accents with a 14K gold ring from another supplier. 
My criteria for selecting the best wedding ring collections are as follows:
Company Reputation- Professional and Consumer Reviews

High-Quality Materials 

Thoughtful Design (Classic, Innovative, Attention to Detail)

Fair Pricing 

GIA Ratings For Precious Gemstones & Sourcing Information

Overall Selection (Styles, Sizing)

Transparent Customer Service Policies 

Rings Ship with Ring Box and Insurance (or Insurance is Offered) 

Bonus Points: Engravings, Design Your Ring, and Other Customization
With this in mind, here are my top places to shop for the best wedding rings online. For every collection, I'll name my top rings and pros and cons for each. 
Best Designer Wedding Rings: Tiffany & Co Wedding Rings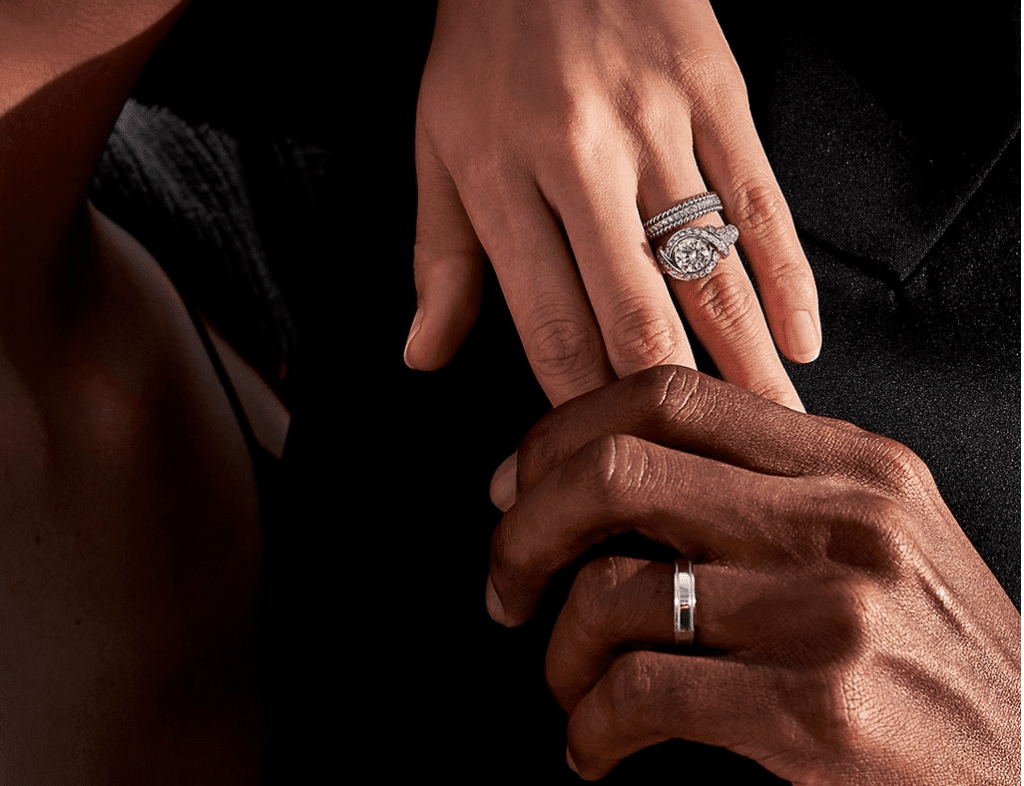 Designer wedding rings are pricey. But Tiffany & Co shines with its elegance and beautiful construction. This collection of wedding rings focuses on sleek, modern contours and high-quality materials. There's something undeniably alluring about this collection of 100 wedding rings. Satin and high shine finishes, dazzling diamonds, and beveled details are just a few of the highlights.
What I love most about this collection is that even the 'plain' wedding rings have an eye-catching design. Attention to detail, exquisite craftsmanship, and modern innovation make this an unforgettable collection. Rings are crafted in platinum or 18K yellow, rose, and white gold. Shop All Tiffany & Co Wedding Rings Here. 
V Band Ring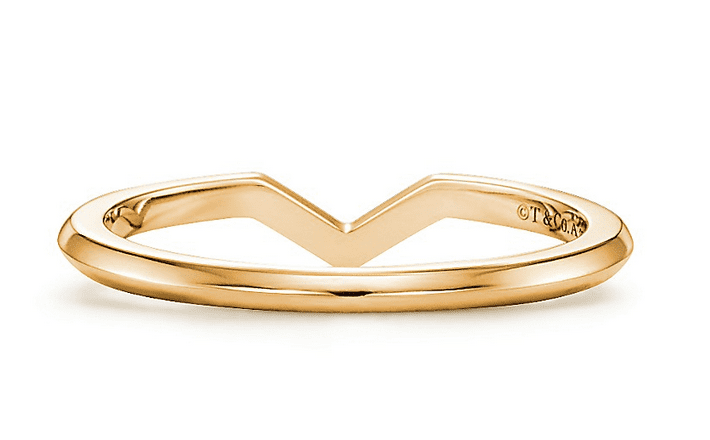 This is the most affordable wedding ring of the collection, but that isn't the only reason it's a top pick. The v-shaped shank is something you rarely see. The gold band is crafted with warm 18K yellow gold and can easily be stacked with other rings. Buy Here. 
Pros
Elegant and Sleek

Stackable

Most Affordable in Collection
Cons
Only in 18K Yellow Gold

Very Slim (1.77 mm)
Tiffany Classic Wedding Band

Is this the most innovative ring in Tiffany's collection? No. But it's a classic for a reason. In some ways, I think Tiffany does simple best. This versatile ring is stunning in platinum, but it's also available in 18K Rose Gold and 18K Yellow Gold. The 2mm band has a sleek finish for elegance that will never go out of style. Buy Platinum Here or others at the previous links. 
Pros
Classic Style

Highly Versatile

Timeless
Cons
Not Innovative

Can Buy Similar Styles For Less 
Elsa Peretti Stacking Band Ring

This exquisite wedding band features 0.06 carats of round brilliant diamonds. This designer ring is crafted with elegance for just a bit of sparkle. This style is available in 18K Rose Gold and 18K Yellow Gold. It's dainty enough not to detract from an engagement ring. Buy at the links provided. 
Pros
Round Brilliant Diamonds

Stackable

Subtle Elegance
Cons
Not Available in White Gold or Platinum

Need to Inquire About Diamond Clarity
Tiffany Harmony Wedding Band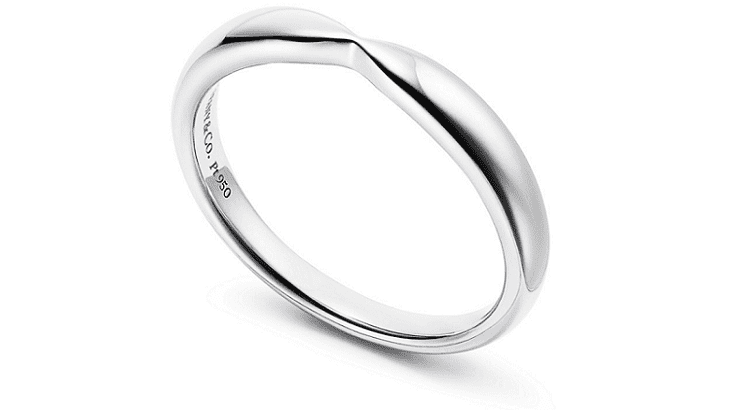 My final pick from the Tiffany wedding ring collection is this beautiful style. The tapered center embodies the eternity symbol. This is a meaningful ring that's wonderfully unisex and versatile. The thickest part of the band is 3 mm wide, set in platinum. Buy Here. 
Pros
Eternity Symbol

Crafted with Elegance

Versatile
Cons
Only Available in Platinum

Pricey 
Best Overall: Brilliant Earth Wedding Rings

For best overall, the award goes to Brilliant Earth. Brilliant Earth goes above and beyond the make your ring shopping experience as great as possible. Their diamonds are Beyond Conflict Free. Not only are their natural diamonds not financing civil wars, but they also are committed to sustainable sourcing and supporting communities.
Their materials are carefully selected. While Brilliant Earth is a little more expensive than some of its competitors, their selecting is more innovative than many under the Signet Jeweler's Group.
All told, Brilliant Earth has a beautiful collection of modern and classic wedding rings for both men and women.  If you buy an engagement ring from Brilliant Earth, you can also Match Your Wedding and Engagement Ring. 
Shop All Women's Wedding Rings Here and Shop All Men's Wedding Rings Here. 
5.5mm Beveled Edge Matte Wedding Ring

Love a classic look but want a modern twist? This generous band is just that. A matte finish is accompanied by beveled edges. Customize your order for as slender as a 4mm band up to a generous 7.5 mm band. This wedding ring is crafted in your choice of 18K white gold, 18K yellow gold, 14K rose gold and platinum. Buy Here. 
Pros
Innovative Twist on a Classic

Versatile and Modern

Rounded Edges For Comfort
Cons
Pricey

Matte Finish May Not Be For Everyone
Celtic Eternity Knot Wedding Ring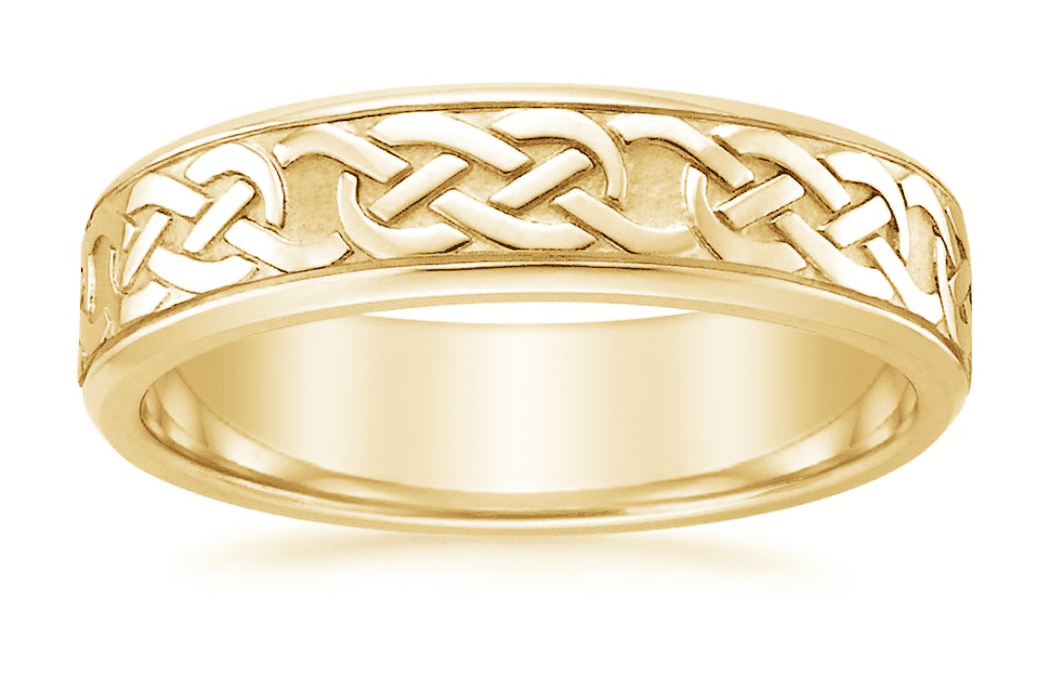 The Celtic Eternity Knot is also known as the love knot. It's a symbol of loyalty, faith, and love. This meaningful wedding ring is beautifully crafted. Beveled edges allow light to illuminate the gorgeous luster of the precious metal. This ring is available in 18K white and yellow gold, 14K rose gold and platinum. Buy Here. 
Pros
Beautiful Symbolism

Beveled Edges 

Timeless Design
Cons
Expensive

Not Everyone Will Connect to Traditional Symbol
Versailles Diamond Ring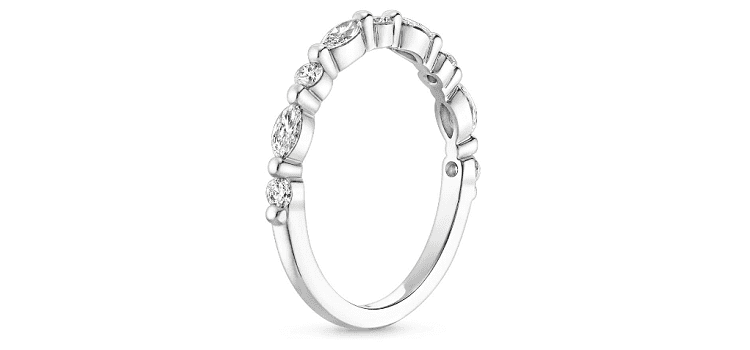 This elegant diamond ring makes a luxurious statement. Round and marquise diamonds alternate across the band for dazzling elegance. The polished band is the perfect complement to the sparkling diamonds. This wedding band is available in 18K yellow and white gold, 14K rose gold and platinum. Carat weight ranges from ⅕ to ¾. Buy Here. 
Pros
Exquisite Sparkle

Elegant and Refined

Round and Marquise Diamonds
Cons
Could Outshine Engagement Rings

Pricey 
Olivetta Diamond Wedding Band

Looking for a dazzling diamond wedding ring with a vintage appeal? Consider this design. Round and pear-shaped diamonds sparkle along with a slim and sophisticated band. This dazzling diamond ring is exquisite in its detail, yet it doesn't overwhelm. This ring is available in 18K yellow or white gold, 14K rose gold and platinum. Select from ⅖ or 1 1/10 carat weights. Buy Here. 
Pros
Pear and Round-Shaped Diamonds

Innovative Style

Captivating Craftsmanship
Cons
Expensive

May Be Overwhelming Paired with a Diamond Engagement Ring
Best Titanium: Titanium Rings Studio Wedding Rings
Titanium is an alternative metal and certainly stands out from your typical wedding rings. The problem? Many companies are supplying poor-quality rings or have poor customer service experiences. It's also frustrating to see collections only for me. The Titanium Rings Studio, on the other hand, offers a versatile collection and holds an A-plus rating with the Better Business Bureau.
All of their rings are handcrafted and can be custom engraved. Most rings can be ordered in multiple widths with a custom order. Shop All Titanium Studio Wedding Rings Here. 
Titanium Wedding Ring with Platinum Inlay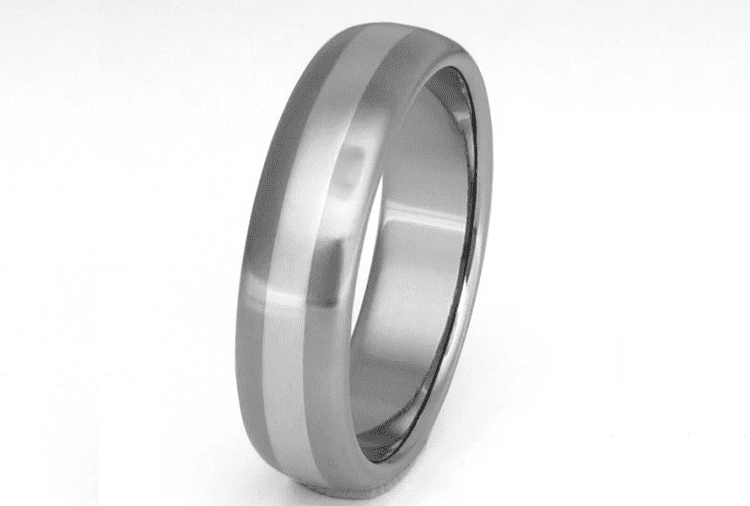 This titanium ring features a handsome platinum inlay. The design is modern, classic, and versatile. The ring is 7mm wide, but you can custom order wider. All told, this is a wedding ring that would suit many people, with a gentle matte finish. Buy Here. 
Pros
Platinum Inlay

7 mm Wide or Custom Order

Versatile
Cons
Design Isn't Very Unique

Lower Exterior Polish
Black Infinity Titanium Wedding Ring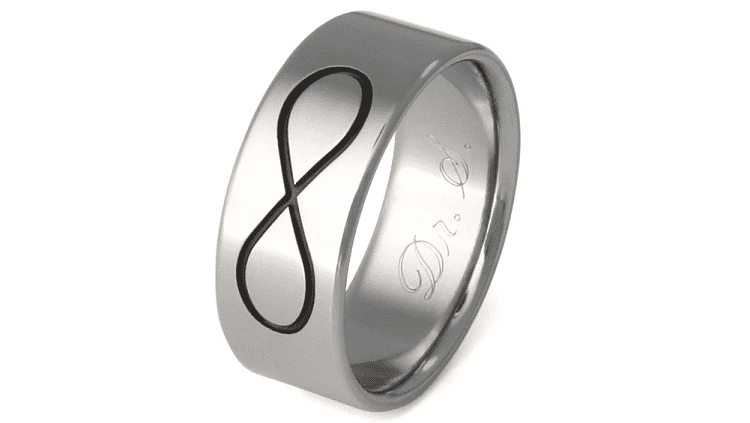 The infinity symbol will always be timeless. This titanium ring features a generous 8mm band, adorned with a simple black infinity symbol. The ring is classic, but the infinity symbol elevates it to be more unique. You can also opt for slimmer band size.  Buy Here. 
Pros
Infinity Symbol

Durable Titanium

Good Price
Cons
Infinity Symbol Has a More "Casual" Look 
Blue Titanium Ring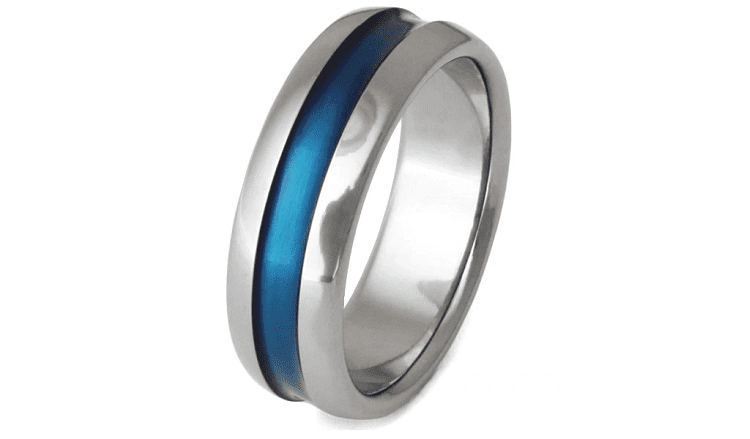 Something borrowed, something blue: this is a unique wedding ring. The titanium ring is striking with a dome of bright blue. At the same time, the classic band design makes it more versatile than you'd expect with the pop of color. Buy Here. 
Pros
Unique Pop of Blue

Versatile

Great Price
Cons
Blue Isn't For Everyone

Fairly Plain Design 
Frequently Asked Questions
Question: What Are the 3 Rings of Marriage?
Answer: The three rings of marriage are the engagement ring, wedding ring, and anniversary ring. These can be bought separately or as a bridal set. Some couples (usually religious) also buy a promise ring. A promise ring is worn before engagement, usually for a very young couple who is committed but not ready to get married. 
Question: When Should I Get My Wife an Eternity Ring?
Answer: There's no hard and fast rule when it comes to an anniversary ring. Anniversary rings are often an eternity ring style. This symbolizes an eternal bond between two people. You don't have to be married a certain amount of years to get one, but couples usually celebrate with 10th, 20th, 30th and 50th anniversaries. 
Question: What is the Difference Between an Engagement Ring and a Wedding Ring? 
Answer: Engagement rings are different in meaning and usually, appearance. An engagement ring is given for a proposal. Solitaire and halo rings are the most popular styles. Wedding rings are most often plain bands or bands adorned with diamonds. That said, a simple band can be used as an engagement ring. 
Question: Can you Propose a Wedding Ring?
Answer: Some couples don't have an engagement ring at all. While there's a common perception that you're 'supposed to have both an engagement ring and a wedding ring, that's really up to the couple. However, proposing with a wedding ring may not be perceived well. It's important to understand your partner's wants and needs.
If it's clear your partner doesn't want an engagement ring, proposing with something like flowers may be a nice touch. That way, there isn't pressure to accept a wedding ring. Always know the person's genuine wants before doing something in an alternative way. 
Question: Do Wedding Rings Have to Match?
Answer: You and your partner's wedding rings do not need to match. Matching is traditional and seen as a symbol of being connected. At the same time, opting for different rings can showcase each other's unique personalities. 
Question: Why is My Wedding Ring Causing a Rash?
Answer: If you're getting a rash from your wedding ring, there are two important things to remember: don't panic and don't ignore it. Unfortunately, many rashes are caused by a sensitivity or allergy to the metal. The most common metal allergy is nickel, followed by copper, chromium, and cobalt.
A lesser-known cause is not cleaning and drying your ring regularly. Debris, soap, and other materials can accumulate over time and irritate.
The second problem is a more likely culprit if you're worn your wedding ring for longer than a few months and haven't had rashes before. To be safe, take your ring off and get tested for a metal allergy. Seek medical attention immediately if you have any signs of an anaphylactic reaction. 
Question: How do You Cut Off a Wedding Ring?
Answer: Most wedding rings are cut off using a steel cutter or similar equipment. You shouldn't try to cut off your wedding ring yourself. There are less drastic ways to remove a wedding ring as well. You can loosen a wedding ring with a lubricant like butter, oil, or petroleum jelly. Always clean the ring after you use any of these, as these substances cause build-up by leaving a greasy residue. 
Final Thoughts
Buying wedding rings can be an overwhelming process. The worst mistake you can make is either overthinking or not having a plan at all. I want you to have the best wedding ring shopping experience possible.
Give yourself the best chance of finding great wedding rings by setting a budget and choosing a style ahead of time. Be willing to comparison shop and do a little research about the jeweler you're buying from. Remember: there is no perfect wedding ring. At the same time, don't ever feel you have to settle if you're being pressured to buy a ring. 
Final Buying Recommendations: Silicone Rings From Groove Life Rings
As I mentioned before, taking care of your wedding rings also involves knowing when you should take them off. Athletes involved in intense and high contact sports could damage their wedding rings. Anyone working around the chemical or other strong environmental hazards also could. Of course, manual labor is also a concern. If this fits you or your partner, you might want to consider a silicone ring. Silicone rings are meant to be worn while performing these riskier activities. That way, you can keep your 'true' wedding ring safe.
However, many silicone ring companies are currently struggling with low ratings from the BBB and many complaints. Groove Life Rings have a reasonable rating, a fair price, and a nice selection. Shop All Groove Life Rings Here.