A bride's outfit is not complete without a pair of wedding shoes. As a matter of fact, shoes are the second most important part of the bridal outfit after the dress itself. Then, it goes without saying that you need to find the best wedding shoes for your special day.
I have scoured the internet for the best wedding shoes that will suit anyone's taste. But first, let us look at what you should consider before making that important purchase.
Wedding Shoes: Do They Matter?
In many cases, a wedding dress is so long that the shoes will never be on display throughout the event. However, if you are not very particular, you might feel that any pair of shoes can do the job, especially your trusted pumps that have seen you through it all.
However, the chances are that you have planned your wedding for months because you want to get even the smallest detail right. This means getting the right dress, the right jewelry, the right venue, and the right food. Therefore, it makes no sense at all to do all this and deem the wedding shoes unimportant.
A good pair of wedding shoes go a long way in making your big day a breeze. For one, the best wedding shoes beautifully complement your wedding dress. Second, they are an accessory that is just as important as your veil and jewelry.
Comfortable wedding shoes that do not pinch your feet make it possible for you to pay full attention to the day's activities. You can confidently glide down the aisle, walk around without the fear of falling over, and dance gracefully if you have the right wedding shoes on.
Do not leave shopping for wedding shoes up to the last minute. Start early and try on different types of shoes so you can find the perfect fit. Looking online gives you the best chances of exploring a variety of options before you make the final decision.
Wedding vs. Regular Shoes: Is There a Difference?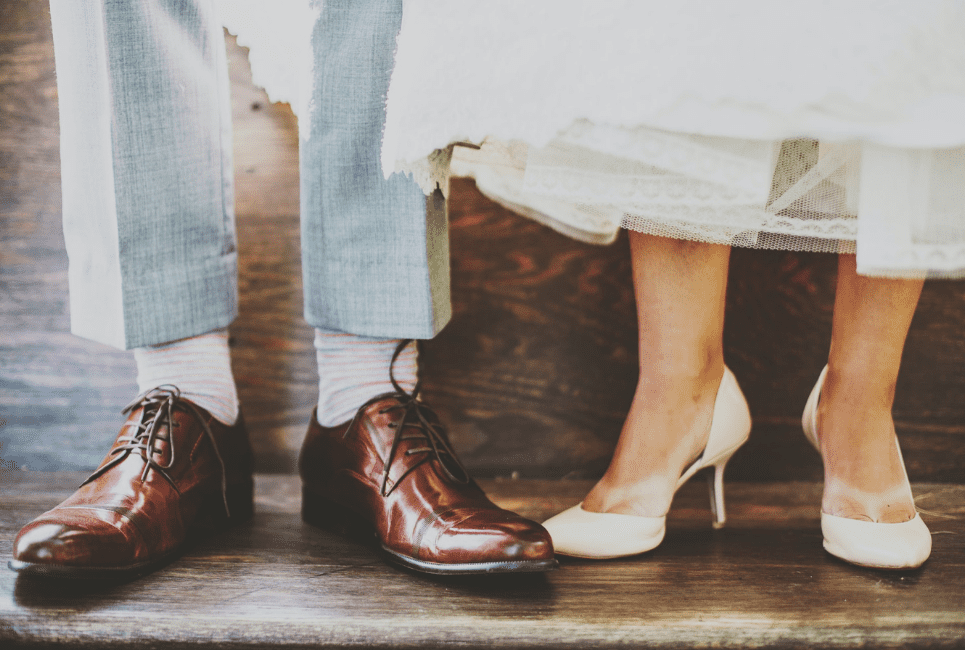 Is there really a difference between regular shoes and wedding shoes? Strictly speaking, no, there is not. However, while you can wear your wedding shoes on a typical day, you cannot always wear a regular shoe to your wedding.
Shoes that are specially designed to be worn for a wedding have particular characteristics. For one, they are designed to be more comfortable than your average pair. Since you will likely be on your feet for hours during the big day, comfort is key.
Additionally, wedding shoes are made especially to complement your dress. This can include embellishments that would look perfect during a wedding but be a bit much on a different occasion.
With that being said, you can definitely purchase regular shoes to wear on your special day. If you decide to take this route, you should remember that many beautiful shoes are not designed to be stood or walked on for a long time.
In such a case, you might need a backup pair of sandals or shoes to put on once the main event is over.
Things to Consider when Choosing Wedding Shoes
There are a few things you should keep in mind when choosing your wedding shoes. Here is a list you can keep in mind to guide you in making the right decision.
Comfort
The importance of comfort when it comes to your wedding shoes cannot be emphasized enough. On the big day, you will probably be on your feet for the better part of 10 hours. You will need to do everything in your shoes, from walking to standing to dancing.
If any part of your foot is squeezed, you will end up nursing bunions during your honeymoon. So no matter how gorgeous a pair of shoes is, do not buy them if you feel any discomfort when trying them on.
So, how do you ensure you get the most comfortable pair of wedding shoes? For one, start shopping for your wedding shoes very early. Start as soon as you get the right dress, and if you have a precise vision, you can start before.
Browsing online will help you see as many shoes as possible from the comfort of your home. However, do not purchase before trying on the shoes first.
Take note of stores that have favorable return policies so you can send back shoes that do not hit the mark. Once you have the shoes in your hands, put them on and stand in them for at least an hour. Walk around, do some squats, jump while wearing them even. If at any point you feel discomfort, take the shoes back.
Quality
While you might first wear your new pair of shoes at the wedding, this is likely not the last event you will wear them at.
Of course, you do not want to spend a pretty penny on shoes you will wear only once, so quality is high at the top of what you should consider. The good news is, you do not have to apportion a significant amount of your wedding budget to your shoes.
If you buy the shoes online, check the reviews from other brides on how well they hold up. Poor quality shoes will come apart at the seams or fail to hold the feet in place when worn correctly. So look for user pictures that show deformed uppers or heels that break off.
Another marker of quality is the type of material the shoes are made from. Thin materials, even leather, are unlikely to hold up well to long-term use. So whether you shop online or in a shop, make sure the type of material the shoes are made from is clearly stated.
Before making the purchase, you should consider whether the upper is glued or sewn onto the soles. Glued shoes are more likely to fall apart and can lead to embarrassment and frustration on the wedding day.
If you want to make the best decision on your wedding shoes, go for trusted wedding shoes' designers. This way, you are likely to get trusted quality, especially if you are not sure about what to look for in a good pair of shoes. Additionally, brands with a reputation to protect will have a good return policy and might even offer you discounts to get a better pair.
Dress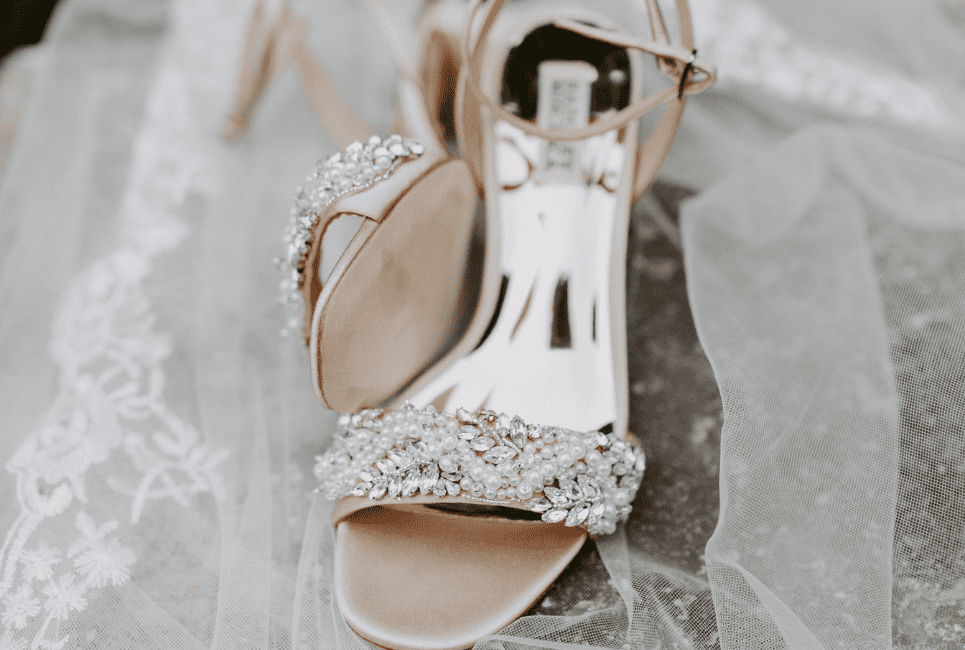 Your wedding shoes should complement your dress. If you are a shoeaholic, you might even want the shoes to outshine the dress. Either way, the pair of shoes you pick should look like they were specifically designed for your dress, even if you purchase them from somewhere else.
To make sure the dress and shoes go together, first consider the color. A pair of white or nude shoes go well with most traditional wedding dresses. However, you can go with a black or grey pair if you want your shoes to be suitable for wearing to the office or other events. Shoes in shades of blue can also be a great option for your 'something blue.'
Another consideration is the hemline of your dress. A long hemline gives you a lot of leeway over your choice of shoes. You can hide an unimpressive pair of shoes under a long hemline.
If your dress has an asymmetrical hemline, your choice of shoes has to be impressive since they will be on display in most of your wedding photos. To ensure you make the right choice, carry your shoes along with you to every dress fitting.
Theme
Just like with your dress, your shoes need to match the theme of your wedding. For example, a pair of shoes that you will wear to a board meeting will not go well with a fairy tale-themed wedding. However, they might be perfect for a contemporary wedding theme. So how do you get the right shoes based on your theme?
First, consider the colors of your wedding. Unless you are an expert at it, color clashing may not be the best choice.
However, your shoes do not have to match the flowers and other items at your wedding exactly. Complementing colors on the wheel may be a good choice. If you do not want to experiment too much, nude colors will always fit anywhere.
Another consideration is the embellishments on your shoes. A plain, clean pair of shoes will be the ultimate dream for a Cinderella wedding, while shoes adorned with gemstones will be the perfect fit for a glam wedding.
Pumps with tassels can be ideal for a retro-themed wedding, while floral-print heels will be the topic of conversation in a garden-themed wedding. If you are unsure, always ask the experts for recommendations before making that purchase.
Season
It goes without saying that a pair of shoes you wear in the summer will not be suitable to wear in the winter. Keep the season in mind when going looking for the perfect pair of shoes. Remember, as tempting as a pair of shoes might be to the eyes, you will not enjoy wearing them if they are not designed for the season.
If your wedding is in the spring or summer, then you will have a lot of options on the type of shoes you can wear. Open-toed stilettos, wedges, and sandals can be comfortably worn during these seasons. However, boots and other types of closed-toe shoes might make your feet sweat early on in the day and ruin your mood.
During the autumn and winter, when it starts to get cold, then warmer shoes are ideal. A fitting pair of booties or closed-toe heels will have you looking gorgeous but also comfortable throughout the day.
Lower heels are also advisable, especially if snow has started to fall. Shoes with a strong sole that has a good grip will prevent you from sliding down the aisle in all your wedding finery.
Location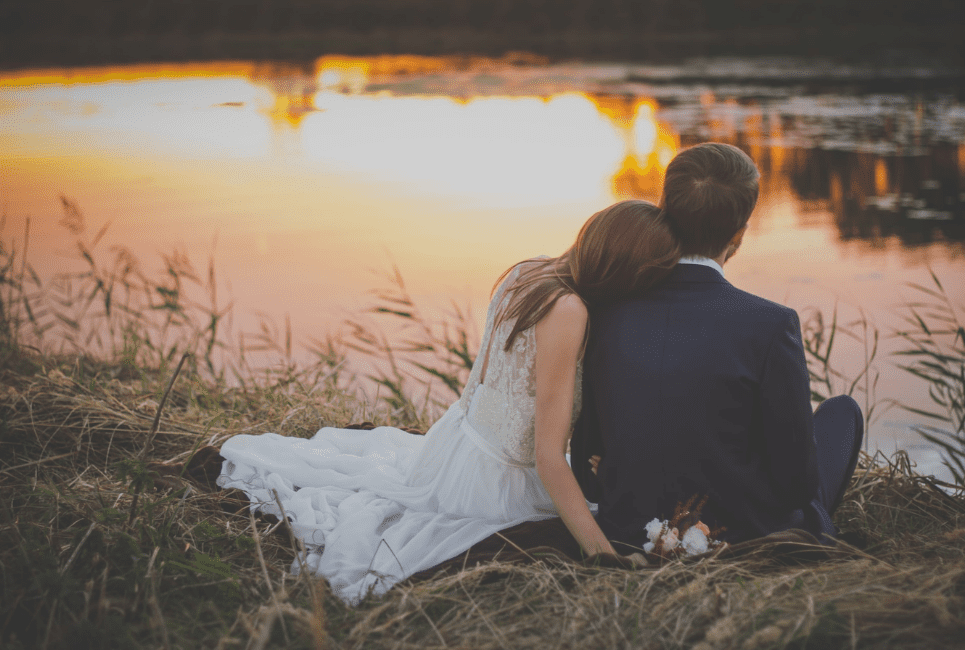 When it comes to choosing shoes, your wedding location is just as important as the season. Picking the wrong pair might have you clinging to your new spouse's arm with more force that is comfortable for both of you. Plus, your wedding pictures might come off with you grimacing rather than smiling in newly-wedded bliss.
If you have a beach wedding, stay away from sharp stilettos because these will sink a few inches into the sand with each step. The opposite is true if you have your wedding in a cobblestone-paved outdoor area. Your heels will clang on each stone you step on, and you might even slip on the more worn-out stones on your path.
While your freshly pedicured toes might look beautiful in strappy sandals, keep in mind that beach sand is sticky and can be uncomfortable to walk on. If you are having a barn wedding and opt for high-heeled shoes, make sure the straw on the ground is thin enough to walk on without swallowing your shoes.
Remember, comfort is key when picking your wedding shoes. Know your location well and anticipate all the worst-case scenarios before making that important purchase. Having a pair of backup shoes that are more comfortable is also a good option in case the worst happens.
Budget
As important as wedding shoes are, you definitely do not want their purchase to take a huge chunk of your overall budget. So unless you have a shoe obsession, it is unlikely that you will have a big budget for your wedding shoes. How do you ensure you get the best bargain for your money?
We all know there is a 'wedding' season where it seems that everyone and their aunt is planning to walk down the aisle. Sellers know this too, and prices of wedding items shoot up around the period. To avoid the price hike, start shopping for your shoes months in advance.
For example, if your wedding is sometime in Summer and Autumn, start shopping early on in the year. This way, you get a lot of options from the new fashion season without the hefty price tags attached to them.
Another way to keep to your budget is by taking advantage of wedding sales. Start by going through different catalogs to see if the type of shoes you like are available. You can then set up notifications on all your favorite shopping sites so you can be online when the sales start.
If you prefer shopping in person, get to the shops early so you can be first in line. This way, you can browse at your leisure and avoid the melee that is sure to follow.
Types of Wedding Shoes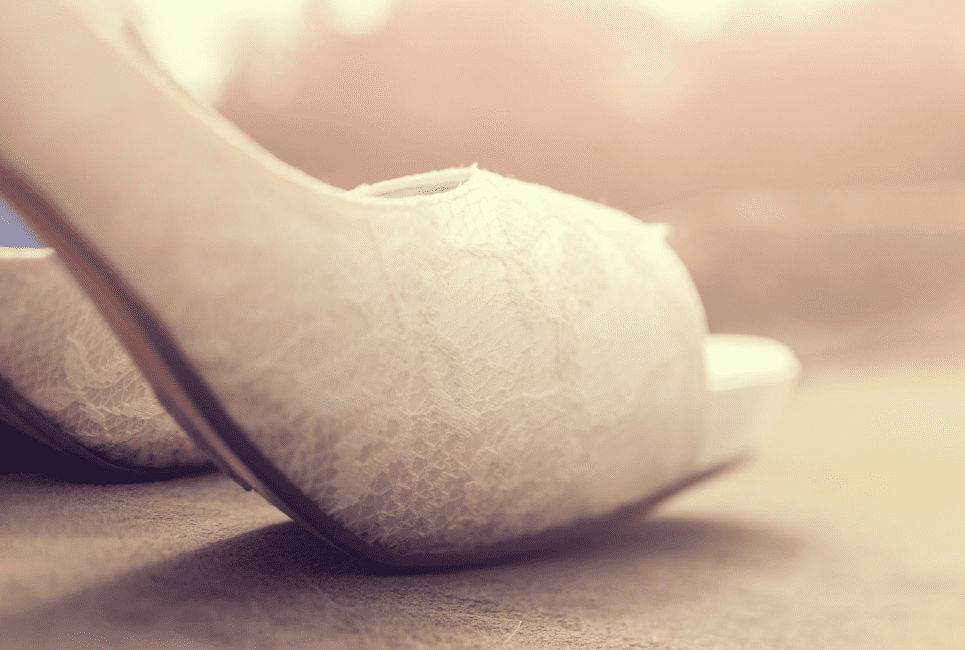 Now that you know what to consider when looking for wedding shoes, let's discuss the various options available to you.
Generally speaking, there are 7 different types of wedding shoes:
Open-toed
Close-toed
Stilettos
Wedges
Block Heels
Kitten Heels
Ballet Flats
Let's now take a closer look at each type of wedding shoe in more detail.
Open-Toed
As the name suggests, these shoes have an opening on the upper that allows the toes to be visible. The number of toes on display can range from two in peep-toes shoes to all five. Open-toed shoes come in all styles, from high-heeled to low-heeled and even flats.
So if this is the type of shoe you like, you can rest assured that you will find a pair that suits your taste and wedding theme.
Open-toed shoes are a great option if you want to seem taller in pictures. Additionally, they show off your pedicure to great advantage. Open-toed shoes are classic, and your favorite shoe brand will have a pair in stock regardless of the season.
However, consider the shape of your feet before making the purchase. Flatter feet will slide forward in such a pair and have your toes almost touching the ground. You do not want this eternalized in pictures of your big day.
Additionally, if you are getting married during a cold season, open-toed shoes will have your legs freezing if you stand still for more than a few minutes.
Close-Toed
Close-toed shoes are classic and available in all styles and colors. Aside from the aesthetics, however, close-toed shoes happen to be the most reliable option.
For one, they keep your feet warm throughout, which is desirable if your wedding is held in the colder months. In addition, most close-toed shoes can be worn on more occasions than a wedding, making them a pocket-friendly option to purchase.
Additionally, close-toed shoes happen to be very stable. They support your feet from all sides, which helps in reducing foot strain. Close-toed shoes are a good and supportive choice since you are going to be on your feet for a long time.
However, there are some downsides to consider. Warmth is not always desirable, especially if your wedding is in the hot summer months. They are also less breathable, forcing you to take off your shoes when your feet need some air. You should consider all these variables before buying closed-toe wedding shoes.
Stilettos
Stiletto shoes are a popular choice among brides. This is because they elevate your height a few inches, giving you the appearance of longer legs. In addition, the increased height can make you feel and look confident, which is exactly what you are going for in your wedding.
You can get stilettos in different heights, from around 2 inches up to 10 inches. This wide range ensures you get a fit that is most comfortable for you. If you want a pair for your wedding, ensure you get a familiar height so you do not risk falling over during your special day.
Like any other design, stiletto heels have a downside too. Their sharp, thin design can make them poor to wear on grass, sand, and mud.
Additionally, having your heels elevated off the ground for long hours can become really uncomfortable. Make sure you can walk and dance in your stilettos before you decide to wear them for your wedding.
Wedges
Wedges are a beautiful option that a lot of brides opt for. They are highly feminine and come in a variety of colors, from soft to very bold. Plus, wedges come in a variety of heights and are often more comfortable than stilettos.
Wedges are a good choice whether you will have to walk on grass or on a paved area. If you have a long dress, it is unlikely to get caught and ripped underneath the sole of your wedges. Also, with enough practice, you are unlikely to have to hold onto someone's hand as you walk.
At the same time, wedges can be very heavy and bulky. They can quickly weigh you down and give you an unattractive gait. The even bottoms also make it difficult to walk on uneven surfaces, like a path paved with cobblestones.
Block Heels
If you want a bit of elevation without the risk of a sharp stiletto heel, then block heels might just be the pair for you. They come in a variety of designs and are perfect for different wedding themes. Higher block heels will look great under a dress with a shorter hem.
Block heels are ideal if you want to be comfortable. The thick heel reduces strain on your calves. You can comfortably stand in such shoes for hours without breaking a vein. They are also the best type of high heels to wear if your wedding is held in a venue with an uneven surface since the wide base reduces the chances of falling over.
Kitten Heels
If you are looking for a pair of shoes that are not exactly flat but not high heels, then kitten heels are perfect for you. Most kitten heels reach only around 2 inches in height, making them ideal for slight but comfortable elevation.
Kitten heels are highly feminine and can fit into most wedding themes. If your wedding theme aims to throw it back to the 20th century, then kitten heels are ideal. However, these types of heels effortlessly cross over into the present century.
If you are tall when barefoot and do not want to overshadow your partner, then go for kitten heels. Additionally, if you go for a non-traditional wedding outfit like a pantsuit, then these are the shoes for you.
Ballet Flats
Ballet flats are the ideal option for brides who do not enjoy wearing heels or those that feel they are tall enough. Additionally, most flats are so comfortable; you might even forget you are wearing shoes.
Despite the name, ballet flats come in a variety of colors and designs. You can have lacy flats, metallic flats, and everything in-between. You can cut a soft, feminine figure in flats but also look like a confident boss lady depending on the type you choose.
The comfort provided by ballet flats makes it easy for you to confidently walk in different terrains. You can dance like a professional in flats without the fear of stumbling or snagging your dress. Having a pair of ballet flats as a backup pair of shoes is a wise decision.
Selection Criteria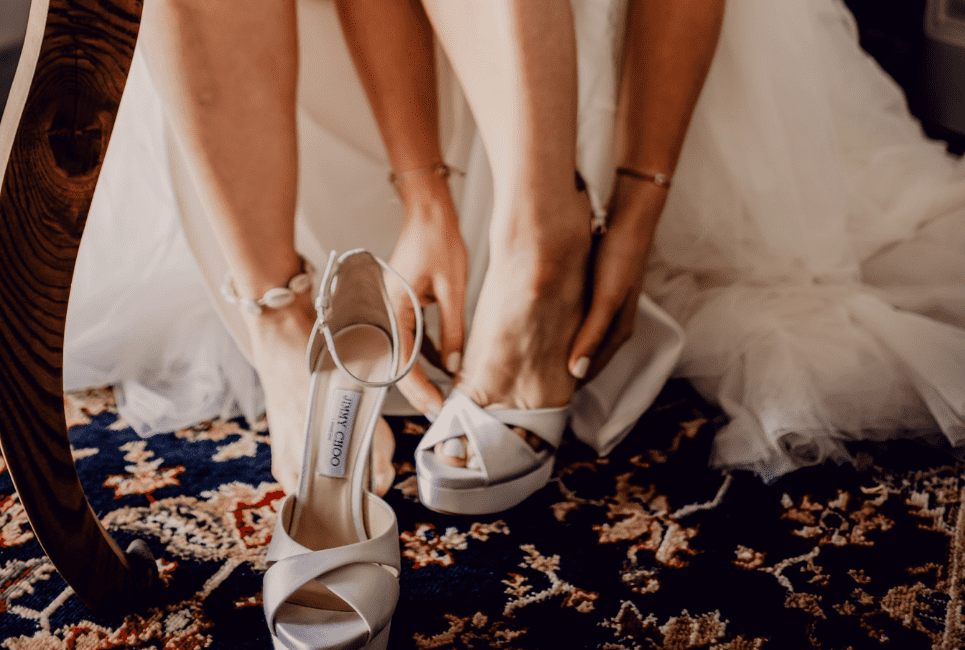 As stated earlier, I have gone through numerous pages to find the best wedding shoes. I have listed 4 of the best available. Each of them fits the following criteria:
Highly Reviewed
There is no better way to get the right wedding shoes other than seeing what other brides say about the ones you are interested in. All the pairs in this selection feature high ratings with hundreds of reviews and supporting pictures.
Beautiful
Wedding shoes have to be as beautiful as your wedding dress. This selection outlines beautiful pairs that have different designs and colors to suit any taste.
Sturdy
Whether they are heels or flats, the best wedding shoes will see you through your big day without falling apart. This selection features pairs that have been expertly constructed so they can last you beyond your wedding day.
My Top Recommendations for the Best Wedding Shoes
ElegantPark Platform Bridal Heels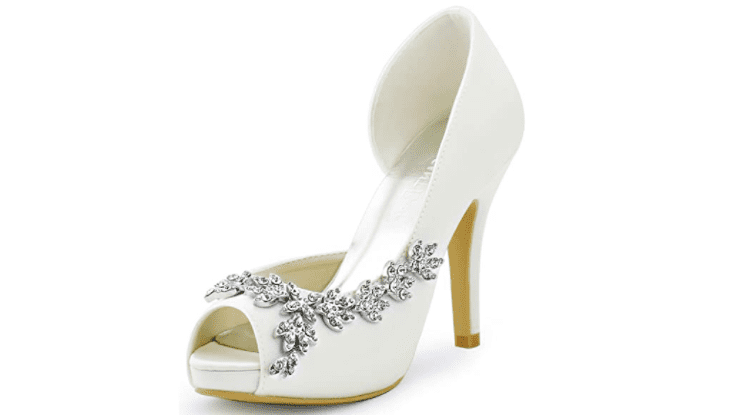 These Platform Bridal Heels from ElegantPark are open-toed and feature a 4″ inch platform heel. They are made from quality satin and are decorated with a silver crystal on the front. The shoes also have a rubber heel for durability and comfort. They come in 7 different colors, so you can get a pair that matches your theme.
Pros
Strong satin upper.
Durable rubber soles.
Classy open-toed design.
They are embellished with silver crystals.
Variety of colors for different wedding themes.
Cons
High heels may be uncomfortable to wear for long hours.
IDIFU Wedge Heels Sandals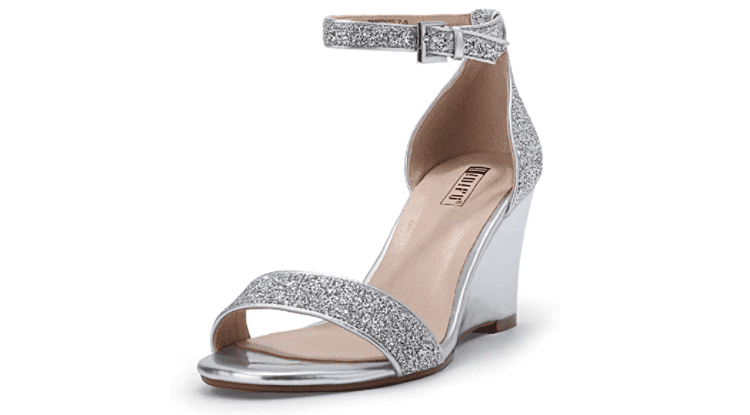 If you want a shorter and more comfortable raised heel, look no further than IDIFU's Wedge Heel Sandals. This pair comes in 14 different colors, so you can have a variety to pick from.
They feature a 3-inch heel that is sturdy and comfortable. The sandal design supports your feet with thick straps around the ankle and the toe area. With the quality construction, you can use these wedges for a long time.
Pros
Heels are only 3 inches high.
Come in a variety of 14 different colors.
They are embellished with crystals for glamor.
Wide straps keep your feet secure.
Cons
You might need to order a size less than normal.
LLBubble Block Heels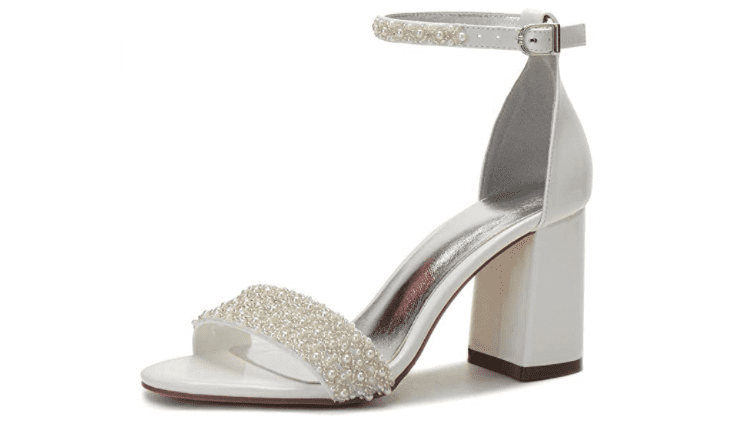 LLBubble Block Heels offer a more comfortable alternative to the traditional stilettos. They have a sandal design with straps at the ankle and toes. The straps are embellished with beads to give you a glamorous look on your big day.
The pair is made from PU leather and has a comfortable, slip-resistant rubber sole. The heels are only 3 inches high, so you can comfortably be on your feet the whole day.
Pros
It is made from durable PU leather.
The rubber sole will keep you secure the whole day.
The low heel makes it suitable for full-day wearing.
Sandal design makes them highly feminine.
Cons
The heels can be a bit squeaky.
Dream Pairs Flats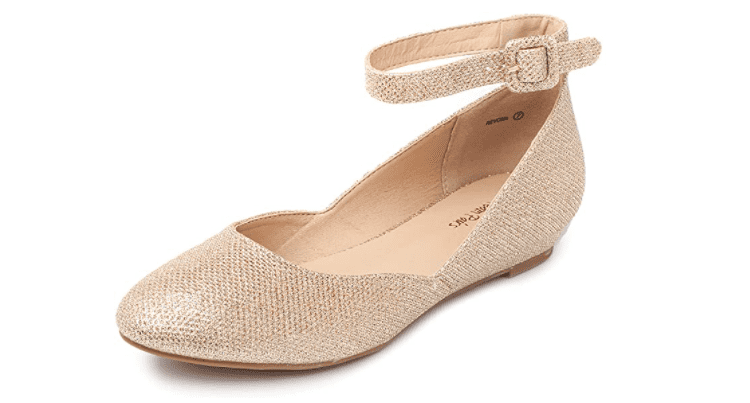 If you want to spend your big day completely relaxed, then these Dream Pairs Flats are ideal for you. These flats are made from quality material and embellished with gold glitter for that special dazzle.
The soles are made from rubber, and they have a cushioned footbed that offers you extra comfort. You can stand, walk, and dance confidently when wearing these flats.
Pros
It is made from quality PU leather.
They are embellished with glitter for a ceremonial look.
Feature a soft and flexible sole.
Inner beds are fitted with a latex cushion for comfort.
Cons
They often run a size smaller.
Frequently Asked Questions
Question: How Can I Tell if Shoes Fit in Size?
Answer: You can start off by knowing your size, especially if you have shoes similar in design to the one you are interested in.
However, since sizes can differ based on the brand, the only true way to ensure the shoes fit is by trying them on. Order the pair you are interested in and test it out in different situations. If they do not fit or you experience a bit of discomfort, return them and order half a size or more larger.
Question: How do I Store My Wedding Shoes?
Answer: You may have to stay with your shoes for a few weeks before you finally wear them. To ensure they remain in good shape, first stuff them using unbleached tissues. Store them in a dry place with around 50% humidity and place silica gel packs next to the shoes. This ensures the pair does not start chipping off before you wear them.
Conclusion: How to Find the Best Wedding Shoes
Picking wedding shoes is a very important decision, but it can get confusing. From the list provided in this article, the Dream Pairs Flats take the cake.
Thousands of users have enjoyed wearing these shoes for their special occasions. With the 15 different colors available, you can rest assured that you will find a pair that completely suits your tastes.
Find more guides and ideas below:
How to Find the Perfect Wedding Dress