Finding a perfect wedding dress is tricky enough, but choosing bridesmaid dresses that please everyone and coordinate with your wedding? That task requires thinking about everything from fabric, colors, length, and neckline–all while striking a balance between cost and style. Luckily, knowing how to find the perfect bridesmaid dresses can help make shopping a breeze– and let you get to other parts of wedding planning.
Many bridesmaids and brides struggle to agree on a style and color, each coming in with different ideas and no set plan. One bride, hoping to sidestep that problem, decided to let your bridesmaids pick their dress. As accommodating as that decision was meant to be, it had unexpected results.
The story, reported by The Sun and originally posted on Reddit, showed that having at least some parameters is important– even if you are letting bridesmaids select their dresses. 
Taking freedom a bit far, one of the bridesmaids decided to wear her former wedding reception dress. While the bride questioned if she was being a bridezilla, others assured her she had every right to be upset.
One way to limit conflict? Going in with a plan and expectations. Whether you have an opinionated bridal party or no one can make up their minds, I'll tell you how to find the perfect bridesmaid dress. You'll be prepared even before you start shopping online or in stores. Plus, I'll provide my favorite places to find bridesmaid dresses. 
Who Should Pick the Bridesmaid Dresses?
Before I even start discussing styles, the most important thing you need to do is set expectations. I've seen conflict arise about the dresses– when in reality, it has little to do with style. Who gets to pick the bridesmaid dresses, who pays, and when and how you shop are all important. The most important factor: honest, respectful communication. 
Traditionally, the bride selects bridesmaid dresses, though this has been changing. Some brides are hands-off and allow bridesmaids to select dresses entirely on their own. The most common idea is to have bridesmaids go shopping with the bride, and the bridal party picks them out together. But there are pros and cons to each, and each way must be established before shopping.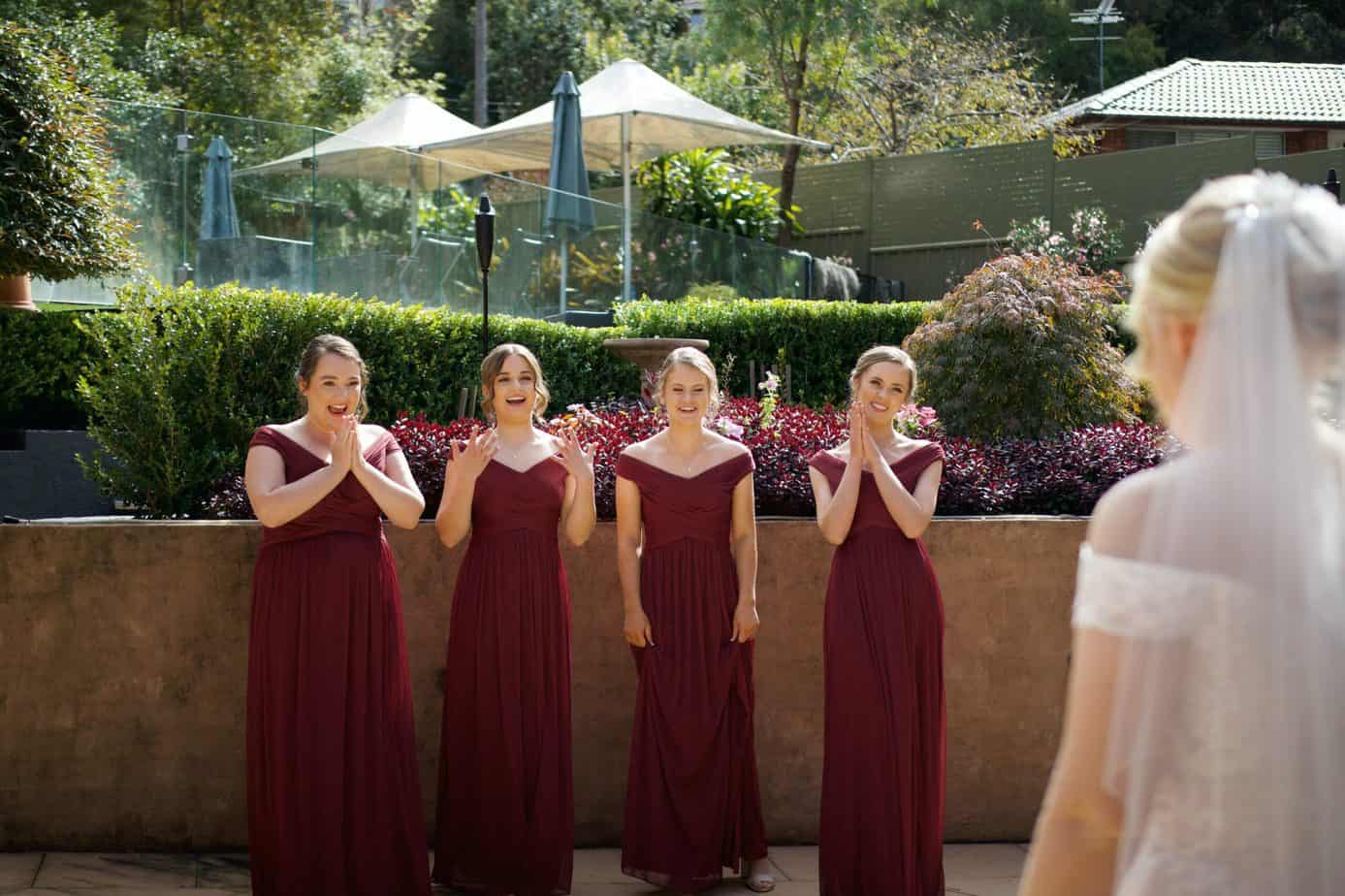 Bride Picks
This is the most direct way to choose bridesmaid dresses. The bride has control over the style, color–everything. Some bridesmaids may not love the dress that is selected. Opinionated bridal parties may not like this–while others may just be fine. One idea is to select a dress that comes with multiple necklines. The color stays the same, and the general style– but this allows bridesmaids flexibility for a dress they feel is comfortable and flattering. 
Bridesmaids Pick Their Own
For the laissez-faire bride, this option may be fine on the surface. It's become trendy to have unique bridesmaid dresses. The key is set to parameters so you still have a somewhat unified look. Select a specific color and length (or color range). This is the riskiest in terms of a cohesive look, but also offers bridesmaids the greatest freedom to select. 
Bride and Bridesmaids Pick Together
This may seem like the best option: after all, it's a compromise between the bride entirely deciding and bridesmaids deciding for themselves. But this option doesn't come without challenges. If you go shopping without a plan, arguments can break up. Those with more commanding personalities may decide for others. I highly recommend that the bride has a vision, then discusses it with bridesmaids– so that bridesmaids aren't trying on or looking for dresses the bride would be unhappy with. Asking if anyone has a style they feel uncomfortable wearing is also a great idea. 
Is it OK to ask Bridesmaids to Pay for Their Dresses?
Then there's the question of who pays for the dresses. If a bride can, paying for bridesmaid dresses is a nice gesture. However, most modern weddings no longer have the bride paying. It's generally assumed that bridesmaids, not the bride, will pay. However, there are good and bad ways to go about this.
If you do expect the party to pay for their dresses, you must ask what budget is workable for them. Never select a dress that is outside of your bridal party's budget– unless you're willing to pay for the extra. Keep in mind that the average range for bridesmaid dresses is $70 to $200, though they certainly can be more expensive. If you want dresses under $50, shop sales rack or last season's dresses. 
If you have an eye for designer dresses that people can't afford, one option is to rent dresses through a service like Rent the Runway. 
When Should I Start Buying Bridesmaid Dresses?
You probably know you need to shop for dresses in advance– but how far? Unless you're buying directly from the rack, six to seven months before the wedding is a safe bet. Like wedding dresses, most bridesmaid dresses will need to be ordered, as well as altered. 
What Fabric Should my Bridesmaid Dresses Be?
Once you've figured out when you're shopping, a price range, and who's paying, it's time to consider fabrics. Tulle, satin, chiffon, lace, and organza are all common options– all with pros and cons. No one fabric is perfect, and each suits certain styles more than others. 
Can you Mix Fabrics for Bridesmaid Dresses?
If you're letting bridesmaids select their dresses, I recommend sticking with one fabric. Keeping fabrics the same for dresses ensures a consistent look. It is true that some modern weddings now see a mix and match look as trendy– but if you do opt for this, it's best suited for a casual or boho wedding. Even then, I'd be cautious about keeping styles and colors consistent. 
Is Satin Good for Bridesmaid Dresses?
Pros
Satin is one of the most popular fabrics for bridesmaid dresses. A true stain is made from 100 percent silk and provides a beautiful shine and luxurious draping. This elegant look is suited for formal weddings, especially evening weddings and fall and winter. I also love that it doesn't wrinkle as easily as other fabrics, making it a go-to if you have to travel far for a venue or reception. The simple sophistication of silk means you don't need many embellishments to achieve a gorgeous look.
Cons 
Satin bridesmaid dresses are more expensive than some other fabrics. They are also sometimes described as clingy and can be a little more forgiving than some other styles. It also would likely look out of place at casual or boho weddings. 
Are Chiffon and Organza Good for Bridesmaid Dresses?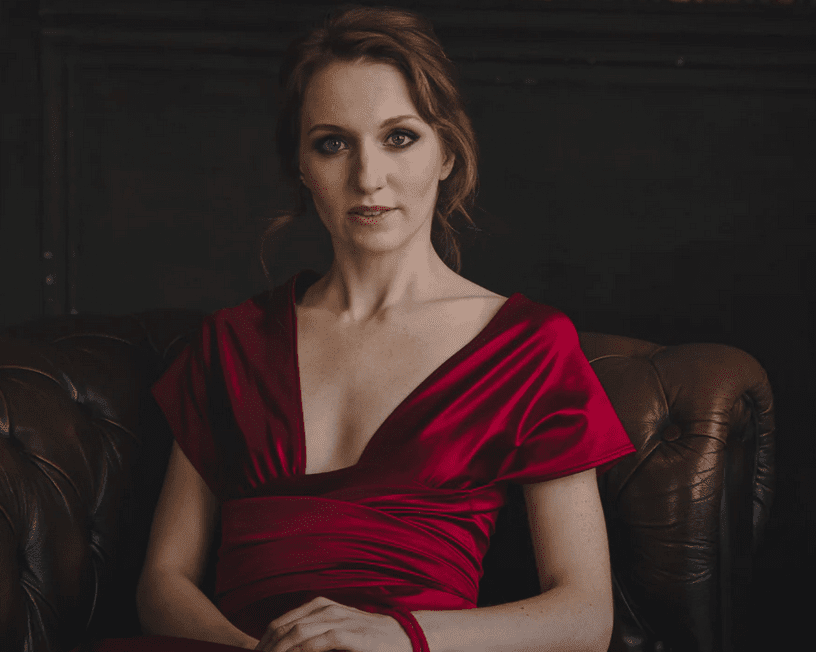 Pros
Chiffon, whose name is derived from French, is a lovely lightweight fabric that's often diaphanous and has a plain-woven pattern. Most frequently made from cotton, silk, or a blend, chiffon is an airy and whimsical fabric with a light sheen. It is more subdued and generally more flattering and versatile than tulle; it provides a graceful accent to any style. It's soft, breathable, and drapes with elegance. Organza has a similar appeal, with lightweight material, a plain weave, but very sheer. Thus, organza is usually paired with other fabrics. 
Cons
Chiffon can be temperamental. If you decide on this fabric for bridesmaid dresses, store it away in a safe, cool place away from sunlight. It tears more easily and can even fade with sun exposure. Alterations may be a bit trickier. Organza typically is paired with other fabrics. 
Is Lace Good for Bridesmaid Dresses?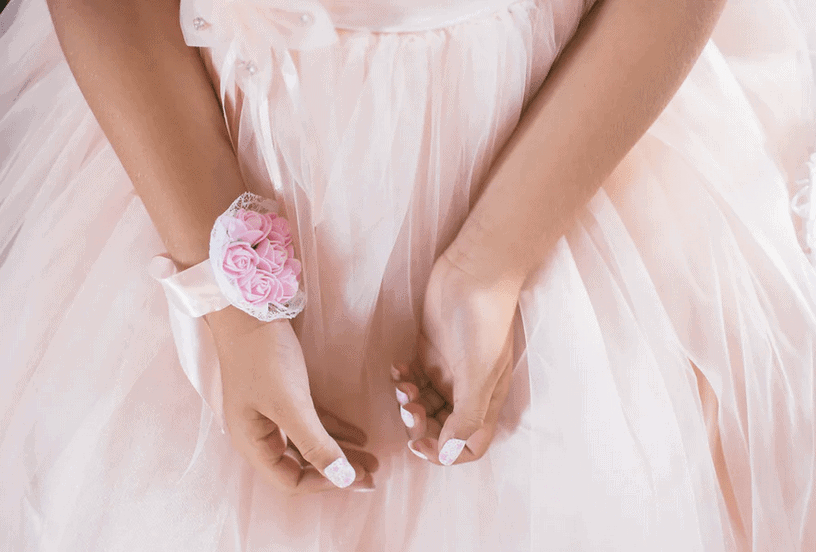 Pros
Lace is no doubt a classic, beautiful choice. This elegant fabric is unlikely to ever go out of style, providing a timeless look for bridesmaid dresses. There's also a beautiful variety, with 14 types of common lace– from Alencon to chantilly and countless others (Click Here For All Lace Types). Lace can be made out of various fabrics, such as linen, silk, and even cotton. It's a breathable fabric that looks great without ironing, and it's suited for countless styles.
Cons
Lace dresses of the best quality are more expensive than some other fabrics. Like tulle and chiffon, they can snag and are prone to damage, so they need to be handled carefully. Lace dresses usually don't fit modern or minimalist styles.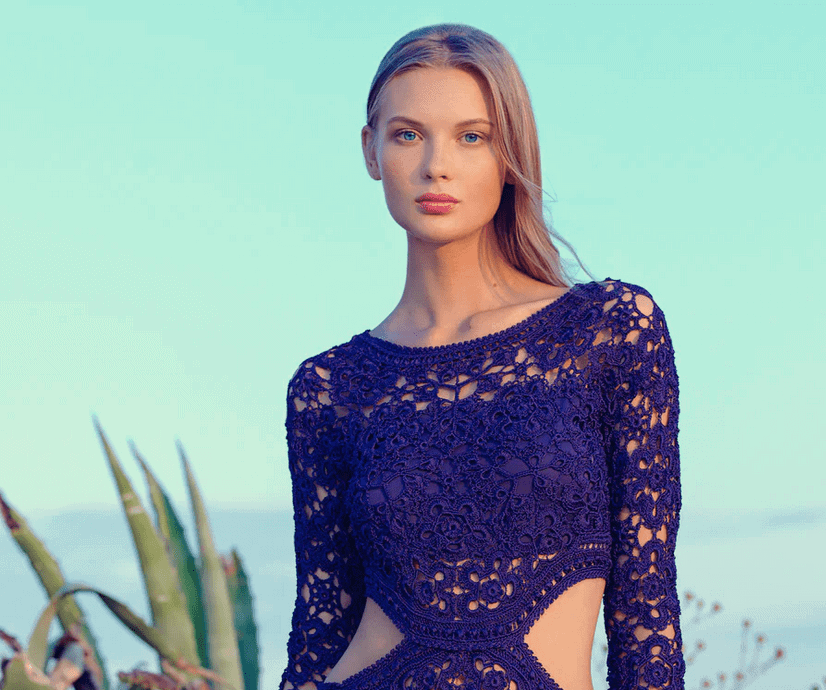 What Other Fabrics Should I Consider?
Two other fabrics that deserve a mention are charmeuse and velvet. Charmeuse is a loved fabric, lightweight like chiffon but with more structure. It's often made with satin, providing a similar appearance, but is slightly more forgiving. A little sheen and fitted look make it a favorite. Velvet is an unconventional choice and a way to stand out for winter and even bohemian weddings. It has a classic sheen that's truly unique and a formality unmatched by other fabrics. It can be heavy, and it can also wrinkle.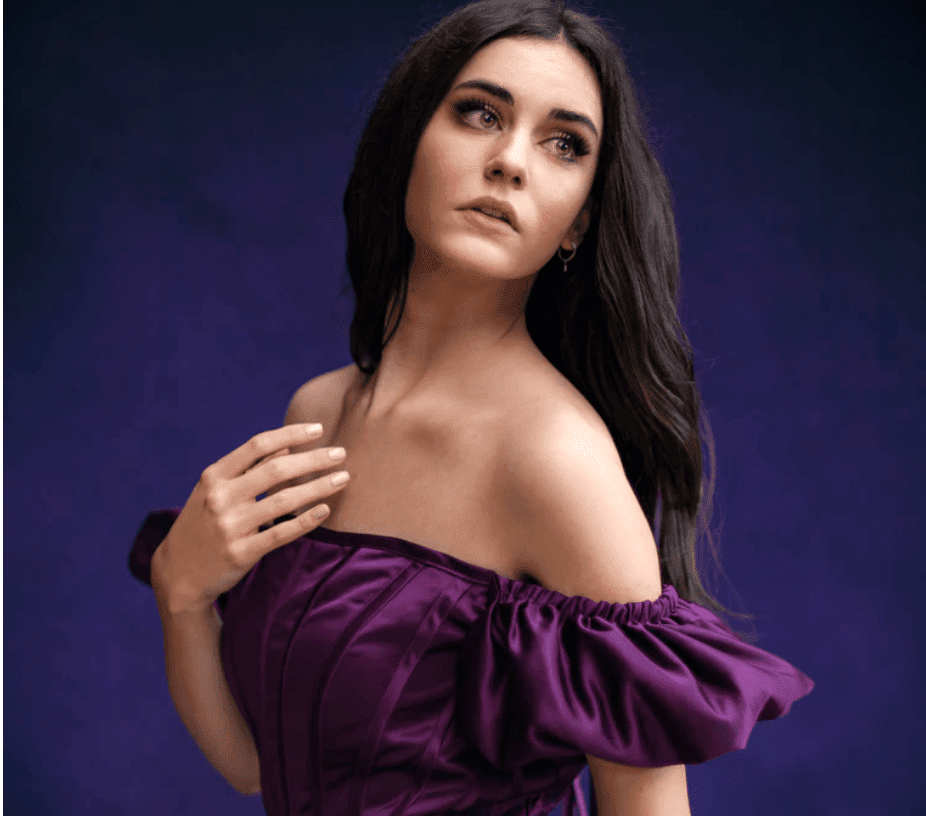 What Length Should my Bridesmaid Dress Be?
Short or long? It may seem like a huge debate; you can have short or long bridesmaid dresses and still have an amazing wedding look. But to decide between the two, you need to consider the wedding theme, time of day, and location. 
Can Bridesmaid Dresses be Short?
Bridesmaid dresses absolutely may be short. There are several instances where short bridesmaid dresses simply make more sense. Morning and afternoon weddings call for slightly more casual looks. A rustic theme, especially if it takes place in a barn, may be better suited for short bridesmaid dresses. Garden and backyard weddings and even vintage-inspired weddings are also natural fits for tea-length bridesmaid dresses. 
As a bonus, short bridesmaid dresses may save you money in two ways. For one, the initial price on average will be less (less fabric) than long bridesmaid dresses. Alterations may be cheaper too, as you likely won't have to alter the length as you would a longer dress. 
Why Do Bridesmaids Wear Long Dresses?
Long dresses are iconic, eye-catching, and stunning. Worn for black-tie and semi-formal occasions, especially in the evening, there's something undeniably timeless about a longer dress. Long bridesmaid dresses are a great fit if your reception or ceremony is in a hotel, ballroom, or even formal church. But longer dresses with flowy fabric can also add a whimsical touch for a boho or garden wedding in the late afternoon or evening. 
Are Long Bridesmaid Dresses Supposed to Touch the Floor?
Long bridesmaid dresses should just grace the floor, with the hem slightly touching the floor. It's most ideal for long bridesmaid dresses to cover the shoes. It's important to anyone planning to wear a bridesmaid dress to wear shoes of the same height they plan to wear on the wedding day for any alterations. Meanwhile, short bridesmaid dresses are usually tea-length and fall three to four and a half inches below the knees. This ensures a formal look and comfortable length for both sitting and dancing. 
What Colors Should Bridesmaids Wear?
**Note that color names may vary depending on where you shop. This is to reflect common colors selected from weddings. These do not represent all possible colors. 
| | |
| --- | --- |
| General Color Family | Popular Shades For Bridesmaid Dresses |
| Blue | Navy, Slate Blue, Baby Blue, Turquoise, Cobalt, Dusty Blue, Royal Blue, Midnight Blue, Cyan |
| Red  | Burgundy, Crimson, Maroon, Merlot/ Wine, Cranberry, Bright Red/ Cherry, Imperial Red  |
| Pink | Blush, Dusky Rose, Medium Pink, Hot Pink, Fuschia, Magenta, Flamingo |
| Green | Emerald, Clover, Sage, Mint, Meadow Green, Teal, Olive Green |
| Yellow | Sunflower, Marigold, Canary Yellow, Lemon  |
| Orange | Tangerine, Sunset, Orange, Fiery Orange, Red-Orange, Burnt Orange  |
| Purple | Eggplant, Plum, Berry/ Wild Berry, Violet, Wisteria, Magenta, Raspberry, Mulberry, Lilac, Mauve |
| Neutrals & Metallics | Brown, Beige, Champagne, Gold, Silver, Sand, Truffle, Cocoa, Gray, Pewter, Platinum  |
| Other | Black, White, Ivory, Multicolor (Geometric and Floral Prints, for example) |
Selecting a color for bridesmaid dresses is up to you– but I recommend thinking about both the season and theme. Generally speaking, the Summer and Spring months favor lighter colors, with both cool and warm hues. Winter and Fall are well known to favor deeper, color-toned hues. However, these are not hard and fast rules. A tropical climate is well suited for vibrant hues. A formal evening wedding often favors deep and elegant colors, from emerald to navy to crimson. 
Popular tones regardless include: simple and classic (navy, black, etc); metallic (silver, gold, etc); jewel tones, pastels, romantic pinks (from hot pink to blush), and earthy tones. Select based upon coordinating with decor, the venue, and the moos you want to evoke. See the chart above for popular color ideas. Some opt to pick and choose two colors that complement one another, though most stick in a color range. 
What is the Most Popular Color for Bridesmaid Dresses?
It's hard to peg down the most popular color for bridesmaid dresses. However, shades of blue, purple, and pink are quite popular. The popularity of color varies by season, as well as climate. Warmer climates tend to favor bright colors as well as pastels. Cool climates favor deeper, cooler tones. 
Popular tones include navy, eggplant, blush pink, champagne, and deep reds. Keep in mind that the most popular doesn't mean the best for you. 
Is it OK for Bridesmaids to Wear Black or White?
There's a misconception about what colors bridesmaids can and cannot wear. Black is no longer seen by most as bad luck, but rather suited for formal weddings. Long black bridesmaid dresses are suited for evening, black-tie affairs. You can go for a full black and white theme, black with metallic accents, or other classic accents. They look elegant and dramatic– but in a classic way. 
White bridesmaid dresses are nearing full circle. The tradition of bridesmaid dresses in Ancient Rome was that bridesmaid dresses would be identical to the bride's– in hopes of warding off evil spirits. Today, bridesmaid dresses no longer match wedding dresses. However, shades of white– especially ivory, or near-shades, like champagne– are becoming more popular. The key for most is to select a shade that's still different from the wedding dress and a distinct style that also still makes sense with the theme. White bridesmaid dresses are fantastic if the wedding dress is a different color, such as blush or even an unexpected hue.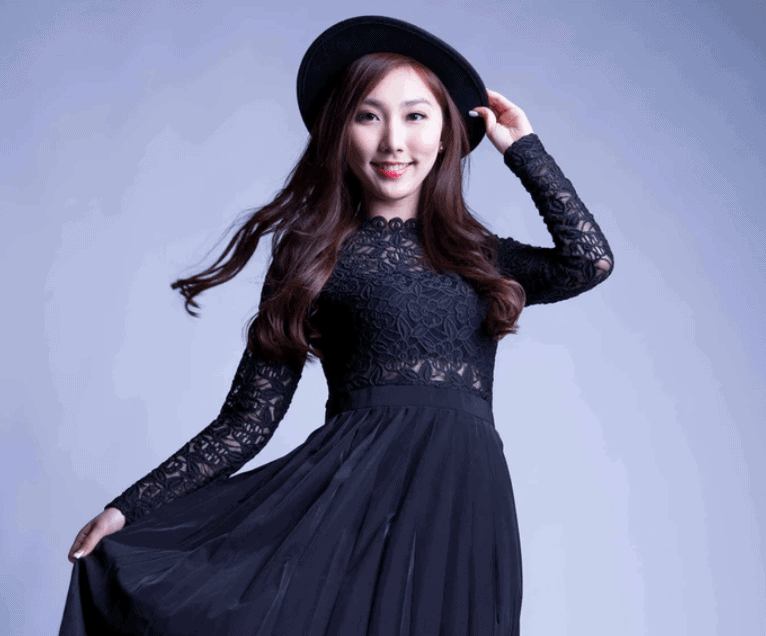 Is a Pattern or Plain/ Solid Bridesmaid Dress Better?
Solid colors are easier to coordinate, but patterns have become increasingly popular. Floral patterns are especially popular for everything from traditional to bohemian to garden weddings. Unique geometric patterns are suited for retro, modern, and perhaps urban weddings. If you do opt for patterns for bridesmaid dresses, keep the patterns consistent. Make sure they don't clash with your decor or bridal gown. Both solid and patterned bridesmaid dresses can be beautiful– so I recommend at least trying one of each unless you're already certain what you like. 
How Do I Choose the Right Neckline for Bridesmaid Dresses?
Necklines are tricky– and, in my personal opinion, this may be an area where you can be a bit more flexible even if you want a unified look. If the bridesmaid dresses are the same color and length, a difference in neckline may allow your party to feel comfortable in their dresses while still achieving a fairly consistent look. Keep in mind that any neckline can suit almost any figure– these are generalizations and by no means should be taken as strict rules. 
What Neckline is Most Flattering for Broad Shoulders?
Halter and higher necklines compliment broad shoulders. Such necklines look gorgeous, as do v-necks, scoop necks, and sweethearts. While higher necklines accentuate arm strength or beauty, v-necks visually carry your eye towards the collarbone. Perhaps one of the most classic choices is an off-the-shoulder neckline. Modern and beautiful, this neckline achieves a balanced look for most. 
What Neckline is Best for a Round Face?
Necklines with some edge to them suit round faces. Instead of a simple strapless neckline, for instance, a v-neck or sweetheart neckline balances out round features. 
Is a Square Neck Flattering for Bridesmaid Dresses?
A square neckline is a safe bet for most body types. Think of it as a neutral neckline– while it may not be the very most flattering for all, it also is highly versatile. This neckline draws attention to the collarbone. 
Who is a Sweetheart Neckline Best for?
Sweetheart necklines are an excellent choice for bridesmaids who want to create the illusion of more curves and for a traditionally romantic look. Larger busts may require more support, but this is not always the case. It comes down to what everyone is comfortable with. 
Is a Bridesmaid Dress with Straps or Strapless Better?
A strapless dress provides a seamless, modern appeal. Strapless bridesmaid dresses are especially complementary for body shapes that are heavier on the bottom than the top. Women who are heavier on the bottom than the top may or may not always love strapless dresses. However, anyone can wear a strapless dress if it's properly fitted. The key is: strapless dresses require careful alterations, and the fit is all that much important. Straps of any fashion provide more support. While the decision is up to you, it's now become common to allow bridesmaids to choose from strapless or a dress with a bit more support. 
What Silhouette is Best for Bridesmaid Dresses?
Silhouettes are not typically as varied for bridesmaid dresses as they are for wedding dresses, but you still have a few decisions to make. The most common options are an A-line, sheath, or trumpet. Ball Gowns are usually seen in midi and tea-length dresses. There are some mermaid dresses, but trumpets are more common. Bridesmaid dresses tend to opt for subtle but classic fits. 
A-line Bridesmaid Dresses vs Sheath Bridesmaid Dresses
Both these silhouettes are classic and will suit any wedding. A-line dresses have a fuller skirt, while sheath dresses are more closely fitted. The slimmer sheath shows more of the body, without being as fit as other options. A-lines are known as universally flattering, balancing out body types. Sheaths take a little more confidence to wear but are well-suited for modern, minimalist, and even retro looks.
Fitted/ Trumpet Bridesmaid Dresses
Trumpet dresses are fitted at the top, with a slight flare near the thigh. More subtle than a mermaid, these fitted silhouettes look fantastic with solid tones. Anyone with wider shoulders or a rectangular shape looks especially great in a trumpet dress. Some prefer the more fitted look, but not everyone will be comfortable. 
Where Do I Buy Bridesmaid Dresses?
Most bridal boutiques have a selection of bridesmaid dresses. The selection will, of course, vary by store, and by no means do you need to find bridesmaid dresses at the same store. Shop locally for unique styles and if you want to support local businesses. However, I will point you to a few collections– and some of my favorite styles. These collections are available both online and in stores (though selections may be more limited in stores). 
Best For Affordable Selection: David's Bridal Bridesmaid Dresses
If you've heard of any bridal store, chances are you've heard of David's Bridal. David's Bridal has 298 stores across Canada, the United States, and the United Kingdom. In the United States, you can find them in nearly all states. They offer fair prices, streamlined services, and online and in-store shopping. They even offer final sale dresses, which can be as cheap as $20 to $50.  This is a great option if you want a wide selection of styles and sizes, but there are downsides. Some are not pleased with the chain's services. Because the dresses are widely available, these dresses tend to not be unique. They're also not made of the finest materials. Shop All David's Bridal Bridesmaid Dresses Here.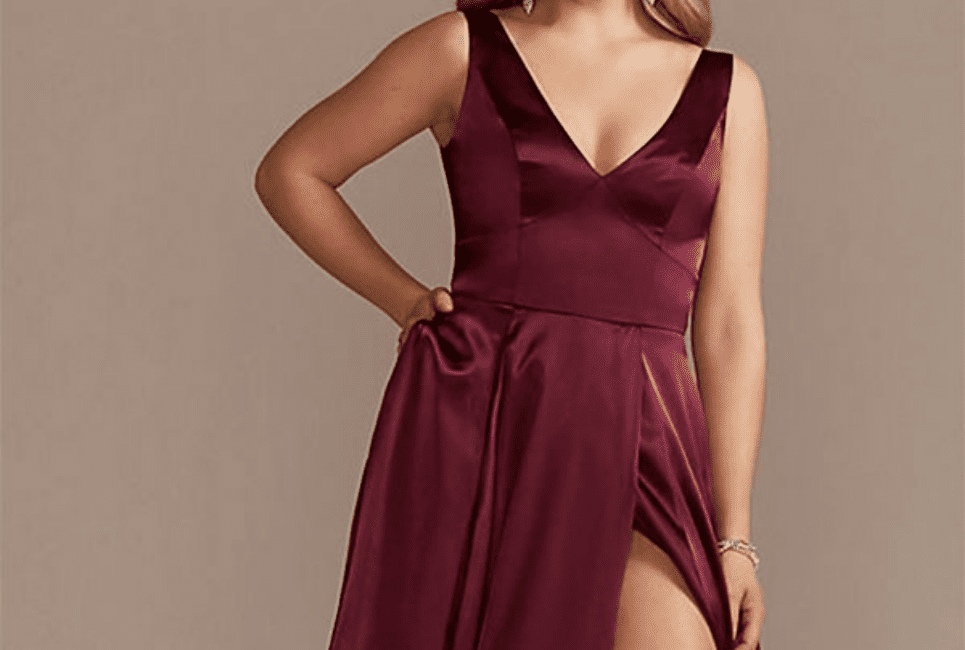 This new bridesmaid dress from Galina Signature is elegant and sleek. The flattering V- neck pairs with a leg slit for a bit of allure, while keeping the look sophisticated. A natural waist pairs well with the floor-length charmeuse. Available in sizes 0- 30 and an array of colors.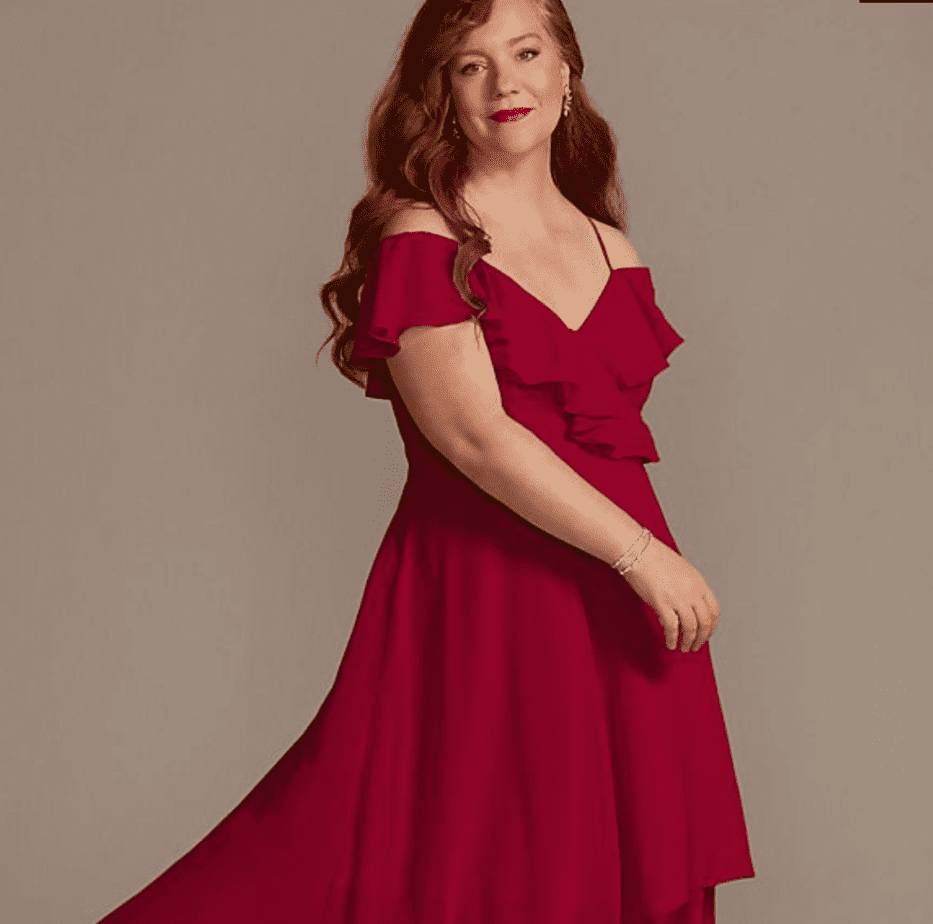 A midi dress is longer than tea length but not floor length. This playful style dress features a flouncy off-the-shoulder ruffle neckline. Chiffon keeps the fabric light and flirty. Available in sizes 0-30 and bright, neutral, and dark hues.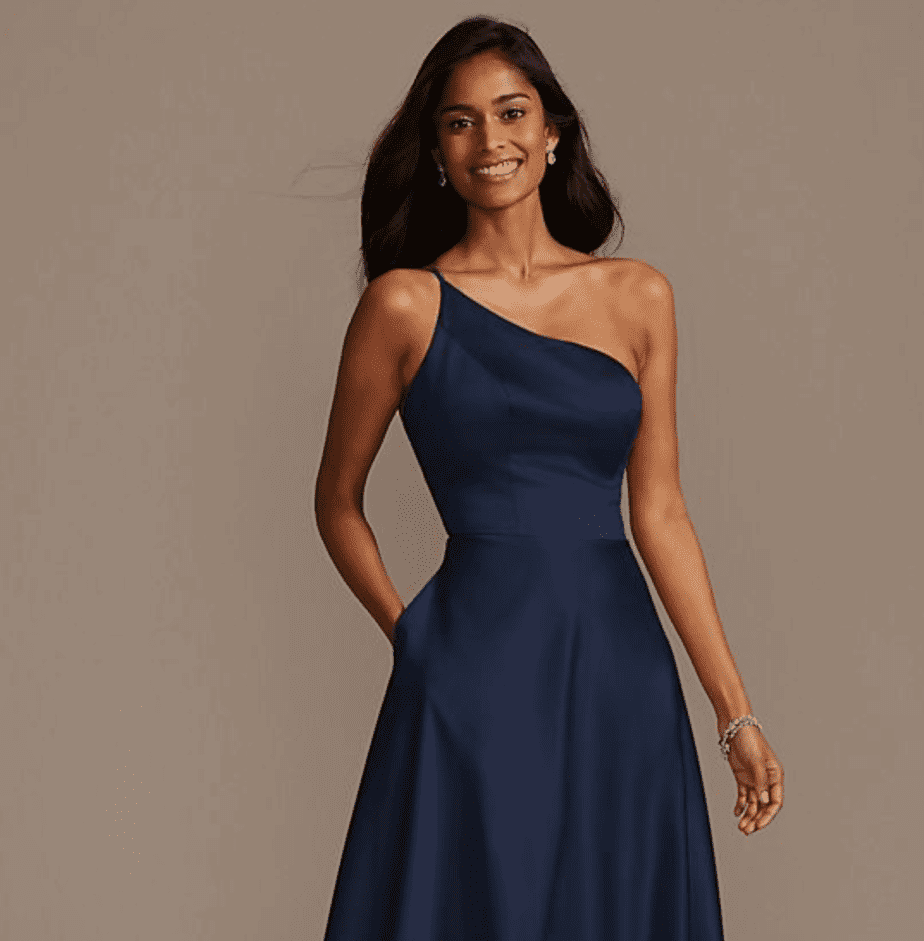 As classic as it is beautiful. This satin A-line bridesmaid dress features a delicate one-shoulder neckline. A slight sheen and pockets make this dress beautiful and also practical. Especially beautiful in jewel tones and available in sizes 0-30.
Best For Boho, Retro, and Whimsical: BHLDN Bridesmaid Dresses
BHLDN is owned by Urban Outfitters and a sister company of the popular Anthropology. The abbreviation stands for "Beholden" and specializes in wedding dresses, bridal dresses, mother of the bride dresses, and formal dresses. Known for a whimsical and boho style, you'll find unique and ethereal dresses. They also carry unique velvet and charmeuse dresses. You can see playful patterns, florals, and flowing skirts. Shop All BHLDN Bridesmaid Dresses Here.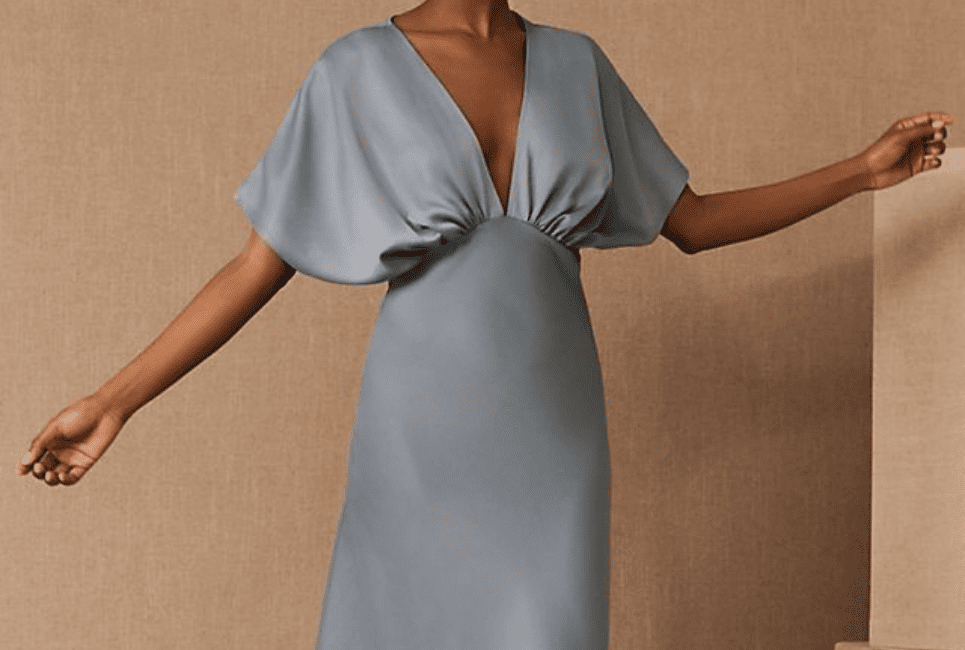 This maxi dress proves you can be comfortable and bridal. Oversized sleeves pair with satin fabric from a beautiful but slightly boho-inspired look. Available in cinnamon, rust, dusty rose, midnight, dusty blue, dark emerald, black, champagne, Sedona, and moss and sizes 0 to 16.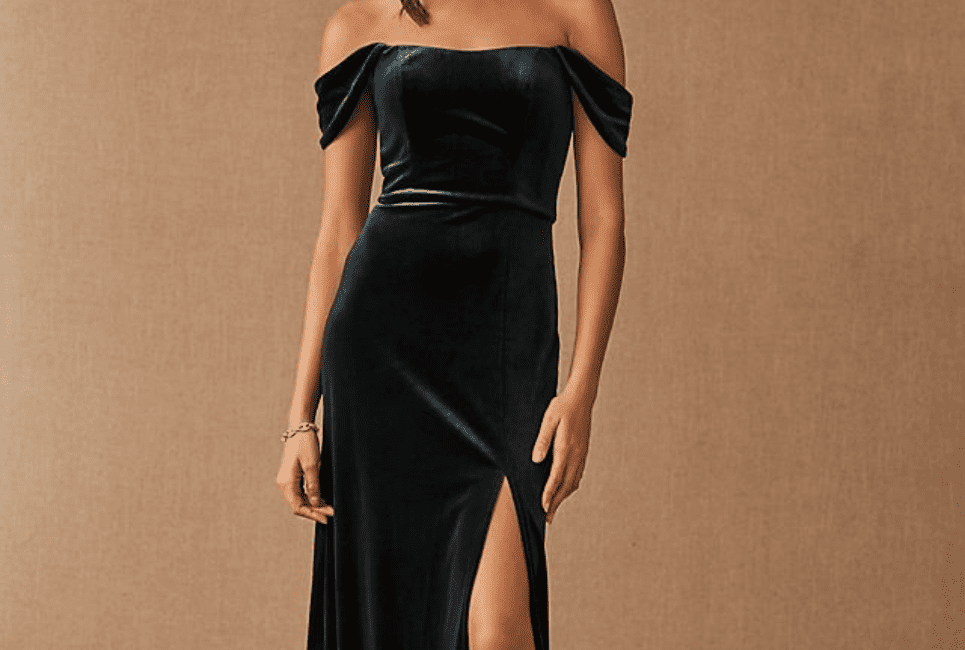 This velvet dress would be perfect for a winter or late fall wedding. A leg slit pairs beautifully off-the-shoulder neckline, all in elegant satin. Available in Dark Berry, English Rose, French Blue, Emerald, and sizes 0-26.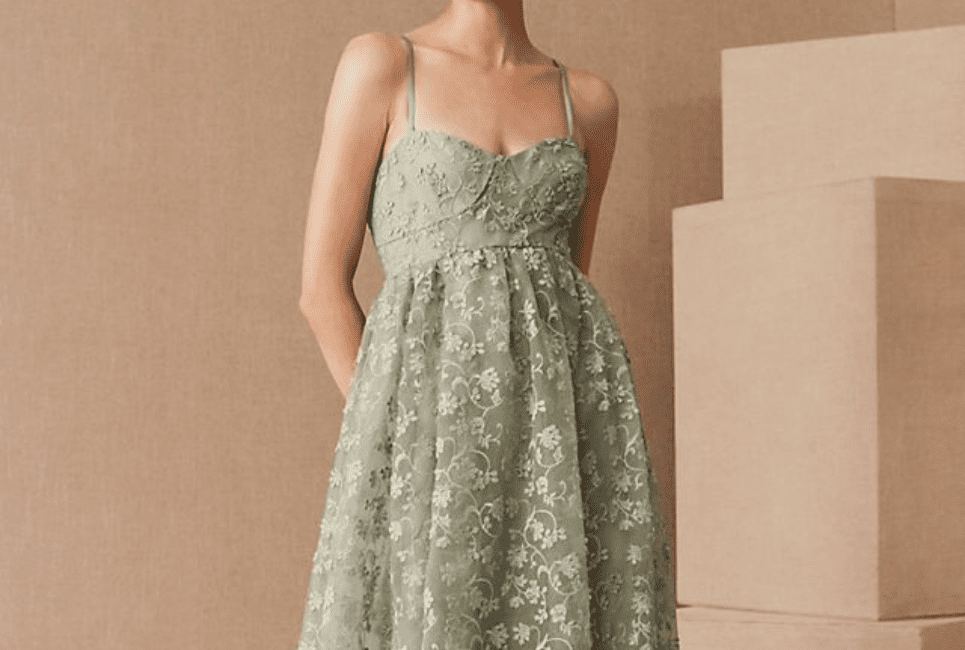 This playful midi dress enchants with a sweetheart neckline and a fuller skirt. Floral embroidery adds a whimsical touch and an unforgettable look. Available in soft blue or soft green. Sizes 0-18;.
Best For Modern Designs: Nordstrom Bridesmaid Dresses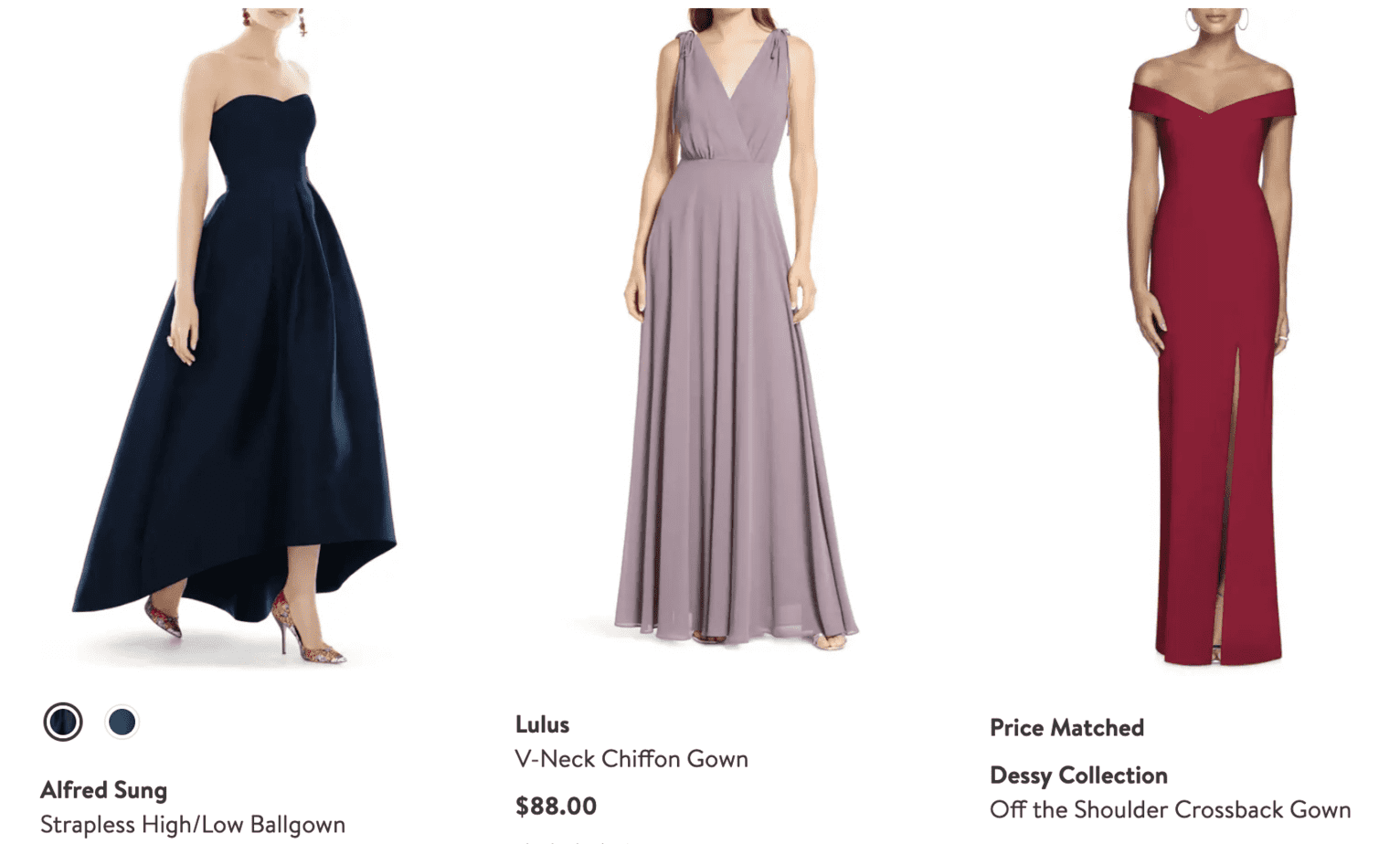 High slits, alluring necklines, playful tea length, and midi dresses abound. Nordstrom offers a selection both in stores as well as 170 designs online. You'll find flowing A-lines and even wrap gowns in every color from deep green to white. Many of these dresses work as bridesmaid dresses but also can double for a night out– making them versatile beyond the wedding. 
As each dress online only has a few sizes, I encourage you to browse through the entire collection by size. Shop All Nordstrom Bridesmaid Dresses Here. 
Frequently Asked Questions
Question: Are Bridesmaid Dresses Supposed to Match?
Answer: Bridesmaid dresses do not need to match exactly, but I recommend selecting several unifying features. Select one or two elements that differ while keeping the rest consistent if you want different bridesmaid dresses. For example, keep color the same if you opt for different styles. Dress length should be the same for a unified look. 
What does the bride do for her bridesmaids?
Question: What is the Average Number of Bridesmaids?
Answer: If you looked for bridesmaid dress inspiration, chances are you might assume bridal parties are large. As it turns out, they're more modestly sized. The average wedding has anywhere from 2 to 6 bridesmaids. Regardless of the average, you should invite people who you're close to and feel comfortable with. There's no one magic number for the number of bridesmaids. 
Question: How Can I Make my Bridesmaid Dress Look Better?
Answer: Ultimately, sometimes bridesmaids wear dresses they don't love, and that's okay. But bridesmaid dresses that are a little dull can be spruced up with accessories– such as a beaded belt or bow– can add a finishing touch. Even just proper alterations can make a big difference. A dress that is properly fitted is far more flattering. Strapless dresses can be altered with straps for more support or if you like a more modest style. The key is to make sure that the bride and bridesmaids are in communication with each other. 
Final Thoughts 
Finding the perfect bridesmaid dress ultimately isn't about finding the perfect dress– but finding styles and colors that fit your wedding. And remember to pressure anyone into buying a dress they can't afford. Shopping for sales, off the rack, and even renting dresses can be an option. Comparison shop and even consider looking for regular formal dresses from a department store. Often, bridesmaid dresses are marked up purely because they're bridal. 
Find more guides and ideas below:
How to Find the Perfect Wedding Dress