From classic rose bouquets to wildflowers for table arrangements, it's undeniable that flowers are one of the most traditional and beautiful decor ideas for a wedding. But planning your flowers for a wedding can be overwhelming, especially with many traditional and new ideas.
While some couples are sticking to traditional wedding bouquets and arrangements, others are opting for innovative ways to include flowers. That now includes flower trucks– perhaps a nod to the popularity of wedding food trucks.
Roots Mobile Greenhouse is combining ideas and offering a modern twist of wedding decor and entertainment. The truck serves Philadelphia and offers a unique service. The mini flower truck doubles as a photo booth and a build-your-own-bouquet station for guests.
But that's not all. The innovative truck allows you to order upgrades and custom packages, including bringing your drinks, so your truck serves not only flowers but also drinks. You can select from both fresh and dried flowers and even chat with a representative about specific styles.
And while this service is limited in where it serves, it's a sign that couples are getting more creative with how they view flowers for a wedding. Consider this your guide to wedding flower costs, planning and ideas.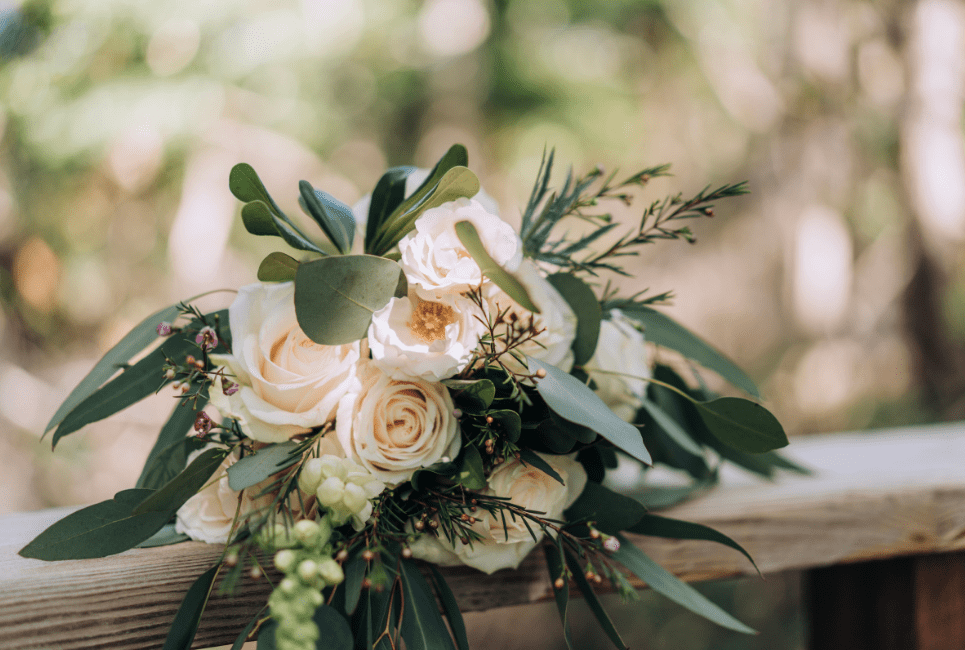 Can you have a wedding without flowers?
Before I get into wedding flower prices and where you need wedding flowers, I want to challenge the notion that you need a certain amount of flowers to have a great wedding. From more modest flower options to flowerless weddings, there are more choices than ever for how you celebrate and decorate your wedding.
How important are flowers at a wedding?
Depending on who you ask, some will say flowers are the most important decor, while others are perfectly fine with little to no flowers. Flowers at a wedding are rooted in tradition. They're also symbolic and a way to decorate a ceremony and reception space in a lively, romantic way. They also double as accessories, from bridal bouquets to boutonnieres and corsages. But while they are important to many, that doesn't mean you have to spend a fortune or stick to what you feel is expected.
When did people start using flowers at weddings?
It's difficult to point to a specific date, but wedding flowers were used in Ancient Egypt, Greece, and Rome. Flowers and even other crops like wheat were and still are symbols of fertility, love, and prosperity. In Greece, floral crowns were used, and Rome likewise used garlands and crowns for the couple, and the tradition of bridal bouquets began. In Ancient Egypt, lotus flowers were carried alongside thyme and garlic to ward off evil spirits and symbolize fertility. Flower garlands and nosegays became popular in England during the 16th and 17th centuries, and bouquets and floral garlands spiked in prominence in the 19th and 20th centuries.
How can I decorate my wedding without flowers?
Flowers are no doubt a gorgeous option, from their roots in their tradition and culture to their unparalleled beauty. But you can have a wedding with minimal flowers, or even a flowerless wedding. Some couples simply have flowers for bouquets. Others have a single bridal bouquet– or skip it– and opt for a floral centerpiece. And still, others opt for non-floral options.
What are some non-floral options to use when decorating centerpieces for a wedding?
You don't have to have a flowerless wedding to enjoy non-floral decor options. These can be used in place of, or in addition to, floral centerpiece arrangements. In many cases, they can cut down on costs– allowing you to use fewer flowers and still achieve a gorgeous wedding style. I recommend the following:
Tea candles or tall candlesticks

Bonsai trees or artificial mini trees

Seashells

Fishbowls

Leaves, mini pumpkins, apple candles

Fake snowflakes/ snow/ snow globes

Picture frames

Pottery or other vases

Fruit or olive vases/ dishes

Books, model sailboats, mini globes

Beads and feathers

Balloons and paper mache
Your imagination is the only limit. One of my dearest friends had a camping theme and decorated her tables with handmade model tents, a miniature sign, and wood coasters. Thinking about your wedding theme and time of the year helps you get more creative with your wedding centerpieces, even with flowers too.
What is the Average Price for Wedding Flowers?
Still, most weddings do have flowers, and it's important to plan ahead both for your theme and your budget. According to a 2019 survey by The Knot, the average cost for wedding flowers is $2,000.  WeddingWire places the average estimate at around $1,500– but as much as $3,000 to $5,000 for large weddings. This covers centerpieces, bouquets, boutonnieres, and corsages. However, keep in mind this figure is just that: a rough average. Unless otherwise noted, averages include outliers such as those who spend grand amounts on flowers. In addition, those who answer wedding surveys may report different numbers than are typical for the general population. The point is you can easily spend a few thousand dollars on flowers– but you also do not need to.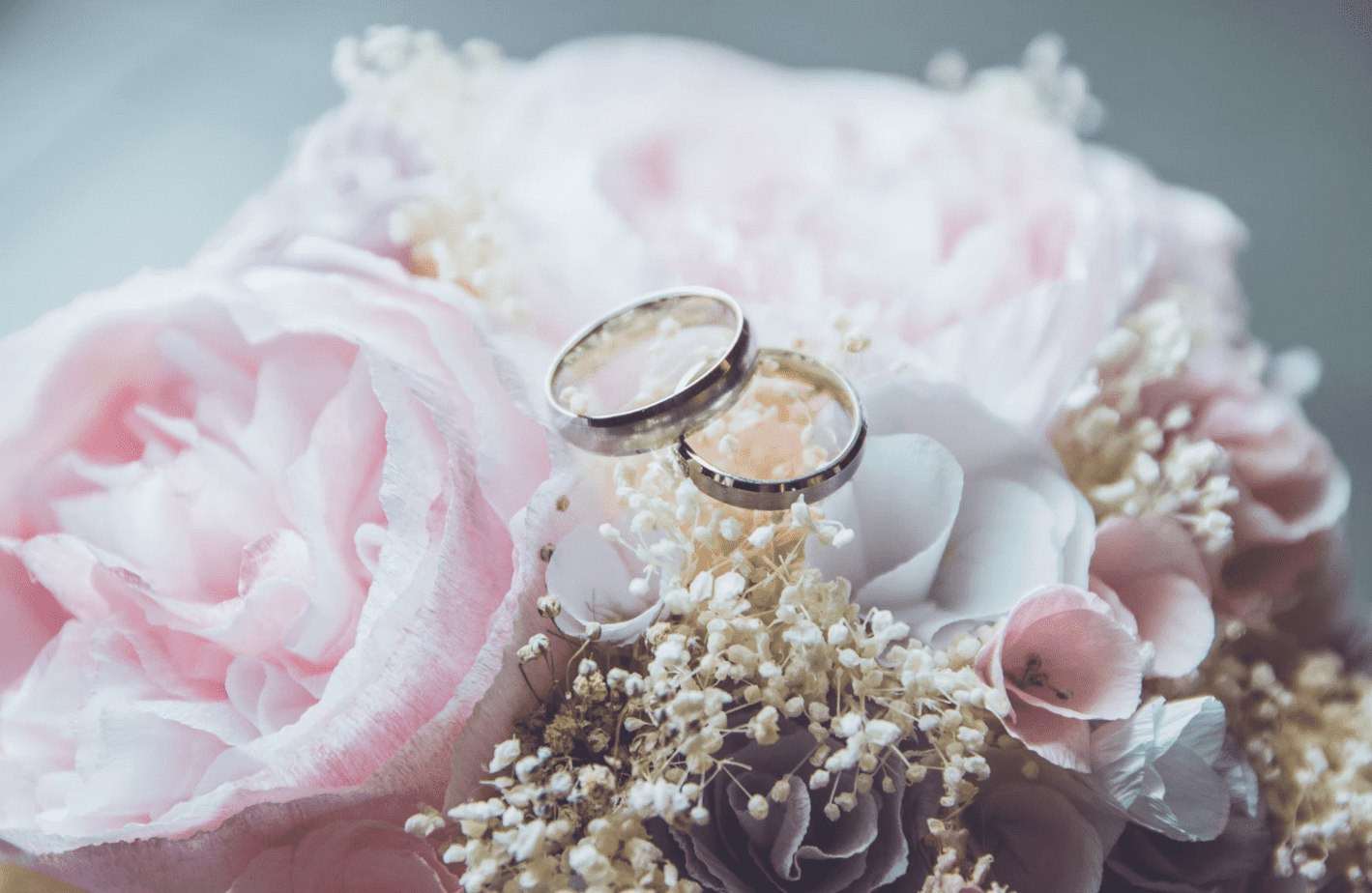 How do you price wedding flowers?
Brides and Value Penguin breaks those averages down in a more helpful way, pointing to the average cost of different types of wedding flower arrangements and products. Taking in both these figures, here are some rough estimates of ranges you could expect to spend. The bridal bouquet could come up in cost, up to nearly $1,000– but this is less usual. Keep in mind that these are rough estimates, and factors such as buying in or out of season, size, and location all matter as well.
| | |
| --- | --- |
| Bridal Bouquet | $80- $250 |
| Bridesmaid Bouquet | $60- $80 |
| Boutonniere | $15 – $35 |
| Corsage (Wrist) | $20- $35 |
| Table Centerpieces | $100- $600 |
| Main Table Centerpieces/ Ceremony | $100- $1,500 |
| Floral Crown | $30- $100 |
| Floral Archway | $300 – $800 |
Why are floral arrangements so expensive?
Floral arrangements– especially for a wedding– are pricey for several reasons. Higher demand and lower supply always push up prices. There's a markup from florists of around 3.5 percent per stem. That factors in overhead costs, delivery, and services. Florists have a rough 70 percent profit margin for wedding flowers. The good news is that there are ways to save money.
How Can I Reduce Wedding Flowers' Cost?
Saving money on wedding flowers costs money, budgeting, shopping smart, and coming up with creative solutions. Here are my top recommendations.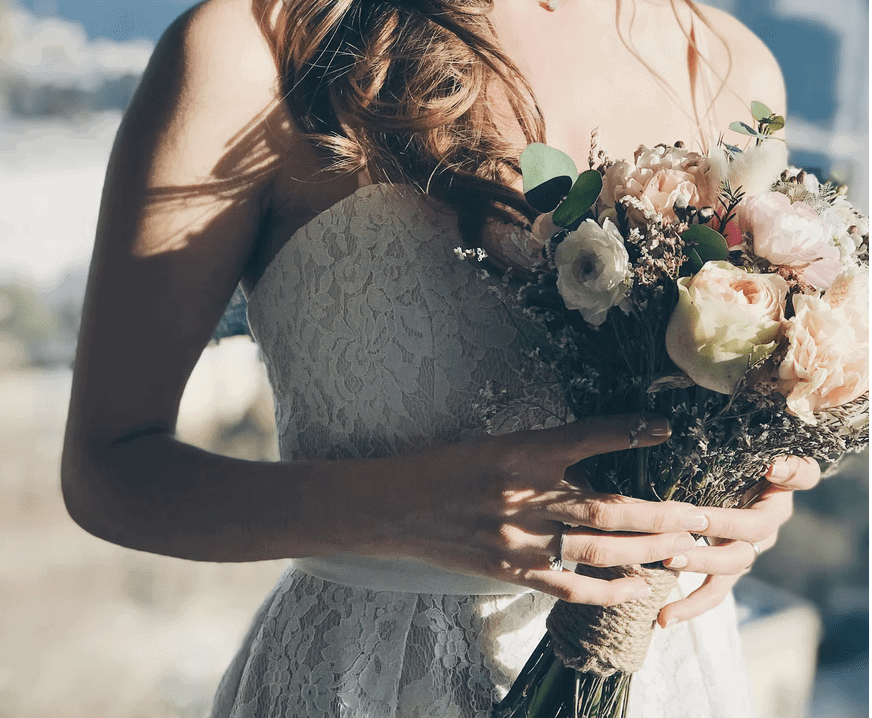 Buy in Season
No, you don't have to buy flowers in season– but you'll save money if you do so. Plus, seasonal flowers are a natural fit and can bring your wedding theme to life. Keep in mind that there is overlap between seasons and that how far into that season you are will determine what makes the most sense. For instance, a very early Spring wedding is trickier than a late spring wedding. These are just a few flower ideas. Speaking with a local florist will give you a greater sense of what makes the most sense for your wedding date.
And even just buying more of your flowers in season makes sense.
What flowers are in season for a fall wedding?
Fall is a time for bold and bright hues, including orange, yellow, and pink hues. For a Fall wedding, consider Dahlias, Amaranthus, Sunflowers, Calla Lilies, Pansies, Aster, Chrysanthemum, Celosia, Alyssum, Black-Eyes Susans, Freesia, Azaleas, Peonies, Autumn Crocus, and Hydrangeas.
What flowers are available in the Spring?
Spring provides an abundance of options. Consider Roses, Lilacs, Tulips, Orchids, Violets, Irises, Poppies, Dahlias, Peonies, Hydrangeas, Snowdrops, Forsythias, Daisies, Amaryllis, Lilies (most varieties), Zinnia, Sweet Pea, Hyacinth, and Gardenia.
What flowers do you use for a July wedding?
For summer, you'll also have a wonderful variety of wedding flowers. Consider Marigold, Calla Lilies, Zinnia, Cosmos, Begonia, Black-Eyed Susan, Coneflowers, Hibiscus, Lantana, Verbena, Peonies, Sunflowers, Sea Holly, Roses, Rose of Sharon, Fuchsia, Hydrangeas, Clematis, Gladiolus, and Carnations.
What flowers can you use for a winter wedding?
As you can imagine, Winter is the most challenging time. Luckily you still have options and, since Winter is the least popular season for weddings, you're likely to slash your costs even further. Amaryllis, Baby's Breath, Crocus, Viola, English Primrose, Camellia, Daphne, Orchids, Snowdrops, Black Tulips, Winter Jasmine, Winterberry, Chrysanthemums, Roses, Pansies, Holly, Gerbera Daisies, and Star of Bethlehem are all options.
Buy Cheaper Flowers– and Avoid Expensive Flowers
In addition to buying in season, you can boost your wedding flower savings by opting for less expensive flowers. Again, seasonal flowers still apply– so for the biggest saving, opt for flowers that are in season and naturally cheaper, if possible.
Inexpensive Wedding Flowers
Carnations, Lilies, Tulips top the list. Daisies, Hydrangeas, Begonia, and even Roses are cheaper than the average wedding flowers.
Expensive Wedding Flowers
Orchids are one of the most expensive flowers commonly seen at weddings. Peonies, due to their extreme popularity, tend to be pricey. Other expensive flowers include Gardenia, Lily of the Valley, and of course, anything exotic or especially rare.
Buy Filler Flowers and Greenery
I mean no disrespect to any of these flowers because they have their beauty. But filler flowers are flowers that aren't typically used as the main flowers. These can complement your centerpieces and bouquets, making them appear fuller with less cost. Fillers flowers are not one type of flower but generally clusters or stems of flowers that are meant to reduce costs.
What type of flowers are filler flowers?
Filler flowers include Baby's Breath, Bouvardia, Fern (any variety), cheaper Daisies, Delphinium, Mini Carnations, Snapdragons, Stock, Statice, Aster, Limonium, Gypso, and greenery (Eucalyptus, Garland) as well as wheat, leaves, and feathers.
More is Not Always Better
Reduce the size of your bouquets and floral arrangements. Sometimes oversized is overwhelming. For a minimalist or modern, or even classic wedding, you can get by with less. Supplement with other pieces of non-floral decor, and opt for a reception space that doesn't need as much decor. Remember, more flowers are not necessarily better, and there are always creative ways to get by with less.
Negotiate and Comparison Shop
Who's to say you have to buy the first floral arrangements you consider? Comparison shop and see if someone can offer you a better deal. Local florists are generally cheaper, but you should also consider your options. You'll have more leeway to do so the less popular of the season you're getting married.
What is a Wedding Flower Centerpiece?
Centerpieces are one of the most popular ways to decorate receptions. There are typically centerpiece arrangements for guests' tables and the head bridal table, and a sweetheart table if there is one. Centerpieces may also refer to hanging floral arrangements and floral wedding archways. Typically, these centerpiece arrangements either match bridal bouquets (the general flowers used) or are meant to complement them directly.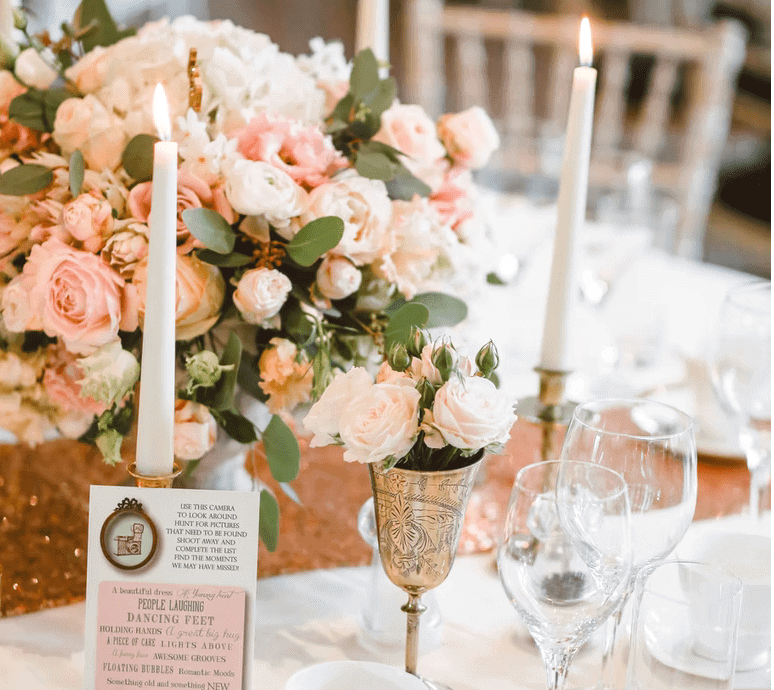 What are the rules for a table centerpiece?
While there are no hard and fast rules for floral centerpiece arrangements, some design elements should be considered.
Tall and Short Arrangements
A great idea is to combine tall and shorter elements. Aim for taller pieces to be double the height of shorter pieces. Adding candlesticks with floral arrangements is a way to create an elegant and sophisticated look. You can also opt for hanging floral arrangements with short tea candles and balance out chandeliers with floral arrangements.
Table Shape and Space — Where should centerpieces be placed?
You should fill the center of the table with plenty of room for eating and interacting. Generally, floral arrangements are at the center of the table, for both rectangular and circular tables. However, round tables are best with a single centerpiece, while square and rectangular tables do well with many slimmer arrangements. Rectangular tables are also suited for end arrangements. A beautiful look is hanging floral arrangements over the sides of the table, especially with vines.
What is the average cost of centerpieces for a wedding?
As you can see in the chart above, centerpiece arrangements for a wedding don't come cheap. A low average hovers around $70 or $80, while some spend hundreds of dollars. The types of flowers, the arrangement itself, and how big the arrangements are all factor in. Some include the grandest floral arrangements for the main table and only modest bouquets for the guests' tables.
How much you should spend per centerpiece depends on your budget and how many tables you have. You should also budget in bouquets and corsages and place them into your floral budget. Look at it this way: If you have just ten tables, you will spend $800 on average. That's a lot to spend for some.
Does a Bride Need a Bouquet?
It's traditional for the bride and bridesmaids to have bouquets. However, that doesn't mean you have to follow this tradition. A bouquet is usually carried down the aisle, then sometimes repurposed as a centerpiece. Many love bouquets for wedding photos. The idea of why brides need a bouquet dates as far back as Ancient Rome and Greece, where doing so was a symbol of fertility. Later, it also became a way to ward off evil spirits and ward off bad body odor. It's still an expected part of many weddings, but by no means is it a necessity.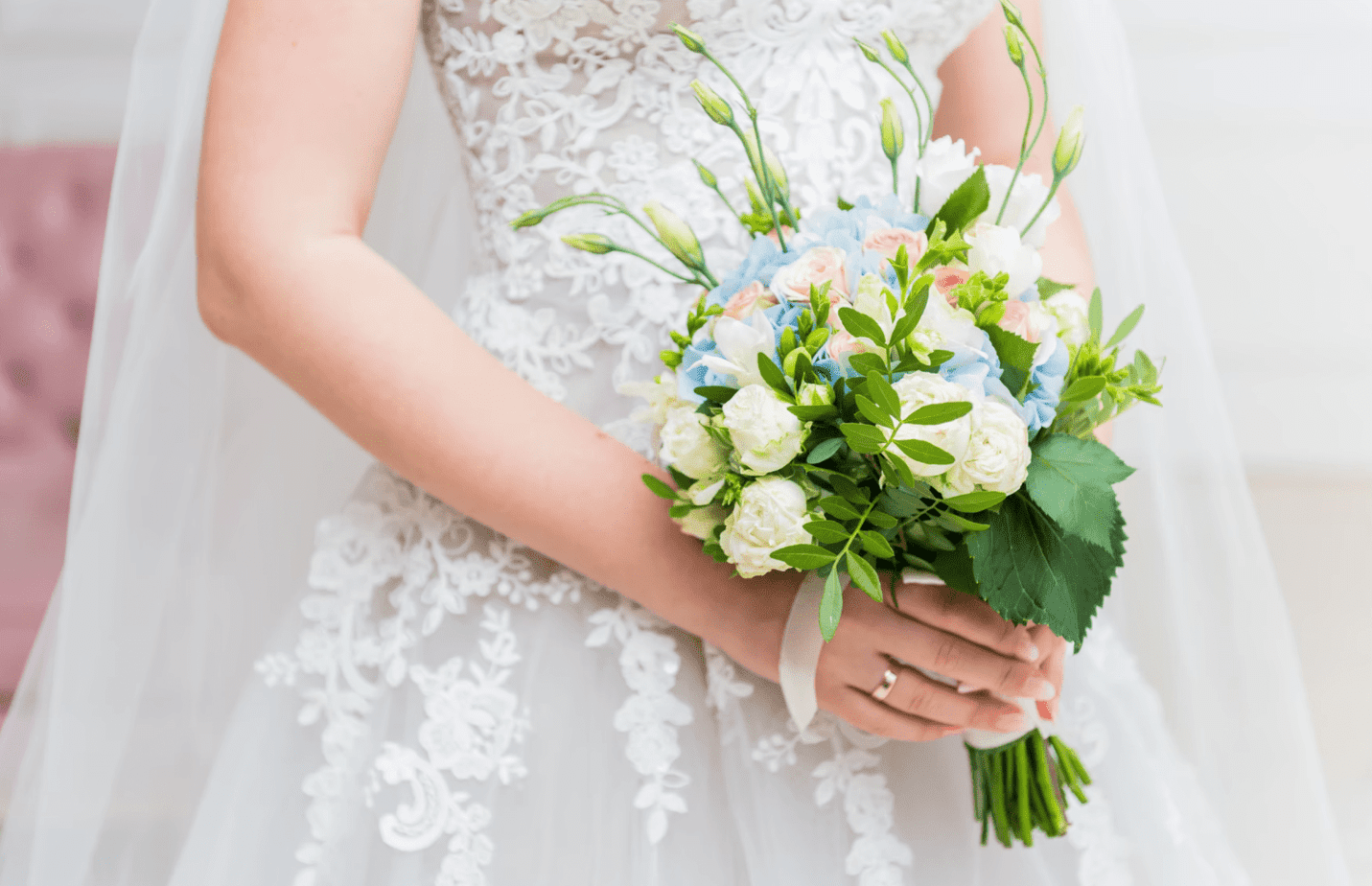 Who buys the bouquet for the bride?
Deciding on who buys what an important discussion to have is. For some families, it is traditional for the bride's family to buy the bouquet, while for others, it is the groom's family that does so. Many modern couples simply split costs and pay for the bridal bouquet together.
How much does a bride's bouquet cost?
A bridal bouquet is one of the biggest wild cards in terms of cost.  While the average bridal bouquet starts at around $80 to $250, buying a bouquet that costs hundreds of dollars is possible. At the same time, a bouquet that's modestly sized and in the season could be as little as $40 or even less if you're lucky.
How do I pick a bridal bouquet?
You should consider several factors before selecting a bouquet. This bouquet likely will inspire your other floral arrangements and can be seen as a personal statement as well. Well, I'll go into specific flowers and symbolism later. Here are a few tips.
How many flowers are typically in a bridal bouquet?
The average bridal bouquet has 24 to 26 individual stems, but you should adjust this according to your needs. A smaller bride may be more suited for a modest bouquet vs an oversized bouquet. If you have a dress with heavy detailing on the bodice, then a subtle bouquet may work a bit better. At the same time, if you coordinate it well, some brides like an oversized bouquet with a statement wedding dress to make a big statement.
How do you choose a wedding bouquet size?
This, of course, ties into bouquet size. 8 to 10 inches in diameter is considered an excellent size for smaller brides, while up to 11 inches may be suited for average to tall brides.
What are the most popular styles for a bridal bouquet?
There are different types of styles to consider as well. A round bouquet is a classic and one of the most popular choices, but many other styles suit your needs.
This style of bouquet features flowers arranged in a way that they taper off. This can be used for vintage but also boho styles. They're visually appealing but also a little tricky to carry.
Flowers are arranged in a sphere-like formation. This provides a clean, minimalist look and is popular for both modern and classic weddings, plus easy to hold.
These bouquets tend to be modestly sized and feature a more natural, just-picked look. These bouquets are suited for outdoor weddings, rustic weddings, and more. Nosegay bouquets are also included in this category.
Free-form Bouquets
These bouquets are as they sound. They don't have a clear shape, and they can range from modest to oversized. They can be arranged both vertically and horizontally and are often tied together with a ribbon, lending themselves to a boho, rustic charm– but they're becoming popular for just about any wedding type.
Do Bridesmaids Need Flowers?
As is the case with bridal bouquets, there isn't a rule that bridesmaids require bouquets. However, it makes sense for bridesmaids to carry bouquets if the bride is carrying one most of the time. As is the case with bridal bouquets, bridesmaid bouquets can be repurposed for decor.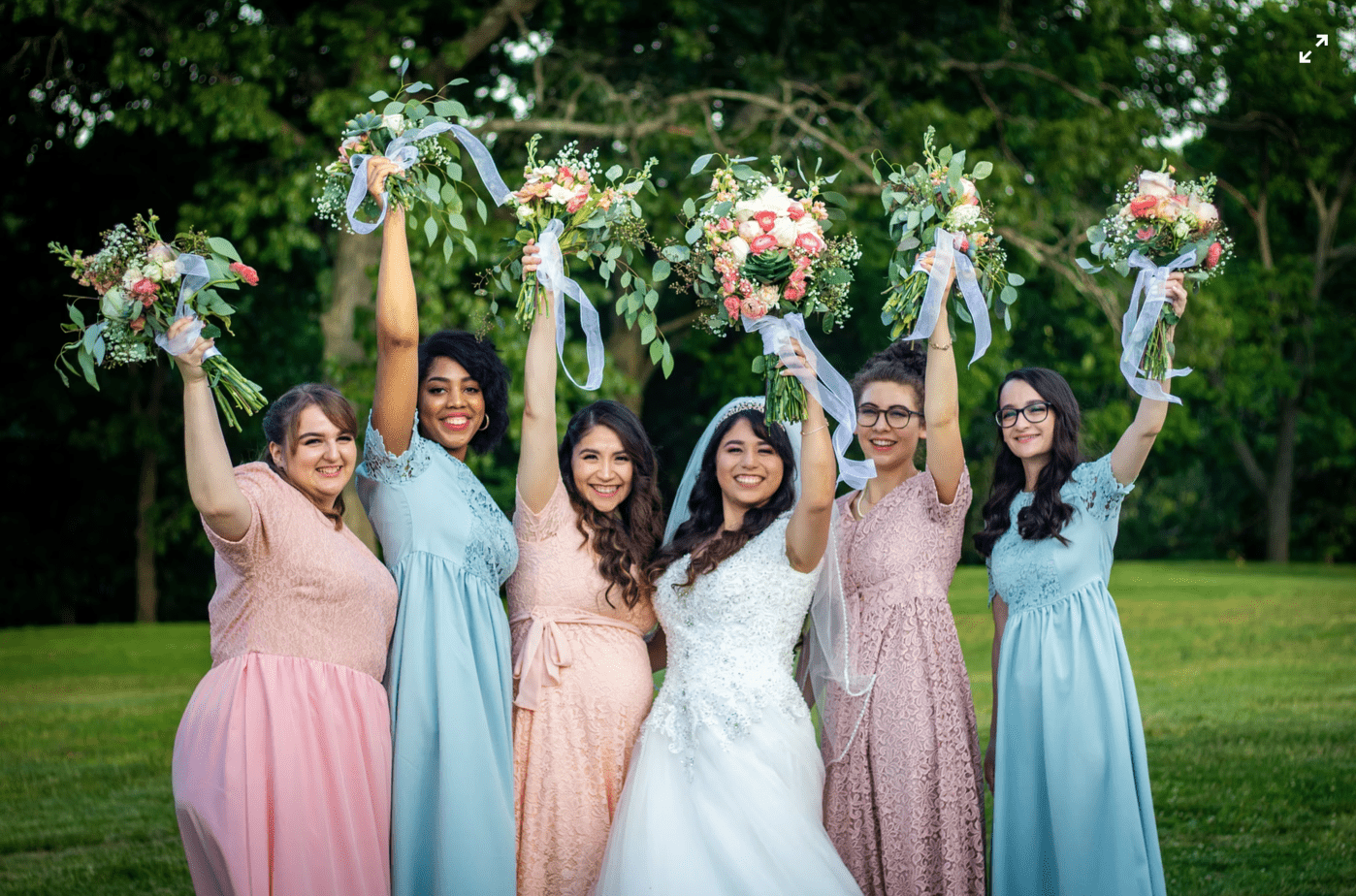 What can a bridesmaid carry instead of flowers?
Bridesmaids' bouquets aren't the only things that bridesmaids can carry as they walk down the aisles. Candles, lanterns, fans, greenery, and even accessories like meaningful jewelry are other options. Think about what makes sense for your bridal party and your wedding.
Do bridesmaids have bouquets or corsages?
Bridesmaids typically carry bouquets. This is meant to mimic the bridal bouquet and also provides a seamless look.
What flowers do bridesmaids carry?
The flowers the bridesmaids carry almost always are the same flowers that the bride carries. The main difference between bridal bouquets and bridesmaids' bouquets is that the latter tend to be smaller and more modest. The bridal bouquet may also have a flower or two that the bridesmaids don't, but they should directly coordinate. Thus, it's common to select the bridal bouquets and then purchase the bridesmaid's bouquets from the same supplier.
How much should bridesmaid flowers cost?
Bridesmaid bouquets run a bit cheaper than bridal bouquets since they tend to be a bit smaller. The average cost is $60 to $80, though you can buy bouquets for $50 or under or spend over $100 or $200.
Who pays for the bridesmaid bouquets?
Bridesmaids don't pay for their bouquets. The cost should be handled by the bride's family, the groom's family, or the couple themselves.
Who Wears a Corsage at a Wedding?
Corsages are worn most commonly on the wrist and are an alternative for bridal bouquets. The general rule is that the mother of the bride and the mother of the groom both wear corsages, as would any stepmothers of the bride and groom.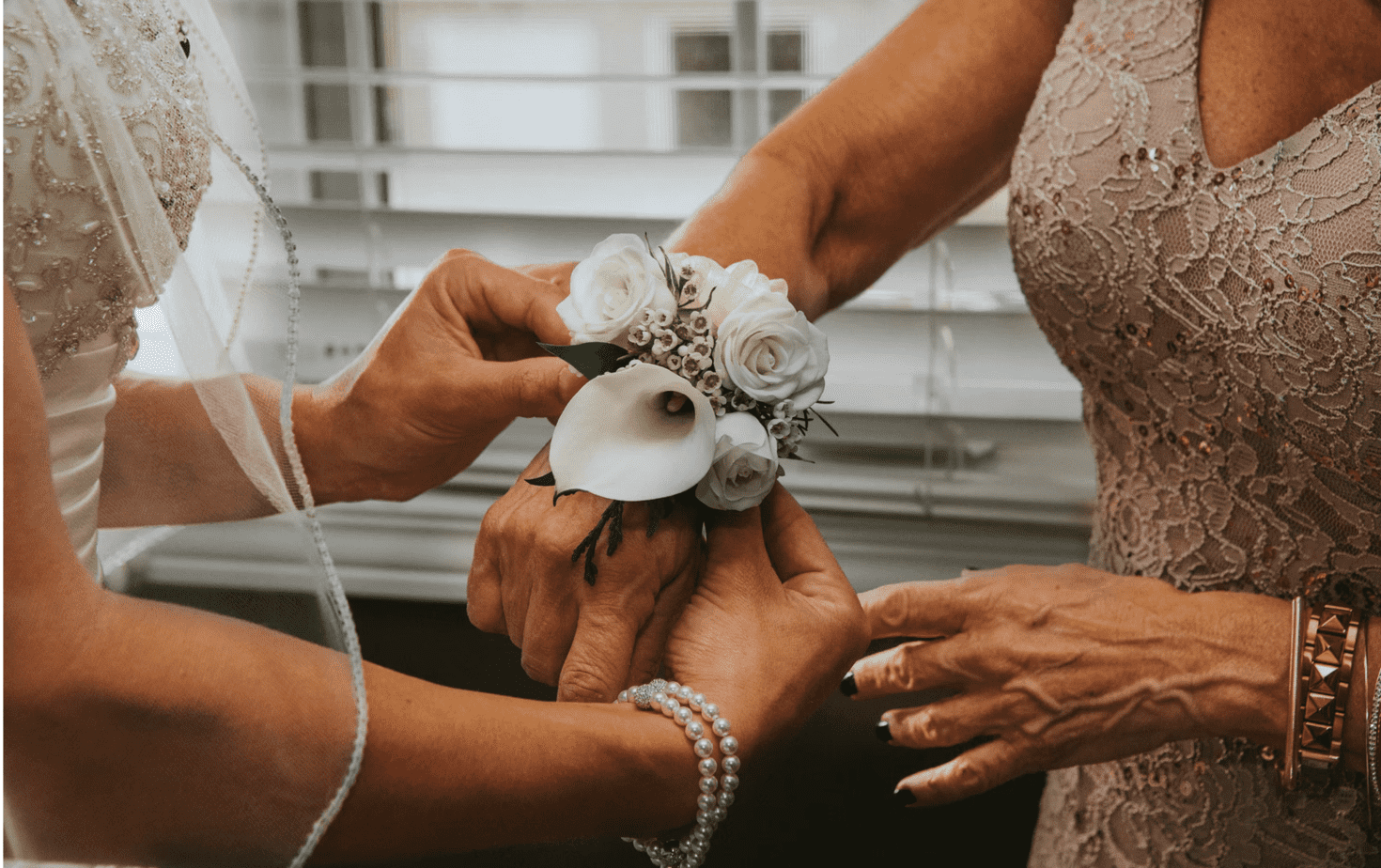 Where did the corsage tradition come from?
Corsage comes from the French word for a dress bodice, which makes sense based upon the history of the tradition. In Ancient civilizations, such as Greece, flowers were adorned on the bodice of dresses to ward away evil. Later, they were worn on wrists throughout time for formal occasions. It's still an honored tradition for proms and weddings.
How do I select a wedding corsage?
You can also opt for a pinned corsage, but wrist corsages are more common as they don't distract from a dress. Corsages should be worn on the left side and usually are the main flower that's included in the bridal bouquet, and sometimes include additional accents, such as a filler flower or greenery. It's also common to go with a classic flower, like a white rose.
How much do corsages cost for a wedding?
Luckily, corsages are not very expensive. You can pay $20 to $50 on average, with $50 being the higher end. Simple and understated, with one main flower, is usually the way to go.
What is the Difference Between a Corsage and a Boutonniere?
Boutonnieres are the final type of wedding you'll likely incorporate into your wedding. A boutonniere is worn by men in a bridal party, usually on the left lapel of a suit or tuxedo. Like corsages, these are understated and usually feature a single flower, surrounded by greenery. They're roughly the size of a golf ball, so smaller than a corsage, and aren't attached to a wrist band.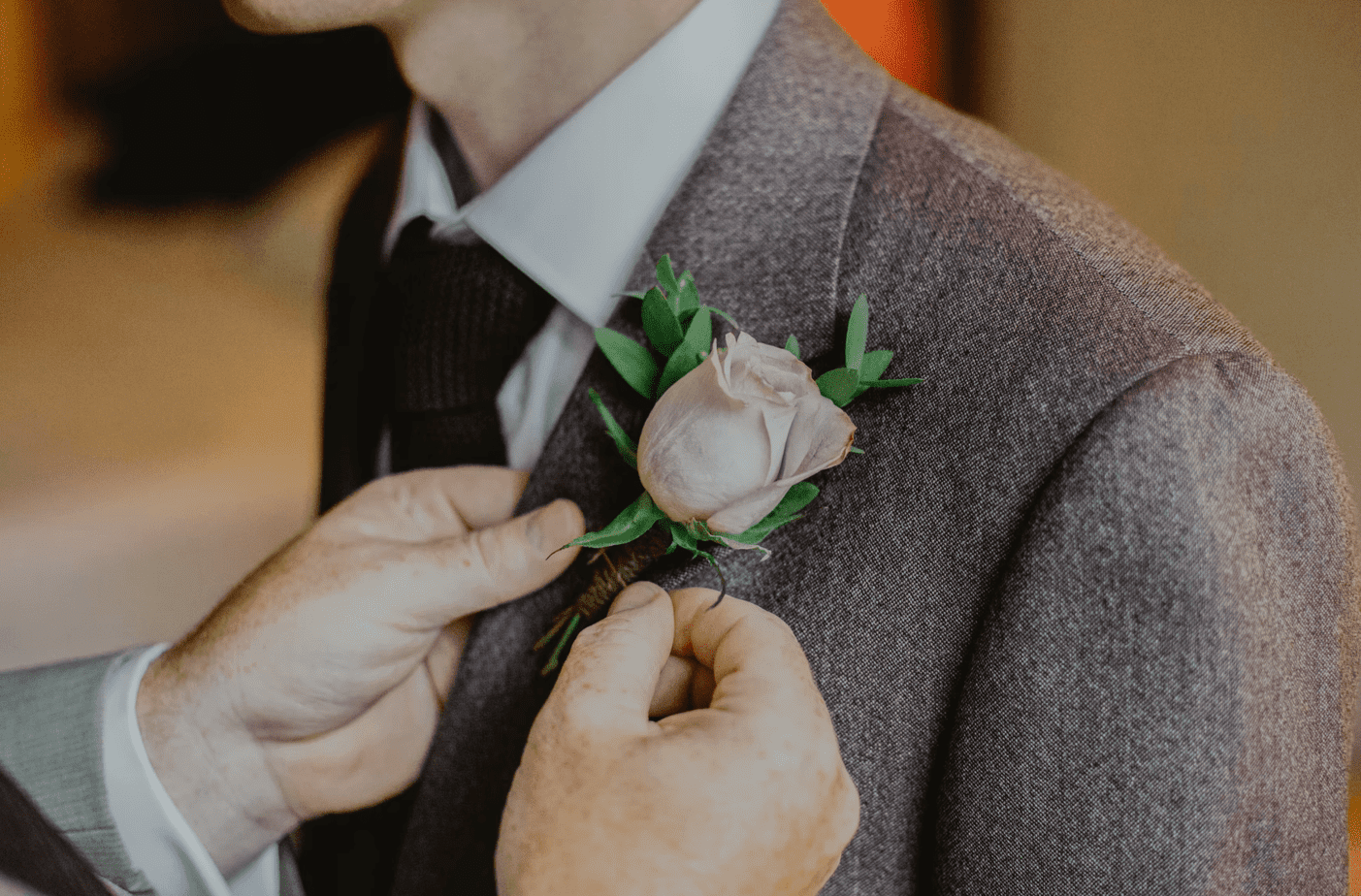 Why does the groom wear a boutonniere tradition?
The groom wears a boutonniere for a coordinated look, but it's also symbolic. Tradition holds that the groom wears a boutonniere to express his love and passion for his future spouse. Boutonnieres are also worn for same-sex weddings.
Is boutonniere a real flower?
Boutonnieres are usually real flowers, though it's not unheard of to use a silk flower. That said, for something as inexpensive as this is, it's worth buying a fresh flower for most. Stick with a flower that's either versatile or directly coordinates with the bridal bouquet.
What is the average cost of a boutonniere?
Boutonnieres are affordable and are likely the most affordable flower piece you'll buy for a wedding. They can cost as little as $10 and up to $30 or $40.
How Else Do I Decide what Flowers I Should Have at my Wedding?
As you can see, there are countless factors to consider for selecting the perfect wedding flowers for you. All of these play into what flowers are and aren't a good fit from the season to your wedding theme and budget. A process of elimination and discussing with a florist are great steps. But I also want to discuss flowers and symbolism, as well as what's popular right now.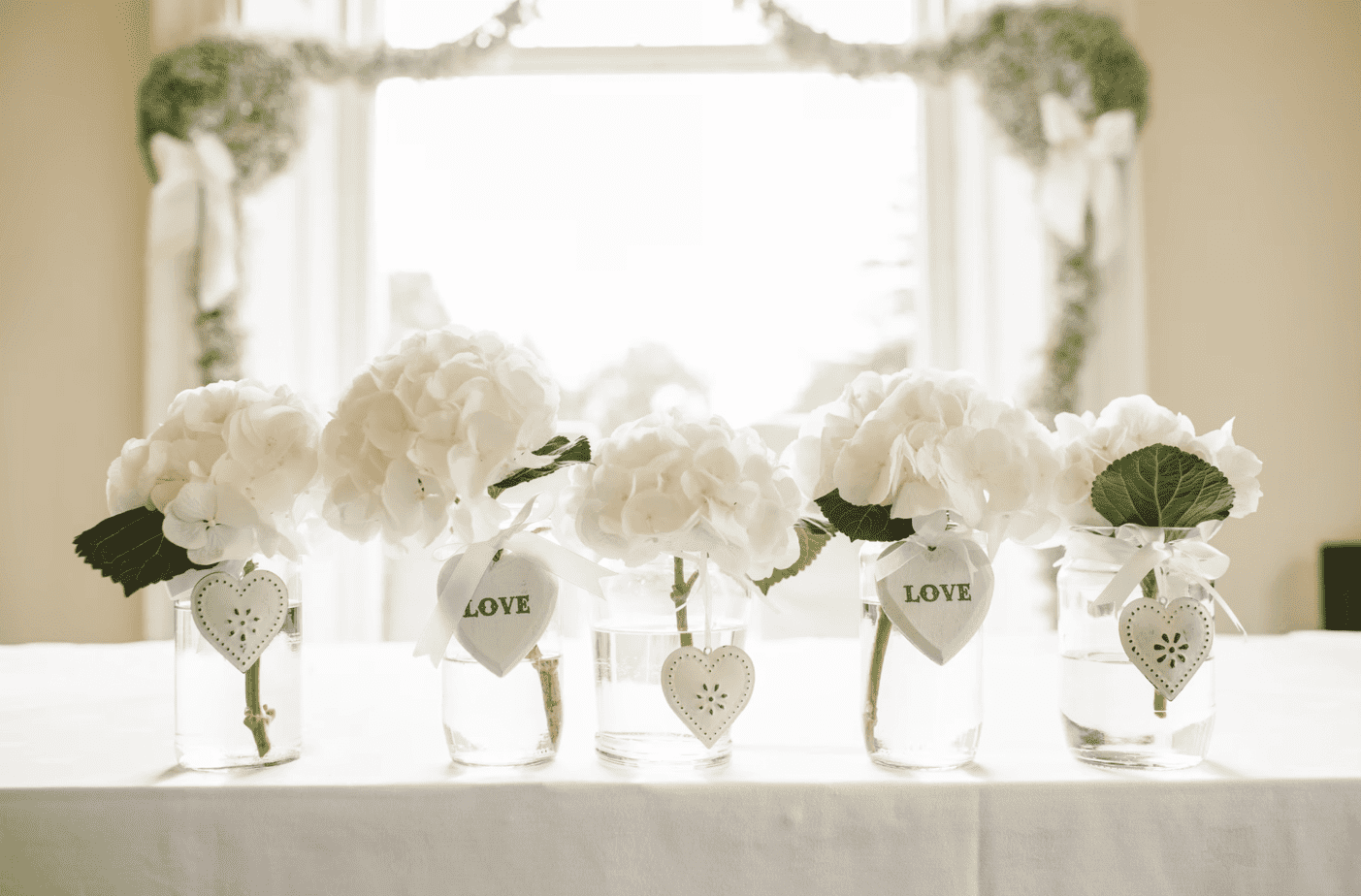 What is the most popular wedding flower?
The most popular wedding flower is likely peonies, followed by roses, lilacs, dahlias, anemones, hydrangeas, lilies of the valley, and one whose name you might not recognize: ranunculuses. These flowers are known for their thin petals and are sometimes compared to a mix of peonies and roses.
What flowers should not be in a wedding bouquet?
Any flower can be in a wedding bouquet, but some are more challenging than others. Hydrangeas are quick to droop and require excellent upkeep before the wedding. Astilbe, lilacs, and tulips may also droop after several hours. They can be in a bridal bouquet, but it's important to have realistic expectations. Of course, if you're like me and have allergies– or anyone in the bridal party does– you'll also have to be a little more choosy. Ask everyone if they have allergies, and steer clear of these 12 worst flowers for allergy sufferers.
What do wedding flowers represent?
Another way to select wedding flowers is by symbolic meaning. This likely shouldn't be the only factor, but it can add a meaningful touch. Here, I'll discuss a few of the most popular flowers chosen based on symbolic meaning for a wedding. Looking for more flowers and their meanings? Read the Farmer's Almanac's Guide to Flower Meanings Here.
What flower symbolizes marriage?
The calla lily is loved as a symbol of marriage. This flower's name is rooted in the Greek word for beauty, and it's also been associated with innocence.
What flower means unconditional love?
This one should come as no surprise. The red rose is known for passionate, unconditional love.
What does lavender symbolize for weddings?
Lavender is sometimes added to bouquets for a great scent, as a filler, but also for symbolic meaning. It's seen as a sign of being committed, devoted, and showcasing authentic love.
What flowers are good luck for a wedding?
Peonies are the most common flowers used in wedding ceremonies for good luck. Other supposedly lucky flowers include Gardenia, Hydrangeas, Marigolds, Azalea, Morning Glory, Peace Lily, Sweet Peas, and Sunflowers. Some also include clovers or bamboo in their floral arrangements.
Decor to Complement Your Wedding Flowers: My Picks
You can complement flowers with centerpieces and other decorative elements. You don't always have to pay top dollar, but little accessories can make a difference, from candles to photo luminaries to other vases and meaningful touches like religious symbols. Craft stores are a great place to look. If you're shopping online, both Etsy and Wayfair have unique and relatively affordable decorative choices. Order well in advance to ensure you get what you need by your wedding day if you do order online.
Etsy Wedding Decorations for Centerpieces
Etsy sells handmade, unique items for wedding decor– these could even give you some DIY inspiration if you're crafty. You'll find wedding wooden coasters, table numbers and cards, glass terrariums, fairy lights, mason jar sets, and even quicky or themed pieces like a miniature Eiffel Tower. I love how creative but also versatile many of these pieces are, and you're also supporting small businesses. Shop All Etsy Wedding Centerpiece Decorations Here.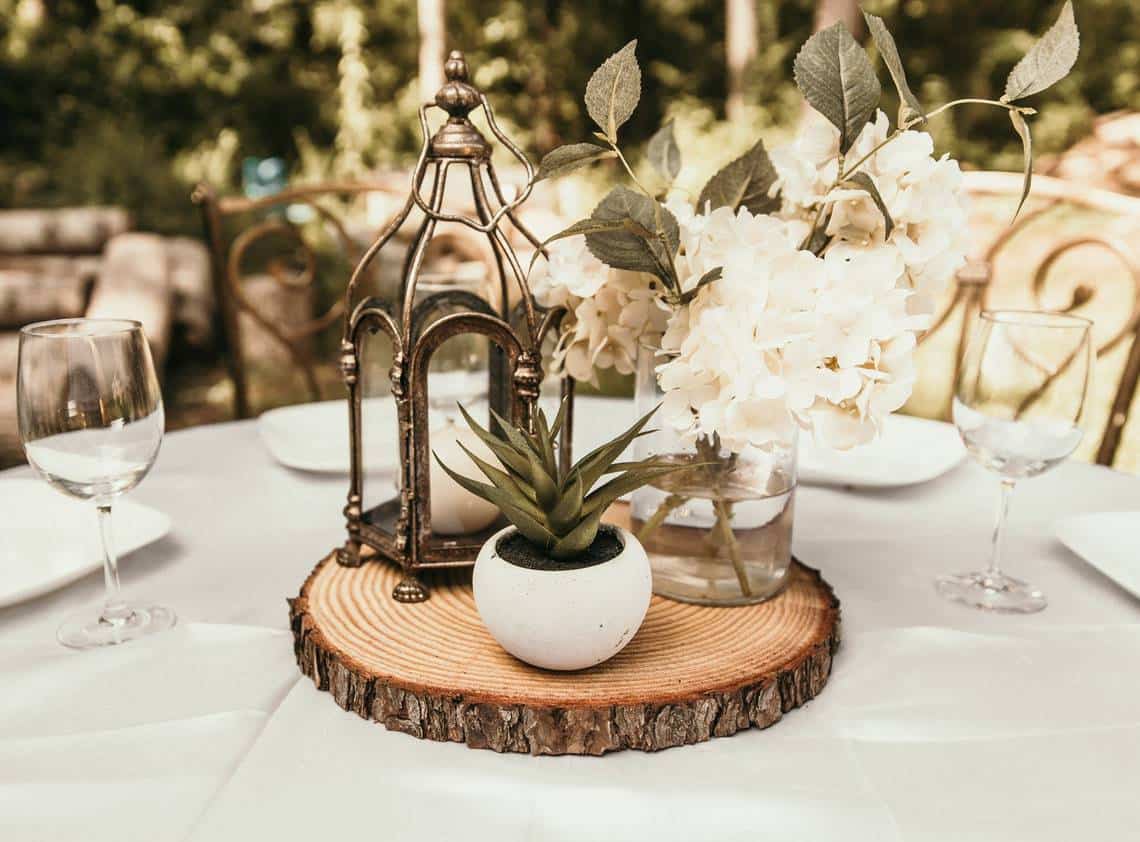 This beloved Etsy seller specialized in wood creations. Suited for rustic, outdoors, and boho weddings, real dry wood slices are the perfect way to start a centerpiece. Complete with tea candles, a lantern, and a succulent and/or the flowers of your choice. You can order the amount and size that suits you.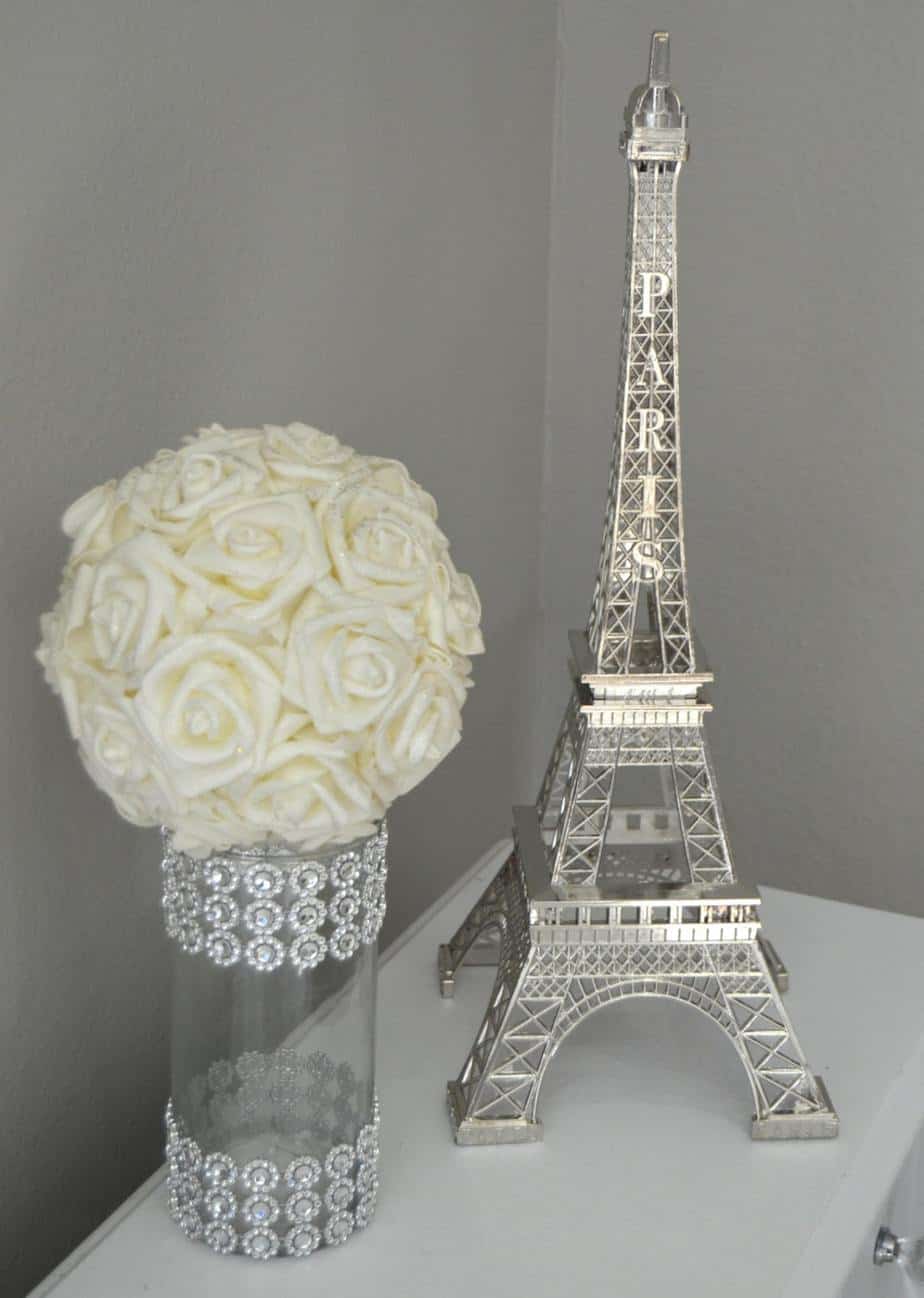 A French-themed, vintage, or glam wedding style is a fun addition with a stylish miniature Eiffel Tower. Available in a wide range of colors and sizes, you could also place this at a dessert table.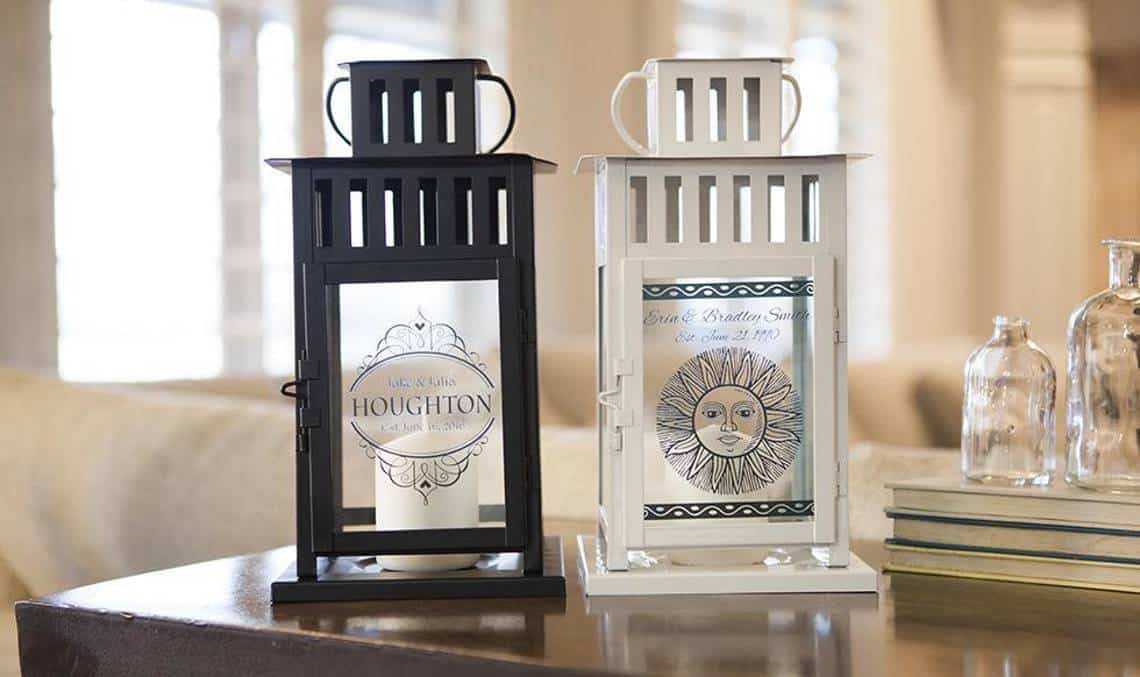 Add a personalized touch to your wedding with these customizable lanterns. Select from different designs and a custom message. Complete with a tea candle and a modest floral arrangement for a complete look.
Wayfair Wedding Decorations for Centerpieces
Wayfair offers affordable centerpiece decor and convenient shopping. Since you're not buying from individual sellers, it's also technically less risky ordering online– and you may get your decor sooner. Decor includes flower stands, luminary photograph holders, cross and heart figurines, mini gazebos, and even holiday-themed decorations for festive weddings.
Shop All Wayfair Wedding Table Centerpieces Here.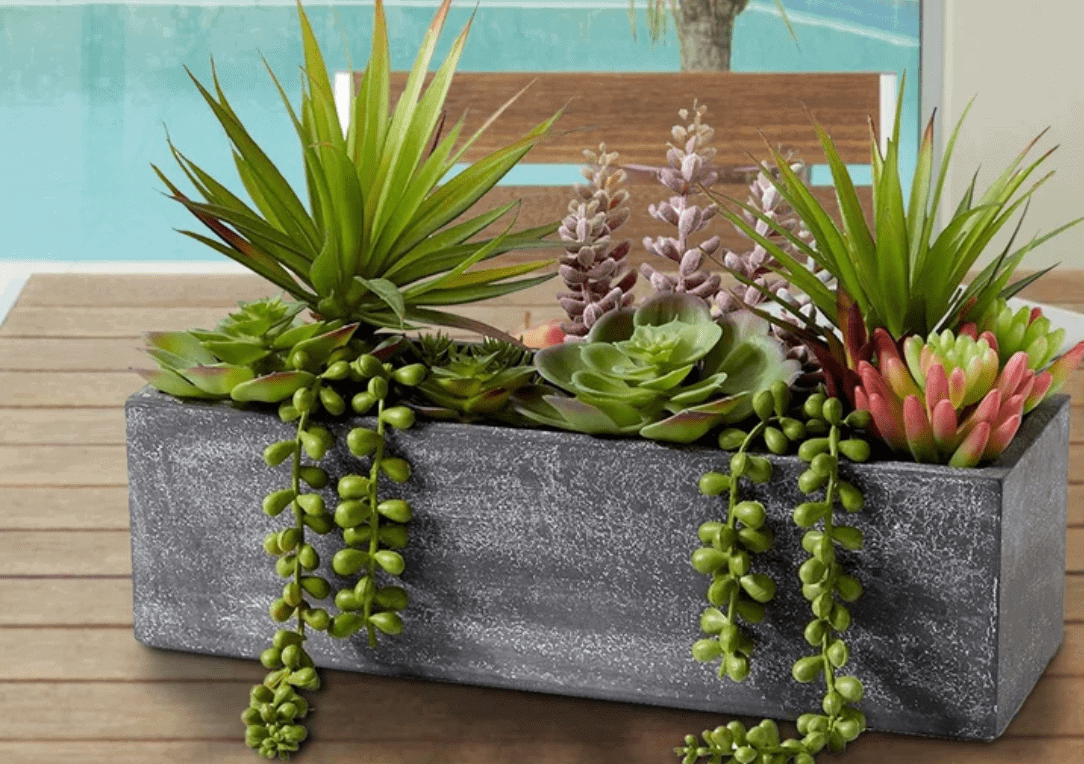 This quirky succulent planter is a great alternative to a traditional floral arrangement. The planter would work for an offbeat wedding or a warm climate. It also ships in just two days.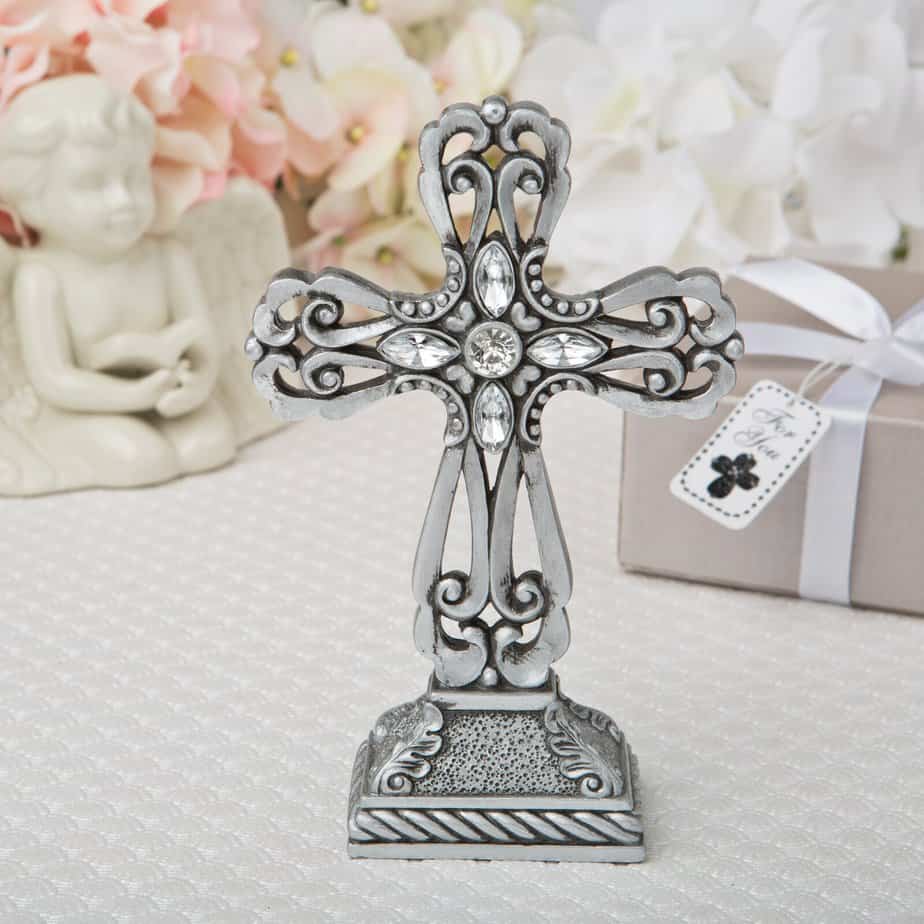 This meaningful centerpiece is lightweight and affordable. The design is versatile enough to suit any other decor.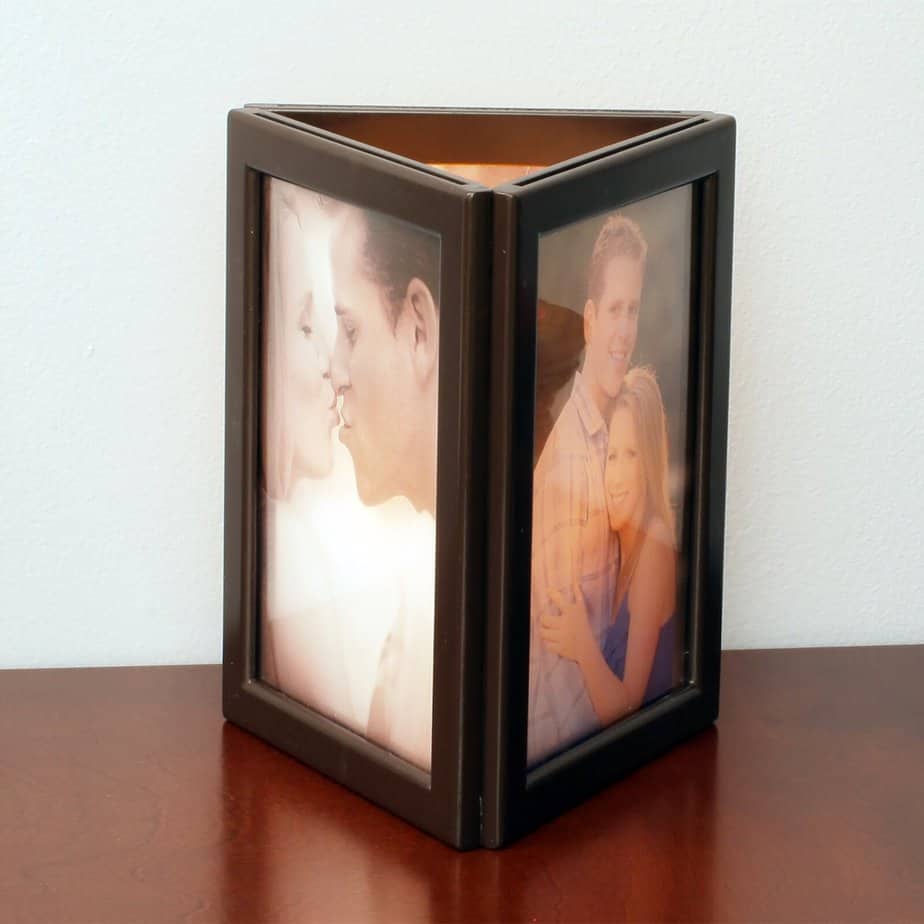 Show off your fondest memories with your guests with this 3-sided picture frame. The luminary is a personalized touch and something you can keep after the wedding.
Frequently Asked Questions
Question: What Family Members get Flowers at Weddings?
Answer: Traditionally, anyone in the bridal party will have flowers (boutonnieres for men and bouquets for women). Mothers of the bride and groom, as well as stepmother, will wear corsages. Grandmothers and close aunts may have flowers, though this is less common. Ultimately, it's up to the couple who they want to extend flowers to– and the couple or one of the couples' families usually pays for these flowers.
Question: Do the Mother of the Bride and Groom Get Flowers?
Answer: It's very common to honor the mother of the bride and the mother of the groom with wrist corsages. This is also on display during mother and son dances and through the evening and a thank you and memento for the wedding.
Question: What are The Top Ten Most Popular Flowers?
Answer: Rose, tulips, sunflowers, marigolds, daisies, orchids, carnations, and lilies are all very popular wedding flowers. The most popular flowers are peonies. However, how popular flowers do vary somewhat based upon the season of the wedding.
Final Thoughts & Flower Color Ideas
Selecting the best flowers for your wedding means setting a budget and making a plan. Our arrangement should reflect your personality, theme, and potentially the season. Just remember that spending more is not always better.
What color are wedding flowers?
Wedding flower colors can match your theme and the season. They should complement your other decor, and there are many color combinations you can try. I'll share some of my favorite color combinations below. Hopefully, these will provide some final inspiration as you plan the right flowers for your wedding.
White and Blush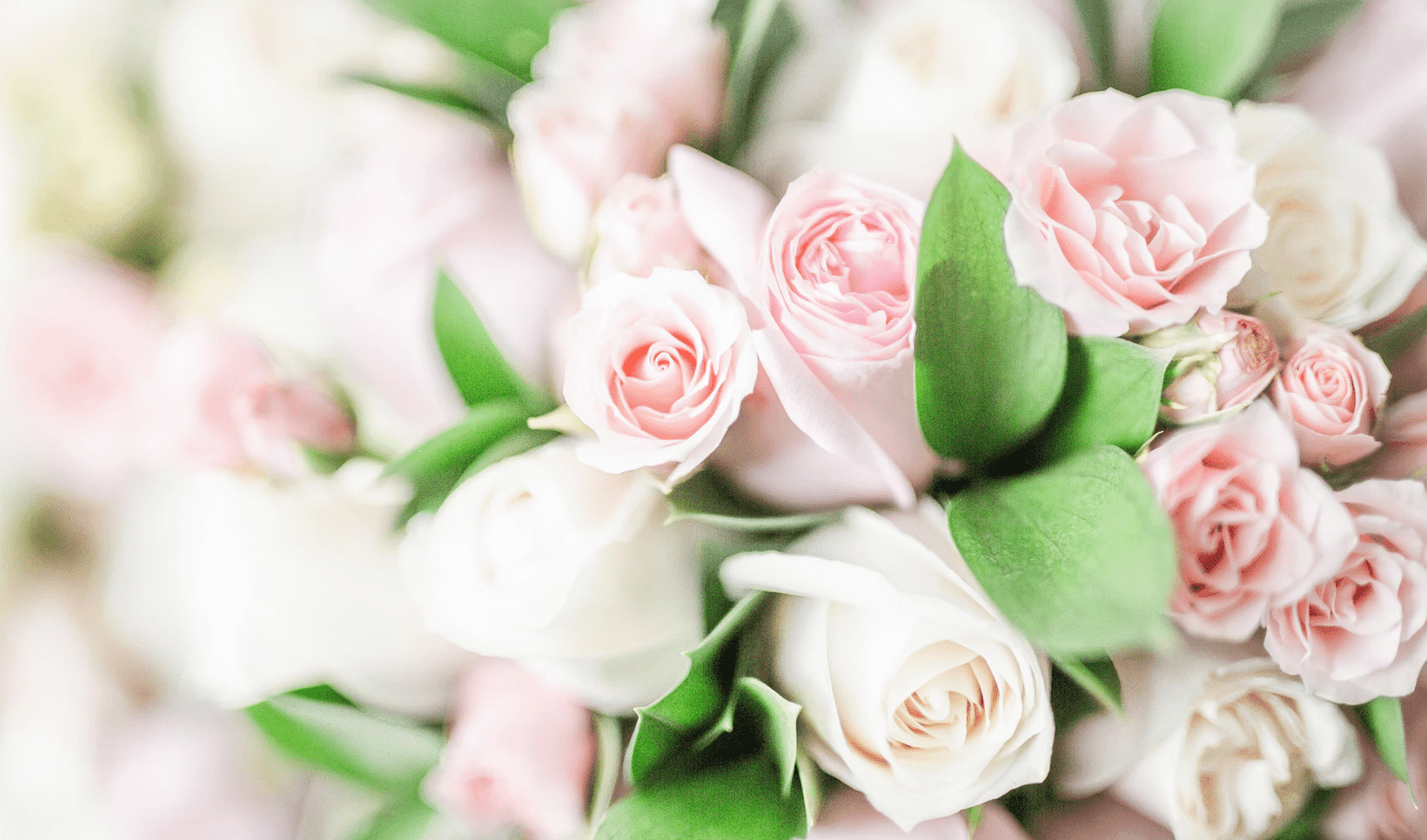 White and blush is an undeniably romantic color combination, and you can achieve it with a variety of colors– but the most classic is a simple rose bouquet. Consider for a Spring or Summer wedding. This suits everything from classic to vintage and even modern weddings. Have this plain or add a touch of green for a fresh look.
Pink, Red, and Berries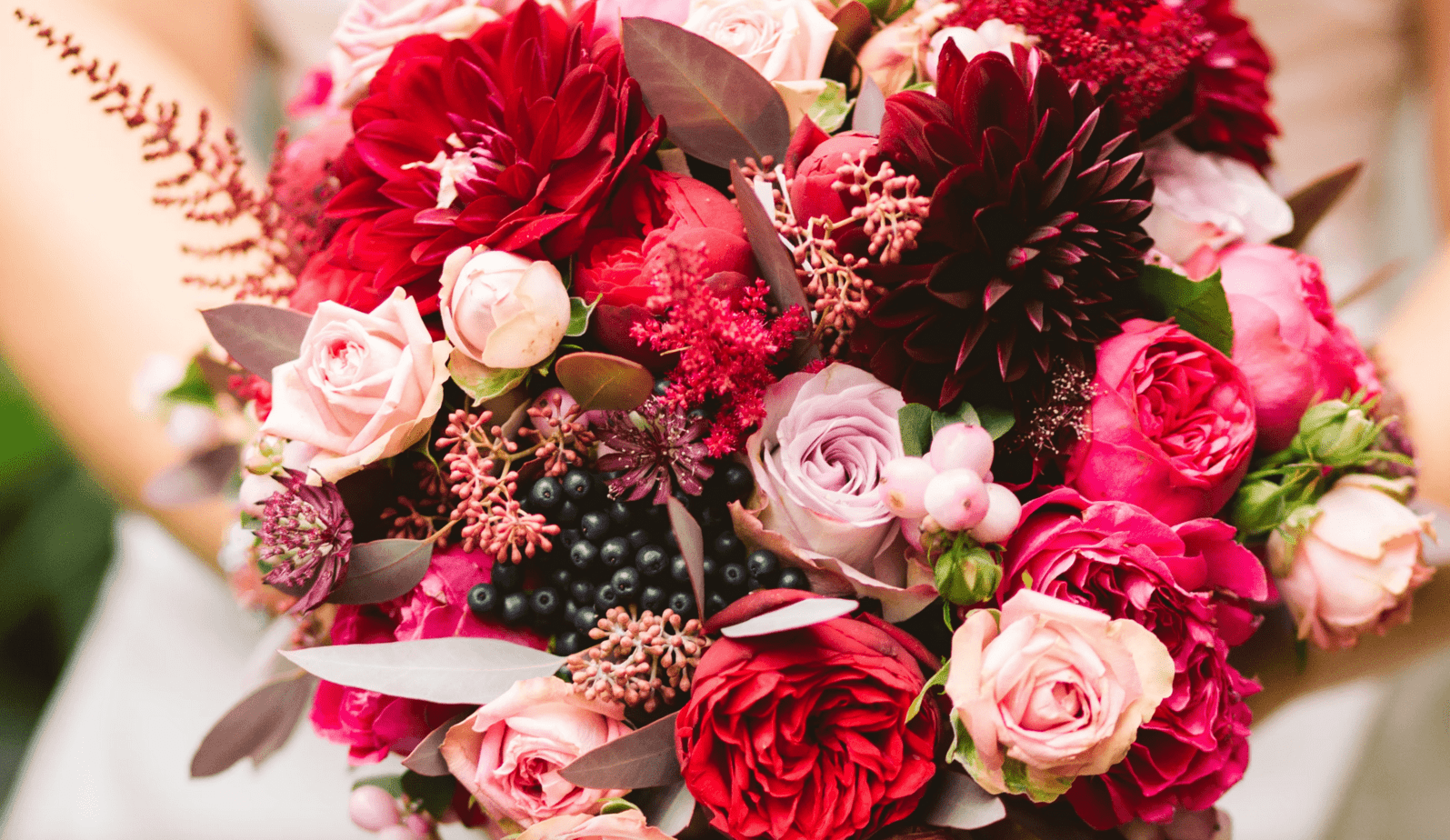 Go bold with this vibrant bouquet. These colors would even look fantastic for a pop of romance at a Winter affair. I love additions of berries and wildflowers to add dimension to a freeform bouquet.
White and Green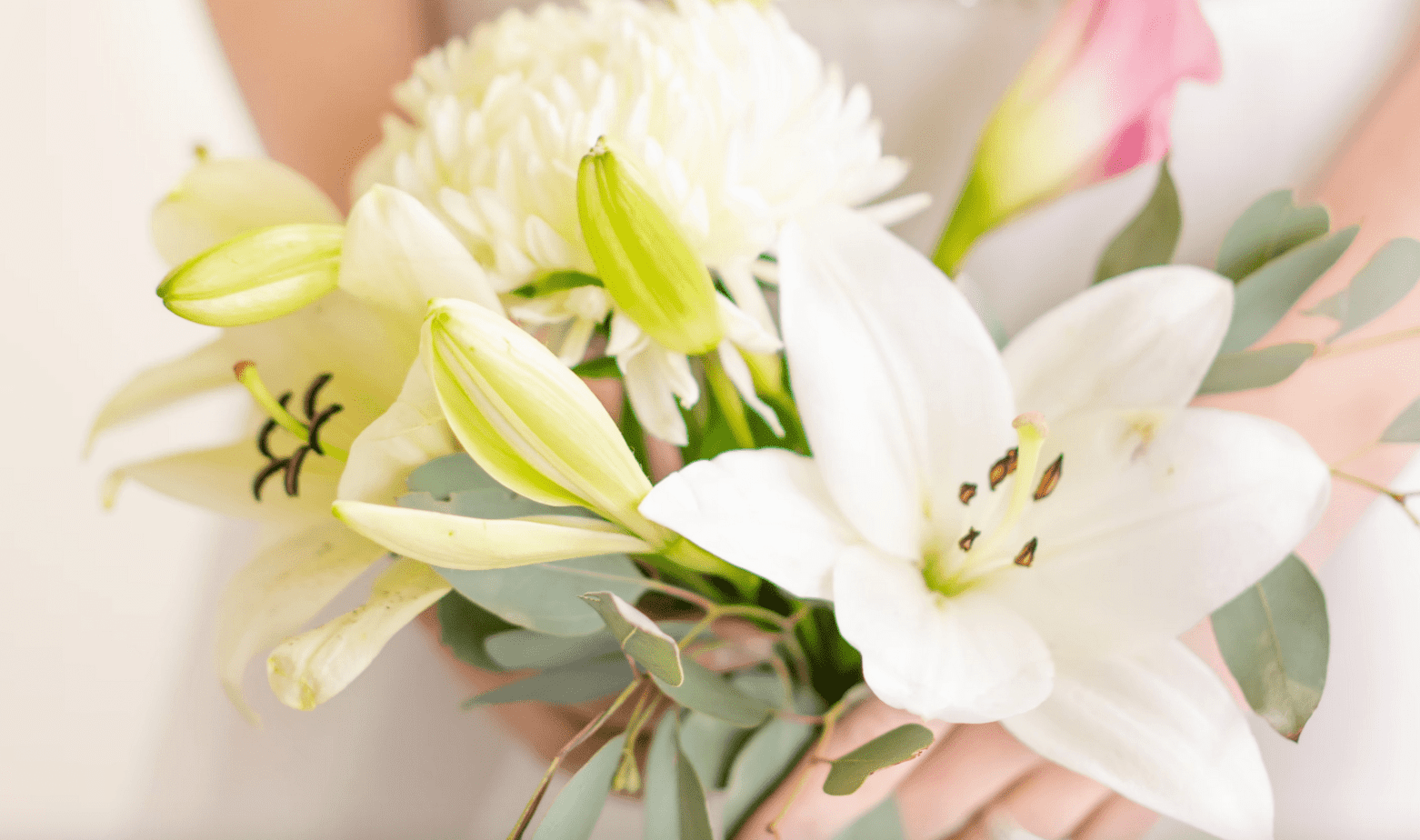 Crisp, clean, and fresh. These modern and minimalist colors are timeless and won't distract from a beautiful wedding dress.
Yellow and Blue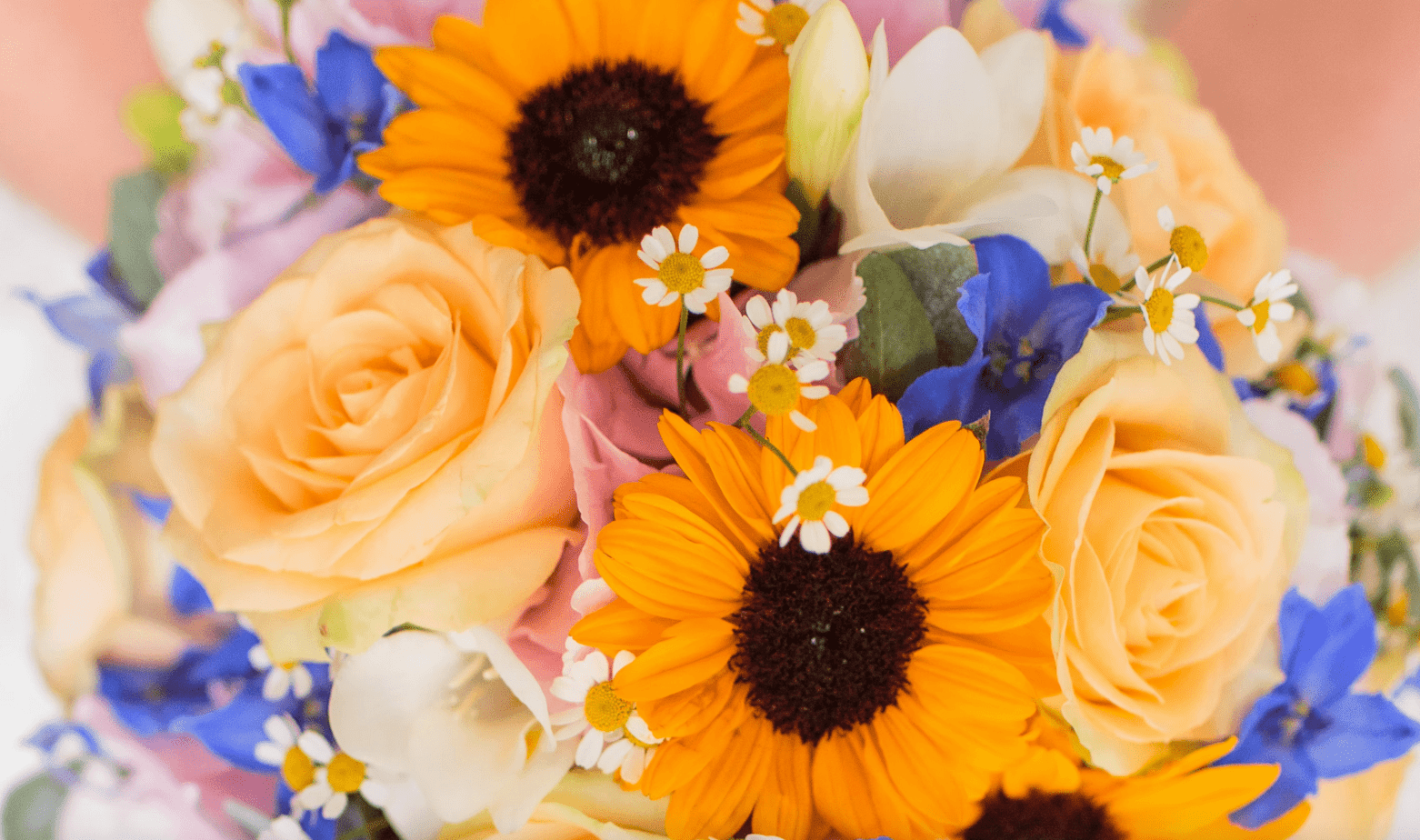 This bright play of colors is great for an early fall wedding. Blue and yellow always look fantastic together. Sprigs of daisies fill your bouquet without adding much to the cost.
Purple, White, and Pink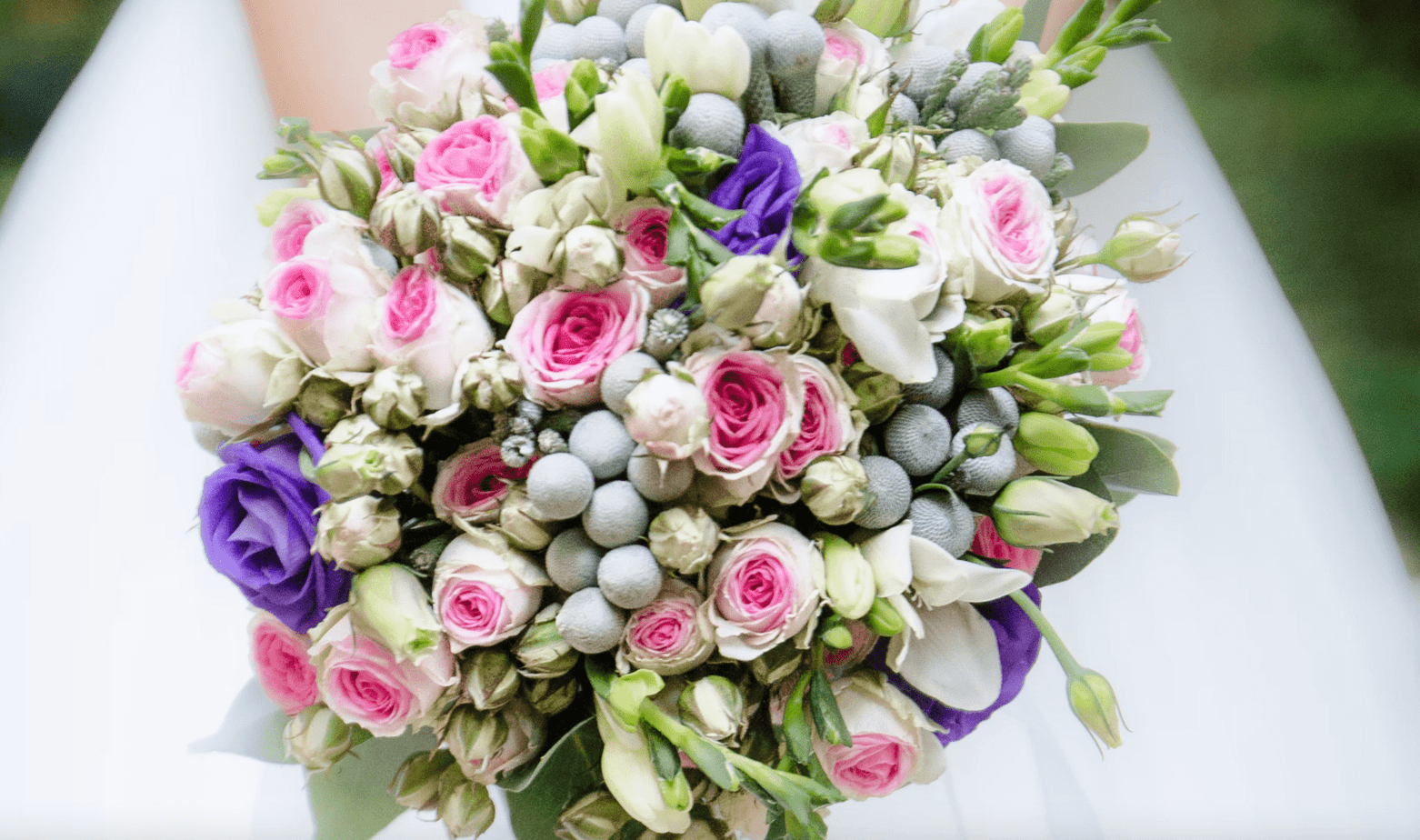 Purple and white make for a whimsical look, punctuated with green and blush pink pops to soften the look. While the colors feel modern, there are classical touches too. Your decor could carry all these colors or just one or two.
White and Ivory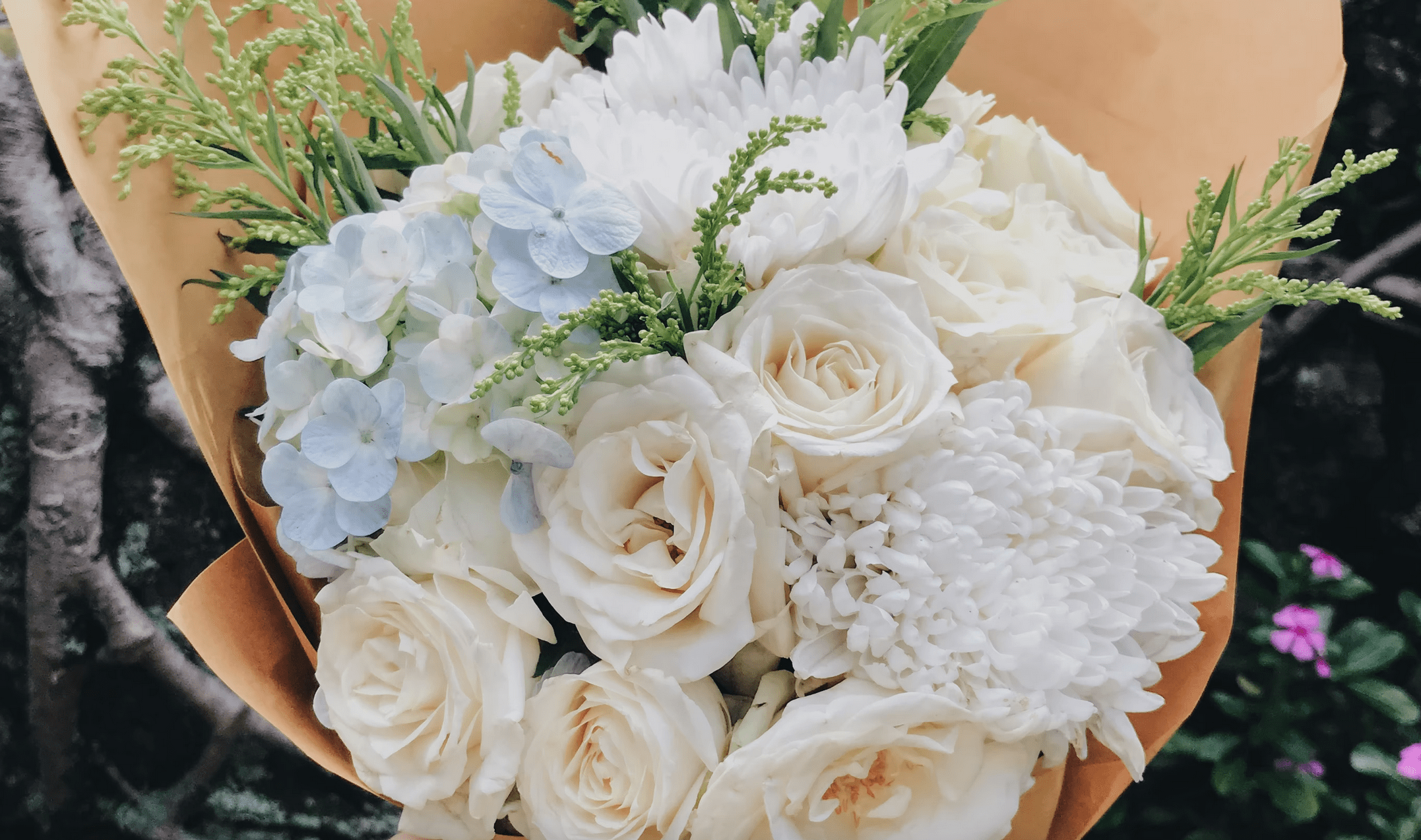 Sometimes simple is the way to go. It's hard to go wrong with a white and ivory bouquet. The look is elegant without trying too hard and would work for everything from a morning wedding to a black and white themed evening reception. Never underestimate a classic, iconic look.
Peach, Yellow and White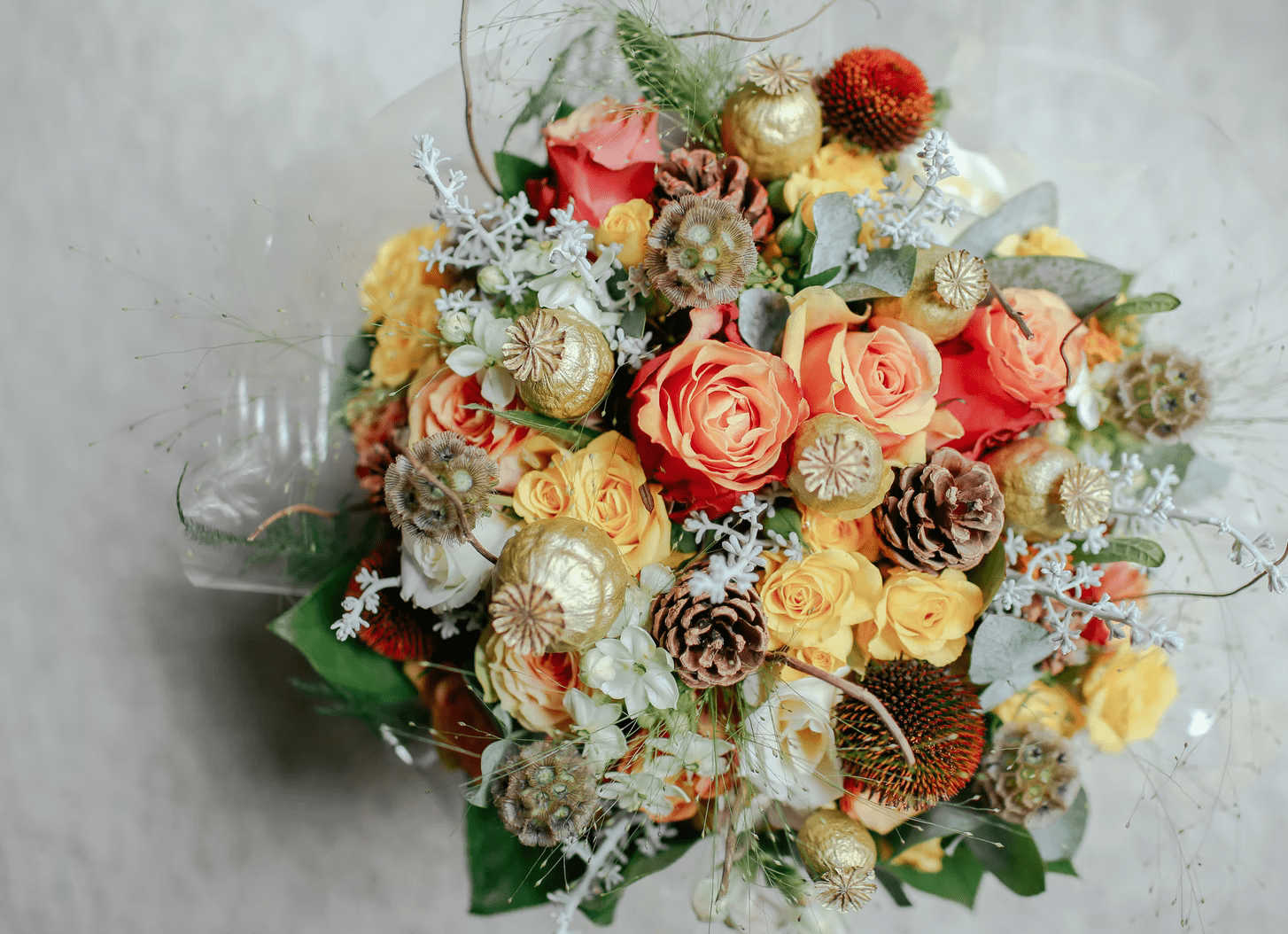 These versatile colors are at once subtle and full of character. Here, pine cones and sprigs add Autumnal touches. Swap those out for other blooms, and you also have a classic Spring color palette. You can liven this up in any way you want. While this is an oversized bouquet here, I could see these colors working even with a uniform style.
Bright Spring Hues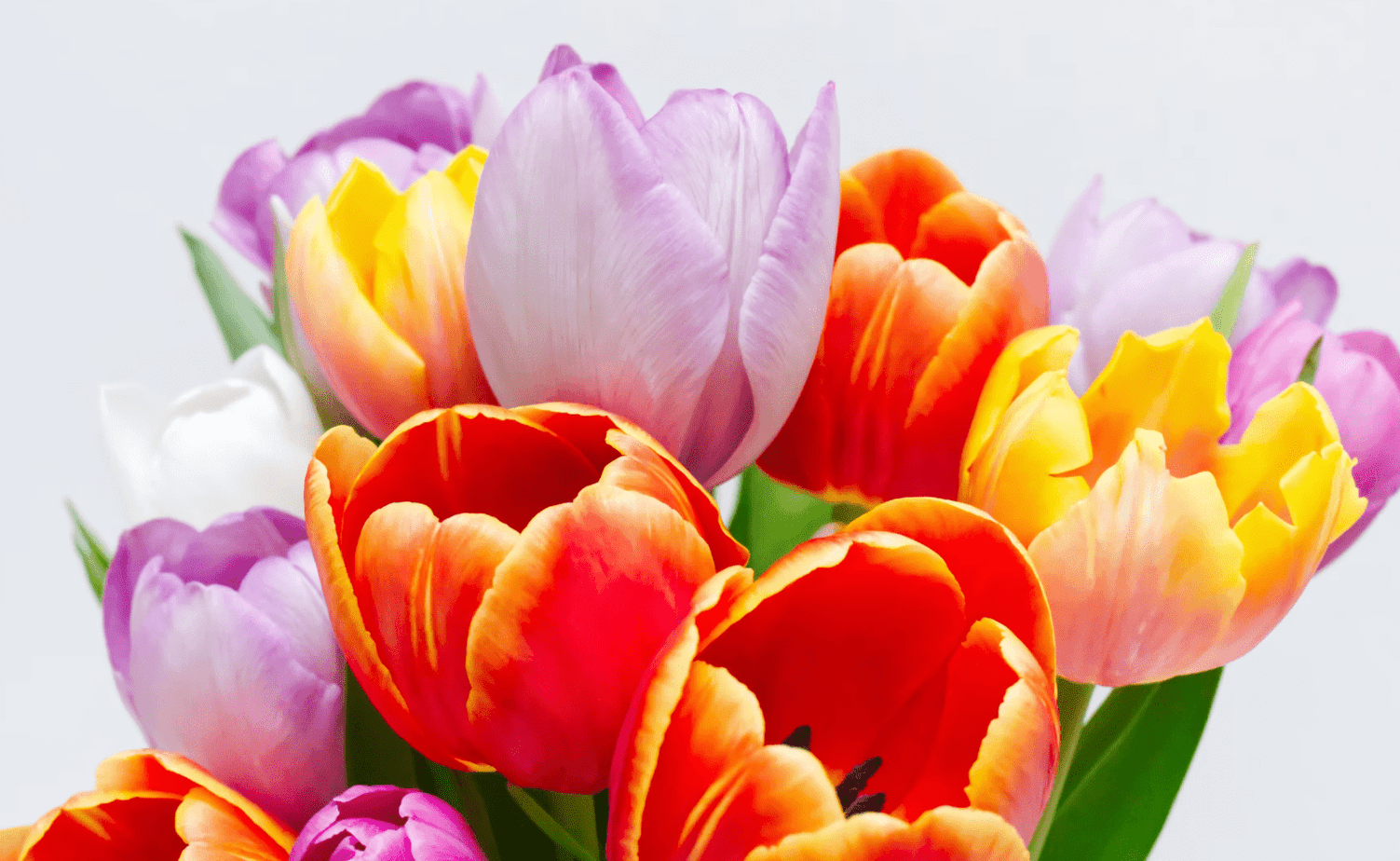 Nothing says Spring is here quite like bright pops of color. Go for as many as three or four complementary colors. Play with many flowers for a free-form, rustic bouquet. Or, as seen here, keep things modern and simple with a single flower type. You can add filler flowers, like a baby's breath, if you want a fuller bouquet.
Fuchsia, Red, and Purple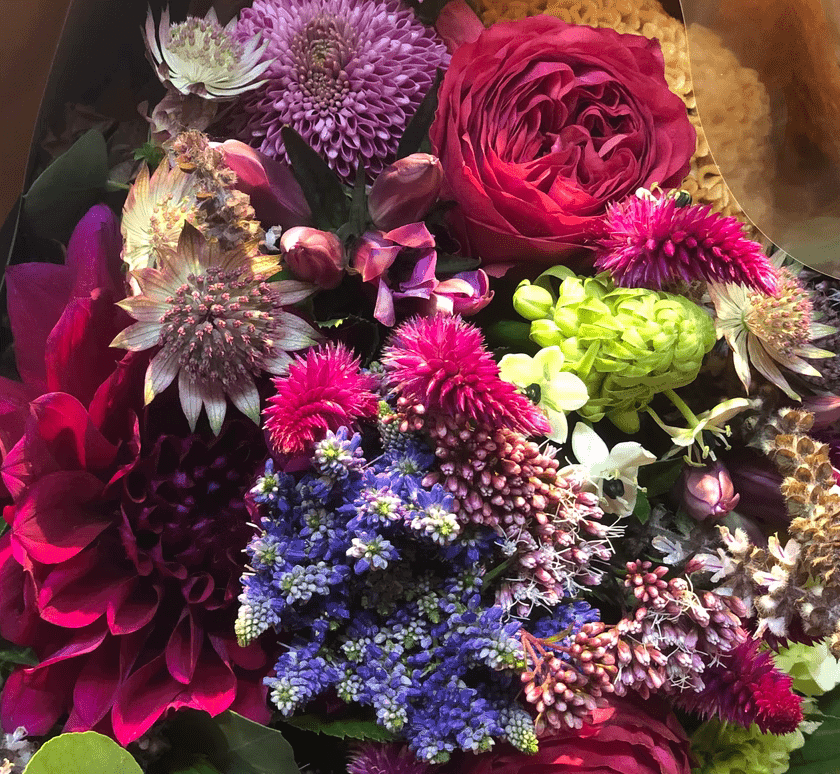 Go even bolder with these colors. The dazzling combination adds a lively touch and a festive feel to any wedding. If you want to make a dramatic statement, this color combination just may fit the bill. And because there's a nice spectrum of colors, you have many options for other decors. Play up the bolder colors and play it down by picking up the lavender tones. The pops of green tie it all together for a bright look.
Find more planning-related guides below for a perfect and stressfree wedding:
Wedding Financial Planning Guide
How to Find the Best Wedding Stationary