When you think of a wedding, it's unlikely that stationery will cross your mind. Wedding stationery is one of those things that is easy to ignore but plays an important role in making the wedding an event to remember. What's more, you will need quality stationery before the wedding day, even before you set the date.
So, how do you make sure you get the best wedding stationery? There are a lot of options on the market, both in physical and online wedding shops.
In this guide, I'll explain a few vital things to consider before buying wedding stationery and give you a few stationery options that are sure to suit your fancy.
What is Wedding Stationery?
Wedding stationery is used by marrying couples to communicate the progress of events to their guests well ahead of the actual wedding date. If you are the one getting married, wedding stationery is a good way of keeping track of all the important dates that can easily slip your mind during the planning process.
Why is Wedding Stationery Important?
In the age of electronics, physical wedding stationery can feel redundant. After all, it is simpler (and probably cheaper) to just design e-invites and send them out to your guests.
However, if timeless elegance is a key ingredient of your wedding, electronic cards just won't cut it. At the end of the day, the cards you send out will be the only physical reminder of your special day.
Wedding stationery allows you to excite your guests with a variety of materials, textures, and colors.
You and your partner can showcase your creativity, taste, humor, and love for each other through your wedding stationery. Quality stationery is memorable and will be part of you and your guests' treasure boxes for a long time.
What to Consider When Picking Wedding Stationery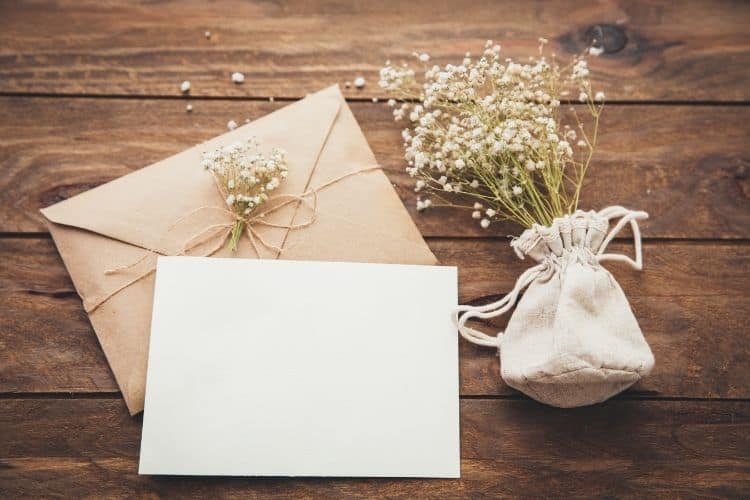 Wedding Colors
Matching your cards to the colors of your wedding is probably the most obvious and easiest thing to do. Incorporating your color scheme into the first cards you send out is a good way of giving your guests a taste of what's to come.
Instead of matching the exact colors, however, try to be more creative. You can use shades of color, especially if they help improve the readability of the cards. The pastel version of your wedding colors can be more appealing to the eye, but ensure that the font you use is bold enough to make them easy to read.
Wedding Theme
Getting your cards to match the theme of your wedding is a cool way to show your creativity. You can incorporate the theme through the design of the card and the type of material the words are printed on.
However, the best way to incorporate your theme into the cards is by the motifs on the cards. You can use flowers, pictures, paintings, and mandalas to give a hint of what's to come.
Paper Type
There are numerous materials that you can use to print your cards, and it can get confusing after a while. Here are some of the most common types:
Cotton Paper: this is probably the most common paper type for wedding cards. Cotton makes very strong papers that can still feel soft and luxurious. It is also easy and cost-effective to print on cotton. Cotton paper can be dyed into a variety of colors, making it easy to match your color scheme.
Recycled Paper: this type of paper has a particular look and feel that makes it ideal for printing cards for a rustic or environmentally conscious themed wedding. Handmade recycled paper offers that unique personal touch that will delight your guests.
Cardboard: as the name suggests, this type of paper is reminiscent of cardboard boxes. It is made by gluing multiple layers of paper on top of each other. The result is a strong, thick paper that can weather a lot of storms, including the postal system. This paper has a smooth feel and is ideal for earthy-themed weddings.
Vellum: if you are having a barnyard wedding or one that reflects old money, then this is the card material you want. Old-school vellum was made from animal skin, but the modern material is made by blending cotton and wood pulp. The result is a translucent paper with a frosted look which is often placed above an opaque paper. Vellum feels very luxurious and is great for printing on with metallic-toned ink.
Linen Finish: this type of paper is not exactly made from linen fabric. Instead, it is a cotton blend material whose surface feels smooth and luxurious. The elegance of a linen finish paper makes it ideal for wedding cards that reflect the refined tastes of the couple.
Glassine: this is another type of translucent paper that feels very smooth to the touch. Often used by artists to protect their work, glassine paper keeps up well even when consistently handled. Glassine paper makes cute envelopes that do not easily tear.
Paper Size
Most wedding cards feature a typical, rectangular 5 inch by 7-inch paper size. This lets you put all the information you need without costing a ton in postage.
A square design is more modern, and a 5.25-inch size is common. However, postage restrictions often apply to this paper size. You can also opt for a slimmer card size for some types of cards and go larger if you want to provide more information to your guests.
Cost
If you are not careful, the cost of wedding cards can quickly slip out from under you. This is because the price of cards is not uniform, depending on the material, design, and decoration you use. Additionally, postage costs can hike the budget, especially if you use non-standard paper size.
You can keep wedding card costs down by looking for a company that offers price packages for a range of different cards. Post your cards well in advance of the dates indicated so you do not have to splurge on faster mailing.
Font and Style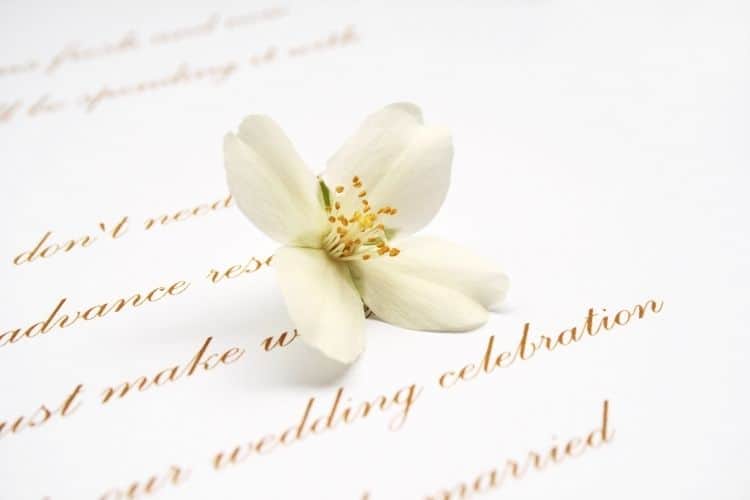 Imagine spending a lot of money and effort picking out the perfect card only for nobody to be able to read it. That would be a colossal waste.
You need to carefully think about the font you use on your wedding cards. First, consider the theme of your wedding. Cartoonish fonts will not work on cards for a formal wedding. Here are the main fonts used on wedding cards:
Serif: serif fonts are the most common type used in printing since they have an official, formal look. Serif fonts include the classic Times New Roman and Georgia. They can be identified by a decorative line at the end of a letter. Serif fonts are a good option to use on formal, classic wedding cards.
Sans Serif: this family of fonts does not have the small decorative line at the end of the letters. Therefore, the letters appear more rounded and less formal. Helvetica and Arial are the most common Sans Serif fonts.
Script: this family of fonts looks similar to actual handwriting if only a bit fancier. They are commonly used on wedding cards since they add a touch of elegance. Windsong is a popular script font used on wedding cards. Yaquote is another option for that elegant touch on your invitation cards.
Calligraphic Fonts: Like script fonts, calligraphic fonts have a handwritten feel that adds elegance to your cards. You can use old-school calligraphy fonts for traditional weddings or incorporate modern fonts similar to the script family of fonts.
Packaging
It would be pointless to pay close attention to the details on your cards then just throw them in a plain envelope for mailing. The envelope is the first thing your guests will see when they receive their cards, so you want to make it hard to miss so it does not get thrown into the pile of unopened envelopes.
Most traditional card suites have 2 envelopes: the outer one with the guest's name and their address plus stamps, and the inner one with the full titles of the guests. The inner one remains unsealed so that it can be stored in good shape. You can also use a liner to enhance the safety of the inner envelope.
Wedding Stationery Quick Tips!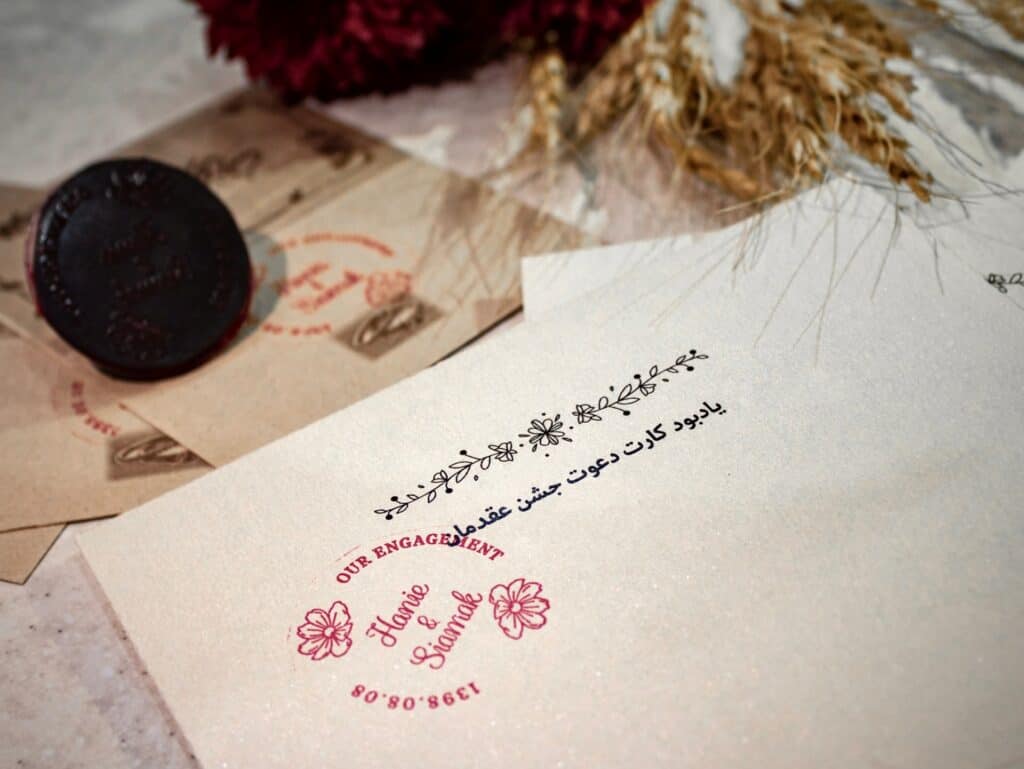 Wording
Etiquette is important when writing on your cards. The basic format of your invitation cards should be: full name and title of the hosts (parents or you and your partner); the request ('pleasure of your company at…'); couple's name; date and time of the event; location of the event; and the dress code.
Spacing
A crowded card loses a lot of the timeless elegance you want on your wedding cards. If you have a lot of information to share, opt for a larger size of cards. Additionally, send multiple cards rather than try and fit all the details in one, e.g., separate the RSVP card from the invitation.
Add Personal Touch
While wedding cards are often typical, the love you and your partner share is unique. Give your guests a taste of this through your wedding cards. Add a few pictures of you and your partner.
Proofread
There is nothing worse than sending out all your cards and then realizing there is an error. While a typo can be excused, writing down the wrong venue or dates can be disastrous. So before you send out your wedding cards, read them over to make sure the details are down correctly.
Have your partner or friends read them through to ascertain this before you spend money on postage. Otherwise, you will be stuck making calls and sending emails with the correct details after the fact to individual invitees.
Make Extra
Printing wedding cards is not cheap, and you might be tempted to pick the smallest package to save costs. However, this will be a mistake.
Order around 50 extra invitations above the number of guests on your list. Not only will this save on costs, but it will also reduce the chances that you get cards of worse quality when you need extra.
Confirm Postage
Before dumping your cards in the mailbox and hoping for the best, go over to the post office first and confirm everything, from the postage price to the expected delivery to the return policy. Once you confirm this, you can comfortably send the next batch of cards via your mailbox.
Send Early
Never wait until the last minute to send out your wedding cards. Sending them out weeks in advance, preferably around 12 weeks for the invites, shows consideration for your guests.
This way, they can check or rearrange their schedules so they can show up for your big day. Otherwise, you will end up with only a fraction of your desired guest list on D-day.
Types of Wedding Stationery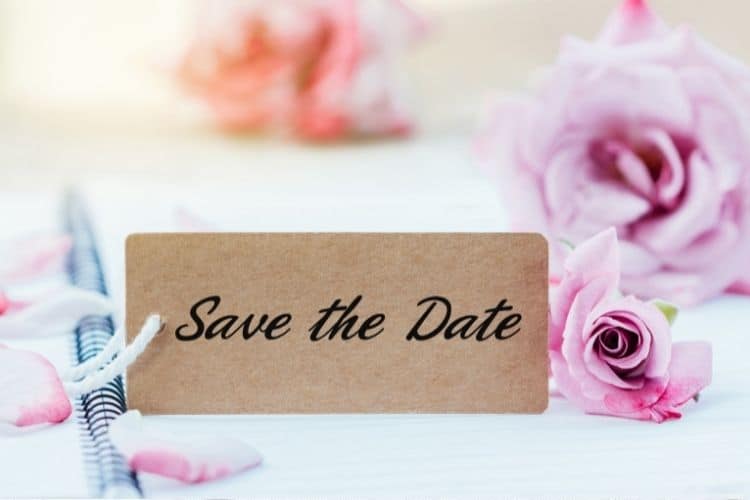 There is more to wedding stationery than just invitation cards. Here is a list of all the wedding stationery that is commonly used so you can decide which is important for your event and which isn't:
Bride/groom party selection cards
Bridal Shower Invitation Cards
Bridal Shower Thank-You Cards
Bachelor/Bachelorette Party Invitation Cards
Engagement Party Invitation Cards
Save-the-Date Cards
Wedding Invitations
Rehearsal Dinner Invitation Cards
Response Cards
Map Cards
Accommodation Cards
Wedding Programs
Reception Cards
Welcome Bag Cards
Guest Book
Escort Cards
Place Cards
Table Cards
Menus
Gift Bag Cards
Thank-You Cards
Let us take a closer look at what each card represents.
Wedding Party Stationery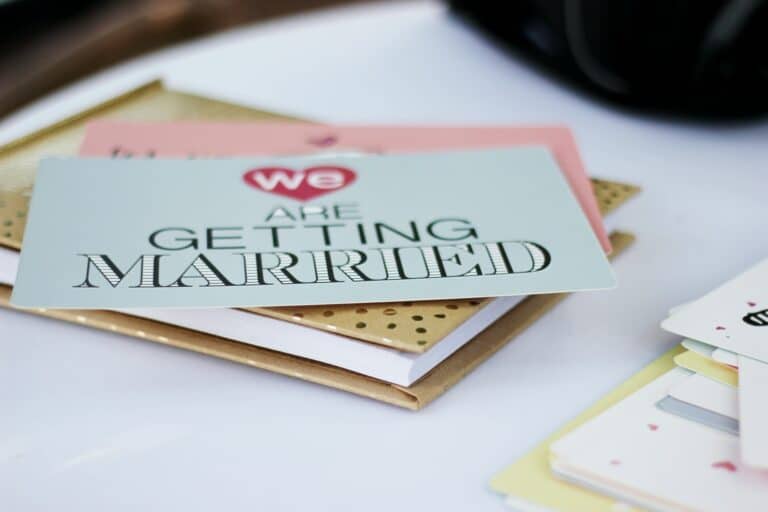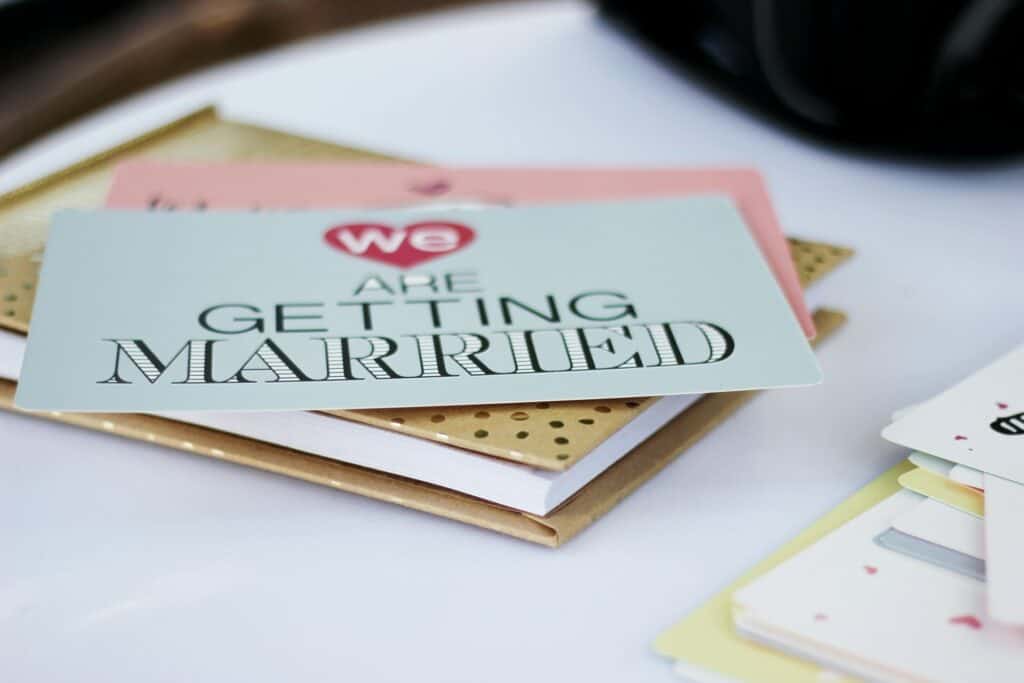 Once you get engaged, you will have to choose the bridal and/or groom party. These people will walk with you throughout the whole wedding planning process, so you definitely want them to feel special.
Bride/Groom Party Selection Cards
Selecting people to be in your wedding party is like another proposal. In addition to personally asking your friends and family to be part of your wedding, a card lends it that necessary personal touch. Again, a short note that illustrates your connection to the person will set the right mood for convening your wedding party.
Bridal Shower Invitation Cards
By the time you have your bridal shower, a lot of the wedding planning is well underway. It is likely that one of your bridesmaids will arrange a shower for you. However, unless it is a surprise party, you can add your own personal touch to the shower.
These cards do not have to match the wedding colors. Instead, pick a color that is special for you and the members of your bridal party. You can have fun with these invites, giving a hint of the festivities that guests can expect at the party.
Bridal Shower Thank-You Cards
After all the fun of the shower, surprise your girls with a thank-you card for a fun day/evening. You should do this, especially if the shower was a surprise. To the rest of the guests, a thank-you card and a small gift will have them looking forward to your big day.
Bachelor/Bachelorette Party Invitation Cards
Since the bachelor/bachelorette party mainly features the members of your party, you and your partner can go all out with these cards.
They do not have to match the theme or colors of your wedding. Instead of being official, try adding some inside jokes, including naughty ones, to these invites. It helps set the mood for the upcoming night of fun.
Pre-Wedding Stationery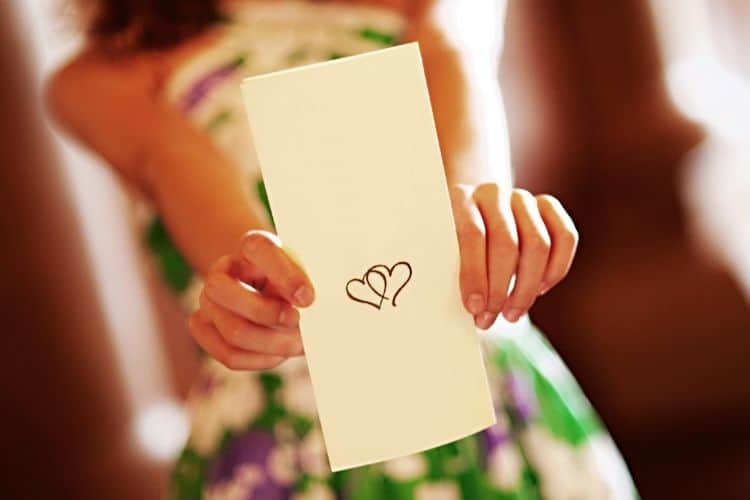 You will use this kind of party to communicate your plans to the people who make it to your guest list. Since many of the people who get the pre-wedding stationery will not be involved in the day-to-day wedding planning process, you should use these cards to give them a taste of what to expect at the wedding.
Engagement Party Invitations
You will likely hold your engagement party a few weeks after the actual engagement. Therefore, do not put too much pressure on yourself to have the invitations match the theme of your wedding.
Instead, use these cards to tell your guests the date of the party as well as the venue. Information on what they should wear is helpful, and a separate map card can make it easier for out-of-town guests to get to the venue.
Save-the-Date Cards
With these cards, you can start to give your guests a real taste of what to expect at your wedding. Good save-the-date cards will have you and your partner's full names, the date of the wedding, and the location. Precise addresses are not included since you may not have landed on a specific venue yet.
Rehearsal Dinner Invitations
Unlike the wedding invitation, the rehearsal dinner cards can be informal based on the type of event you have planned. This is especially if you are only inviting close friends and relatives. Include you and your partner's full names, the date, time, and venue of the dinner. Information on the attire is also necessary.
Wedding Invitation
This is inarguably the most important piece of wedding stationery. Include you and your partner's full names, the wedding hosts, the date and time of the wedding, and the precise address of the wedding venue. Send the invites out early so your invitees have enough time to respond and so you can refine your guest list and menu.
Response Cards
Include response cards with your wedding invitations so that your guests can RSVP without sending back the invites.
Reception Card
The reception cards can be included in the wedding invitation envelope. However, you can send them only to the guests who RSVP. Include information on the reception venue and directions. You can use them to let the guests know of accommodation venues and remove the need for accommodation cards.
Accommodation Cards
These are essential stationery for guests who are coming in from out of town. Include information about the various hotels and lodgings close to the wedding venue and the price packages available. Ensure you offer a range of options so that people do not have to splurge to attend your wedding.
Map Cards
While GPS directions might be more popular, a map card showing the different venues your guests should go to are important. This is especially if your wedding and reception are at a remote location. A traditional map plus step-by-step directions will make it easier for your guests to get to the location on time.
Wedding Stationery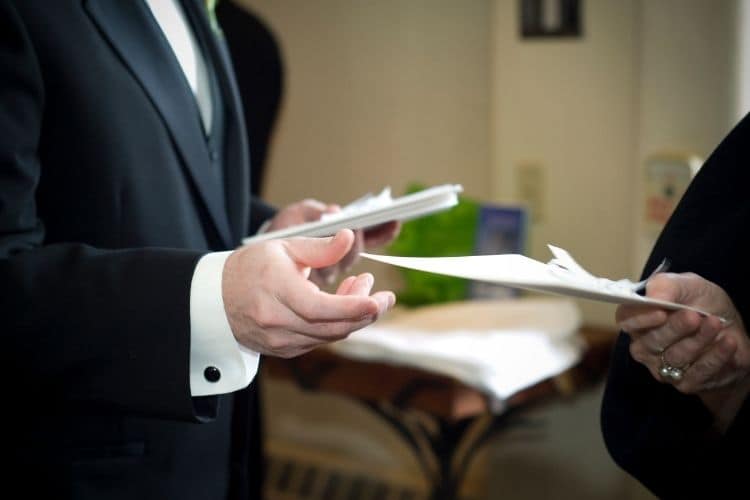 This category of cards can be given on the wedding day, which saves on postage costs.
Wedding Program
The ceremony program is a good way of letting your guests know the sequence of events during the big day. You should include the names of the wedding party, the officiants, and the time and duration for each event. If any songs are going to be sung, write the lyrics on the program so your guests can follow along.
Welcome Bag Cards
You can give your guests a welcome bag as they come through the door filled with all the other cards they will need for the day. A personal note from you and your partner is a great way of making them feel welcome and prepared for the day.
Guest Book
Guest books are a great way of adding sentiment to your big day. Have your guests write down their names and wishes for you and your partner. You can keep the bound book as a memento of that special day.
Escort Cards
Your visitors will really appreciate a card that shows them the seating arrangements of the wedding and reception venue. An escort card should also include the name of the guests occupying the table and surrounding tables. This makes it easier for your guests to socialize.
Place Cards
You will use these cards to show the guest their assigned table. A place card should have the name of the guest and the exact seat they should occupy. The first name and an initial are enough for these cards.
Table Cards
Table cards are placed in the middle of each table at the reception. They make it easy for your guests to navigate to their seating placements, reducing confusion and congestion.
Menus
Cute menus in front of each seat at the reception help your guests know what foods are available. This way, whether their food is delivered by wait staff or if it's a buffet, they know what exactly they will get.
Gift Thank-You Cards
If you have little mementos for your guests at the end of the reception, and you should, a thank-you card wrapped with the gift is a nice send-off to thank them for attending.
Post-Wedding Stationery
After the wedding, you probably want to just go on your honeymoon and relax. However, there is one more piece of stationery you need to get out of the way before walking into eternal wedded bliss.
Thank-You Cards
After the honeymoon, you and your new spouse should partner up and send individual thank-you notes to the guests who brought you gifts. Writing a card after opening a gift makes it easier to track who to address the cards to.
My Top Recommendations for the Best Wedding Stationery
Lone Star Art RSVP Postcards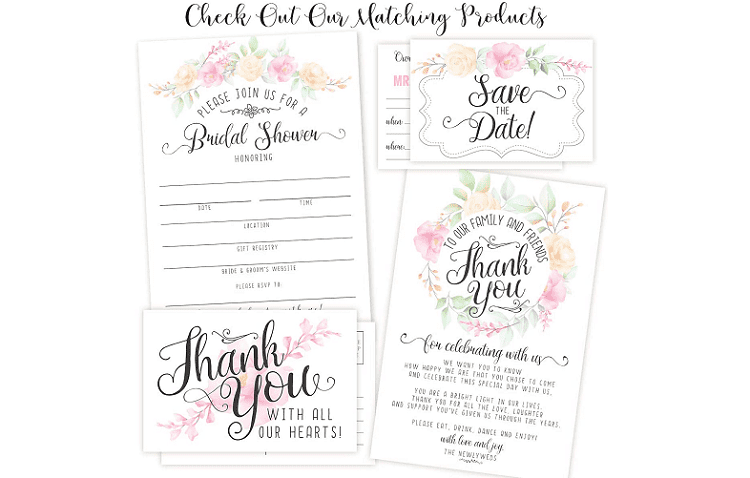 These 4″ by 6″ RSVP Postcards from Lone Star Art will come in handy when you send out your wedding invitation cards. Designed with a floral pattern on the top, the colors can match a number of wedding themes.
However, they have a simple, uncluttered look. They are also blank on one side so your guests can reply freely. They come in a set of 50, so you can make a lot of savings.
Pros
They are designed from strong material that does not easily tear.
Can hold stamps thus can be mailed without an envelope.
The beautiful floral design matches a variety of wedding themes.
Easy to customize to suit your wedding.
Feature a simple, minimalist design.
Cons
The floral design may not go with a lot of wedding themes.
Durabasics Store Thank You Cards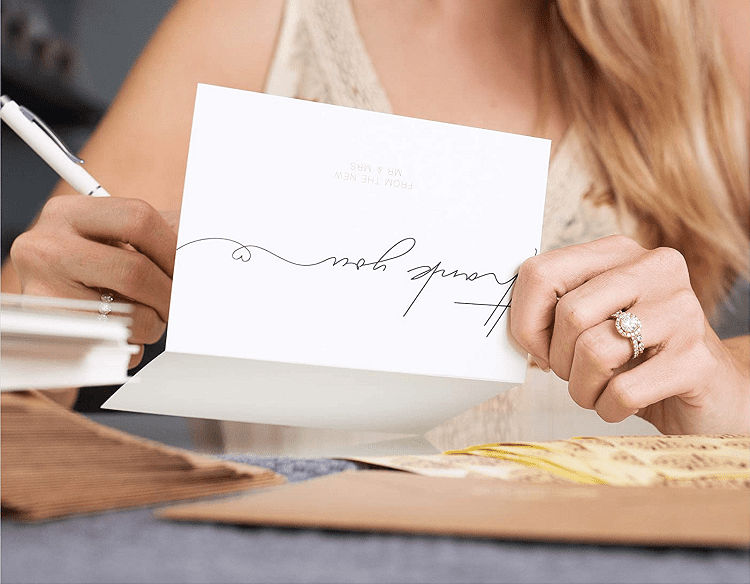 This pack of 120 Thank You Cards from Durabasics Store will come in handy whenever you need to send thank you notes. The cards are made from thick paper and come with moisture-sealed envelopes for postage.
Their plain, white color matches a variety of wedding themes. You can easily use them after a bridal shower and after the wedding to thank your guests for their attendance.
Pros
High-quality thick paper is resistant to wear and tear.
Easy to write on without the ink smearing.
They are plainly colored to go with multiple themes and color schemes.
Matching envelopes reduce the hassle of mailing.
Cons
The envelope flaps can be difficult to seal together.
Best Paper Greetings Kraft Rustic Paper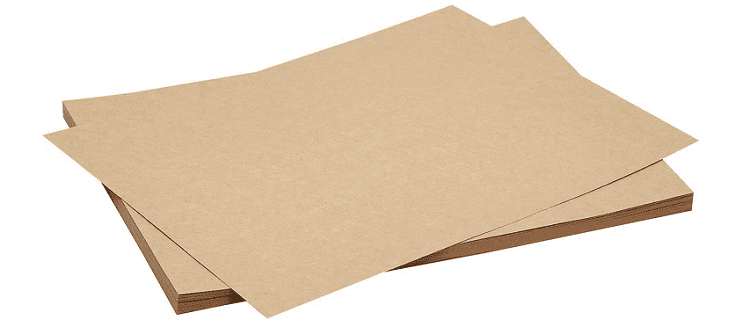 If you are looking for paper to use for your wedding stationery, these 48 sheets of Kraft Rustic Paper will make a great fit. These are letter-size stationery sheets that you can write or print on without fearing that they will tear.
The rustic design of this set adds a touch of class to your wedding stationery. They come with matching envelopes to make postage easier.
Pros
Large enough to accommodate a variety of details.
Matching envelopes reduce postage costs.
Blank so they are easy to personalize.
Can be written or printed on.
Cons
The set is made from regular art paper.
Gift Boutique Store Vintage Stationery Paper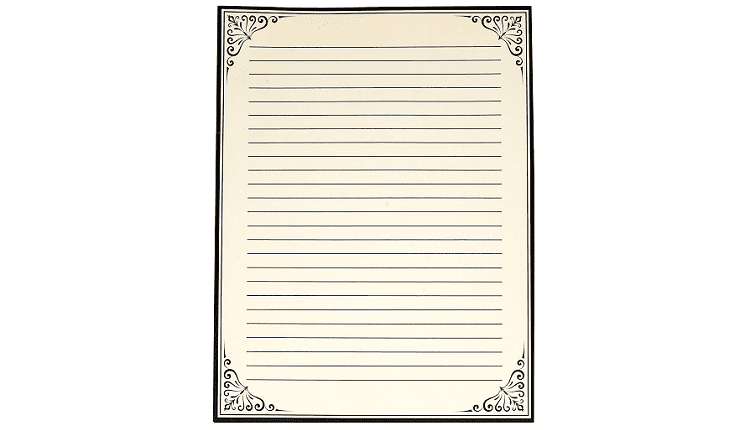 If you are having a vintage or traditional wedding, the Vintage Stationery Paper from Gift Boutique Store may just fit your bill. This is a set of 100 letter-size papers that are ruled on one side to enhance the precision of your writing. They are great for handwriting or calligraphy without the ink seeping through to the other side.
Pros
Strong paper that does not let the ink bleed through.
Ruled on one side to enhance the appearance of your handwriting.
Design on the edges emphasizes the vintage look.
Smooth to allow the pen to glide on.
Cons
Only one side has the retro, cream color.
Frequently Asked Questions
Question: When Should I Order My Wedding Stationery?
Answer: Start shopping for your wedding stationery at least 6 months before the date of your wedding. Then, once you locate a vendor you like, make your order around 4 months before D-day, allowing for at least a week for each batch to be printed. This way, you can send out the cards at least 8 weeks in advance.
Question: What if There is a Printing Mistake on My Wedding Stationery?
Answer: Before you get the entire batch of cards from the printer, have a sample sent first for you to confirm the details. Proofread and ensure no errors on the cards before giving the go-ahead for the rest to be printed.
Question: How do I Save Costs With My Wedding Stationery?
Answer: Aside from the big day, there are a lot of wedding-related events and stationery to go with it. If you are not careful, a lot of your wedding budget can go to the stationery.
To save, make use of multipurpose cards. For example, your wedding invitation can have details about the wedding and reception venues. Place cards can also act as table cards and vice versa.
Conclusion: How to Find the Best Wedding Stationery
Wedding stationery is an integral part of the wedding process. You will use it almost from the minute you get engaged to well beyond your wedding day.
From the recommendations listed above, Best Paper Greetings Kraft Rustic Paper set takes the cake. The papers have a cute, rustic look and have a uniform design on the front and back.
They are also blank so that you can personalize the message to your tastes. You can choose to handwrite or print your message. The fact that the set comes with matching envelopes is the icing on the cake.
Find more planning-related guides below for a perfect and stressfree wedding:
Wedding Food and Drink Planning: To Delight your Guests
Wedding Financial Planning Guide