From a classically elegant chignon to a boho side braid adorned with freshly picked flowers, finding the perfect wedding hairstyle is just a matter of looking. And now's a better time than ever to explore fabulous wedding hair ideas.
Bridal Fashion Week is always an exciting time to see trends a full year ahead. From glamorous wedding gowns to dazzling accessories, Bridal Fashion Week never fails to interest, and the latest one forecasts some fabulous hair accessories and styles for Fall 2022.
Nostalgia and elegance collide for projected trends in Fall 2022. Vintage and glamorous touches were on show with gloves, birdcage veils, and tights. By adding accessories like chandelier earrings and sparkling gemstone capes, the future is looking bright for dazzling looks. 
But it wasn't all about vintage glamour. The Bridal Fashion Week also showed that Fall 2022 will be a fabulous year for turning convention on its head. Glasses, choker necklaces, and pantsuits show that 2022 will be about mixing beautiful traditions with modern updates.
But perhaps the most underplayed but beautiful looks were pulled off with wedding hair ideas- think loose glossy long locks, pearl-studded chignon updos, natural curls, and even loose ponytails with elegant accessories. Modern with classic vintage touches are very in. 
Of course, you don't need to attend Bridal Fashion Week to select the best wedding hairstyles and accessories for you. This guide will tell you all you need to know about cutting your hair, coloring your hair, and picking the right styles and accessories for your wedding, 
Should I Color or Cut my Hair for my Wedding?
Many brides are tempted to color their hair or cut it before their wedding day. For some, that just means touching up their current look. For others, it's a way to 'wow' with an unexpected look. There is no need to color your hair if you're not interested. But if you do want to color your hair, there are smart ways to go about it. 
What Color Should I Dye my Hair for my Wedding?
Many brides try for drastic changes– with mixed results. While I understand the excitement of exploring a new hair color, it doesn't come without risks. What you don't want is to try a brand new color before your wedding day– then have to rush to correct it (if you can). If you want to play it safe, stylists recommend going one shade lighter (or darker) than your natural hair color. This is a great way to update your look while still providing a natural look and less risk of damaging your hair. This is the best option also if you've never dyed your hair before. 
What Hair Color Looks Best With a Wedding Dress?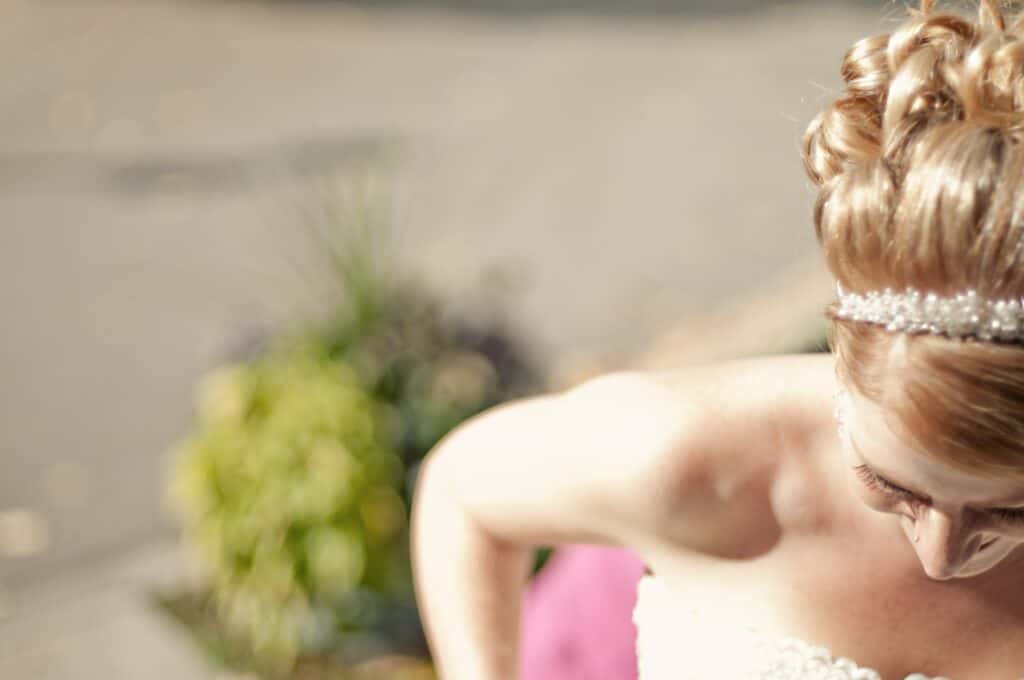 As you know, wedding dresses are no longer limited to white or ivory. While blush and colored wedding dresses are trickier to find, they do exist– and are growing with popularity. But most people ask this question assuming that they're looking at a Western, white wedding dress. Brunette colors– such as natural and dark brown, ash brown, chocolate brown, chestnut brown, and copper are often mentioned. Deeper hues tend to pop more against light colors. In my opinion, selecting your hair color solely on your wedding dress isn't the best idea.
Instead, consider your complexion. You want cooler tone hair if you have cool-toned skin, while warm tones fare better with warm and coppery tones. If you aren't sure what suits you, I recommend watching Brad Mondo's Guide to the Best Hair Color For Your Skin Tone. This ensures that if you do opt for new hair color, it'll flatter your skin. 
Is it Better to Have Clean or Dirty Hair When Getting Highlights?
Whether you're getting lowlights, highlights, or a related hair treatment, it's preferable to come in with your hair unwashed (two to three days); this also applies to getting your hair dyed. Clean hair reduces the absorption of color for your hair cuticles. 
How soon Before your Wedding Should you Color Your Hair?
Coloring your hair around two weeks before a wedding is best. This allows time for the color to settle and you to decide if any adjustments need to be made– while still providing a fresh, vibrant color. 
Should I Cut my Hair Before my Wedding?
Cutting, like coloring, depends on what you want to do. A trim is recommended and can keep your hair healthy and fresh for your wedding day. For a trim, get your hair cut about a week before your wedding. If you're looking to try a new style, aim for a 3-4 week window for your wedding day. 
Consult a professional hairstylist you trust and bring images of your desired cut; I recommend a bit longer than you think you want– it can always be corrected and trimmed down, but if you cut your hair short, you don't want to be shocked. In other words: if you want to try something different, it should be in your comfort zone. Right before your wedding isn't the best time to experiment with length. 
Can you Do Your Hair for Your Wedding?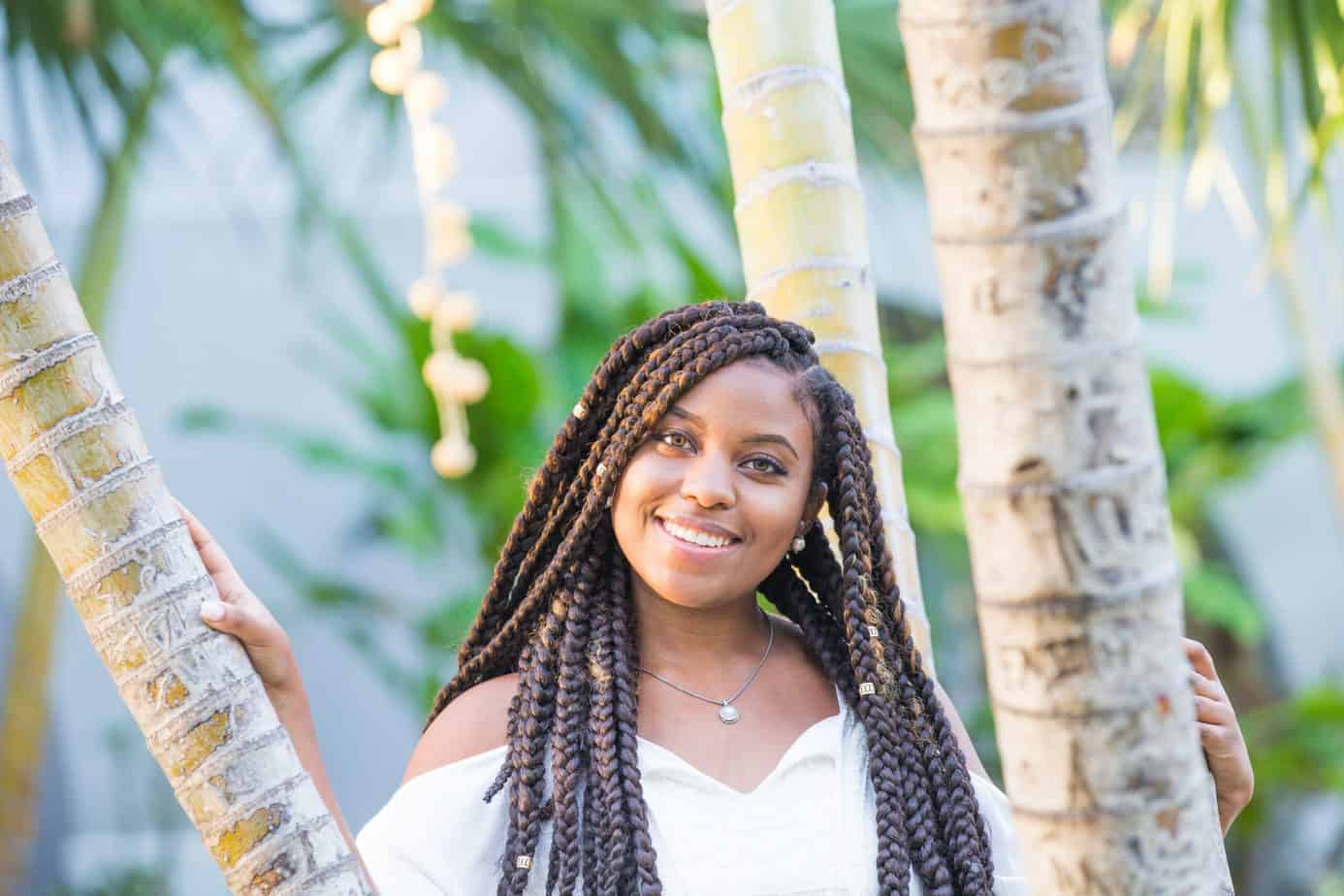 If you don't plan on coloring or cutting your hair, then it's possible to do your hair. Simple styles can be mimicked by watching tutorial videos. If you happen to be gifted or a trained hairstylist, go for it. The mistake is assuming that you can pull something off– only to get to your wedding day and be disappointed at best. If you do want to save money by doing hair yourself, give it a test run. You should consider a test run even with a hairstylist. 
Do Brides Need a Hair Trial?
A hair trial is a way to see how a hairstyle will look for your wedding day.  Hair trials allow you to see more or less what you'll look like, as well as provide feedback and suggestions. Hair trials are by no means required, and for more simple styles with a trusted stylist, you may not need to get one. But for other brides, it provides peace of mind. 
How Long do Hair Trials Take?
Hair trials vary in length depending on the complexity of your desired hairstyle. Trials can take as long as two hours, though less complex styles will take far less time. You should also do your trial a few months before your wedding day– allowing for both time in your busy schedule and time to make any necessary changes. 
Do you Tip for a Hair Trial?
Hair trials are still a service, and that means you should still tip. Many stylists rely on tips, and it's important to treat your stylist well. I recommend a tip of 15 to 20 percent, though you may pick a tip that's comfortable for you. 
How Should I Wear my Hair for my Wedding?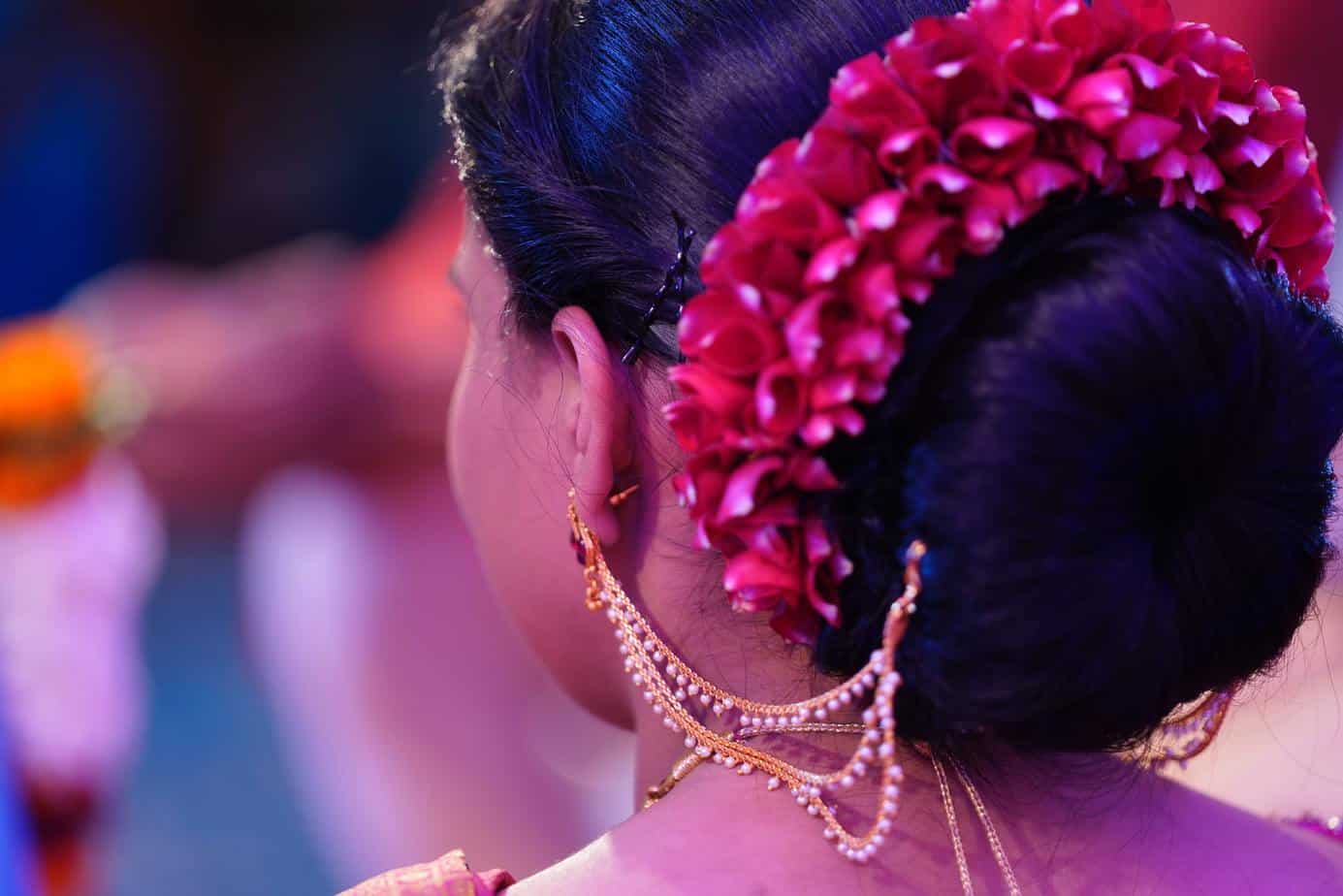 Deciding how to wear your hair for your wedding is a process, one that involves the style of your wedding dress, wedding theme, and your personal preferences. There is no one best way to wear your hair, but there are some principles to follow. 
When Should I Wash my Hair Before my Wedding?
Try washing your hair the night before your wedding vs. the day of. Of course, your unique hair texture and whether it's oily or dry should play a role. A sulfate-free shampoo and conditioner will remove debris and leave your hair clean. Try to select your shampoo and conditioner a month before your wedding so you know how it works for you. 
How Do you Decide If you Should Wear your Hair up or Down for a Wedding?
Your first decision is whether to wear your hair up or down. For some, a half-up hairstyle makes sense, especially if you love the look of an updo but have a short haircut. 
Necklines 
If you have the option to wear your hair up or down, you need to consider the neckline of your dress or suit. Strapless, including scoop, sweetheart, and V-necklines, look lovely with hair down. High and illusion necklines are suited with half up or updos. The general principle is that high necklines look best with an updo and vice versa. 
Comfort and Style
You also want to opt for a wedding hair look that suits your personality. Some experts recommend you simply opt for a more formal twist on your usual go-to. And style should play a factor. If you're opting for a beachy aesthetic, a formal, traditional updo may not make sense. 
Wedding Hair Style Ideas To Try Now
But what wedding hairstyle is right for you? While I can't answer that, what I can do is provide some excellent hair ideas. Here are some of my favorite looks, from modern to elegant to boho and everything in between. 
Modern Glam High Bun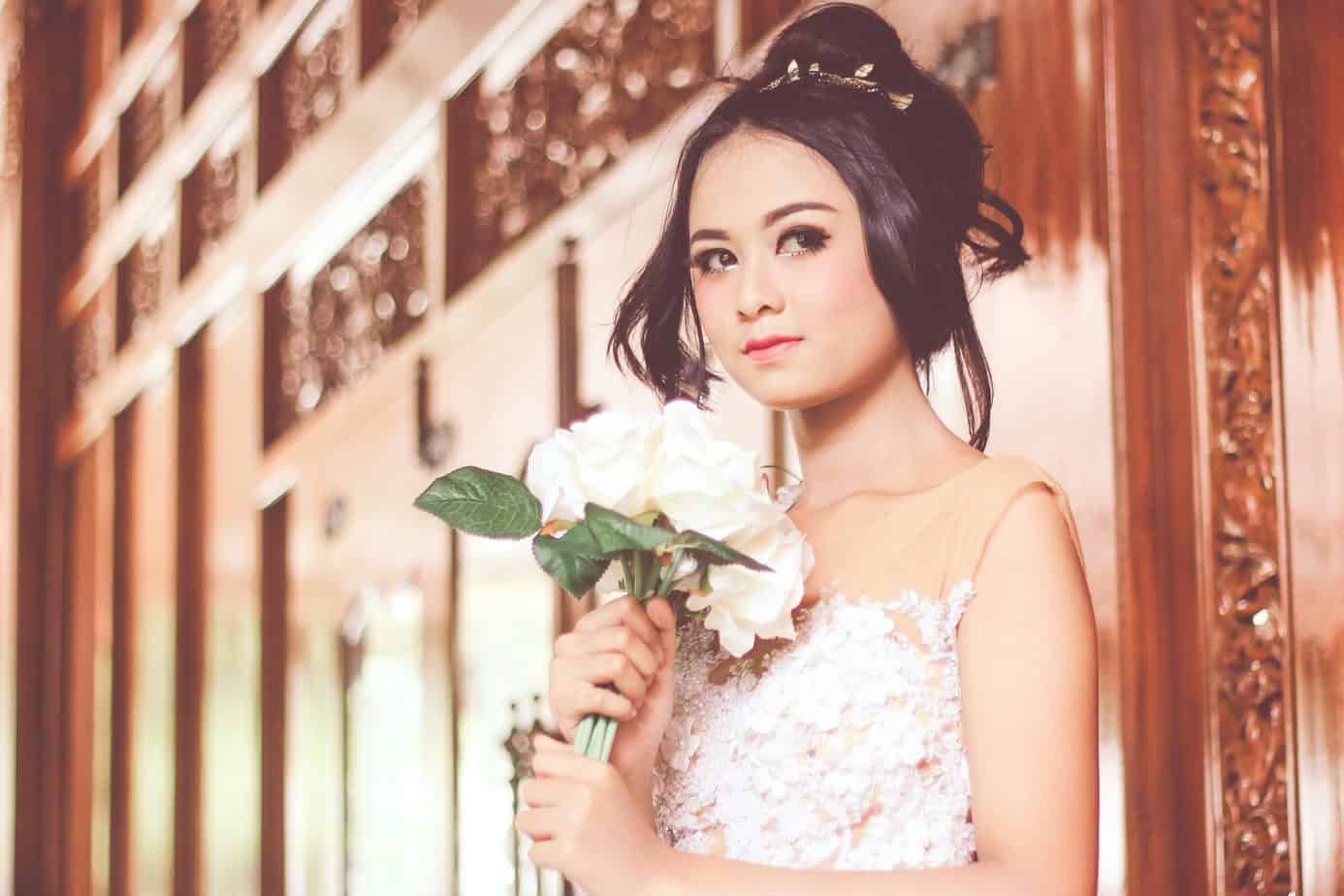 This chic and sophisticated updo looks gorgeous with straight and curly hairstyles. The simple updo doesn't take much work and is modern and versatile. Condition your hair for high shine and ask for loose tendrils to frame your face and soften the look. 
Ballerina Top Knot Bun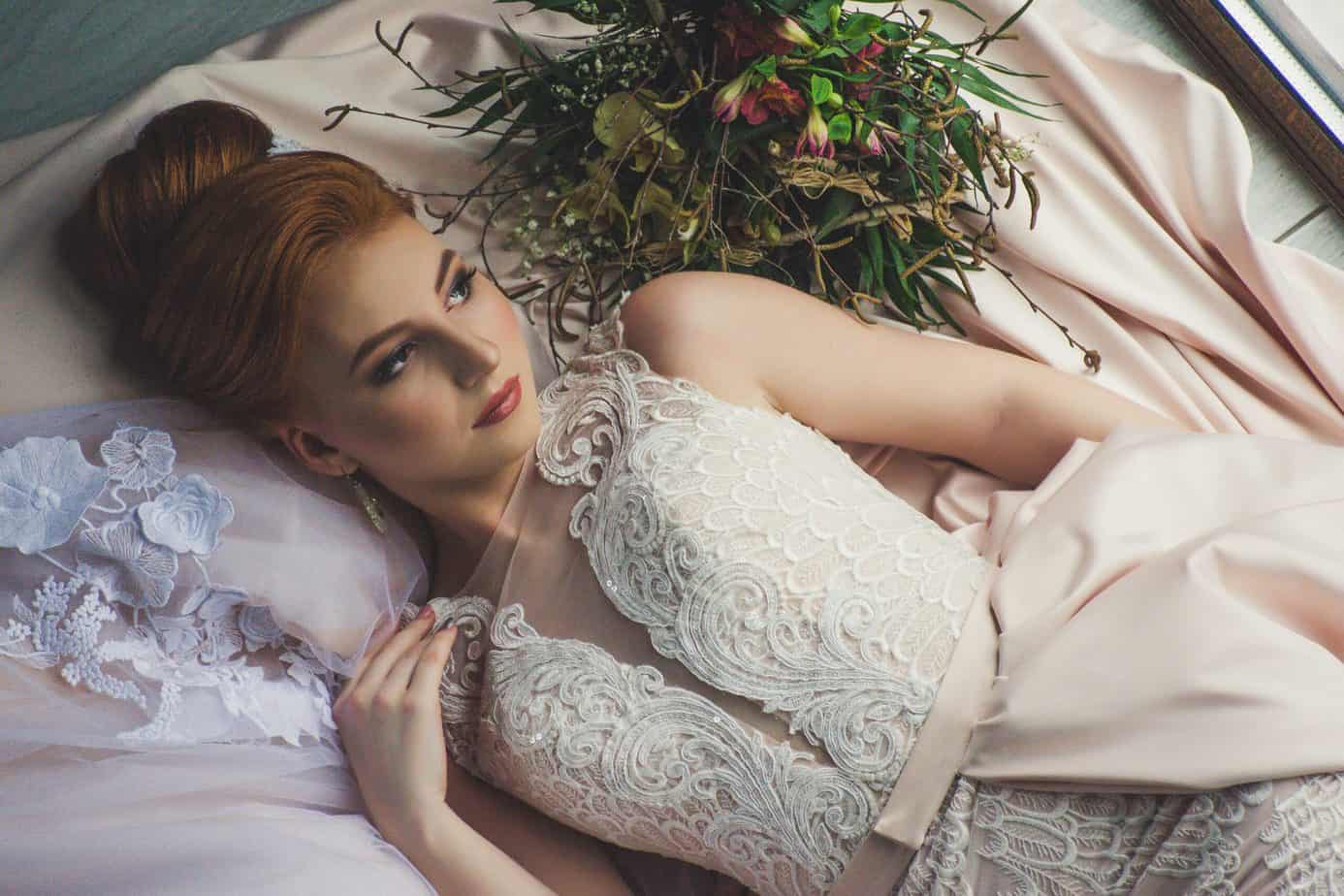 A top knot bun is a textured bun that is modern and elegant. This look is a bit more dramatic and formal and you won't have to worry about hair on your face. Perfect for younger brides and pulling off a dreamy, romantic look. 
Blow Out Curls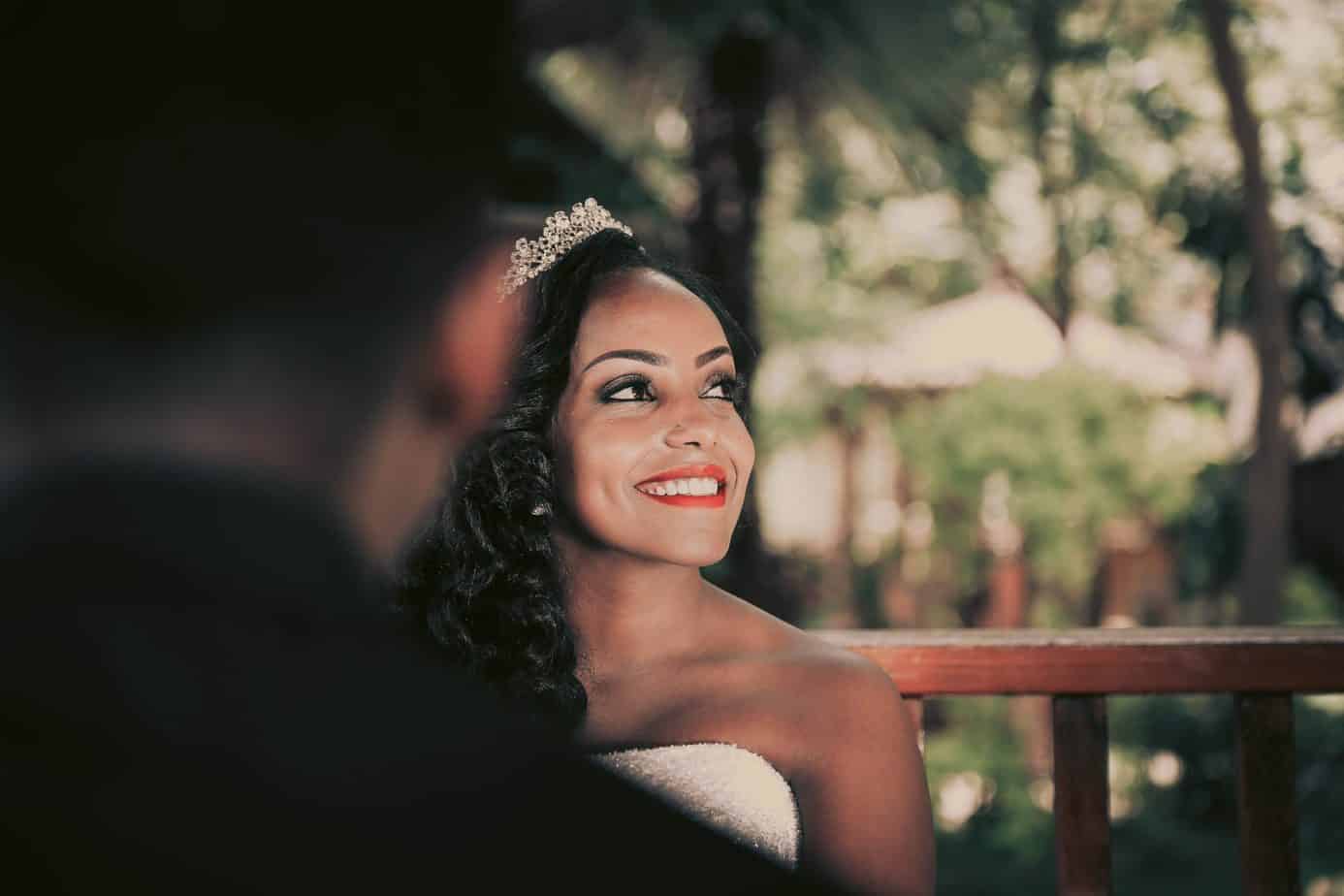 This wedding day look is breathtaking and works for modern and classic brides alike. Condition your hair for glossy locks and embrace your natural hair texture, or have straight hair loosely curled—this type of hairstyle pairs beautifully with a crown or side comb headpiece. Ask for a full "blowout" to achieve a glossy full look. 
Curly Half-Updo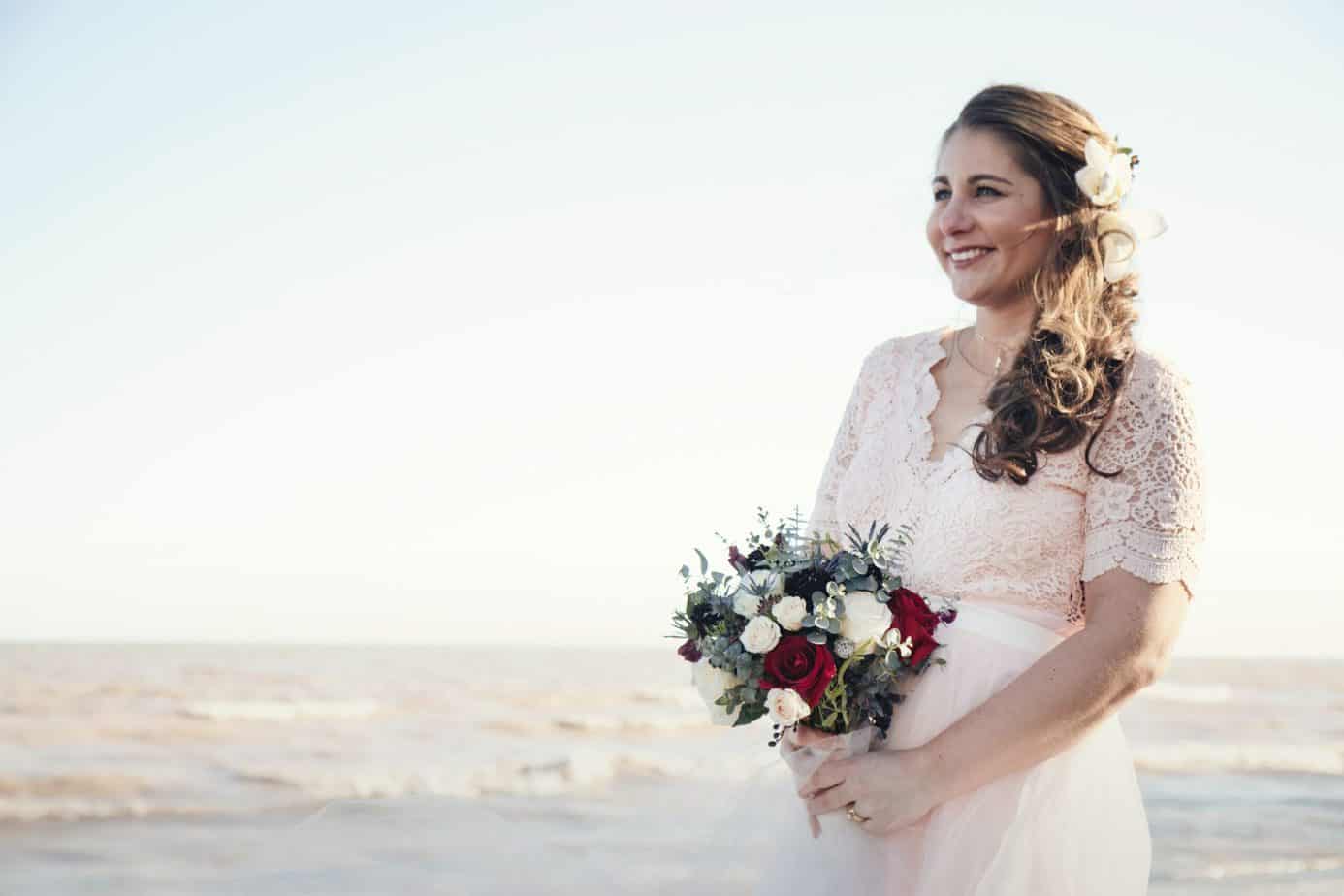 Perfect for beachside and boho weddings, a fresh or artificial flower or comb provides a finished look. If you can't decide on a formal updo or completely wearing your hair down, this look is perfect. Ask for a small braid to keep your hair up and away from your face, and keep the bottom curly. 
Long and Wavy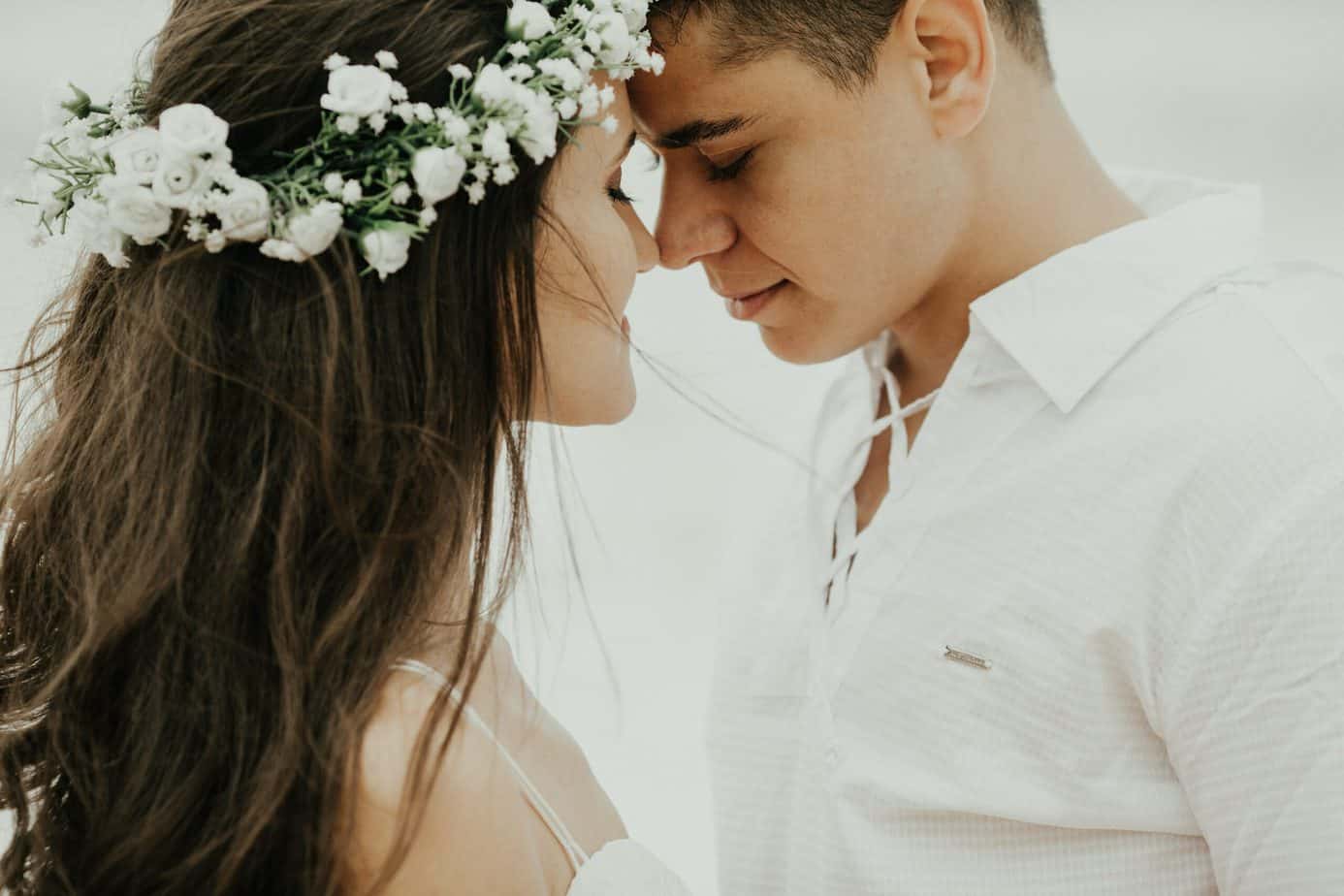 Wavy hair is in– and even more so for destinations and beach weddings. The beauty of this look is that it doesn't take much work– and if it's a windy day, your hair will still look beautiful and effortless. Finish with a floral crown for a boho touch, or pair with dramatic drop earrings. This is also a beautiful look for lowlights, highlights, and balayage. 
Chignon Bun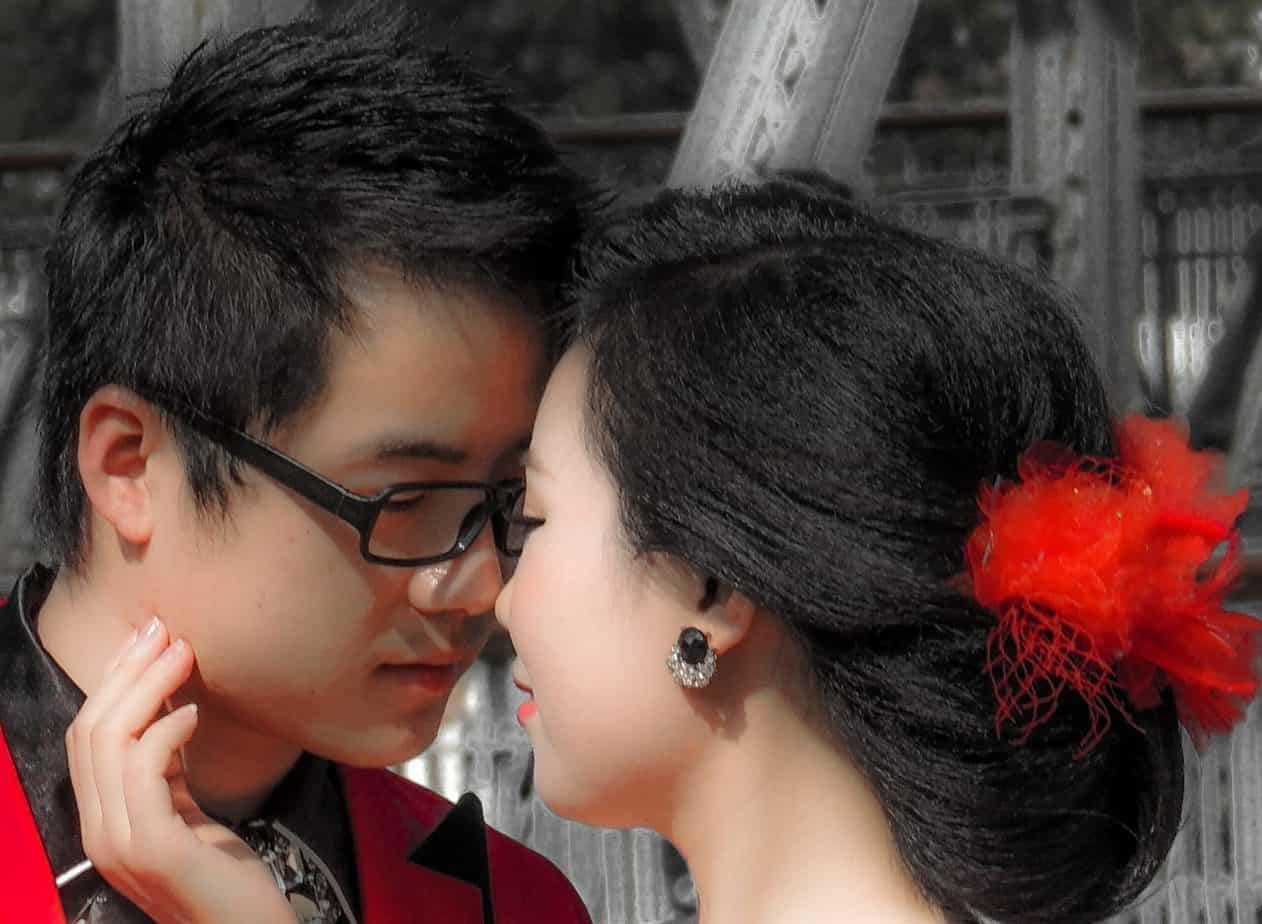 A chignon bun is quite possibly one of the most timeless wedding updos– and perfectly paid with a veil or headdress. The chignon bun is a low bun that exudes elegance and would also suit a vintage theme. These buns can consist of hair wrapped around itself or even twisted braids. 
Short and Natural (or Pinned Curls)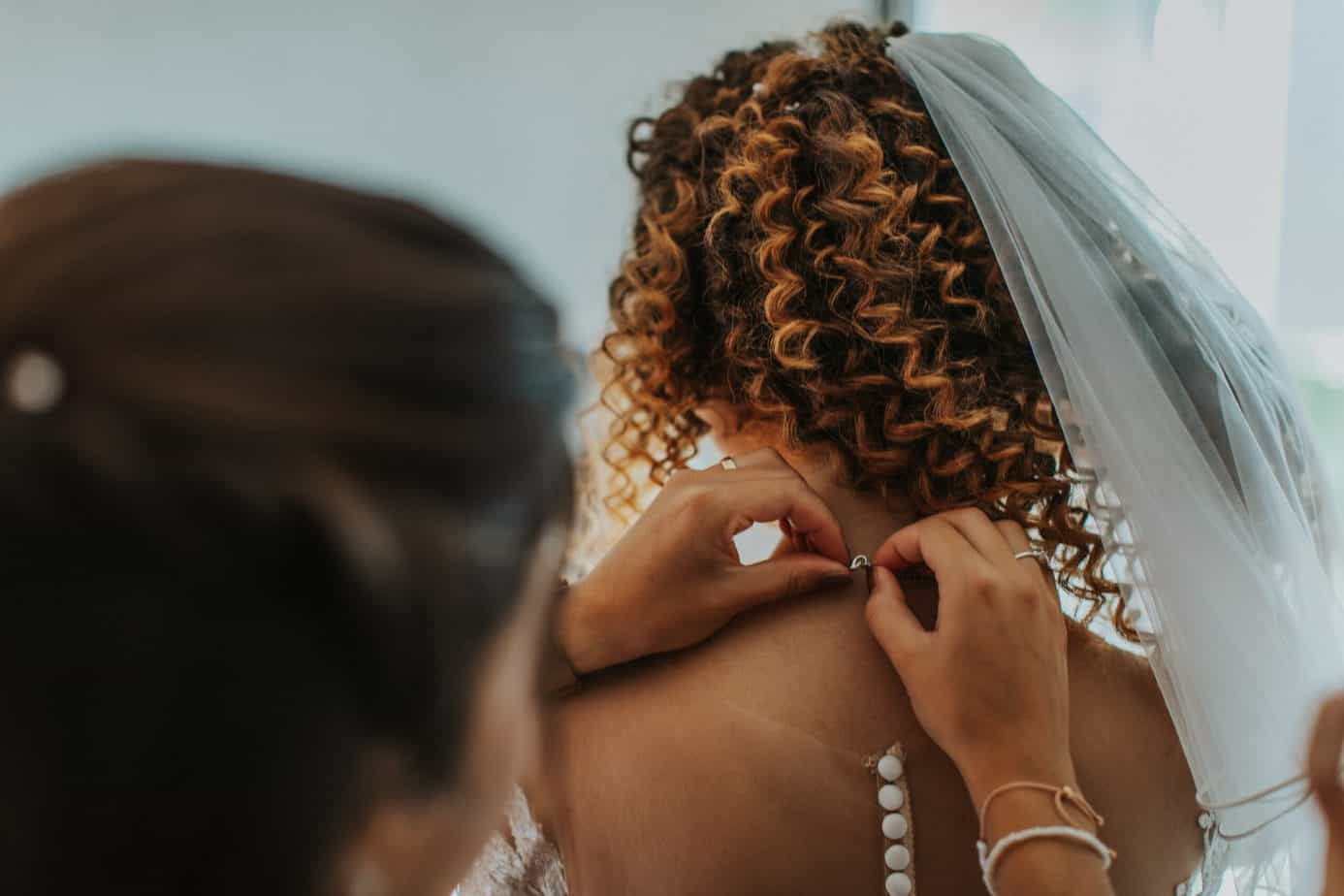 Who says you have to have long locks for a beautiful wedding look? Rich hair color and highlights emphasize the beauty of natural hair. Women with straight hair can ask for curled or pinned curl strands. This look is beautiful with warm and darker hues that add dimension. Crystal studded barrettes or a comb provide a finished look. 
Elegant Fishtail Braid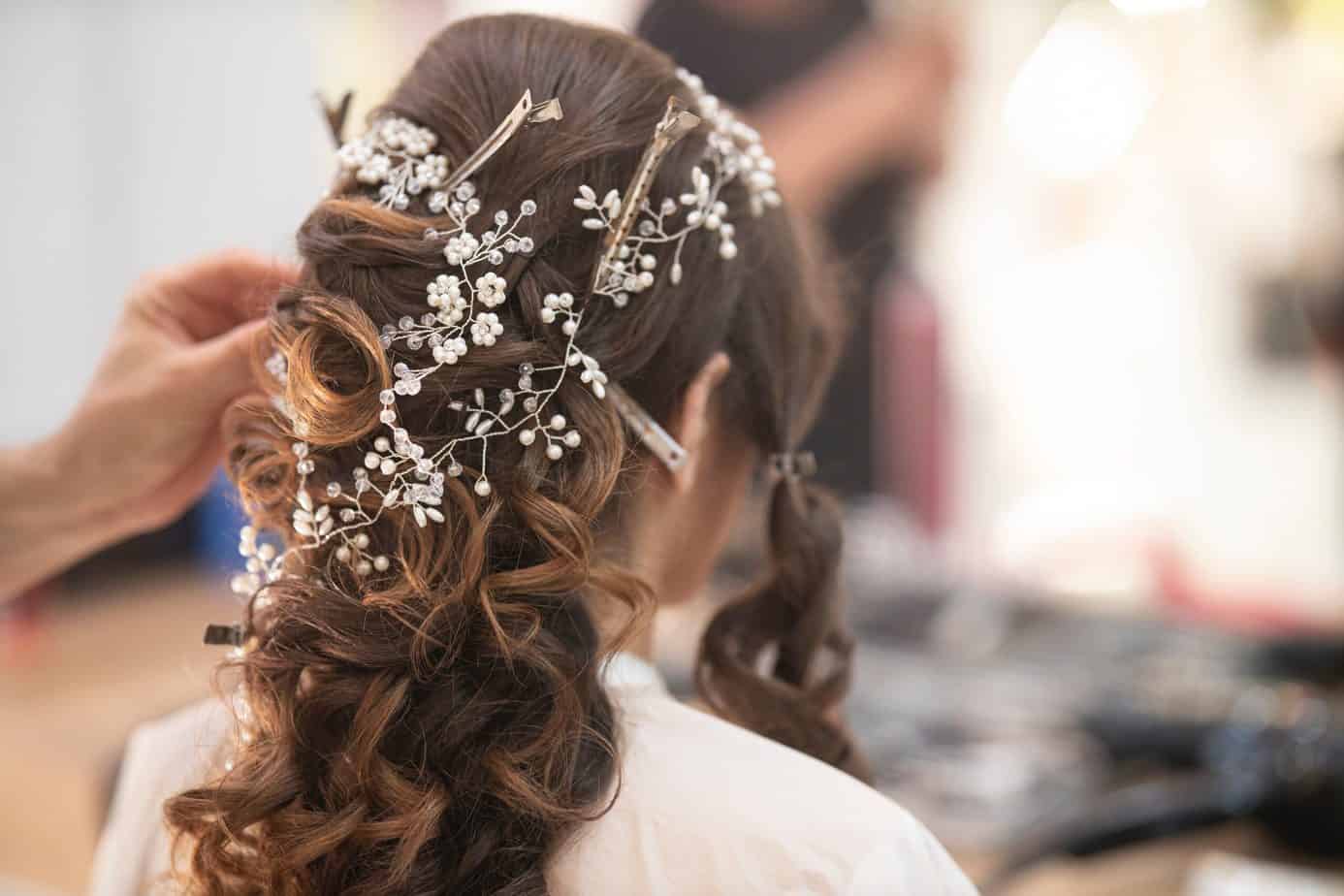 Fishtail braids can be styled in countless ways. While often associated with boho styles, they can also be dressed up for formal and elegant looks. Accessorize with crystals, pearls, and bedazzled barrettes. You could even ask for floral details to be threaded in. It's no wonder that this is an incredibly popular wedding hair idea. 
Chic Bob With Bangs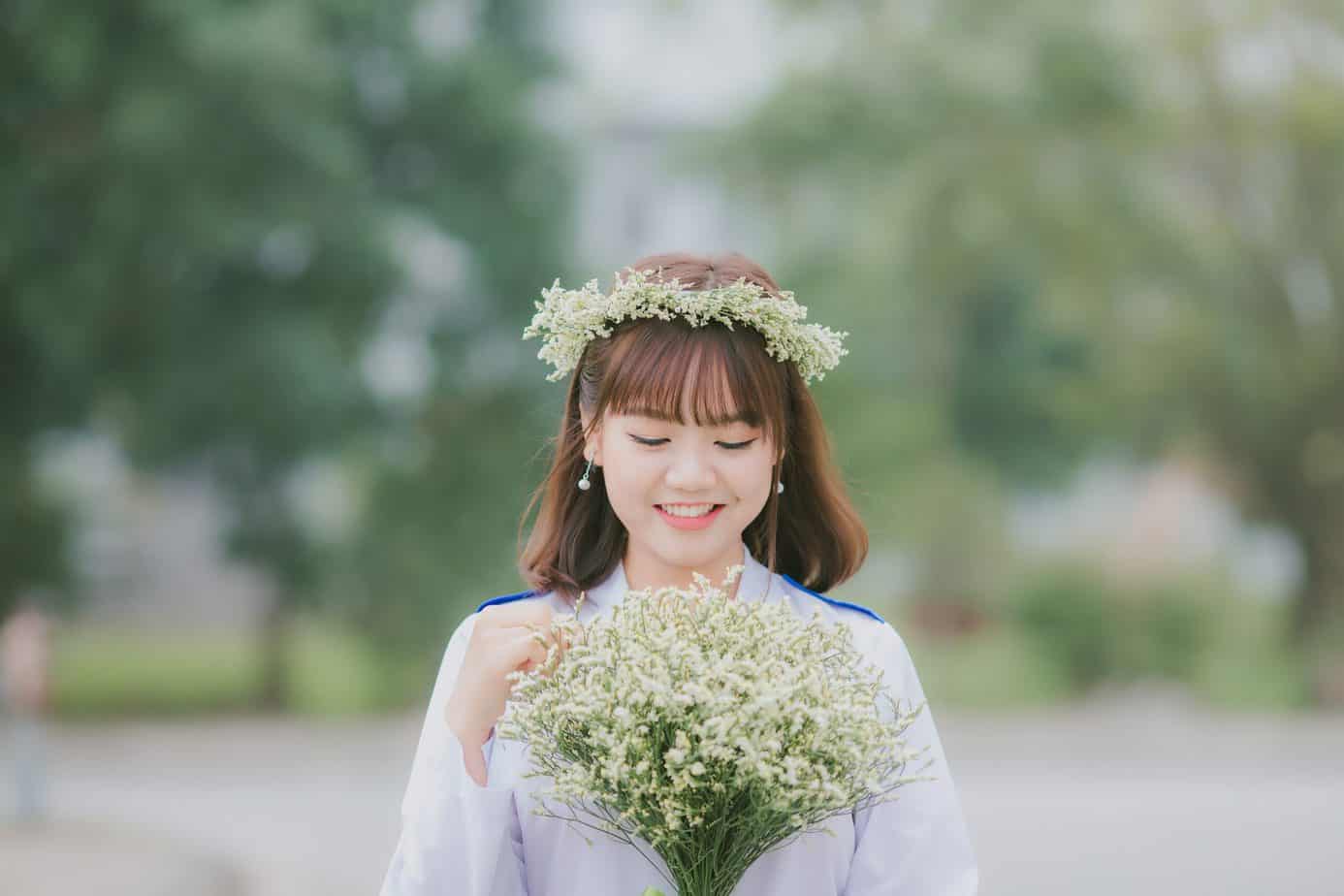 With bangs or without, a classic sleek bob is a playful look that can be dressed up however you like. This wedding hair idea proves you don't need to spend hours or lots of money for a beautiful look. I love this look with a birdcage veil, headband, or oversized floral crown. 
Curly Bob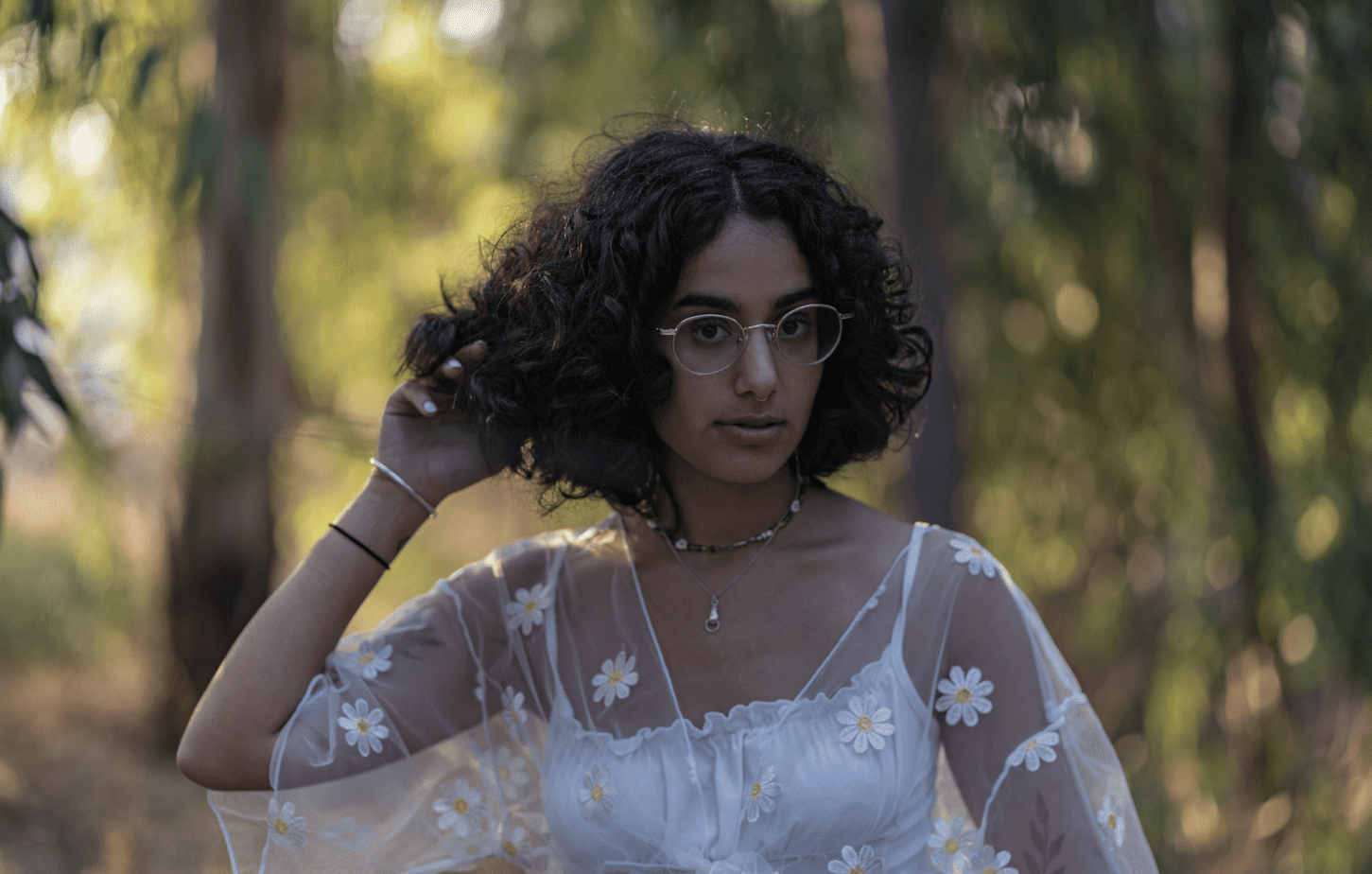 Loose and tousled or tighter curls, a simple bob with a middle part is a carefree look that's perfect for a boho wedding. Wear with floral accents or wear alone. Ask for a smooth top and gentle curls to achieve a voluminous but understated look. The shorter hair here works well with higher and illusion necklines.
Braided Bun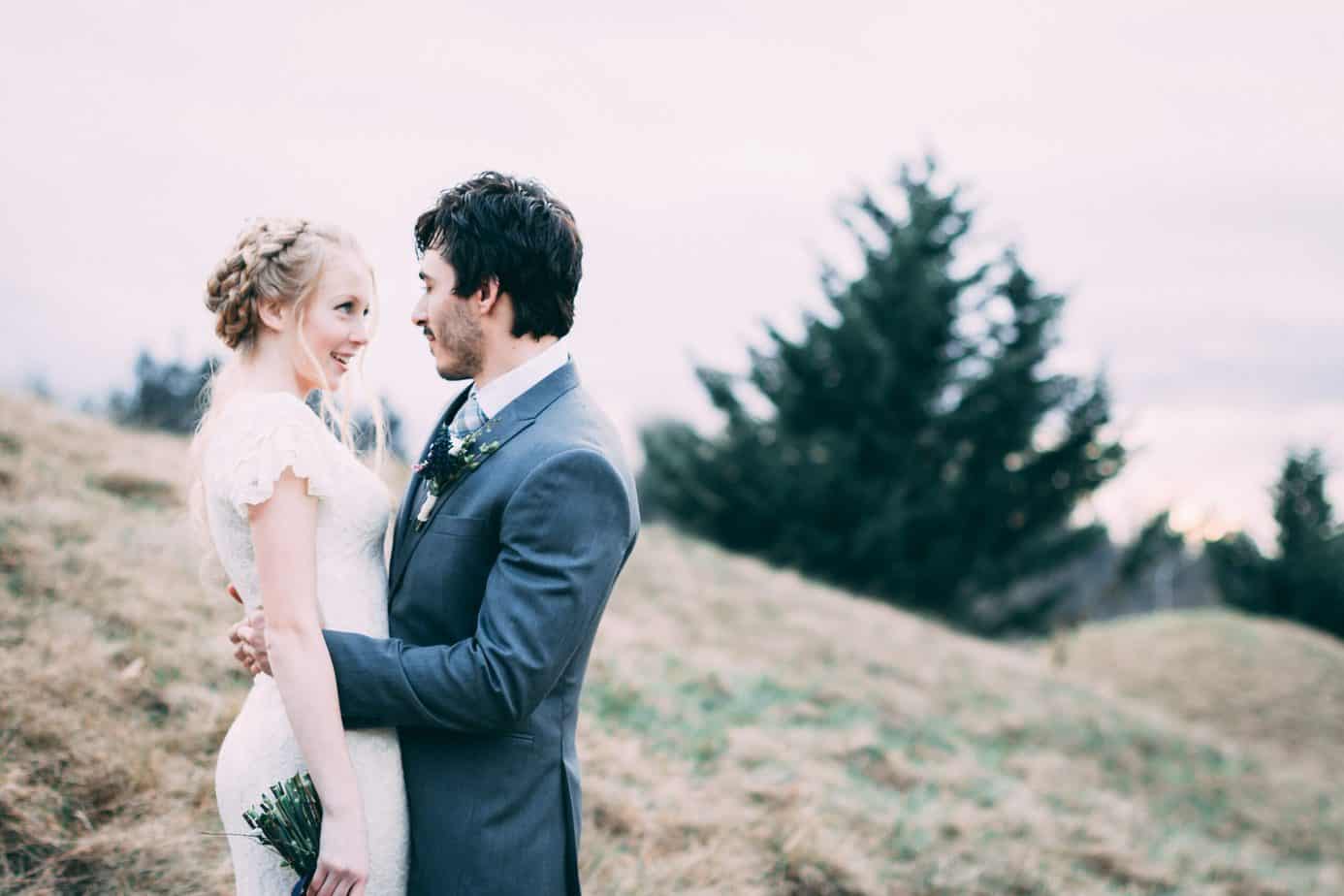 A braided bun does a lot of the work of accessorizing for you. You can opt for a lower or high bun but ask for a thick strand of the braid to form a crown. Boho or vintage, this beautiful look can be worn with loose tendrils or without. While it looks beautiful on its own, barrettes can add just a touch of sparkle or allure. 
Pixie Hair with Crystal Headband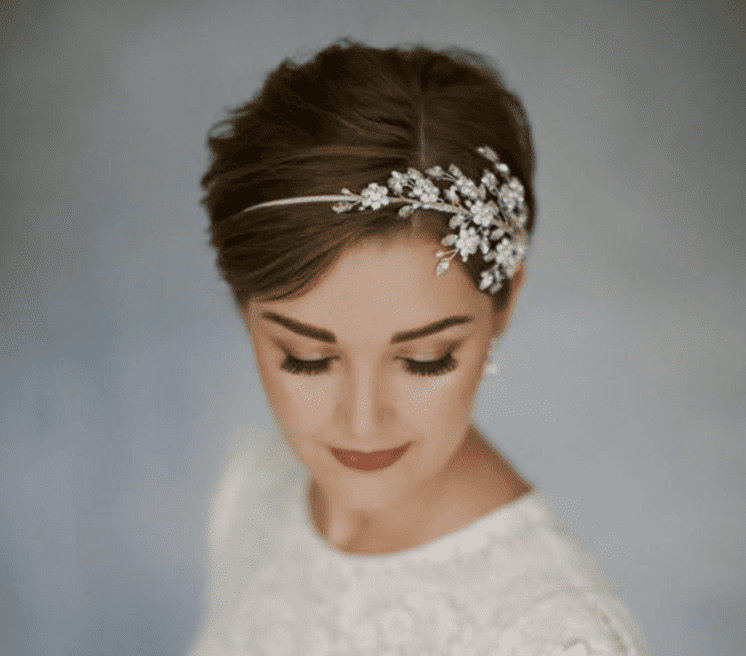 Pixie-cut hair can be beautiful, too. Add a touch of wedding day beauty with a tiara or headband accessory. Pixie hair can be worn smooth or curly and looks especially appealing with a clean side or middle part. 
Wedding Hair Accessories (Besides Veils)
Veils are always classic, but many brides either opt-out of veils or just want other hair accessories after the ceremony. These wedding accessories are all from David's Bridal and are relatively affordable but still gorgeous. From bedazzled bobby pins to rhinestone clips to adorned headbands and regal tiaras, all of these accessories can add that signature touch to your wedding hair. Shop All David's Bridal Hair Accessories Here. 
Blooming Pearl Headpiece with Crystal Accents
This stunning headpiece is perfect for formal and classic elegance. Pearl and crystal accents add allure to a headband for a timeless appeal. Pair with pearl stud earrings and understated makeup for effortless beauty. Buy Here. 
Regal Tiara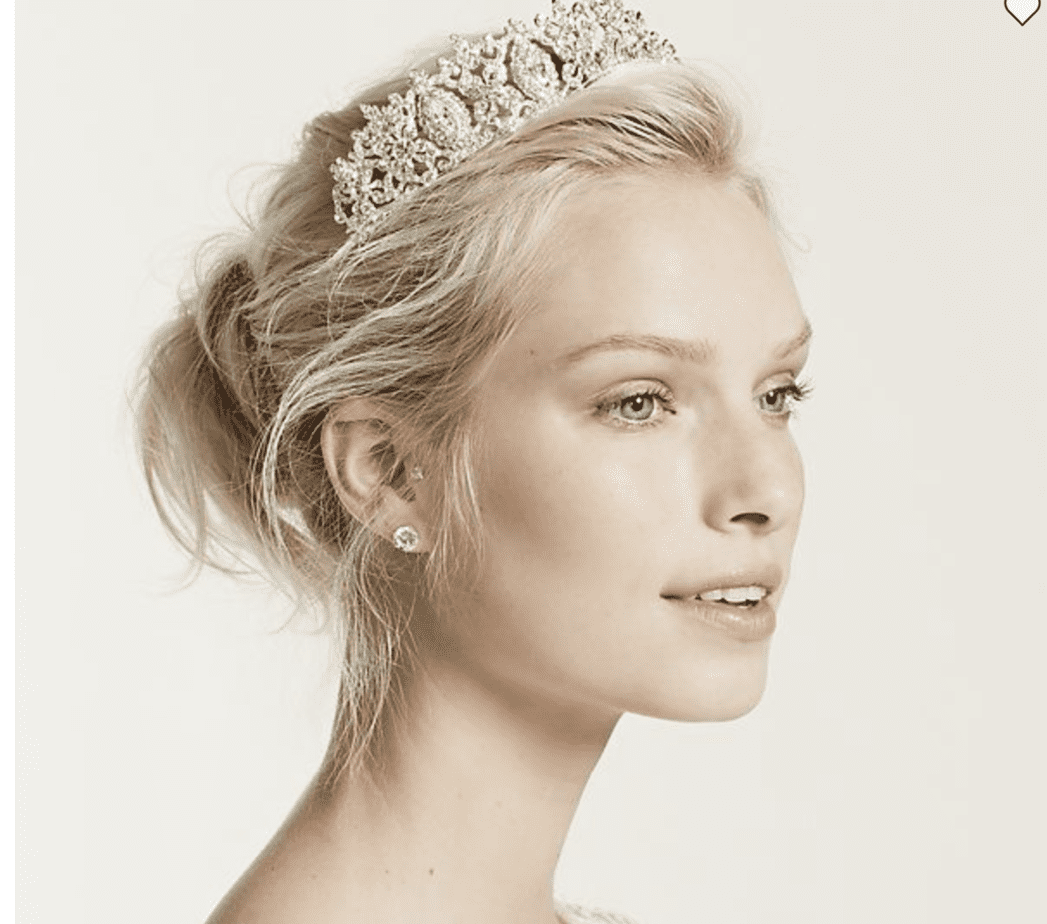 Fit for a princess. This regal tiara pairs excellently with a ball gown dress for a dramatic entrance. Marquise and accent crystals sparkle for an affordable but glamorous sparkle. I recommend pairing with a simple updo. Buy Here. 
Hand-Wired Petite Crystal Leaf Trio Hairpin Set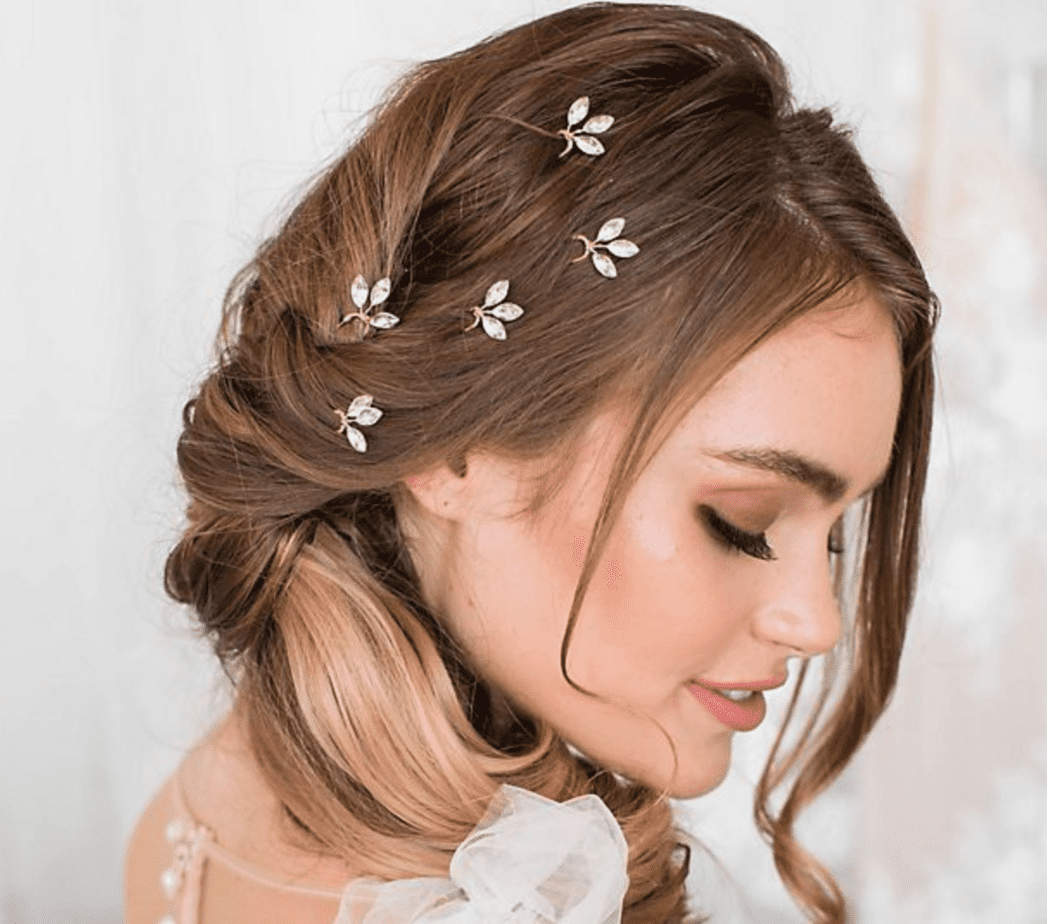 Looking for an elegant wedding hair accessory that suits a boho theme? This hairpin set adds a touch of nature-inspired elegance. Crystals pair with sterling silver or gold-plated silver for a breathtaking look. Try this set with a loose braid. Buy Here.
Crystal and Bead Gilded Comb with Fabric Petals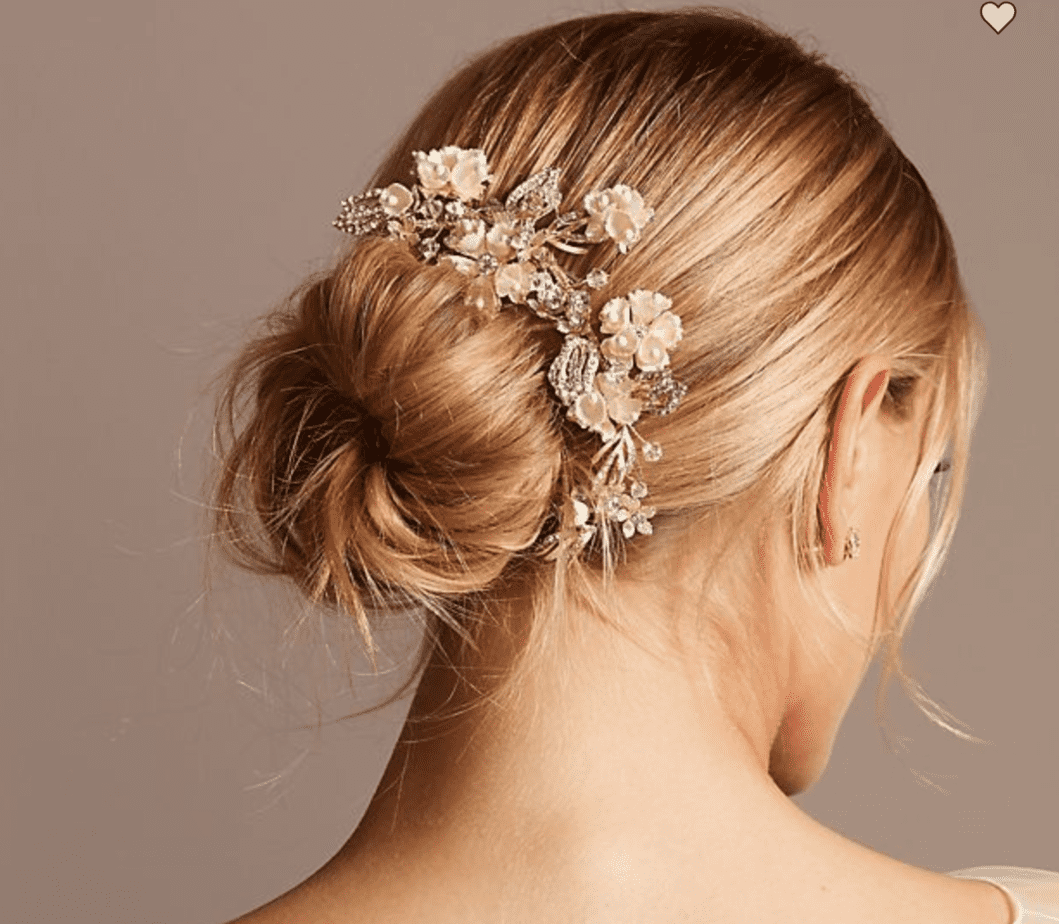 Whether you're sporting a ponytail or low bun, this hair accessory completes an understated wedding hair idea. Petals, beads, and small crystals adorn this comb with ivory and metallic hues. Buy Here. 
Crystal and Rose Infinity Hair Vine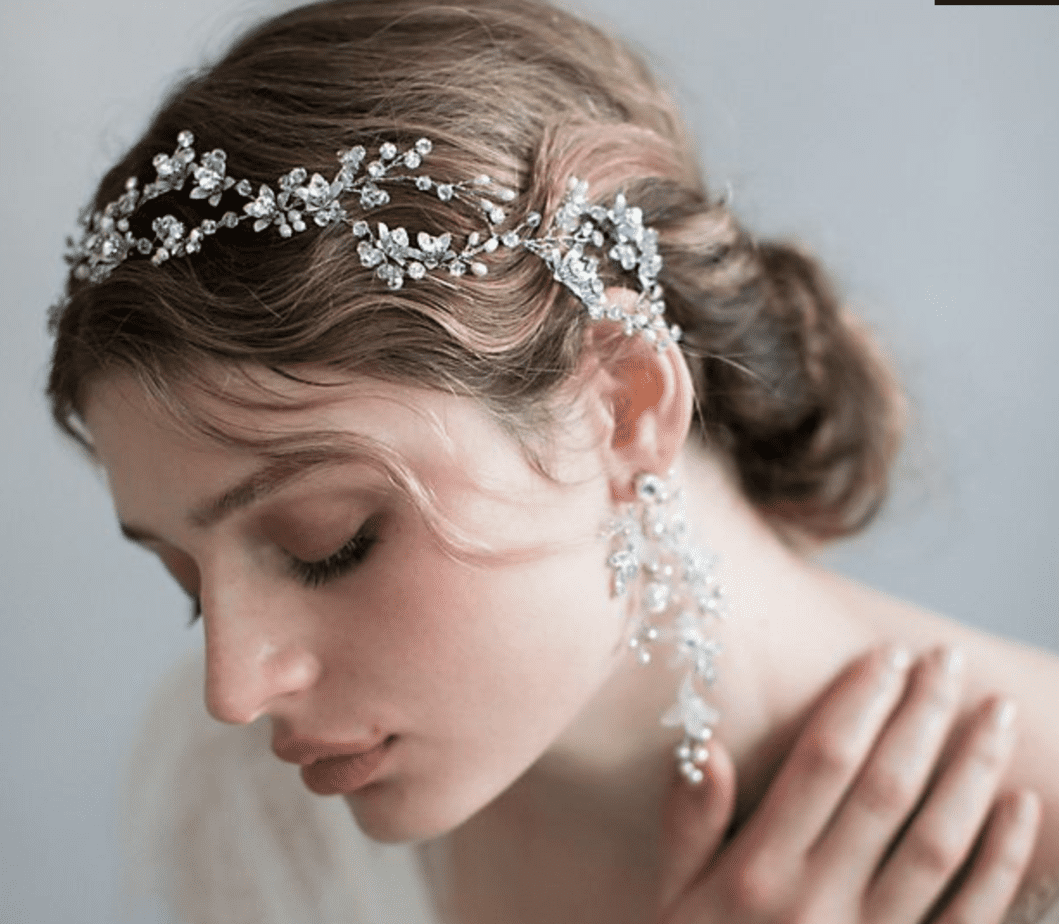 If you have a little extra room in your budget and are looking for a vintage hair accessory, this is a gorgeous option. Tiny flowers pair with hand-wired Swarovski crystals for an airy floral crown. Buy Here. 
Frequently Asked Questions 
Question: Can I Wear my Hair Straight to a Wedding?
Answer: More and more brides are embracing their natural hair texture– whatever that is– for a beautiful, authentic look. By embracing their hair texture, brides are showing their natural beauty and doing so in gorgeous ways. There are no hard and fast rules about how to wear your hair, and a natural look, and even an understated look, can be truly gorgeous. 
Question: Who Pays for Hair and Makeup on a Wedding Day?
Answer: Hair and makeup are almost also paid for by the bride. Of course, many bridal parties simply get together after the party has done their hair and makeup. The key is to have clear expectations from the beginning. The one thing you should never do is require bridesmaids to have their hair and makeup done professionally, then refuse to pay for it. 
Question: Do you Get Your Hair or Makeup Done First for a Wedding?
Answer: This is a topic of debate. Some insist on doing makeup first and others insist on hair first. I recommend having your hair done first, as normally it'll take longer than makeup. Another plus is that makeup will stay fresher for longer. But it's not a big deal one way or another, no matter what you ultimately decide. 
Question: How Long Does Wedding Hair Take?
Answer: It's challenging to estimate how long wedding hair and makeup will take. As you can imagine, the more elaborate your hair and makeup, the more time you need to budget. Some like doing a hair trial and makeup test run to get an idea of what everything will look like and how much time to budget. The average wedding look will take 60 to 90 minutes for hair and makeup for the bride and around 30 to 60 minutes for bridesmaids. Leave yourself extra time. 
Final Thoughts
The best wedding hair ideas are ones that suit you and your style. While getting glammed up for a wedding can be exciting, also think about ways to accentuate your natural beauty. If you are trying something new or different, a hair trial may be your best bet. Regardless, feel confident in what you select and know your hair is just one small part of your wedding.
Are you looking for affordable wedding hair accessories? As long as you order far ahead, Etsy has some unique, handmade, and affordable options. Just don't order at the last minute in case something goes wrong– and shipping has been hampered with delays across the country. Shop Etsy Wedding Hair Accessories Here. 
Further readings:
Wedding Makeup Ideas That Will Make Your Face Glow
The Best Wedding Flower Ideas: For a Stunning Decor
Wedding Travel Guide: To Make Sure Everything Goes as Planned