Try to imagine your perfect wedding dress. Maybe you've seen an image on Pinterest or a dress in a store window. Maybe you've collected magazines or caught episodes of Say Yes to the Dress. Or maybe you have no idea where to even start. Whether you have a specific vision or mind or none at all, knowing how to find a dress that fits your style, body type, and budget is more challenging than you'd think.
The good news? There are more options than ever, and you don't have to settle for the first dress you see. And many wedding dress designers are pushing boundaries, with innovative designs from twists on classics to something new altogether. 
David's Bridal, the largest bridal chain in the United States, is known for its budget-friendly dresses and wide store availability. But I, and most others, don't exactly think of the store as cutting edge or innovative. 
Perhaps that's why the debut of a camouflage wedding dress turned so many heads. The $750 dress features a camo and gray print and even includes a complimentary groom's bow tie. If the pattern seems familiar, chances are you may be a beer drinker: the dress is the result of a bizarre collaboration between Busch's and David's Bridal.
And while that's not going to be a dream dress for many, it just goes to show: finding your perfect wedding dress has gotten more interesting than ever. So whether you're looking for a sleek, minimalist dress, a princess ball gown, or something in between, consider this your guide. I'll go over every important dress detail and even give you tips to save money and shop smart. 
How Far in Advance do you Need to Find Your Wedding Dress?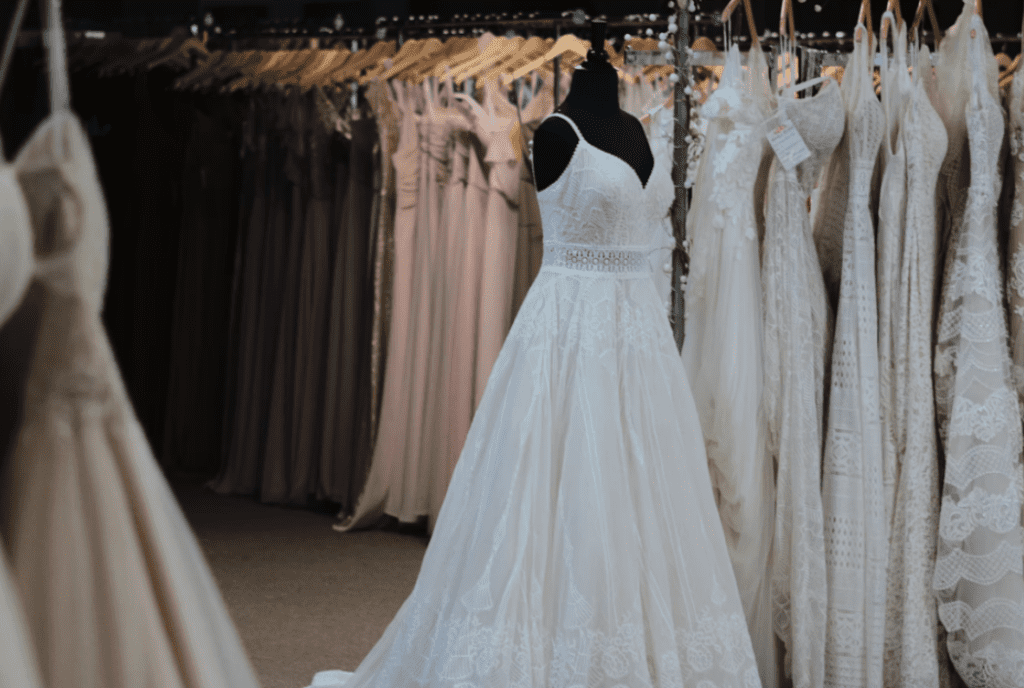 Start collecting ideas now. Unless you want to risk a small selection or buying off the rack, you'll want to begin shopping for your wedding dress about 9 months before the wedding. Not only does this give you time to shop a few places if you want, but you need to budget time for dress ordering and alterations.
Most wedding dresses you try on in a bridal boutique are sample sizes and will need to be ordered and delivered. Then, even if it's a great fit, most brides will need at least minor alterations. I might even recommend giving yourself 10 to 11 months, considering continued shipping delays and shortages. 
Who Goes Dress Shopping With the Bride?
Who goes shopping with you is up to you. The most common person to shop with is a mother or stepmother, followed by a grandmother, sister, or other close family members. If you have a great relationship with your mother-in-law, that's an option as well.
While you can invite others, such as a maid of honor or bridesmaids, keep in mind that too many opinions can lead to confusion and conflict. That's not to mention that many bridal boutiques also limit how many people you can take. So check with the store first and only bring a few people at most.
How Many Wedding Dresses Do You Try On?
There are many myths about wedding dress shopping, and needing to try a certain amount on or having limits are not perfect fits. On average, brides try three to seven dresses. Some experts recommend not trying on more than 10, but you need to know yourself. If you're trying on more because you feel you're getting closer to a great dress, there's nothing wrong with that. If you keep trying on dresses you love but feel aren't perfect, you may have unrealistic expectations about the experience– or would be better off with customization through alterations. 
Do You Cry When You Find Your Wedding Dress?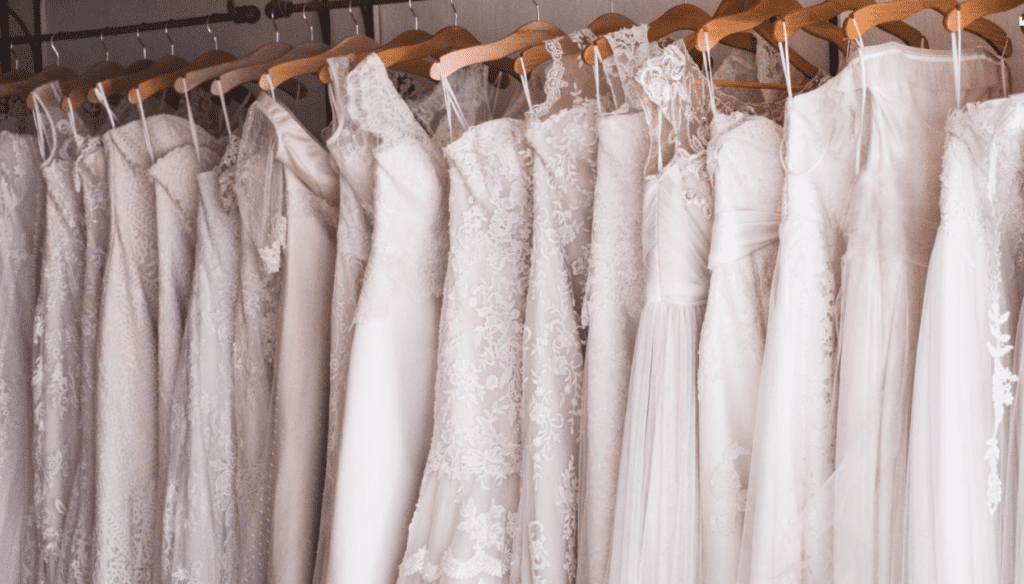 One of those unrealistic expectations? Crying when you find your wedding dress. While some may cry, many brides do not. It's completely normal not to have an emotional reaction. Just because you don't cry, it doesn't mean you haven't found a wedding dress. Your perfect wedding dress is not perfect, but a dress that makes you feel confident. If you're indecisive like me, you may not know for sure if you've found your wedding dress– but not wanting to take it off and thinking about it after you've tried it on are both good signs. 
Is it Bad Luck for my Fiance to see my Wedding Dress?
There's a tradition that the fiance shouldn't see your wedding dress, but traditions have been challenged in recent years. It is nice to have an element of surprise, but I've even seen two brides shop together. Ultimately, it's up to you. 
What are the Dos and Don'ts of Wedding Dress Shopping?
There are steps you can take to make your wedding dress shopping experience run smoothly. While I'd never say that everyone has to stick to certain rules, here are some tips, as listed in the chart below. 
Do's
Don'ts

Think about your undergarments

white or neutrals

if possible, where close to what you would at your wedding 

Allow yourself to be pressured 

select supportive people to shop with

if you're unsure, return to the store later

Come in with inspiration

Magazines, Pinterest boards, and ideas about what you like are helpful 

Try on dresses that are over your budget

You don't want to love something you can't afford

Come in with a firm budget

Your total budget should include the sticker price plus tax and alterations

Be afraid to try something a little different 

even if you have a good idea of what you want, it doesn't hurt to throw in a wild card just once, such as a slightly different silhouette or neckline 

Be willing to try a dress even if you don't love it on the hanger 

Wedding dresses often look much different on 

Wait until the last minute

The longer you wait, the fewer options you'll have 

Think about your venue

You may love tulle ball gowns, but they might not be the best option for a beach ceremony. 

Limit yourself based on your shape

If you love a silhouette, try it on even if you're worried it won't be "flattering"
What are the Different Dress Silhouettes?
As you're brainstorming ideas, one of the most basic categories for dress details is the silhouette. I recommend coming into your appointment with knowledge of the silhouette and the flexibility to try on at least one different silhouette type. A good idea is to consider what you usually wear. If you tend to prefer more fitted clothes, a mermaid or trumpet style may make more sense, for instance, than a voluminous ball gown. 
What is a Trumpet Gown?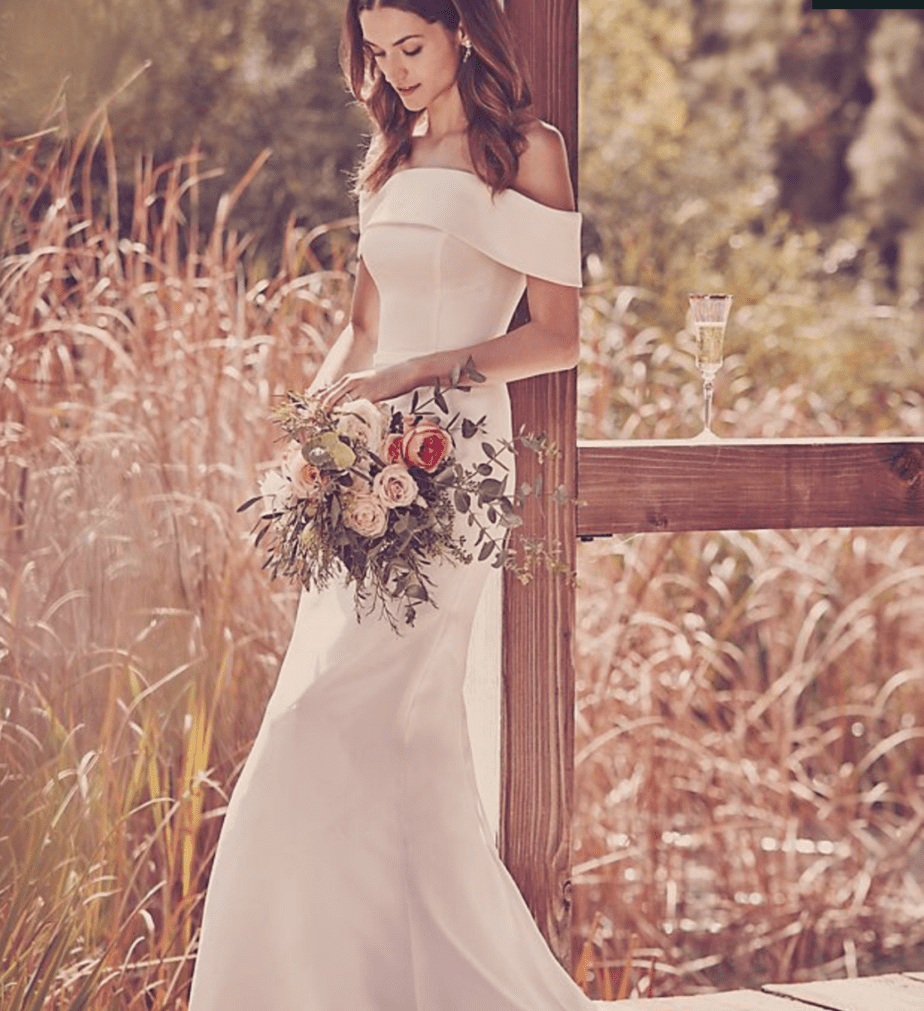 A trumpet dress is also known as a fit and flare dress. As the name suggests, a trumpet wedding dress is fitted in the bodice and flares out, usually around the thighs. The tight fit around the bodice and hips is said to be flattering for anyone with broad shoulders while creating curves through the bodice. Thus, it's also popular for those with rectangular body shapes. 
What is a Fishtail Wedding Dress?
A fishtail dress, commonly referred to as a mermaid dress, is also a more fitted dress. The difference between a mermaid dress and a trumpet/ fit and flare dress is where the flare is. The mermaid has a more dramatic flare. The flare is lower, often near or below the knees, creating a dramatic effect and separation between fitted and flared. A trumpet wedding dress is more subtle. Mermaid dresses create the illusion of an hourglass figure and are popular for modern styles. 
What is an A-line Silhouette Dress?
It hardly gets more classic than an A-line dress. When you hear 'wedding dress,' chances are you're envisioning an A-line. The A-line rests above your hips and flares out, usually around your natural waist. It's a style popular amongst nearly all body types. Some like the A-line for hiding a tummy and providing the appearance of a smaller waist. 
What Makes a Dress a Ballgown?
A ballgown is quite similar to an A-line dress in its general layout. The difference between an A-line and a ballgown is the fuller skirt. A-lines are usually a bit more fitted at the waist, and ballgowns typically have a corset-like bodice. Ballgowns make for a dramatic, fairytale entrance, while A-lines are a bit more subtle. 
What is a Sheath Wedding Dress?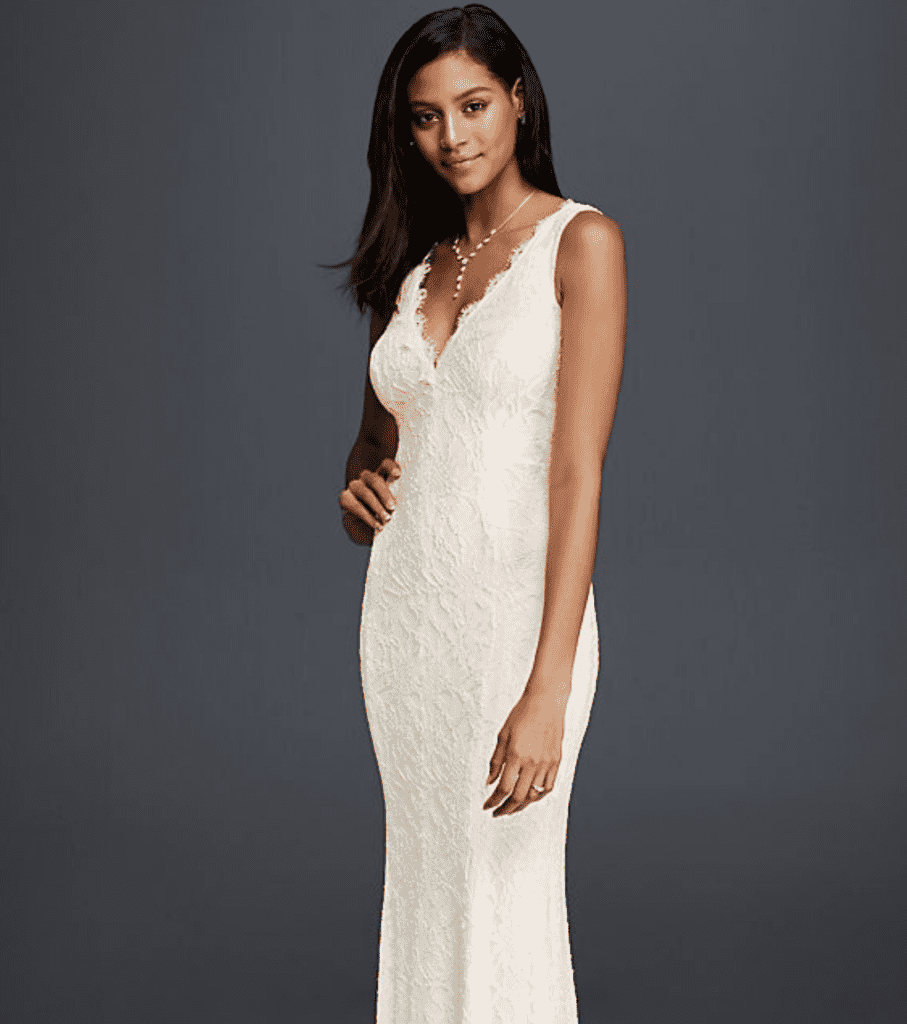 A sheath wedding dress is a silhouette that is not always talked about but should be considered. Also known as a column dress, a sheath dress falls straight, with a slight hug at the hips and little to no flare for the skirt. This understated silhouette suits minimalist, modern, casual, and even boho styles. 
What is the Best Wedding Dress for My Body Type? 
Different styles are more natural flattering, depending on what you're looking for. I do want to express that these are generalizations, that your body is unique, and you should never limit yourself to one dress style because of arbitrary style guides. I'd also gather general pros and cons for a more nuanced approach to selecting the best wedding dress silhouette. Those with hourglass shapes purportedly are flattered by any style. Not that things listed under pros or cons may not be the same for you. In other words, you may be shopping for an A-line because you don't want to create more curves. 
Silhouette
Extra Flattering For.
Pros
Cons

A-Line

Apple/ Pear/ Hourglass shapes

Hiding tummies

Classic

Widely available 

Flattering for most 

Not as dramatic as a ballgown

Doesn't create the illusion of curves

Ballgown

Apple/ Pear/ Hourglass shapes

Hiding tummies

Classic

Widely Available 

Dramatic 

Tend to be more expensive

Can overwhelm  petite figures

Fit and Flare/ Trumpet

Broad shoulders/ athletic shapes 

Adding curves

Many styles 

Creates curves 

Modern

Can show off tummy/ imperfections more

Not as dramatic as a fishtail 

Fishtail/ Mermaid 

Broad shoulders/ athletic shapes 

Adding dramatic curves

Popular and modern

Shows off curves 

Can restrict movement

'Shows off tummy/ imperfections 

Sheath 

Rectangular and Hourglass Shapes

Adding very subtle curves

Subtle but classic

More affordable 

Comfortable 

May be too subtle for some

Less variety 
Does the Wedding Dress Waist Matter? 
The waist of your wedding dress impacts the style and what is or isn't accentuated. No matter what kind of silhouette you select, consider the waistline as well.
What is a Natural Waist Wedding Dress?
The most classic option is a natural waist. A wedding dress with a natural waist falls at your natural waist and is considered universally flattering. This versatile waist emphasizes the smallest part of your waist and is suited for athletic, hourglass, and pear shapes. 
What is a Basque Waist?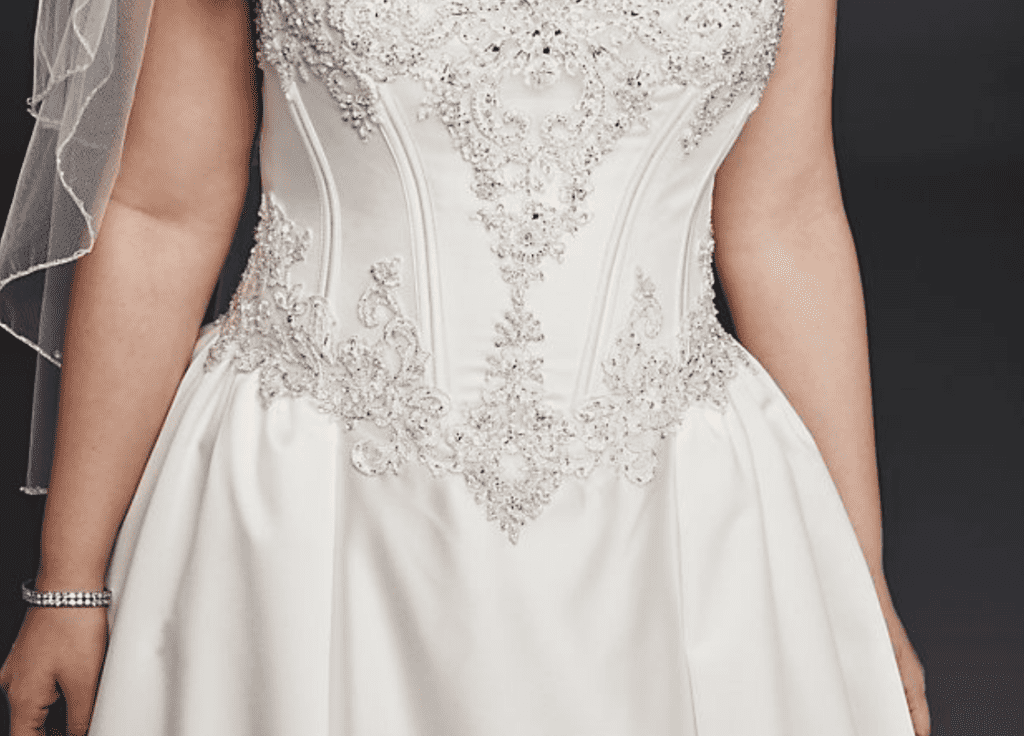 A basque waist is popular mostly for ballgowns and also A-lines. Situated just a bit below the natural waist, a basque waist is v-oriented. There's a romantic appeal to this waste, and it's often embroidered. This is a great choice for athletic shapes and hourglass shapes. 
What is a Princess's Waistline?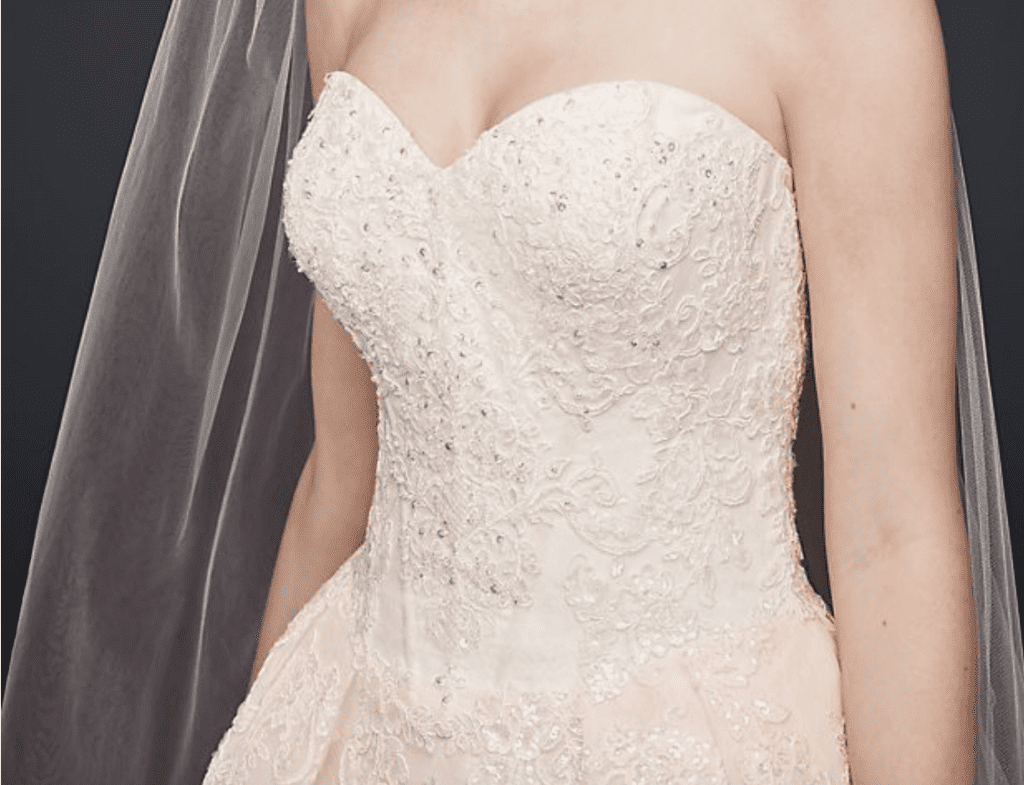 A princess's waistline is most common for A-lines and ball gowns. It usually sits near the natural waist but with what is considered princess seams. Seams run horizontal and appear to have no distinct waist, just one that subtly tapers in. This also works for athletic, hourglass, and pear shapes. 
What is a Drop-waist Dress?
A drop waist sits low, around your hips. The effect is lengthening the torso and shortening the legs. As such, it's best for taller brides, and I wouldn't recommend a dropped waist for brides that are 5'4" or below. It is known as flattering for some, especially if you want to balance out an athletic shape and simply complement an hourglass figure. 
Why is it Called an Empire Waist?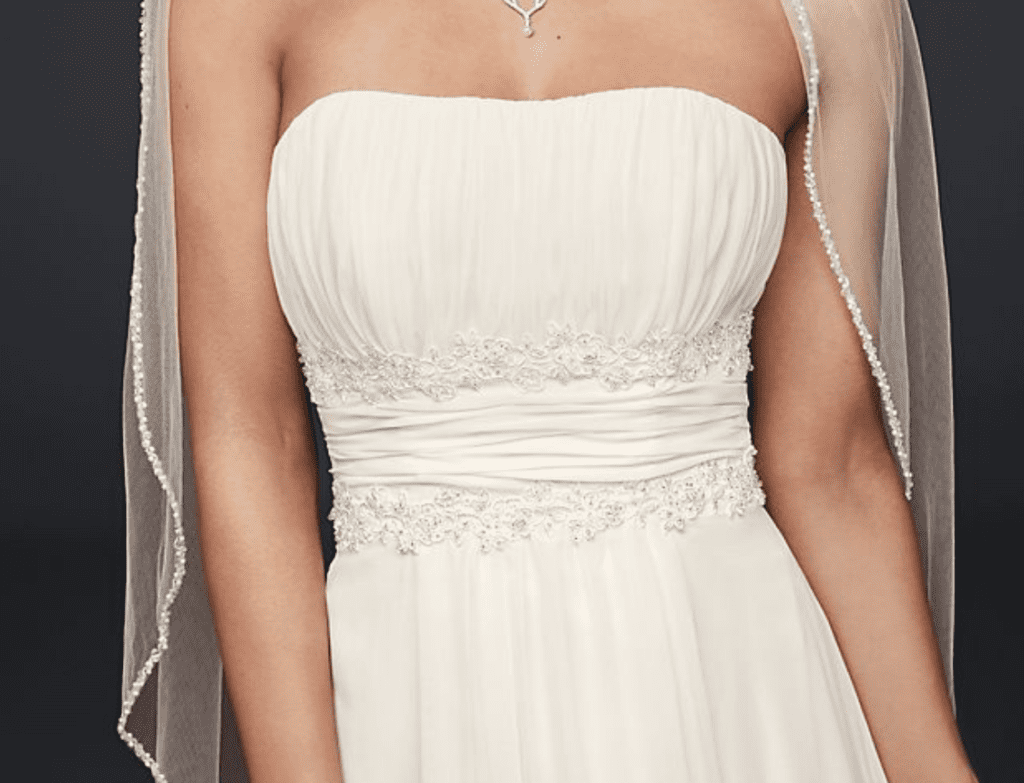 The term empire waist is likely derived from Napoleon Bonaparte's wife, Empress Josephine, who wore an empire waist style. An empire is a high waistline situated directly below the bust. It's suited for athletic, hourglass, pear, and apple shapes. It's also popular for expecting brides, as it's less confining and draws attention away from the natural waist. 
What is an Asymmetrical Waist?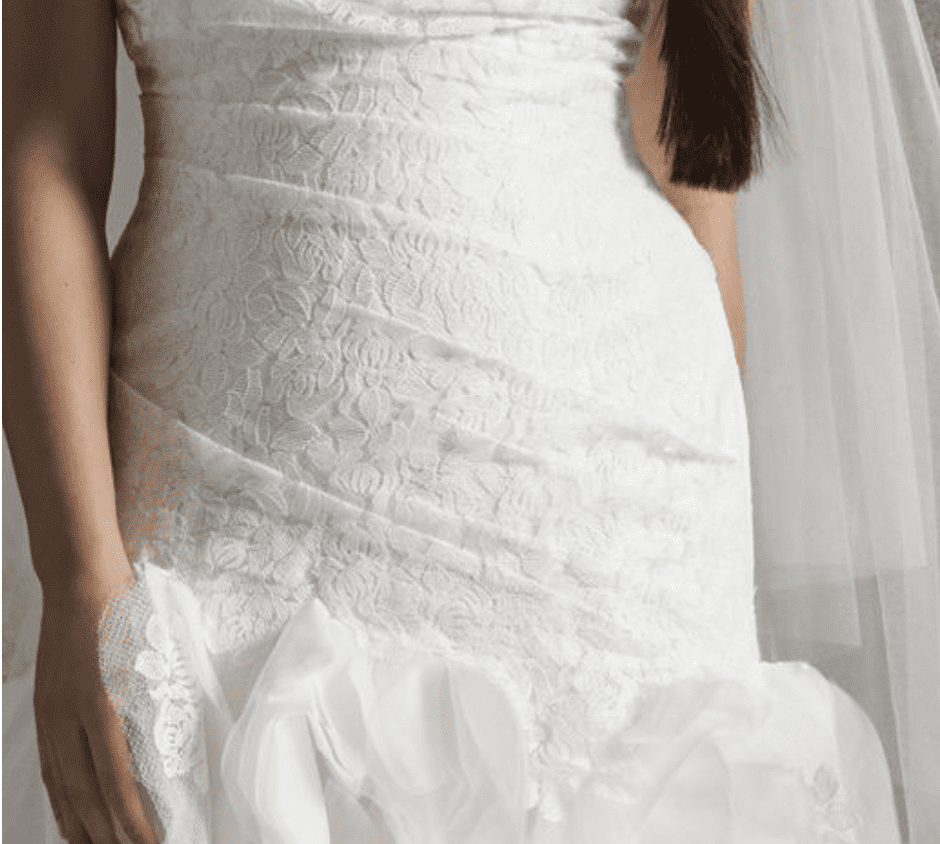 Your other option is an asymmetrical waist, which is more or less what it sounds like. An asymmetrical waist can be high, low, or close to the natural waist. Its distinguishing factor is a slanted, diagonal waist. It adds the illusion of curves and is popular for athletic, pear, and hourglass shapes. 
What Neckline Should I Wear With my Wedding Dress?
Just as is the case with waist styles, neckline styles impact the style of your dress. Likely the most popular neckline is the sweetheart neckline, but there are many gorgeous styles to choose from. 
Why is it Called a Sweetheart Neckline?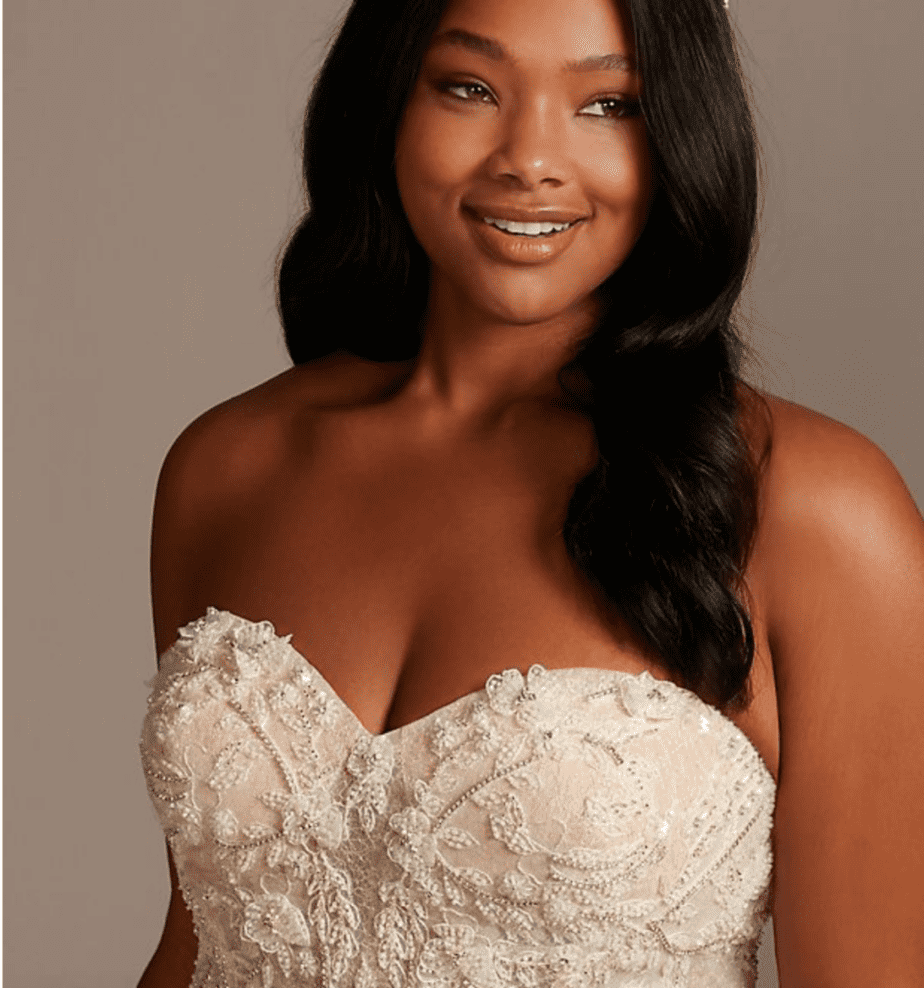 The sweetheart neckline earns its name for its heart shape. It can sit low or high and is seen as a romantic neckline. This neckline creates the illusion of more curves and draws attention upwards. It may offer less support for larger busts, though you can add straps or inner cups as needed. Another option is a modified sweetheart neckline. With a modified sweetheart neckline, the curves are softer and more subtle; the v of the neck is less distinct.  A sweetheart neckline is sometimes referred to as a princess neckline. 
What is an Illusion Neckline?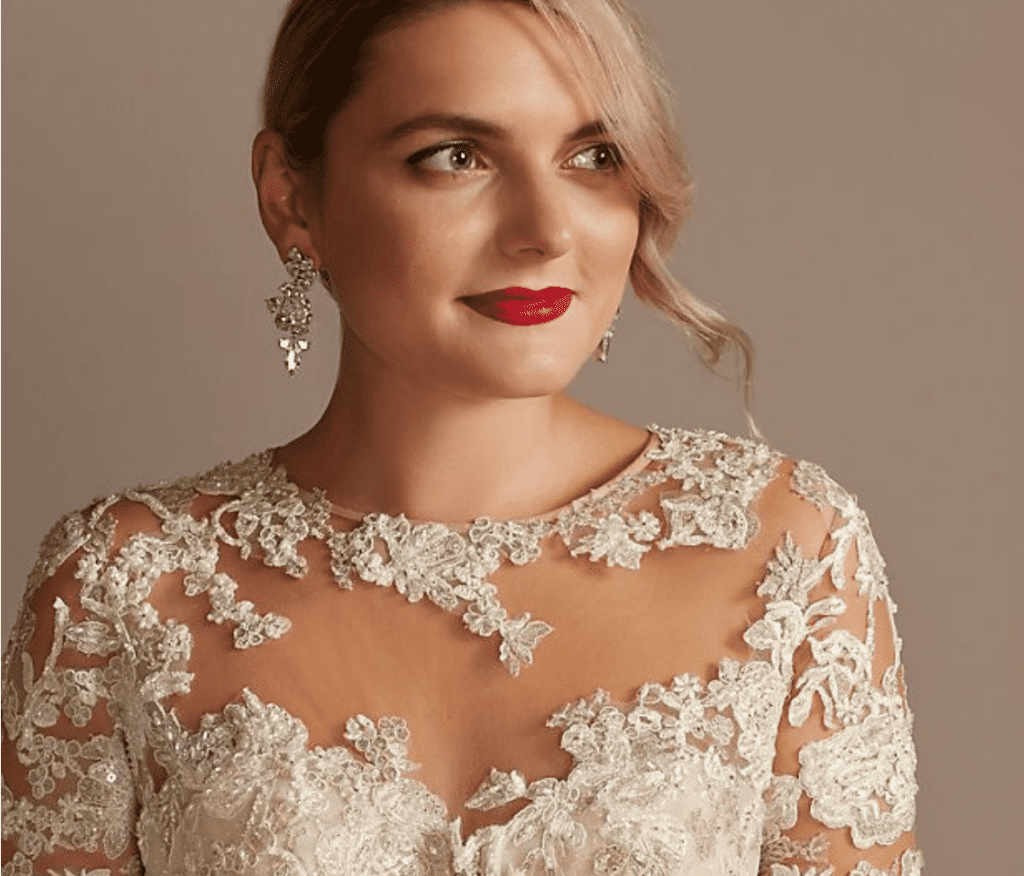 An illusion neckline can be high or low and features a semi-sheer to the sheer fabric. Illusion lace is especially popular. The idea is to provide an illusion of a strapless dress but with built-in support. You can buy dresses with illusion necklines alone or with an illusion neckline and illusion sleeves. 
What is a Portrait Neckline?
If you love the look of the off-the-shoulder neckline but want a little more support, you have two options. You can get an off-the-shoulder neckline with clear straps, or you can opt for a more subtle portrait neckline. A portrait neckline sits on the edge of your shoulders and forms a clean rectangular neckline below the collarbone. 
What is the Square Neckline Called?
A very closely related neckline to the portrait is the square or Florentine neckline. It's not as common for wedding dresses now, but it's one of the most classic necklines, as it's been worn since the 1500s. 
What is a Jewel or Scoop Neckline Dress?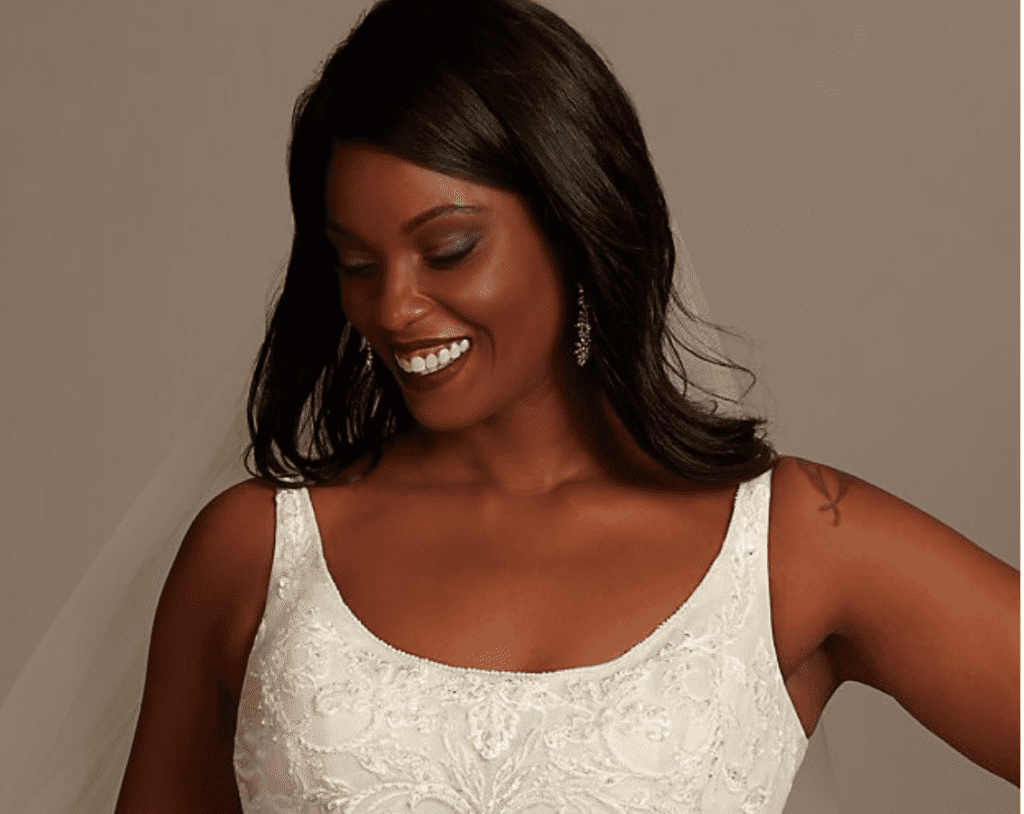 A jewel neckline sits below the collarbone and is rounded. It draws attention to the face and jawline and is a subtle but sophisticated choice. A scoop neckline is quite similar but just features a wider and deeper neckline. 
What are Plunging Necklines?
Plunging necklines dip below a typical neckline and can plunge top of the chest, mid-chest, or as far as the natural waistline. Plunging necklines are typically v-shaped and add sensual allure to the dress. They also tend to provide the illusion of a longer torso. They are made with illusion materials for added coverage. 
What is a Halter Neckline?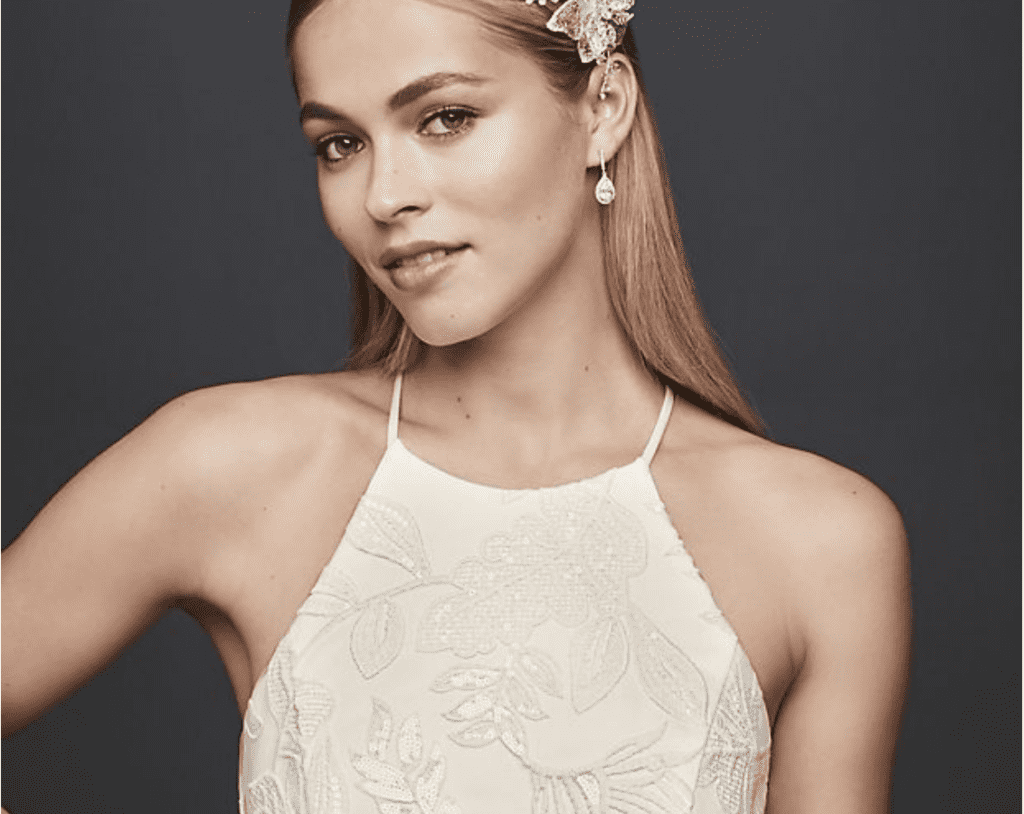 A halter neckline is usually a bit higher and consists of two pieces of fabric wrapping around the neck. Halter necklines bring attention to the shoulders and are also flattering for larger busts. Another plus is that they provide extra support and balance to the rest of the dress. 
What Percentage of Wedding Dresses are Strapless?
Does it feel like there are strapless wedding dresses everywhere? According to a stylist for Martha Stewart Weddings, that's because strapless dresses are the most popular, accounting for around 75 percent of all wedding dresses in the United States. But just because they're the most popular doesn't mean you have to opt for a strapless dress. In part ushered again in by Kate Middleton's wedding dress, the trend of cap sleeves and long sleeves still has staying power over a decade later. But are strapless or sleeves right for you? 
Are Strapless Wedding Dresses Uncomfortable?
The comfort level of a strapless dress depends on three two things: the fit and your personal preferences. The most uncomfortable strapless dresses are those that haven't been properly altered. The fit should be snug without being tight or restrictive. Look for bonding and structure– without it, you may find yourself struggling at the dress. Speak with a consultant about the best undergarments to ensure a secure fit. Some brides may feel less comfortable with a heavier bodice. If that's you, keep the bodice simple and focus on details on the skirt. 
What are Different Types of Sleeves?
I recommend trying a strapless dress and one with sleeves– just to see what you like. And if you think sleeves are too old-fashioned, consider many sleeve types suit everything from boho to modern styles. The upside of sleeves is you're getting more support, and fit doesn't have to be quite as precise. For instance, if you're getting a dress last minute and have limited time for alterations, a sleeved wedding dress may be the better option. 
What is Considered a Cap Sleeve?
A cap sleeve is one of the most popular styles. It's a cropped sleeve that covers just the top of the shoulder without covering the upper arm. This is a great option if you like the clean, modern look of a strapless dress and want just a little more support. A butterfly sleeve is a type of cap sleeve with tapered fabric that 'flutters' with you as you move. Tulip sleeves feature a capped presence, with a tulip-shaped piece of fabric grazing the shoulder. 
What is a Juliet Sleeve?
A Juliet sleeve is less common and features a long sleeve with a small puff at the top. It's a romantic, vintage look and was quite popular during the 1960s.
What is the Meaning of a Bell Sleeve?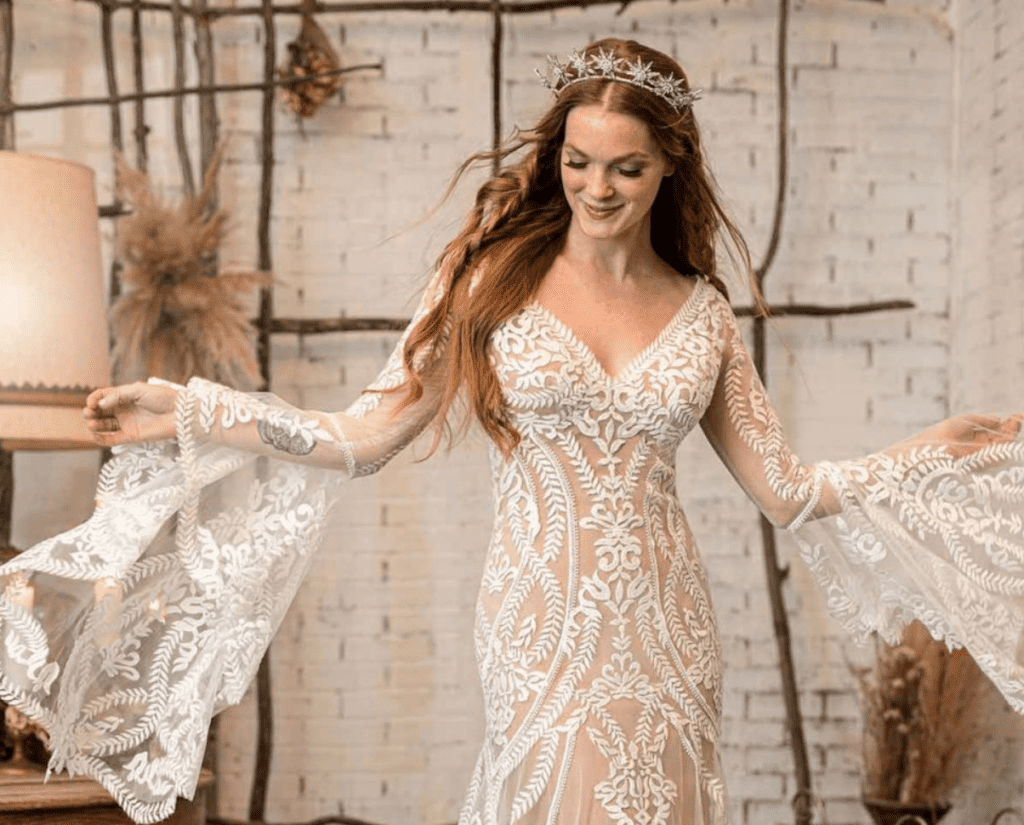 Bell sleeves extend from shoulder to elbow with a snug fit, then flare beyond the elbow. This look has come back into fashion, especially with more diaphanous materials. You'll see this sleeve type for bohemian-style wedding dresses. 
What Does a Bishop Sleeve Look Like?
A bishop sleeve is more commonly seen for blouses but can also be found on modest wedding dresses. The look is distinguished by a cuff near the wrist and billowy sleeves. The height of more recent popularity was during the 1960s, and it's seen as a retro look and a way to distinguish your dress from other dresses. 
What's an Illusion Sleeve?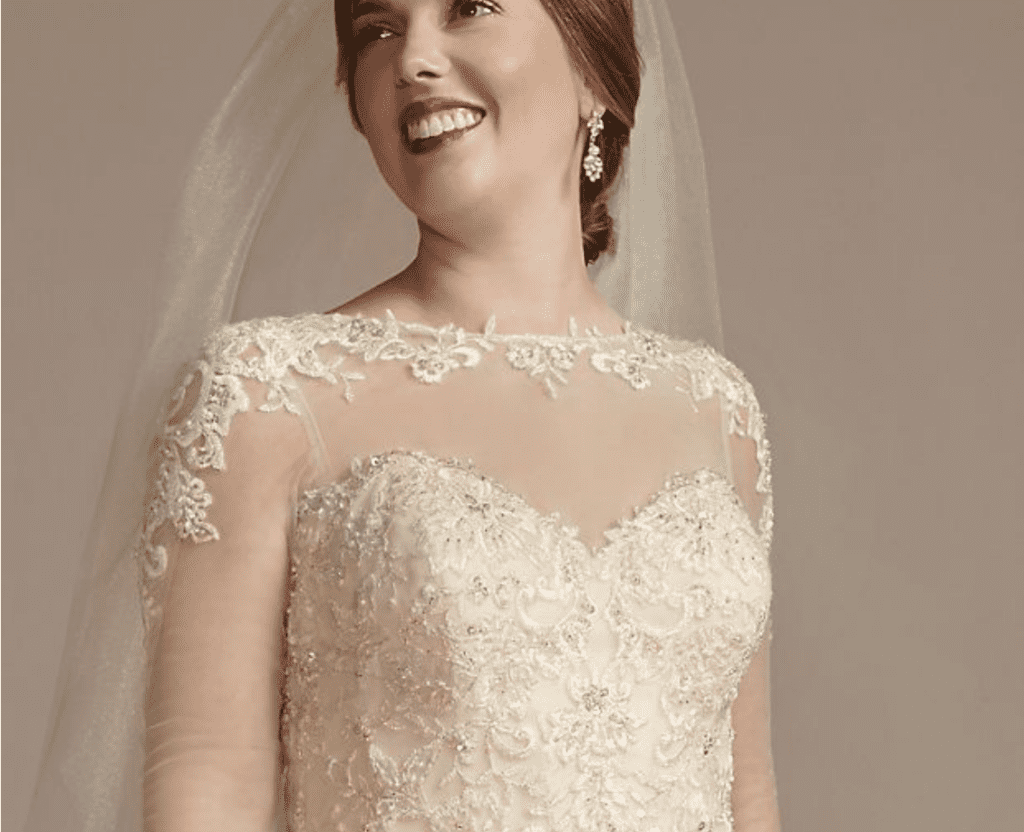 Illusion sleeves usually extend from an illusion neckline. Nude or clear mesh is used to provide the illusion of the embroidery or lace sitting right on top of your skin. Illusion sleeves provide an elegant, modern touch to both three-quarters and long sleeves. 
Which Kind of Fabric is Called Bridal Fabric?
Wedding dresses are available in a wide range of fabrics. You can find wedding dresses in classic materials like tulle or more unique, such as velvet. I see many brides make one mistake: getting attached to a certain style or aesthetic without thinking about the fabrics. Certain fabrics are heavier, more prone to wrinkle, and more prone to show different details of one's body. Here's a look and Q&A at some of the most common fabrics. Keep in mind that many dresses combine more than one fabric type. 
These include the most common but not all fabrics possible for a wedding dress. Note that some of these fabrics can be made out of polyester or silk. Silk is more luxurious, and polyester is cheaper. 
Wedding Dress Fabric
Pros 
Cons

Batiste

Light for warm weather

Plain weave makes it versatile 

Works as a complement to other fabric 

Sheer

It May seem more old fashioned 

Not as widely available 

Brocade

Decorative and beautiful 

Floral and embellished patterns

Structured and warm 

Expensive

Stiff and heavier 

Not suited for warm weather weddings 

Charmeuse

Lightweight 

Satin sheen

Stretch for a comfortable fit 

Can be expensive 

Lower quality could be dull 

Chiffon

Lightweight and breathable 

Beautiful draping 

Affordable 

Easily tears 

Polyester chiffon is less luxurious 

Crepe 

Smooth and luxurious for longer dresses

Pairs well with other fabrics

Can be lightweight or heavier

Comfortable stretch 

May crease or require steaming

May need other fabrics or shapewear for support and structure

Not as suited for ball gowns or A-lines

Damask 

Luxurious and elegant with abstract geometric or floral patterns

Water-resistant and durable

Unique beauty reflects lights 

Very stiff and heavy- best used for embellishments

Wrinkles easily 

Stains and snags easily 

Georgette 

Beautiful draping

Figure-hugging 

More durable than chiffon 

Delicate and can snag

Color fades with light exposure 

Lace ** see below for examples of different types of lace**

Beautiful and traditional

Timeless

Complements most other fabrics 

Quality varies greatly 

Must be worn with other materials

Can be expensive

Snags easily 

Mikado 

Nice shine with a low sparkle in the light

Provides structure for fitted and A-line dresses

Luxurious 

Heavier and not as suited for warm weddings

Not as high shine as satin (pro or con)

High steam can damage the fabric

Organza 

Beautiful, lightweight draping

Adds volume 

Breathable for Summer 

Stiff fabric

Transparent– must be paired with other fabrics 

Very delicate 

Point D'Esprit 

Unique diamond pattern

Modern patterns

Great for embellishments 

Very delicate 

Can't be worn alone

Can snag or stain 

Satin

Highest, glossy shine

Smooth and sophisticated

Provides structure 

Keeps you cool

Less forgiving– shows off body

Clingy and difficult to handle 

Can snag 

Silk

Doesn't wrinkle or crush

Luxurious soft shine

Absorbent and lightweight 

Beautiful draping 

Expensive

Can snag

Shows stains, wear and tear easily 

Varies in quality 

Taffeta 

Holds shape and volume

Sturdy, matte fabric 

Luxurious without a high cost 

Not breathable and not as suited for warm weddings 

Creases and wrinkles easily 

Can snag

Tulle 

Adds volume without bulk 

Airy and beautiful 

Used as an overlay for structured dresses or main skirt layers for ball gowns 

Snags and tears  easily 

Not as flattering as chiffon

Difficult for certain venues, travel, confined spaces

Velvet 

Soft and luxurious

Unique

Structured but comfortable 
Is Crepe a Forgiving Fabric?
Crepe is a great alternative to silk, as it provides elegance but is more matte, thus not highlighting imperfections as much. It's often used for semi-formal and more casual weddings. 
Is Tulle or Chiffon More Flattering?
Of the two, chiffon is considered more flattering. It's also less likely to tear and easier to work with. Tulle is often best used for skirt layers or as an overlay. 
Is Satin Better Than Mikado?
Mikado has beautiful draping and a luxurious feel and is an excellent choice. The main difference between Mikado and satin is that Mikado has a subtler shine. 
What are the Different Types of Wedding Laces?
Lace comes in countless gorgeous designs. The seven most common forms are knit, Venetian, chantilly, embroidered, point d'esprit, Alencon, and eyelet. Interested in what each one looks like? Click Here to See the Most Common Wedding Lace Types.
What's Best for a Wedding Dress Back?
For the back of your wedding dress, you'll have three options: buttons, zippers, or a corset. Many wedding dresses also combine features. For instance, many wedding dresses that have buttons have a concealed zipper. You can also alter your wedding dress to add a lining or conceal a corset or zipper. 
A note about back types: you can have illusion backs, keyhole backs, and plunging backs. A keyhole back features a fabric covering near your collar, with a keyhole cut out. It's common with lace dresses. 
What Does a Corset Dress Do?
A corset dress features a lace-up back. This is popular for several reasons. For one, the lace-up and boning allow you to adjust the wedding dress to shape. It also means that you have more room to work with if you lose or gain weight, while a zipper or button-based dress may require alterations with weight fluctuations. 
What are the Buttons Called on a Wedding Dress?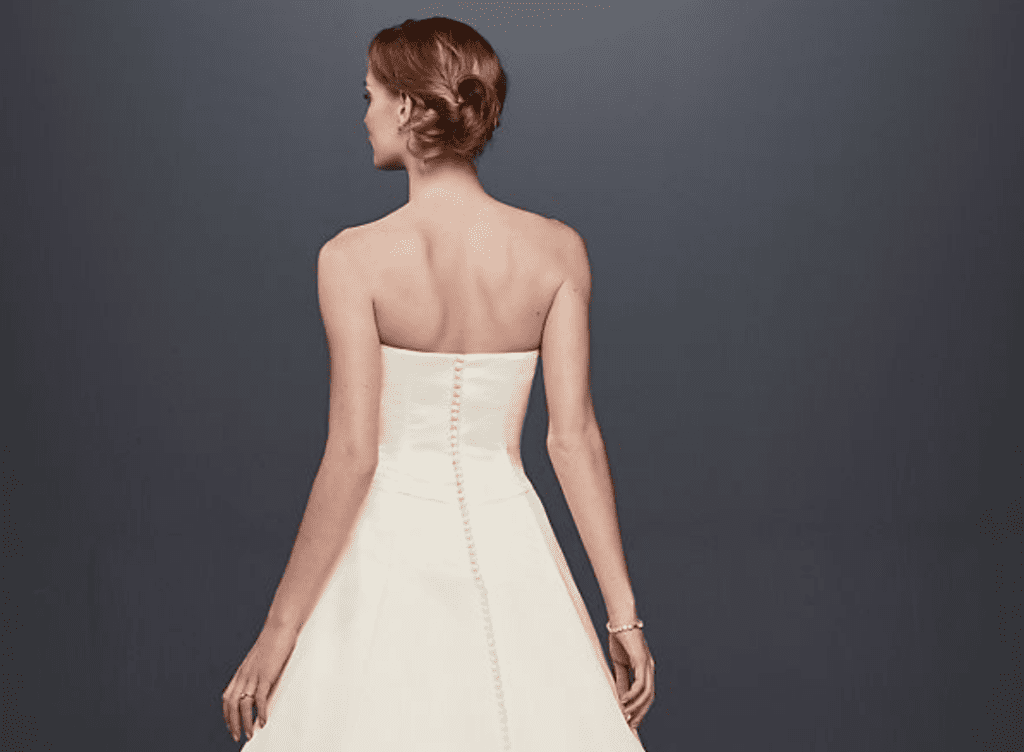 If buttons are on the train of the dress, they're considered part of the bustle. However, buttons do not always extend the full length of the dress. Buttons provide a beautifully classic look, but they are less lenient for weight fluctuations. Ultimately, it comes down to preferences. I think corsets are the most practical, but I personally prefer the look of zippers or buttons. It's up to you to decide which dress back style is best. 
How Long are Wedding Dresses Supposed to be?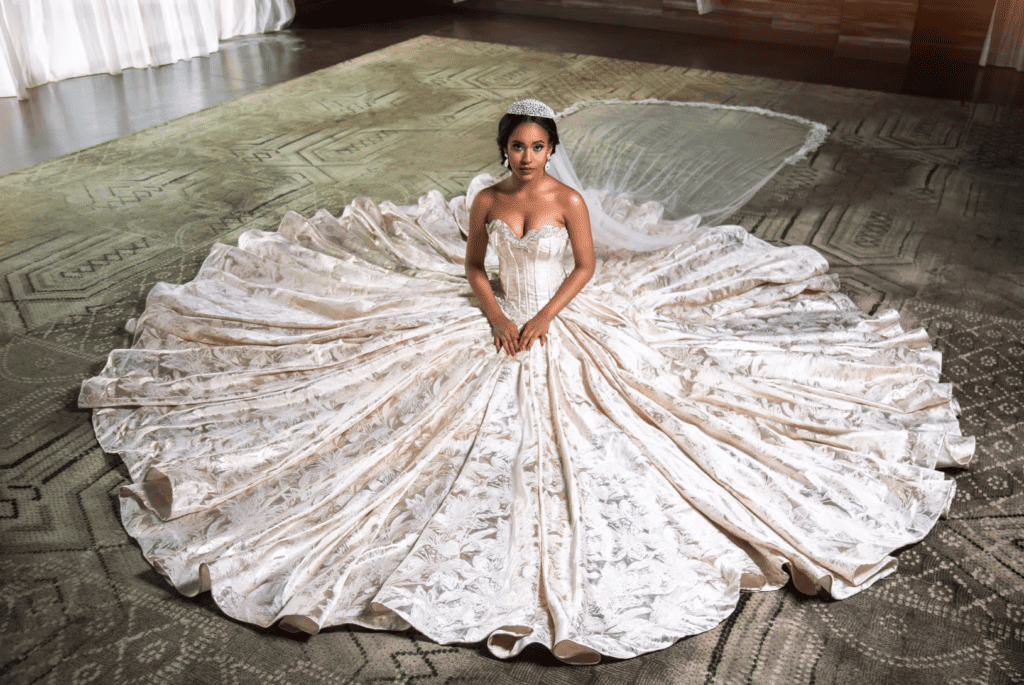 A floor-length wedding dress is the most common. Alterations should work with you to make the hem hit at the tops of the shoes you intend to wear, or around 1.5 to 1 inches above the floor. Thus, a long wedding dress should comfortably graze the ground but not drag too much. Nearly all brides will have to have their dresses altered to achieve this length. 
Do Wedding Dresses Have to be Long?
When you think of a wedding dress, chances are your first impression is a floor-length dress. And while that is the most common option, shorter wedding dresses are excellent fits for a variety of reasons as well. 
Is it OK to Wear a Short Wedding Dress?
Shorter wedding dresses are common for early morning or afternoon weddings, casual venues, and second marriages. They also work for a fun vintage touch and for brides who just want to be more comfortable. 
Are tea-length Dresses Flattering?
One of the most common shorter dress lengths is the tea-length dress. The tea-length dress was popularized in the 1930s and falls just beside the ankle. You'll normally see A-line tea-length dresses, with the flare of the skirt beside the ankle. This length looks great on taller brides. 
What is the Difference Between Midi and Tea Length?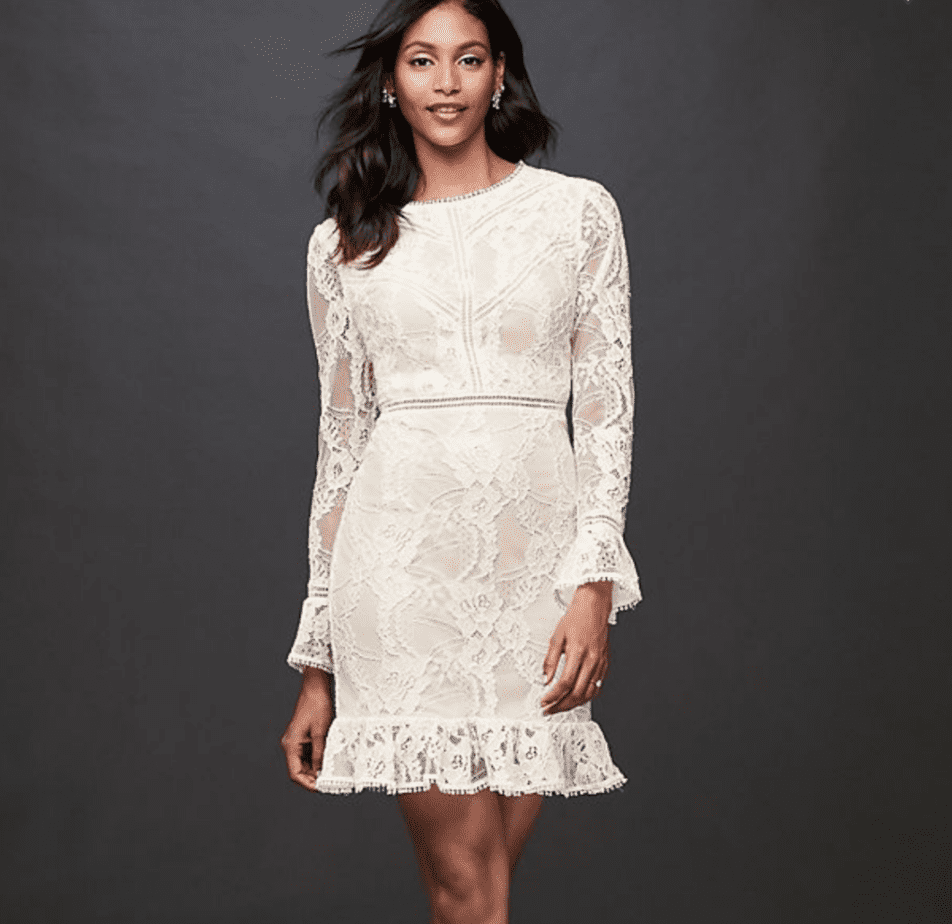 On the other hand, a midi length is shorter and falls just past the knee, up to two inches. A midi dress shows more leg length, but some feel it's an awkward length, and the tea-length dress is usually more flattering for tall and petite brides alike. 
What's the Wedding Dress Train?
The train refers to the fabric that extends past the hem of the wedding dress. A train comes in a few forms. It can be attached permanently to the dress, be entirely detachable or even come as a cape. Trains can be barely existent or dramatic and are meant to trail as you walk down the aisle. For the reception, longer trains are usually pinned up or bustled.
How Long Should a Wedding Train be?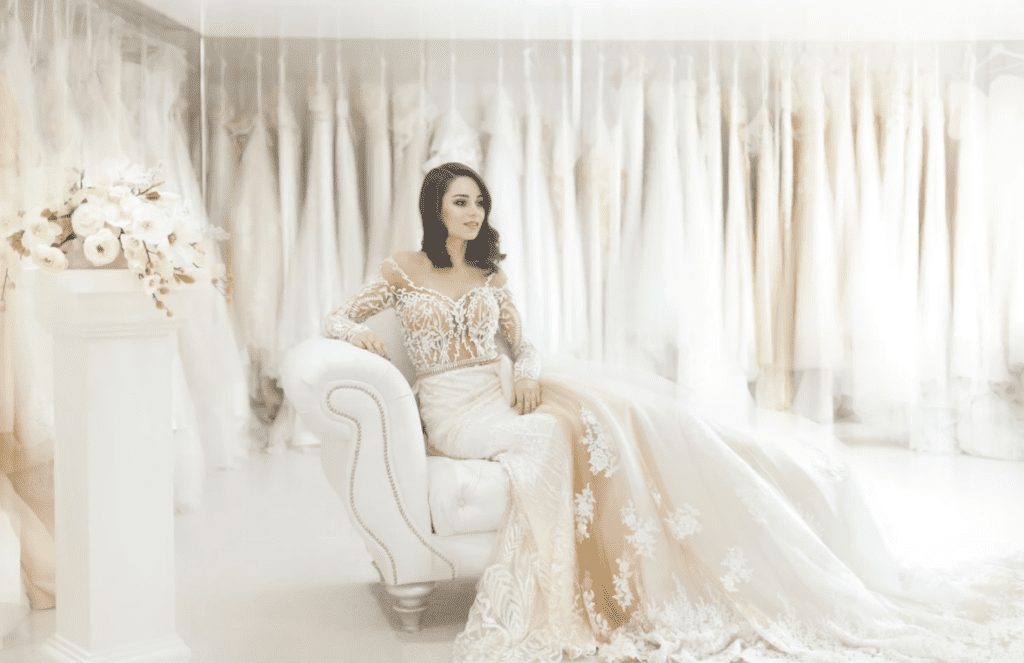 The longer the train, the more dramatic, and the shorter the train, the easier it will be to move around in. A long wedding train is typically for very formal weddings and also for religious ceremonies. Longer trains are always generally more expensive. See the chart below for wedding dress train styles and descriptions.
| | | |
| --- | --- | --- |
| Train Type  | Length  | Description |
| Fishtail  | Varies | Suited for a mermaid dress, a fishtail train. It's a very subtle train that flares from the bottom of the dress  |
| Sweep | 10 inches  | This subtle train is suitable for all styles and doesn't require bustling  |
| Court  | 2 feet  | Suited for mermaids and fit and flares, it's a subtle but beautiful train length |
| Chapel  | 1 foot to 18 inches long  | A chapel train is one of the most popular train lengths, providing formality without being too heavy.  |
| Cathedral  | Up to 8 feet  | Also known as a monarch train, a cathedral train is the longest train available and the most formal. |
| Watteau  | Varies  | A Watteau train attaches to the back of the dress rather than the bottom. This forms a cape effect, and these trains are often, but not always, detachable for the reception.  |
Should Your Veil be Longer than Your Train?
Most brides opt for a veil that it's a tad longer (a few inches) than their train. This may not always be practical, for example, if you have a very long cathedral train. But if you are wearing a veil, it's common to buy one just slightly longer than your dress train. 
What is the Best Color for a Wedding Dress?
You may think of wedding dresses as white, but different cultural customs, as well as innovation, mean more brides are embracing other shades. And even with the family of white dresses, you'll have choices. 
Do Brides Wear White or Ivory?
Ivory and white are both classic shades. Ivory is softer, off-white. Ivory tends to be more flattering for cooler and fairer skin tones, while warmer skin tones look gorgeous in white. An ivory dress has a bit of cream to it. A diamond white dress indicates the brightest white and provides a crisp, clean look. Both ivory and white can be stunning. Read about the white vs ivory debate here.

Is it Okay to Have a Blush Wedding Dress?
Blush is a nice option if you're looking for an alternative to white and ivory wedding dresses but don't want to go too bold. Blush color is just a tint of pink, though there are deeper blush hues. The pink undertones are layered with white and are often paired with lace and romantic dress styles. The style is flattering to most but may also work for those who feel whitewashes them out too much. Blush wedding dresses are most popular for the Summer and Spring months. 
What Does a Gold Wedding Dress Mean?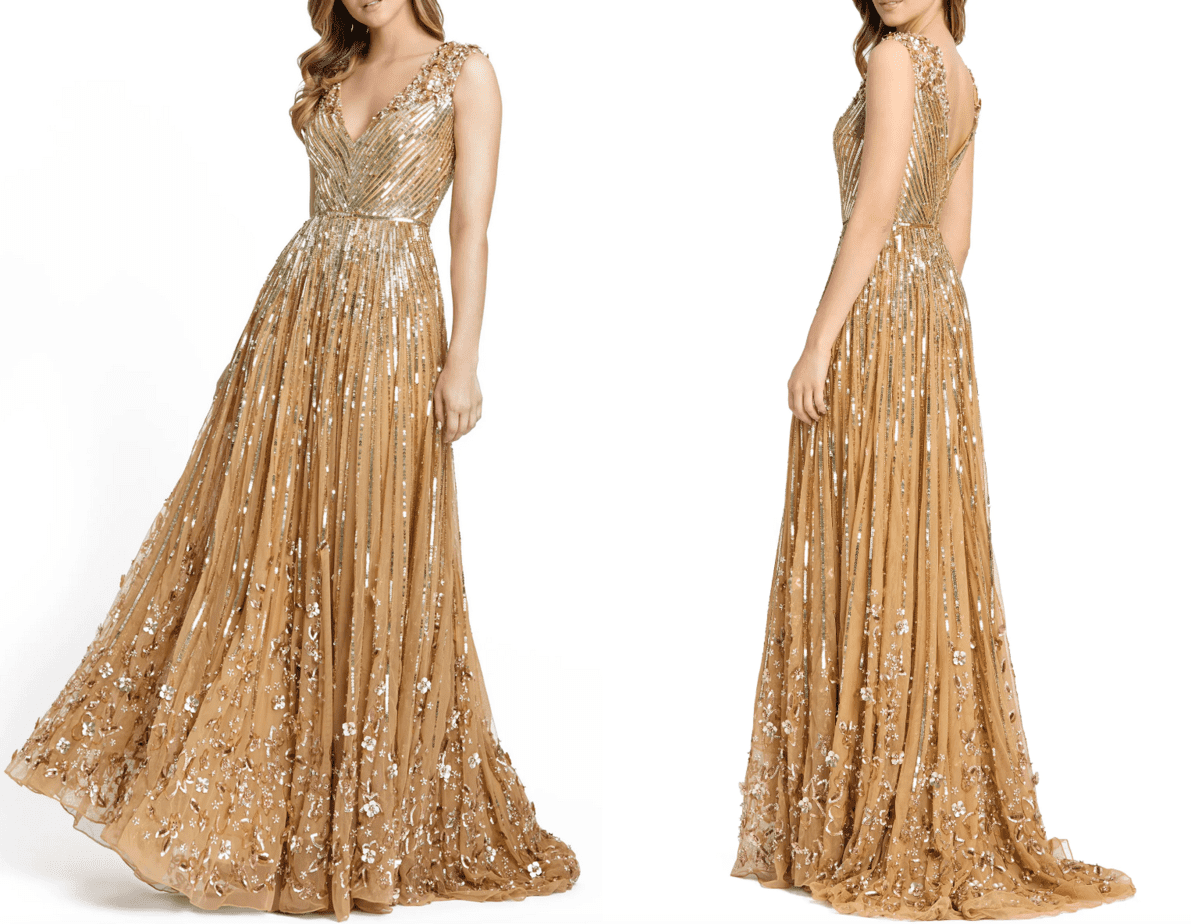 Another option is a gold wedding dress, though these can either be all gold or champagne. Like blush, a champagne dress has just a hint of color, in this case, gold. Champagne dresses have risen in popularity and can still share the symbolism of wealth, wisdom, and health. A gold wedding dress makes a formal, elegant statement but one that will turn heads. 
Why do People Wear Blue Wedding Dresses?
Less common are blue wedding dresses. You can find hints of blue to soft dusky and baby blues. To buy a blue wedding dress, you may have to get one custom-made and/or shop from places like Etsy or high-end designers. However, the dress above is from David's Bridal, so it never hurts to look. Blue wedding dresses can be beautiful, and tie into the 'something blue' wedding tradition. Most blue wedding dresses I've seen featured on Etsy are bohemian style or whimsical. If you want to stand out but still tie into wedding dress traditions, blue may be the way to go. 
Why Do Brides Wear Red?
Red is the color of choice for Hindu weddings. Red is associated with the Goddess Durga, who is seen as a source for hopeful new chapters in one's life. Thus Goddess also embodies femininity and the power of women. It's traditional to wear a wedding dress for religious ceremonies. 
How Do I Know my Wedding Dress Size?
What one mistake do brides make? Getting confused or even distressed about wedding dress sizes. Many aren't aware that wedding dress sizes are different. Going in with this knowledge will help you communicate with your consultant and have a better shopping experience. 
What is a Street Size on Wedding Dresses?
Street size refers to your typical dress size. The street size is on a different scale than wedding dress sizes. Though it varies by designer, you can expect to go up an average of two dress sizes. Thus, if you normally wear a dress size 8, you may need a wedding dress size 12. The key is to not pay too much attention to the dress sizes and just tell the consultant what size you normally wear. 
What Size are Most Sample Wedding Dresses?
Many sample dresses are around bridal sizes 8 to 12. The consultant will pin the dress for you so you can get an idea of what your size will look like. The good news is that larger stores and more stores are expanding their sample size options. For example, Klenfiled's has sample sizes up to 22. If the sample size is a bit too small, it won't be fully laced or zipped up but instead clipped at the back. You don't need to be the exact sample size, just within a few sizes. If you have concerns, you can always call ahead and ask. 
Is it Better to Buy a Wedding Dress Too Big or Too Small?
It's always better to buy a wedding dress slightly too big. It's far easier to take a dress in vs let it out. While some dresses can be let out, it's a good idea to buy your dress just slightly large and have it altered. 
How Many Pounds Does it Take to Lose a Wedding Dress Size?
Going down a dress size may take anywhere from a few to 10 pounds to lose. However, while there's a lot of hype around losing weight for a wedding, you should ask yourself if your weight loss is healthy, realistic, and sustainable. If you're already at a healthy BMI, I caution you against losing weight. And if you are set on losing weight, know that it's a bad idea to buy a dress size or two too small in hopes of losing weight. Better to lose weight before dress shopping and try to maintain it. 
How Long Before Your Wedding Should you Get Your Dress Altered?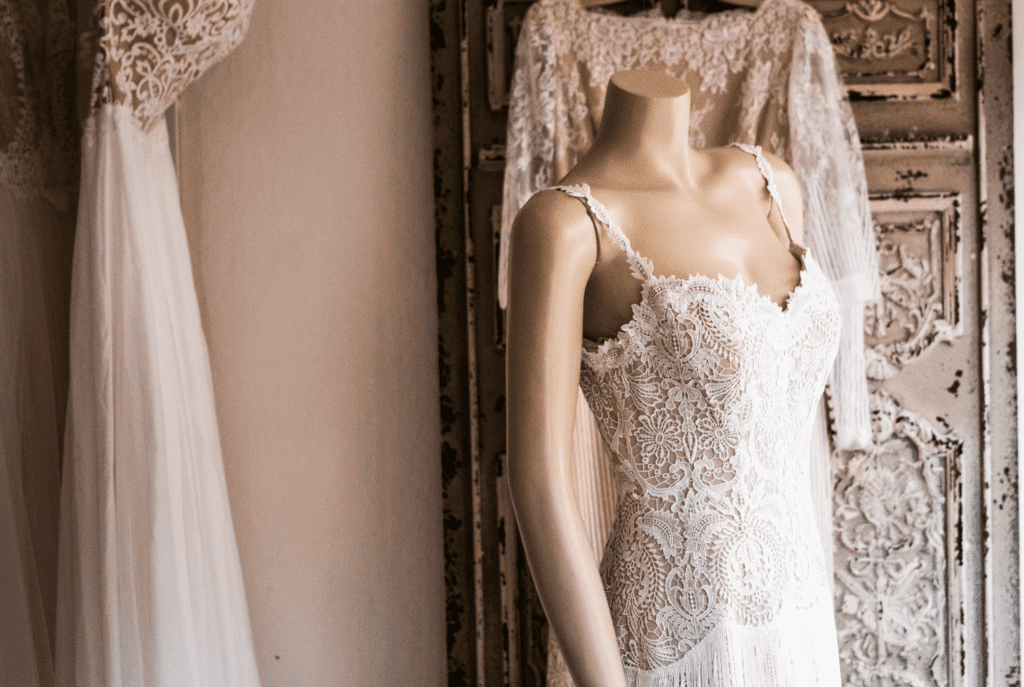 Almost all wedding dresses require basic alterations. Alterations are necessary for a proper fit for your dress and are usually needed to shorten the hem of your dress. You'll usually come in for 2 to 3 alterations. Your first alterations should be scheduled two months before your wedding and then a few weeks apart. At the first alterations appointment, you'll communicate any major alterations needs, including fit and aesthetic changes. Subsequent alterations allow you to ensure a fit as close to the wedding day as possible (usually 2 weeks before). 
Can a Dress be Altered to a Bigger Size?
As I said before, it's also harder to alter a dress to a bigger size vs having it taken in. Many dresses will allow you to take the seams out for 1 to 3 inches on average. This equates to taking out a dress a single size. But it depends on the dress style, and you should always ask before buying a dress. A good seamstress may also add fabric that seamlessly fits to take the dress out. Make sure you look up reviews to ensure you're working with a skilled seamstress. 
How Much Does it Cost to Get a Wedding Dress Taken In?
Dresses can generally be taken in up to two sizes. Anything above that will require substantial work, including cutting the fabric, which is very time-consuming and costly. But taking in a dress is fairly typical work and will cost you a few hundred dollars. If you're only taking it in a little bit, it could cost as little as $100, though this is below average. 
How Much Should Wedding Dress Alterations Cost?
See the chart below for rough estimates of the average costs for wedding dress alterations. Keep in mind that these numbers go up every year and vary by region and your dress. The more material or detailing on a dress, typically, the more expensive the alterations will be. 
| | |
| --- | --- |
| Type of Alteration | Cost |
| Shorten/ Hem Dress | $80 to $250 |
| Add a Train  | $75 to $200 |
| Have sleeves added | $100- $300, depending on the sleeve type |
| Sleeve Alterations, general | $50- $100 |
| Adding a Bustle | $25 to $100 |
How Can I Make my Wedding Dress Poofy?
A simple way to make a dress more voluminous is to add a crinoline skirt underneath. The layers are tulle and are meant to make the skirt poofier. A hoop skirt is used to make a skirt appear wider. You can ask the bridal shop if they sell any, if they can custom make one, or you can even buy a skirt from Etsy or Amazon. 
Do you Tip for Dress Alterations?
Tipping is actually not required nor customary for alterations. If you are very happy with your alterations and have money to spend, a $20 tip is considered suitable. 
Who Pays for the Wedding Dress?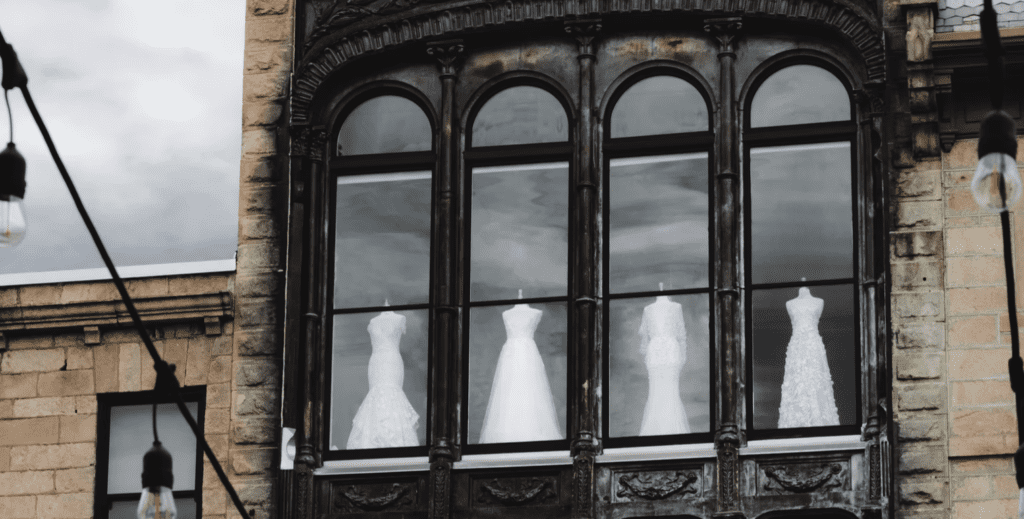 Deciding who will pay for the wedding dress is a good idea before you start shopping. So is setting a firm budget (including alterations). By taking these two steps, you ensure that you won't run into tricky and contentious situations. Traditionally, the bride and her family pay for the dress, but now, it's often on the bride herself. A couple that lives together may help each other pay for their attire. 
Do you Pay for a Wedding Dress in Full?
Many brides pay for their wedding dress in full, but some bridal boutiques have the chance to pay for the dress in full later. Typically, a dress must either be paid for in full at the time of selecting or when the dress comes to the store. You should always ask ahead of time. Most places don't offer payment plans. 
Can Wedding Dresses be Returned?
It's possible in rare circumstances that wedding dresses, completely unused, could be returned, but this would only be possible if it hasn't been altered. Even then, it's unlikely, but it can't hurt to ask. If you do find yourself in a situation with a wedding dress you can't bring yourself to wear or no longer need the dress, you can sell it. Used wedding dresses websites like Once Wed and Still White are one option. You can also sell your wedding dress on Etsy or donate a wedding dress to these five charities.  
Can I get my Deposit Back on the Wedding Dress?
As is the case with returns, most stores won't give you a refund. It's best to check as soon as possible if you feel you've made a mistake. 
What is the Average Cost of a Wedding Dress?
The average cost of a wedding dress is only so helpful because it may include outliers such as very expensive dresses. The cost you pay will also greatly depend on the fabric, detailing, materials, and designer. Most brides spend above $1,000 but below $5,000 for a rough average range. If you shop at a larger retail shop like David's Bridal, most dresses are $2,000 and below. If you shop at a small bridal boutique, dresses may start closer to $1,000 or $2,000 and go up. A high-end store like Kleinfeld's has a modest collection of dresses under $2,000, but most start at just under $3,000. 
How Much is a High-end Wedding Dress?
It depends on what you mean by high-end wedding dresses. Popular designers usually start around $3,000 and go on up. Some of the most luxurious designers have dresses that range from $5,000 up through over $10K. Pnina Tornia's original line of dresses fetches very high prices– which several topping $10K, though the designer's newer line, With Love, cost a few thousand dollars on average. 
How Much Does it Cost to Have a Dress Custom Made?
How much it takes to make a custom dress varies greatly. You could have a very simple wedding dress made for as little as $1,000 or a luxurious one that tops $30K. It is not necessarily cheaper to get a wedding dress made– it can be more expensive. But, of course, a dress could be made with cheaper materials. 
How Can I Save Money on my Wedding Dress?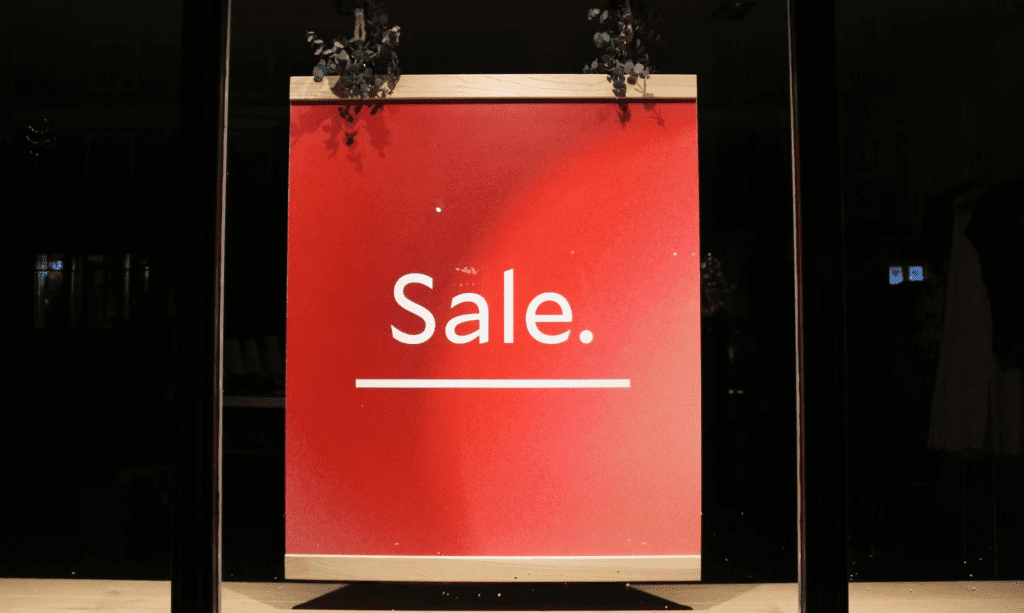 But as expensive as wedding dresses can be, there are ways to save money on your dress. Some of these tricks are great for those on a very tight budget, while others are small and simple tweaks that can still slash hundreds of dollars and leave more room for the rest of your wedding budget. 
What Time of Year do Wedding Dresses go on Sale?
One easy way to save money is to shop while a store is trying to sell their previous seasons' inventory. The two best times to hit wedding dress sales are in January, before the Spring season, and in the thick of Summer. Of course, it never hurts to ask a store when they have sales, possible discounts, and other ways to save. Some stores like David's Bridal rotate dresses on sale as new dresses come in. 
What do Off the Rack Wedding Dresses Mean?
Off-the-rack wedding dresses are also a great way to save money. An off-the-rack wedding dress means you won't have to custom order it, and it's already been altered.
These typically are much cheaper, though of course you'll have less selection and you'll need to find a wedding dress close to your size. Even with an off-the-rack wedding dress, you may get some minor alterations, but generally, these are dresses that the store is trying to sell off at a discount. If you find an off-the-rack wedding dress, you can take it home with you that day. 
How Much is it to Rent a Wedding Dress?
A less conventional option is renting a wedding dress, and though it'll save you money, I wouldn't recommend it for everyone. For the unconventional bride or someone who doesn't care about owning their dress (such as a second or third wedding or other reasons), this is a way to reduce your spending greatly.
You'll likely be looking at renting a dress online and more of a designer dress vs your typical wedding dress. The problem is there aren't too many places to rent a dress from. For instance, Rent Runway I wouldn't recommend, due to its D minus rating. 
You can always ask bridal shops or dress shops if such an option is possible. Dresses rent for an average of $50 to $400 for a day. Do keep in mind that if you rent a dress, you can't alter it to fit you, which is another downside. 
Why Should you Buy a Used Wedding Dress?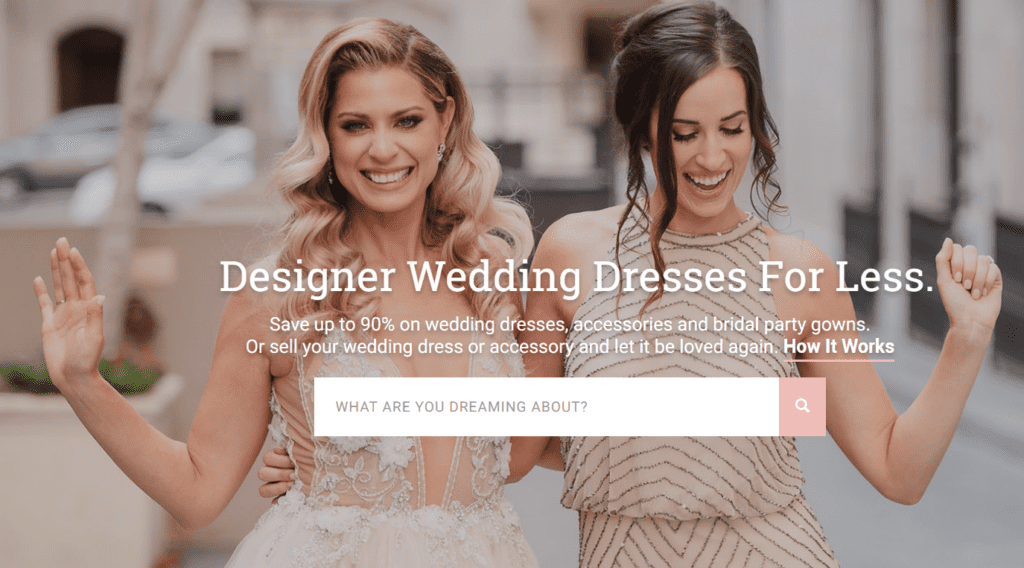 Buying a used wedding dress is another option, and, of course, another way to save money. The advantage of buying a used dress is that you can alter it to size, and you'll own it as opposed to renting. It's becoming more popular to buy used wedding dresses for brides who have their hearts set on a popular designer but can't afford the sticker price.
Of course, there's some risk to ordering online, but if you carefully inspect company policies and plan, you can avoid bad situations. Used wedding sites include Once Wed, PreOwned Dresses, and Still White. You can filter by dress details, size, and designer, as well as location. 
Lux Redux is a more traditional bridal boutique that offers used wedding dresses, which also allows you to try dresses by having them sent to your home. Not only does this still allow you to try on dresses, but you're also buying directly from a boutique as opposed to individual sellers. 
Where Can I Find a Wedding Dress for Under $100?
Finding a wedding dress under $100 is very challenging. You'll need to opt for a fairly simple dress. David's Bridal $99 Dresses are one such option, and the inventory regular changes. Right now, they are mostly bridesmaid dresses, but they do have $99 dress sales. You can also try thrift stores. If you're willing to go with cheaper materials, you could shop Amazon Wedding Dresses. None of these are the highest quality, but you do get Amazon return policies, and you have reviews to go off of.  
Are all Bridal Boutique Wedding Dresses Expensive?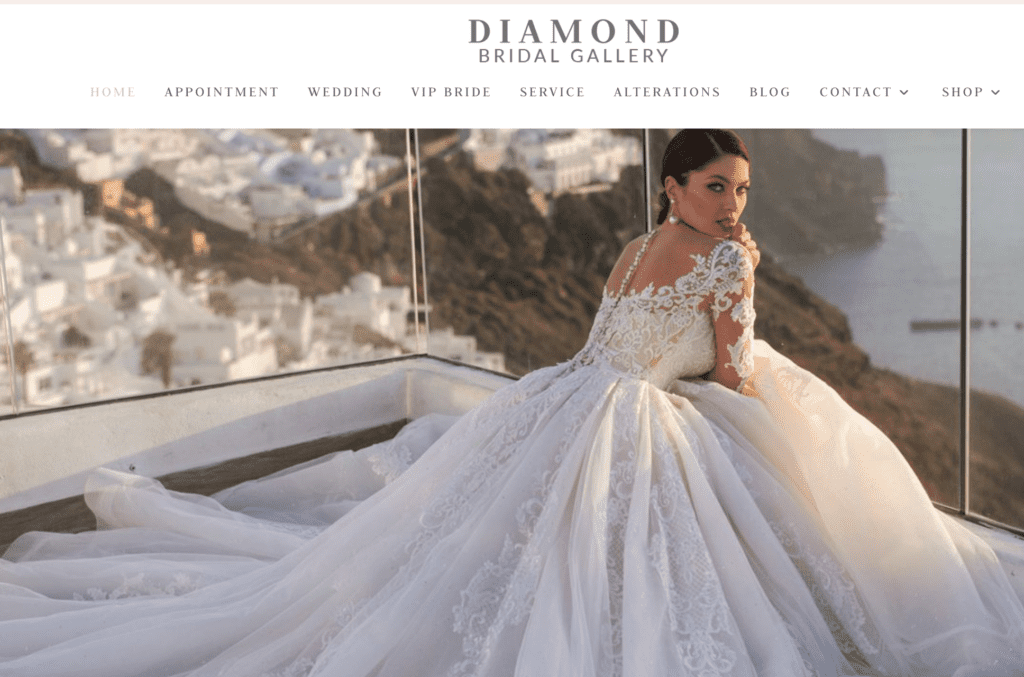 While most bridal boutiques are a bit expensive, they aren't always so. Some small boutiques, such as Diamond Bridal Gallery, offer many dresses in-store and online that are under $2,000. Nearly all small boutiques still have sales, trunk shows and may even be more willing to offer discounts on alterations or accessories. The point is that it never hurts to compare shops, and you shouldn't assume you can't find a good deal before you give it a try. 
Frequently Asked Questions
Question: How Can I Tell From a Website What a Wedding Dress Will Look and Feel Like in Person?
Answer: You can't tell how a wedding dress will fit or feel when you're shopping online. The best bet is to read the description and see what fabrics are used. Customer reviews, if possible, provide insight as to the general fit and cut. If you're lucky, you may even see some customer pictures. One trick is to try a similar style and fabric in a physical store. That way, you can get at least a sense of realistic expectations. 
Question: Is $1500 Enough for a Wedding Dress?
Answer: $1500 is enough to buy a beautiful wedding dress. At this level, you can shop at larger bridal retailers or the more affordable end of some smaller boutiques. You may not get a well-known designer, and you'll have less expensive detailing or beading, but you can still find a dress at this price in many regions. 
Question: What Do you Wear Under Your Wedding Dress?
Answer: A great idea is to wear what you'll wear for your wedding day to your alterations. Nude to white undergarments are best, and seamless underwear will prevent any lines from showing. If you have lining included in your dress, you may not need a bra. For backless dresses or dresses with a sheer bodice, silicone pasties may be needed. Stick-on cups are another option, but I don't recommend tape. If you do plan to wear shapewear, make sure you do so for your first and subsequent fittings.
Final Thoughts
It may seem overwhelming to find the perfect wedding dress. There's no denying that there are so many factors to consider, but the key is to go into wedding shopping with some ideas– but also be willing to try some wedding dresses that may be out of your comfort zone. Shopping with a little knowledge, a budget, and a supportive person are tips for success. And ultimately remember this: there isn't really a perfect wedding dress, nor does it have to be perfect. It just needs to be a dress you feel confident in. 
Final Buying Recommendation: Boho and Unique Wedding Dresses
One of the most popular wedding dress trends is boho wedding dresses. While there is not a strict definition of what a boho wedding dress is, they tend to feature airy, light fabric, less structure, and whimsical touches. If you're looking for boho dresses, dresses with color, or even a unique option like velvet, one collection you should consider is BHLDN. This company is owned by Anthropologie and offers online shopping and some physical stores. You can even find fantastic bridal pantsuits. Click Here to View the BHLDN Wedding Dress Collection. 
Find more guides and ideas below:
How to Find the Best Wedding Shoes