When you start to plan a wedding, the first thing you consider is likely aesthetics. Our ultimate wedding fashion guide will talk you through how to get the right image for your big day and present this seamlessly throughout your wedding.
One question looms when it comes to wedding fashion: should I follow the trends or look back for a more classic look?
Wedding fashion also goes beyond the bridal outfit. It includes what you will do with your hair, your shoes, jewelry, and other accessories.
I have explored some of the best wedding fashion trends as predicted by experts. In this article, I will break down the trends brides all over are turning to. They include a blend of both modern and classic trends.
So read on to find inspiration for something new, something old, and even something blue.
2022 Wedding Fashion Trends
With the return of in-person weddings, brides everywhere are excited to reinvent wedding fashion. Many are looking forward to ditching the traditional and bringing in a new dawn, while others are embracing the new trends without completely forgoing the past.
It's an exciting time for wedding fashion, and I am taking a closer look at the new beginnings that are sure to carry us through the rest of the 2020s.
Bridal Dress Fashion Guide
The bridal dress has undergone a lot of evolutions, and this will not stop anytime soon. Below are some of the trends that are slowly gaining popularity among brides everywhere. You can incorporate one or more of these to get the wedding outfit you deserve.
Colors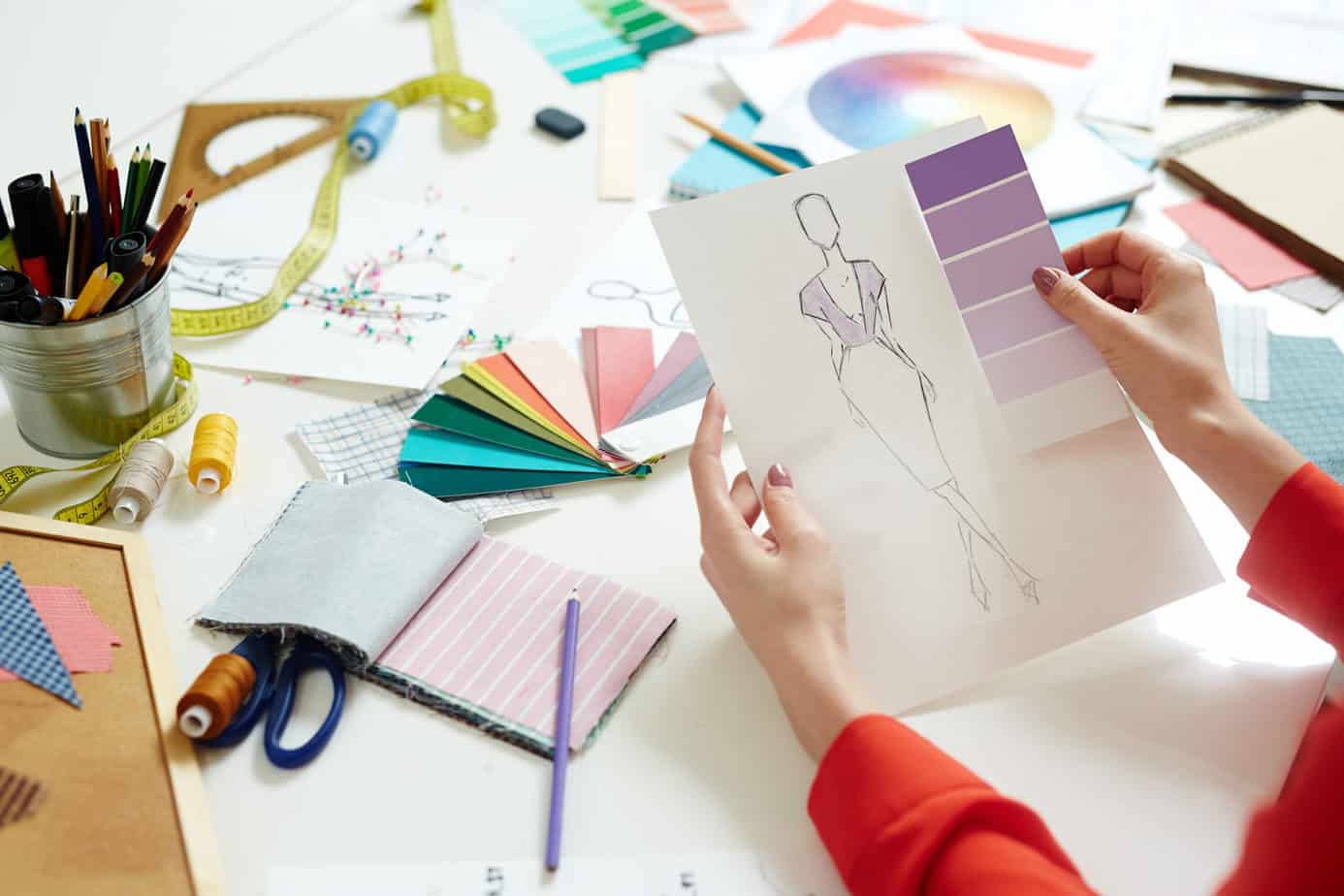 One of today's more prevalent wedding fashion trends is the incorporation of color into the bridal outfit. Gone are the days when pure white or related shades were the golden standard for wedding dresses. A lot of brides are choosing dresses with bold colors.
Pink, turquoise, and blue are popular colors for brides, especially ones who have opted for nontraditional weddings. These colors are perfect for spring and summer weddings.
If bold colors are not your thing, then you could try incorporating lighter color tones into your wedding dress. Lighter tones are more pleasing to the eye and induce that soft quality that most brides want on their wedding dresses. Baby pink and powder blue are good examples of lighter shades that have caught the attention of many brides.
A good way of keeping the traditional white wedding dress while incorporating color is by choosing a white dress material that has colorful flowers or patterns. The colorful additions do not have to be overpowering: just a hint of pink, green, or even darker colors like black can make for a unique and memorable wedding dress.
Bold Necklines
The past decade has seen women ditch wedding dresses with modest necklines and experiment with more daring ones. The sweetheart neckline has been a staple of wedding dresses, allowing women to look both sweet and daring on their special day.
In 2022, however, square necklines are back in and growing more popular than ever. If you've watched Bridgerton, then you know what I'm talking about. The beauty of a square neckline is that it can be modest or on this line of scandalous, depending on your tastes. If you don't want to shock the children at your wedding, then you can have the neckline briefly skim the top of your bust. However, if you want people to go home with something to talk about, you can have the neckline show a fair amount of cleavage.
Aside from the square neckline, more women are embracing the halter neckline. It has taken us a few years to catch on to the elegance of a halter neck dress ever since Meghan Markle wore one to her wedding reception. However, this is an incoming trend that will be carried on for generations.
A halter neck dress allows you to do a lot with the rest of the dress. You can decide to have a sleeveless halter neck dress, showcasing your toned arms. However, you can also choose to have full sleeves and even add a bit of old-school glory like puffed sleeves.
Halter neck dresses do not have to always be conservative-church friendly either. You can add a cut-out at the bust or at the midriff to show some skin. An open back or a high slit can add a beautiful level of detail to a halter neck dress, making it both sexy as well as elegant.
Unique Hemlines
Just like sweetheart necklines, traditional floor-length hemlines are slowly becoming a thing of the past for most brides. What started in the 2020 Zoom wedding era is slowly becoming a wedding fashion staple: short hemlines. And we're not just talking about tea-length gowns. Hemlines that go above the knee are coming in hot, including mid-thigh length dresses.
So, how are brides rocking short wedding dresses without looking like they are dressed for an evening out in the town? For one thing, the dress material should leave no doubt that this is a wedding dress. Lace is a popular favorite, with white satin coming in a close second. Throw on a beautiful veil, and there will be no doubt that you are dressed fit for a wedding.
If you still want to incorporate length into your wedding dress, a high-low hemline is the way to go. You can choose the classic low front with a long back or switch it up by alternating high and low points throughout the hemline.
A nontraditional hemline design lets you show off your flirty and edgy side during your big day. What's more, it is a good way to showcase your beautiful legs and gorgeous shoes. So don't be afraid of deviating from the norm by wearing a dress with a unique hemline.
Standout Sleeves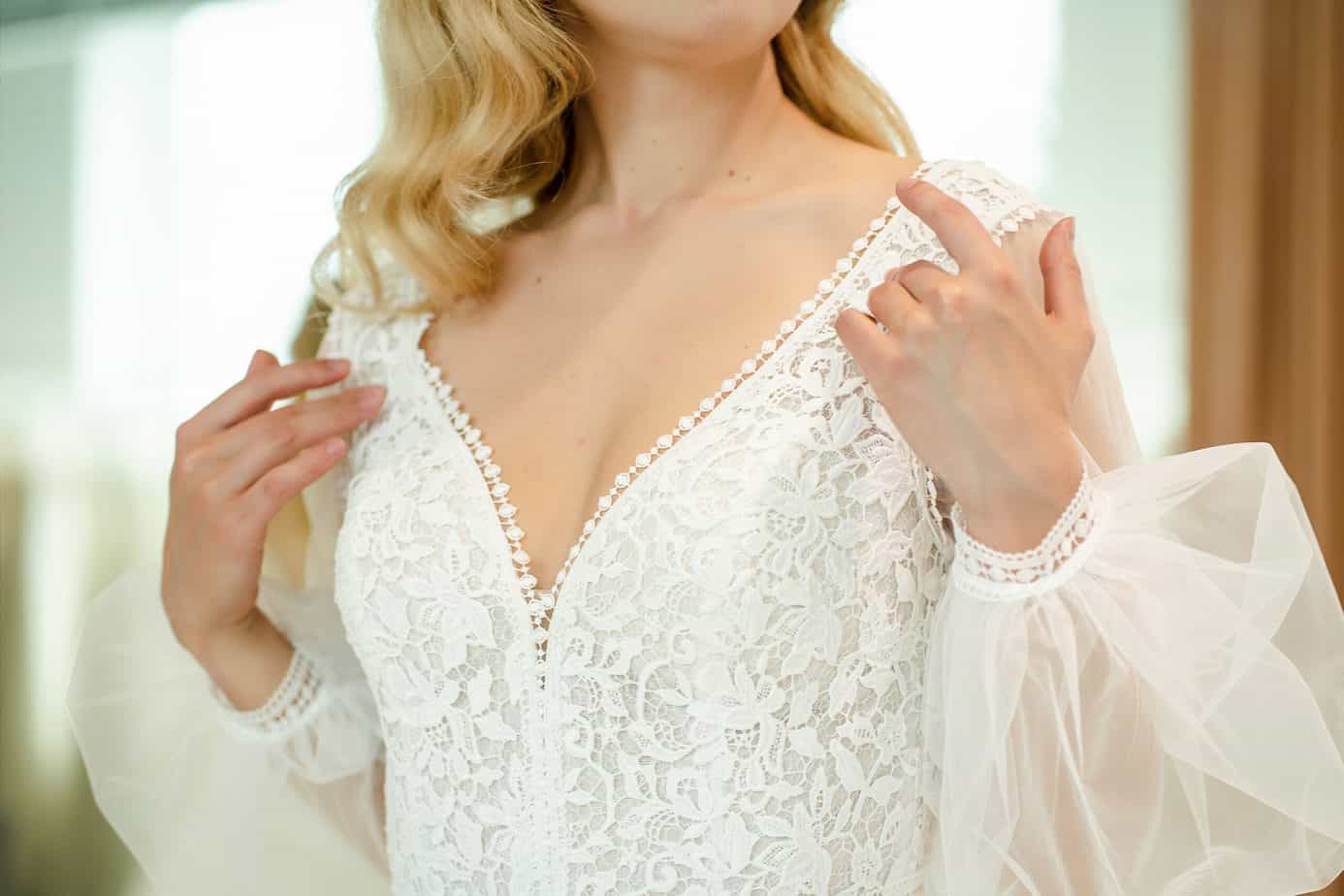 More often than not, wedding dresses are simple affairs with predictable lines. However, you can add a bit of flair to your sleeves and make a bold statement. Sleeves are probably the last thing you would think to use to do this, so how do you get it right?
Everyone knows about Kate Middleton's wedding gown's sleeves. They turned what would have otherwise been a commonplace wedding gown into something spectacular. If you want a look that is not very out there, you can use a material that is different from the rest of the dress to make simple, long sleeves that still stand out.
If you do not mind going the extra mile, incorporate puff sleeves into your wedding dress. These can be long, mid-length, or short. Puff sleeves can suit any attire, from a formal, minimalist dress to a whimsical, fairy-inspired wedding gown. Do not be afraid to explore the different sleeve types until you can find one that is uniquely you.
Unforgettable Trains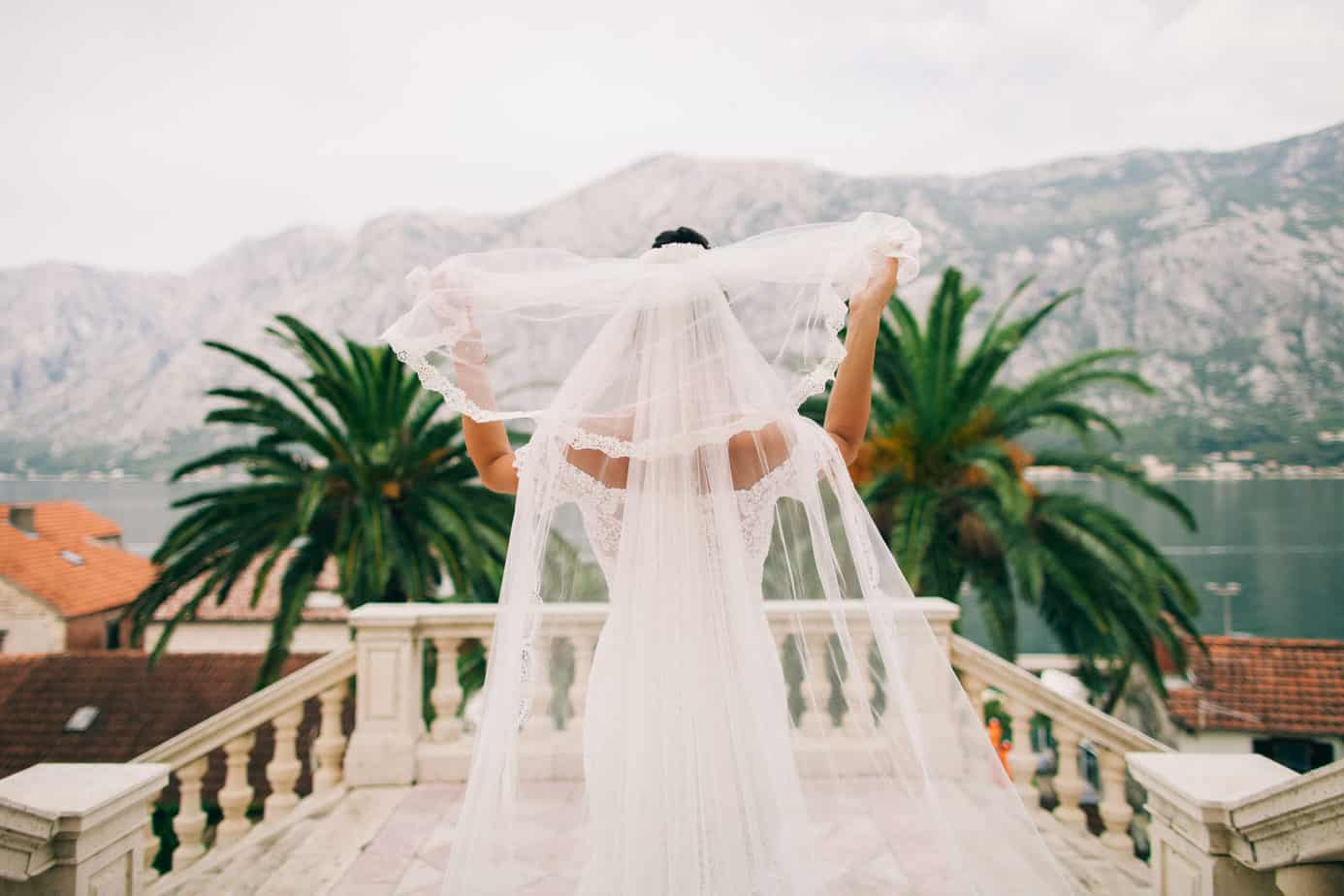 Opinions on wedding dress trains vary, but more and more brides are doing whatever they like when it comes to this part of the wedding outfit. Fans of trains are not afraid to have a long one, but those who find it superfluous are not scared to ditch it altogether.
You can decide to have a very elaborate train made from quality lace and embroidered with special messages or hopes for your marriage. Gwen Stefani did it and did it well.
If you plan on wearing your wedding dress beyond the wedding day, then you might be reluctant to have a long train. In this case, you can use your veil to make a train a la Kim Kardashian and Priyanka Chopra. Considering there is probably no other time in your life when you will have to wear a white veil, you can go all out and have the train of your dreams using your veil.
However, if a train is not something you like, do not be afraid to pick a dress without one. The ultimate wedding fashion is one that shows exactly who you are, so do not try to make yourself love something that your heart rejects.
Wedding Suits
As a bride, you do not have to wear a wedding dress for your day to be perfect. More and more brides are ditching the traditional wedding dress and instead of wearing suits for their big day.
The average wedding suit features a pair of pants, a matching blazer, and a beautiful blouse. However, there is a lot of leeway as to what you could do with either of these pieces. If you want an edgier look, you could go with a blazer without a top underneath. This will have you looking and feeling powerful and sexy. If pants do not suit your fancy, try wearing shorts under your blazer.
Suits can be made from any material and in any design. Lace suits are becoming pretty popular, offering a feminine twist to linen suits. You can choose pencil pants or flared pants, small or large lapels, or a purely white or off-white ensemble.
If a traditional suit is not your thing, then you should definitely consider a jumpsuit for your wedding. Jumpsuits are undoubtedly feminine, and you can customize them according to your tastes. Wedding rompers are also unique and great for summer or a beach wedding. Play around with nontraditional wedding outfits until you find one that is perfect for you.
Bridal Shoes Guide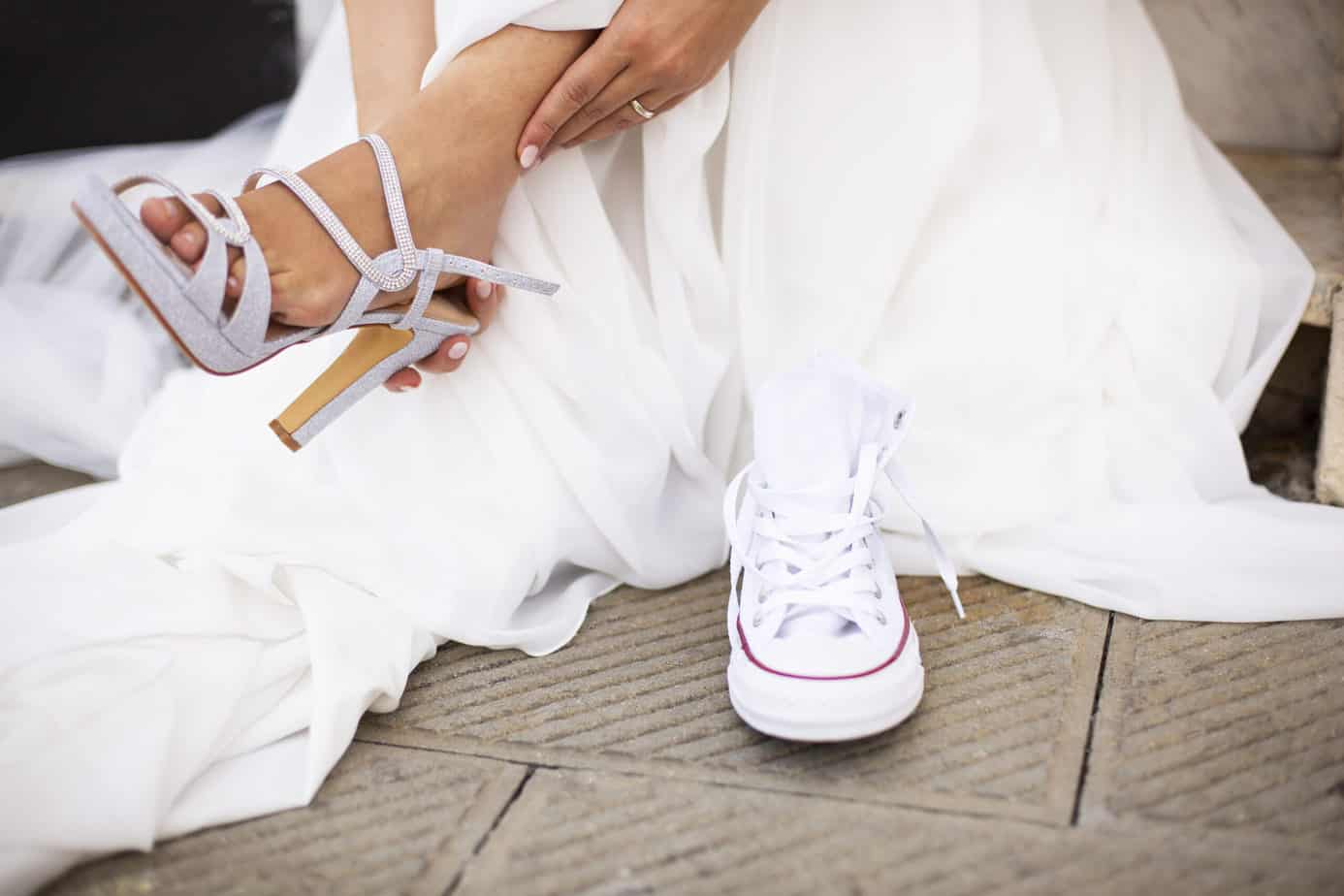 Shoes are probably the second biggest wedding fashion decision you will have to make. They are an integral part of the wedding outfit, and they can either make or break your ensemble. To help you in your decision, here are a few wedding shoe styles that you should consider for your big day.
Floral Shoes
While white and nude shoes will always be a staple of wedding shoe fashion, the beauty of floral shoes cannot be overstated. However, instead of the typical floral shoes that have the flowers painted on, switch things up by picking a pair made from a plan or nude material with the flower patterns embroidered on it. You can have your pick of materials on this type of shoes, with lace and linen being the most popular. The result looks elegant, beautiful, and definitely bridal. What's more, this type of floral shoes can come in any shape and size, from high heels to pumps to flats.
Sheer Uppers
Shoes with a see-through upper part have always had a certain bridal appeal to them. For your wedding, they offer a simple and elegant addition. If you love minimalist fashion, then shoes with sheer uppers should be first on your list.
Sheer shoes come with a lot of variety. For example, you can have the top part of the whole shoe being see-through or pick a shoe that only offers little peeks inside. For the latter, you are sure to have a pick of beautifully embroidered shoes featuring patterns like flowers or more geometric designs.
You can get sheer shoes in a number of designs, from flats to sky-high heels. You will also have your choice of materials, including supportive silicone, soft plastic, or lace. Sheer shoes offer a more supportive option compared to strappy shoes, so if you want to have fun on the dance floor, then this is the shoe design you want.
Classic Heels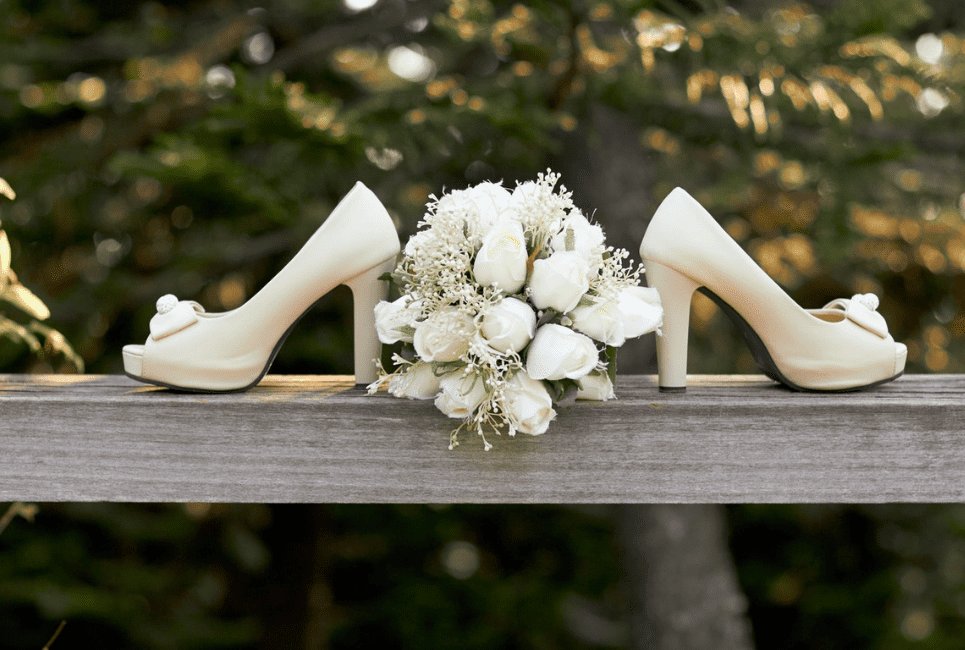 High heels will always be a popular favorite for brides all over. Not only do they give you an extra few inches, but they also elongate your legs, showing off your wedding dress to the best advantage. Heels can go with any wedding outfit, whether it is a classic gown, a shorter dress, or a suit.
The beauty of high heels is that you will have a huge selection at your disposal. You can go for the classic nude or white heels or go for more colorful options like red, blush, or even your favorite color. You can decide to splurge on designer heels, but you will definitely get quality high heels at your favorite discount store.
Keep in mind that you will be on your feet for hours on end during the big day. Thus, keep comfort at the forefront when you go heel picking. Try on your heels and walk around in them for at least an hour to ensure they fit and are comfortable before making a purchase. And, of course, make sure they match and complement your wedding outfit before you swipe that card.
Comfy Flats
For the bride who wants to be comfortable the whole day, then flats are the way to go. Fortunately, you now have a choice beyond simple ballet flats. You can choose strappy flats to showcase your feet or flats with a peekaboo toe area to display your painted toenails. In addition, slingback flats offer you an extra level of support while also looking better than the average pair of flats.
Flats don't always have to be cutesy. Flats featuring a sharp toe area or flats decorated with snakeskin or geometric patterns are bold and fierce in their own right. Sandals are unique and practical, making it easy for you to slip in and out of them when you are seated.
If you are wearing a nontraditional wedding outfit, like a pair of shorts, then you can definitely rock a pair of Oxford shoes, hiking boots, or boat shoes without looking shabby.
Bridal Accessories
To complete your wedding fashion ensemble, you will need some killer accessories. While you can definitely pick anything that suits your fancy in this department, it won't hurt to see what brides are embracing so you can steal a few ideas.
Makeup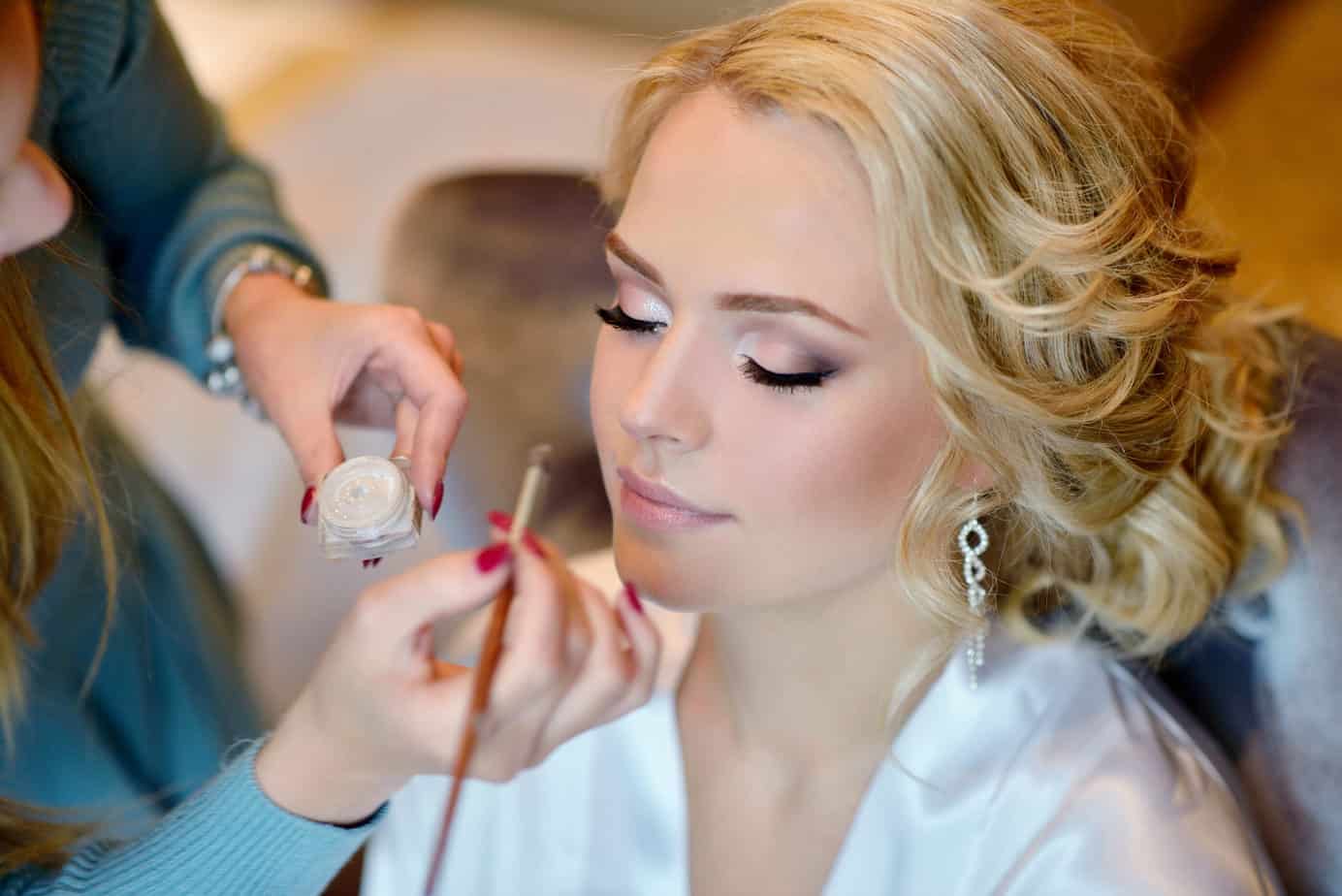 Wedding makeup can either make or break your whole look. If you want your face to be the focal point of your wedding ensemble, then you can definitely go all out with eye-catching makeup. For example, a bold eye featuring multiple colors or shimmery metallic tones will draw attention. If your lips are a point of pride, deck them out in bright, bold lipstick.
However, for a more classic, understated makeup look, you should go with a nude look a la Meghan Markle. Depending on your skin tone, pale shades of pink can be ideal for that subtle pop of color. If you're having a winter wedding, or your wedding is dark-themed, then moody makeup with lots of darker shades will be ideal.
Hair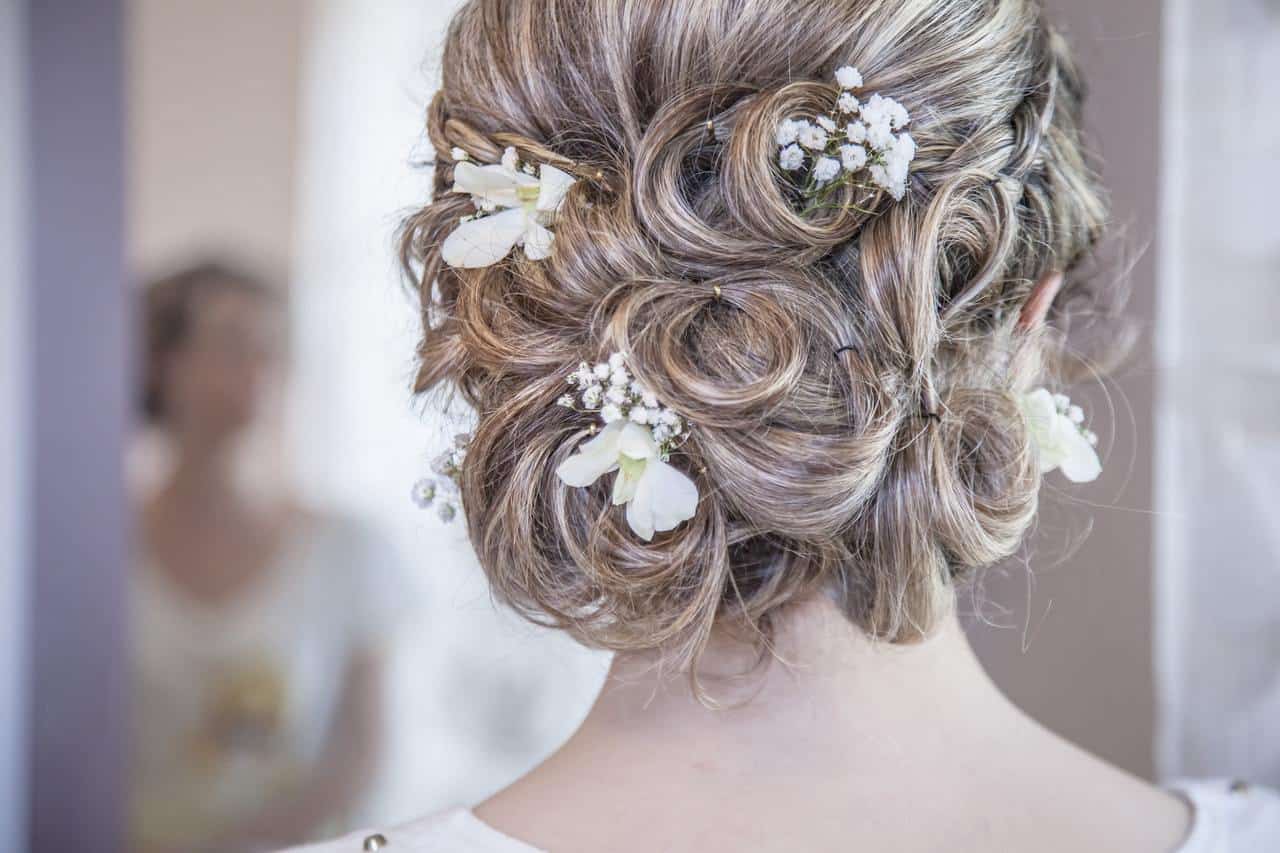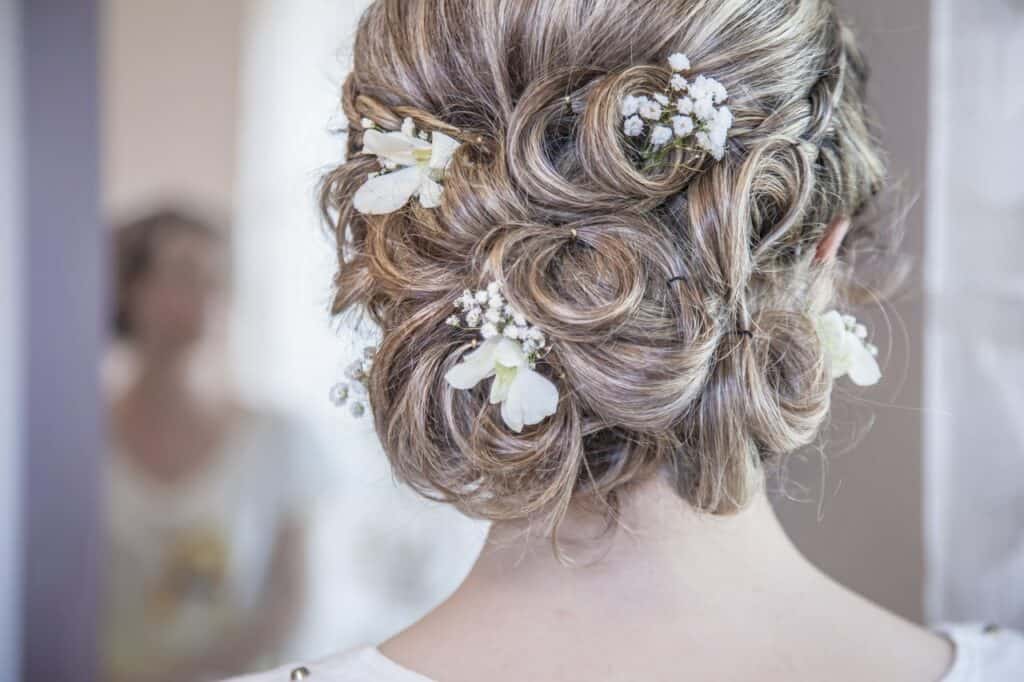 The most popular hair accessory is often the veil. If you have a standout veil, you should definitely keep your hairstyle simple to divert attention from it. The classic low chignon is the ideal wedding hairstyle, whether you're rocking dreadlocks, box braids, or just your own hair.
A minimalist twist to the chapel-length veil is a birdcage veil. Here, again, you can raid the wedding closet of an older loved one, especially those that lived through the two world wars. A birdcage veil only covers part of the face, producing a sultry, mysterious look. It also allows you to keep your hairstyle simple since most of the attention will be on your face.
If veils are not your cup of tea, you can add decorations to your hair. A flower crown is the most common alternative and is perfect for outdoor weddings. An embellished tiara can also steal the show in the most elegant way. You can also bedeck your hair with metallic hair combs and pins, classy bows, or simple headbands.
Jewelry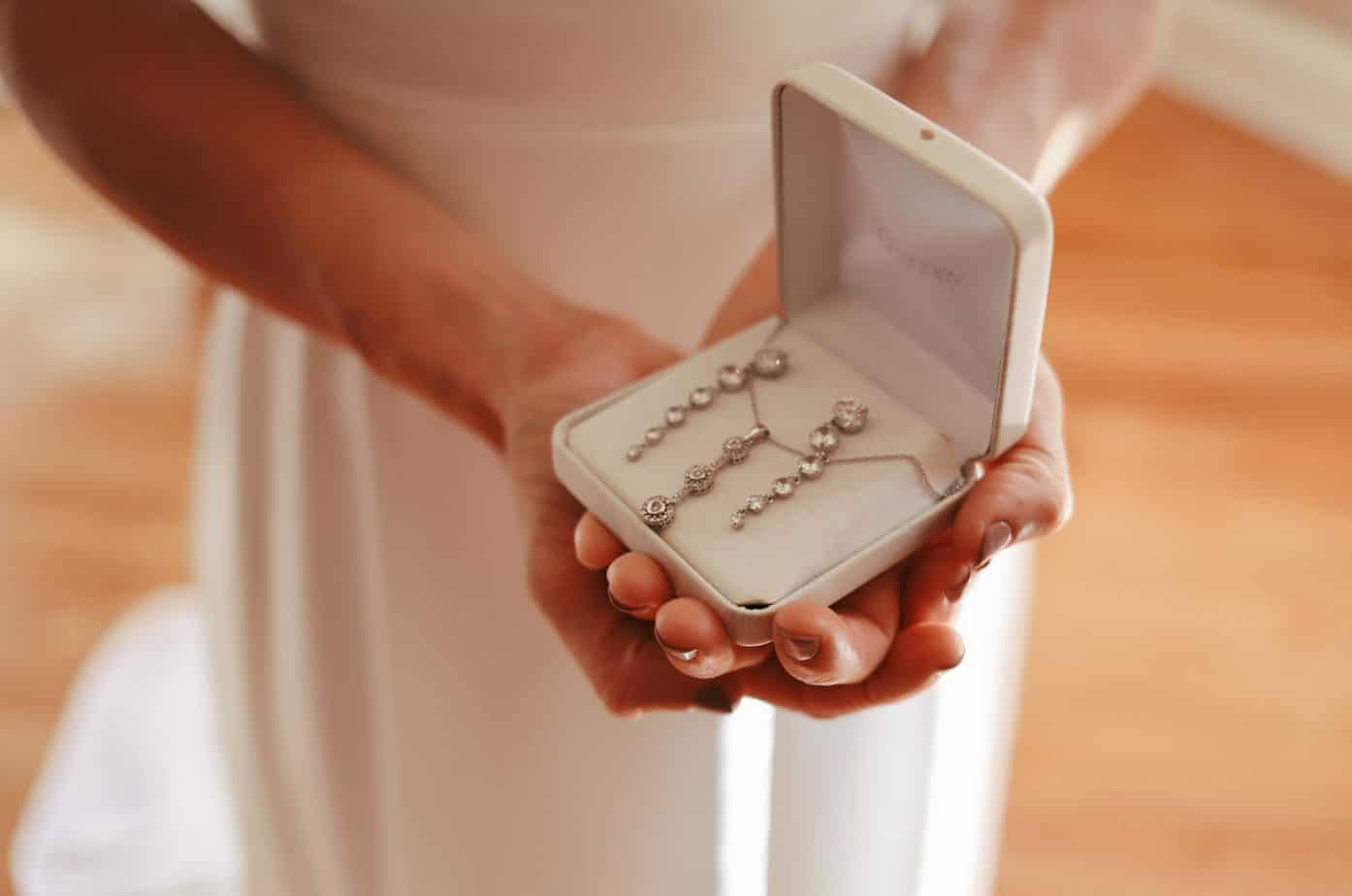 The golden rule of wedding jewelry is to match the colors, especially if you go with metallic-toned pieces. Now, if your wedding outfit features shades of white, then you have a lot of leeway when it comes to the type of jewelry you wear. Gold and silver are obvious choices, creating a memorable contrast between your outfit and your jewelry.
Pearl necklaces, earrings, and bracelets are another classic wedding jewelry choice. White pearls are ideal if you have darker skin, allowing them to stand out without being overshadowed by your white wedding outfit. The choice of necklace and bracelets should depend on the style of your neckline and sleeves.
Wedding jewelry gives you a smart way to incorporate something blue into your outfit. If you have a favorite blue-toned heirloom, whether it's a pair of earrings or a necklace, you can show it to its best advantage here. As always, aim for these aspects to complement rather than compete against each other.
My Top Recommendations: Ultimate Wedding Fashion
1. Nine West Silver/Blue Jewelry Set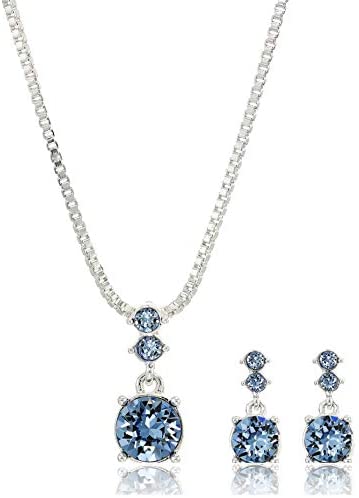 This Silver/Blue Jewelry Set from Nine West makes the ideal 'something blue' for any bride out there. The necklace and earrings have a desirable understated look, making them timeless pieces to add to your wedding ensemble.
The necklace features a 16-inch chain made from a zinc and brass mixture coated in imitation silver. It has a pendant made from resin-covered stone that will catch and sparkle in the night. The pair of earrings looks similar to the pendant, creating a nice uniform look.
Pros
Feature a classy silver-finish appearance.
Resin-covered stones sparkle in the light.
High-quality and will not tarnish easily.
Nickel-free and thus will not react with the skin.
Cons
Metal will tarnish if you bathe or swim with the pieces on.
2. Abaowedding Knee Length Bridal Gown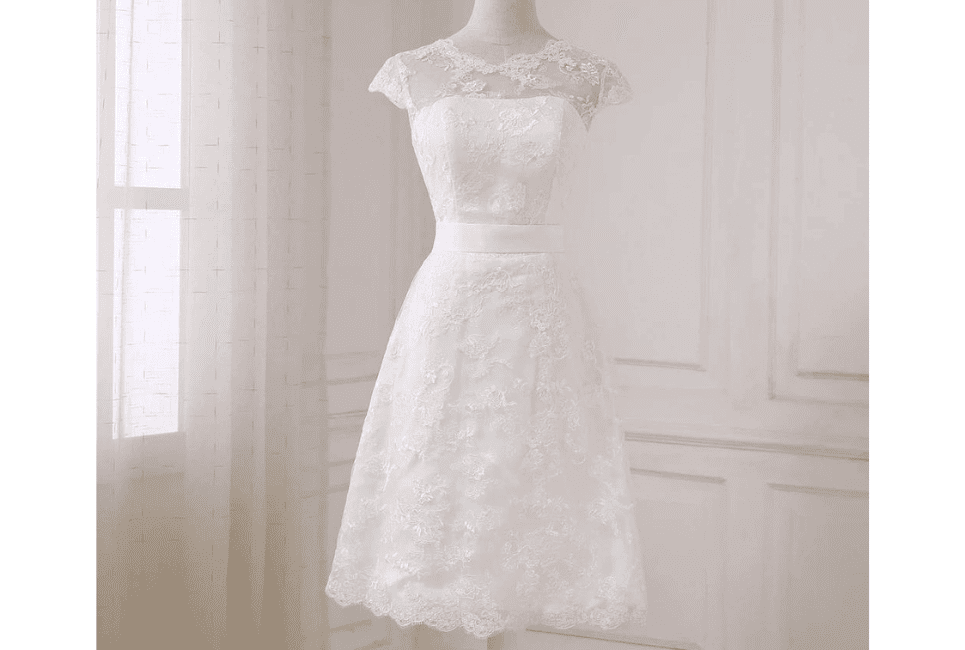 If you are interested in nontraditional wedding dresses, then the Knee Length Bridal Gown from Abaowedding is right up your alley. This dress has a bodice made from quality satin and a decorative waist sash made from the same material.
It features a classic sweetheart neckline that is covered by embroidered lace. It also has a full tulle skirt, infusing a playful, girly appearance. In addition, it's length makes it the ideal choice for garden weddings, allowing your legs to be in full display.
Pros
Modest design with classic styles.
It is made from quality satin, lace, and tulle.
It has a full rounded skirt reminiscent of longer wedding gowns.
It can be customized to your liking.
Cons
It might need to be altered slightly to fit properly.
3. Babeyond Bridal Fascinator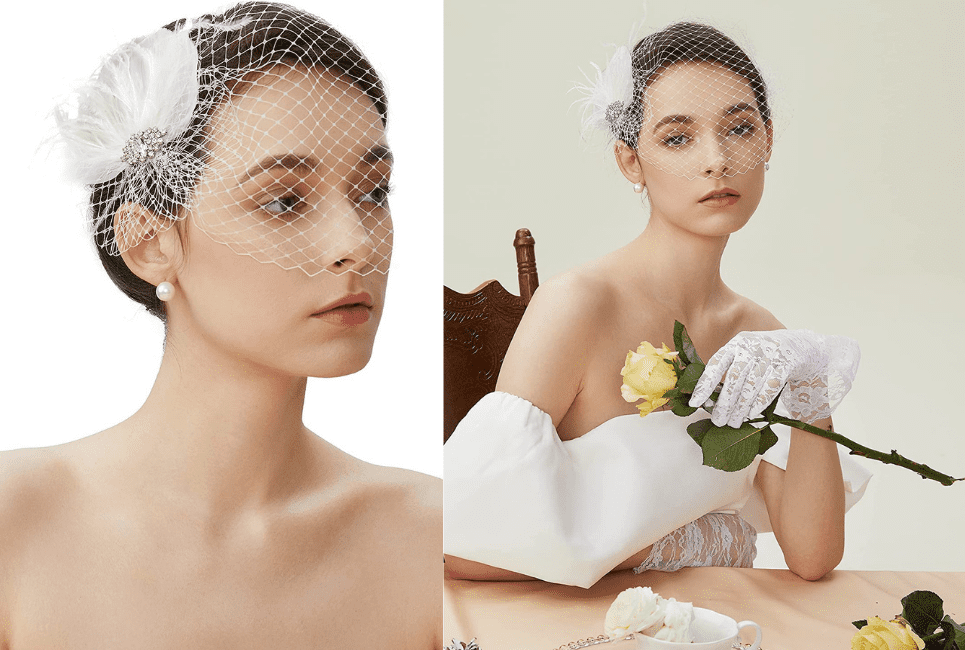 For all brides who do not want to rock a traditional wedding veil, the Babeyond Bridal Fascinator may be ideal for your tastes. This fascinator features a freesize headband, making it suitable for all head shapes and sizes.
It has a birdcage veil made from organza mesh that subtly covers part of your face. It has a small silver pin holding in place delicate, decorative feathers. This fascinator will make for a wonderful addition to your wedding outfit, adding a 1920s Great Gatsby-style allure to your big day.
Pros
The veil is made from quality organza mesh.
Adjustable headband allows easy adjustment to accommodate wedding hairstyle.
Features a decorative feather that adds to the beauty of the piece.
It comes in two pieces, so it is easy to adjust as needed.
Cons
It may be challenging to fit the two parts together.
4. Erijunor Mesh Satin Shoes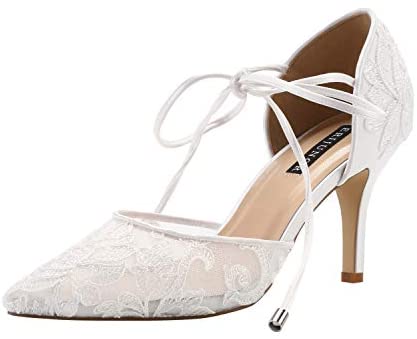 The beautiful Erijunor Mesh Shoes are a good option if you want sheer shoes for your big day. These ivory-colored shoes feature excellent and sturdy construction, offering your feet support throughout. Lacy straps provide an extra level of detail in these shoes.
The sheer upper is made from thick but see-through lace, decorated with embroidered flowers. The inner sole is padded for comfort. They also have a durable rubber sole that will not fall apart on your big day. The heels are around 3 inches high, making it easy for you to move around without facing the risk of falling over.
Pros
They have a simple, feminine design suitable for weddings.
Sheer section is made from high-quality, embroidered lace.
3-inch heels are designed to elevate without being uncomfortable.
Feature a flexible and durable rubber sole.
Cons
Frequently Asked Questions
Question: When Should I Start Shopping for My Wedding Outfit?
Answer: It is important that you start shopping for your wedding ensemble early on. This allows you to try out a number of options at your own leisure. Before picking your outfit, however, first, consider the venue of your wedding. This has a big impact on what kind of clothes and shoes you can wear.
Once the location is picked (see our wedding travel guide for ideas), you can go ahead and start shopping for your dress. Factor in around six months for the dress you pick to arrive at the store and a couple of months for alterations. Shopping at least a year before the wedding day will give you enough time to get everything right.
Question: Do I Have To Follow Wedding Fashion Trends?
Answer: Absolutely not! If everyone followed wedding fashion trends, then all brides would look the same on their big days. The point of fashion trends acts as a step-off point. Use them as a guide and incorporate your ideas into them. By the end of the day, you should have a wedding ensemble that expresses your personality and that will make you proud when you look back at your special day.
Question: How Do I Ensure My Wedding Fashion is Elegant?
Answer: Regardless of your personal taste – glamor, cutesy, or even eccentric – you definitely want your wedding outfit to exude elegance. This can be quite difficult to achieve. One way to get that elegant air in your outfit is by using complementary accessories.
If your dress has a shallow neck, then a short necklace will not always be ideal. Mixing metallic hues will only create a busy look, which is often far from elegant. Above all, remember that less is more. In the words of Coco Chanel, "Before you leave the house, look in the mirror and take one thing off."
Conclusion: Ultimate Wedding Fashion
Abaowedding's Knee Length Bridal Gown has made a lot of brides happy, making it one of the best wedding outfit decisions you can make. The fact that it is knee-length means you can use it beyond your wedding day for parties and other events.
Many things go into making your wedding day successful, and fashion is one of the most important. There are so many decisions that go into deciding which fashion is the best for you. By following our ultimate wedding fashion guide, you will take away most of the stress and have fun choosing your wedding fashion ensemble.